No matter what the season – or hot high the temperature rises – there's no doubt you'll find me consuming chocolate right and left! My boyfriend relentlessly teases me over the fact that I keep truffles, cookies, and chocolate bars next to the bed… but I don't care! I like my cocoa in close reach! We all have our things 😉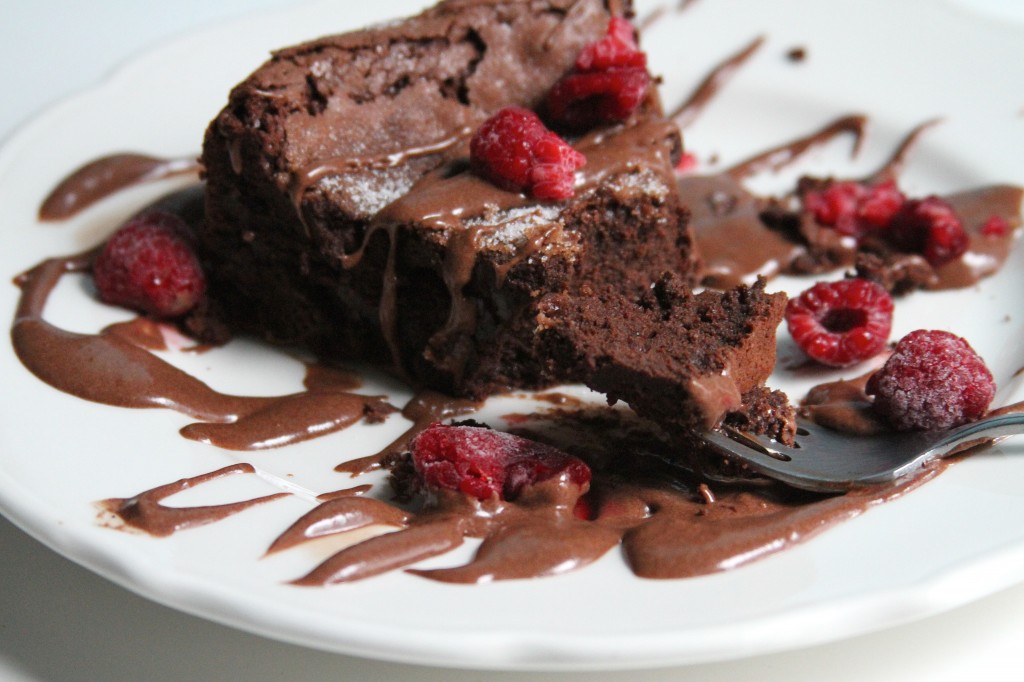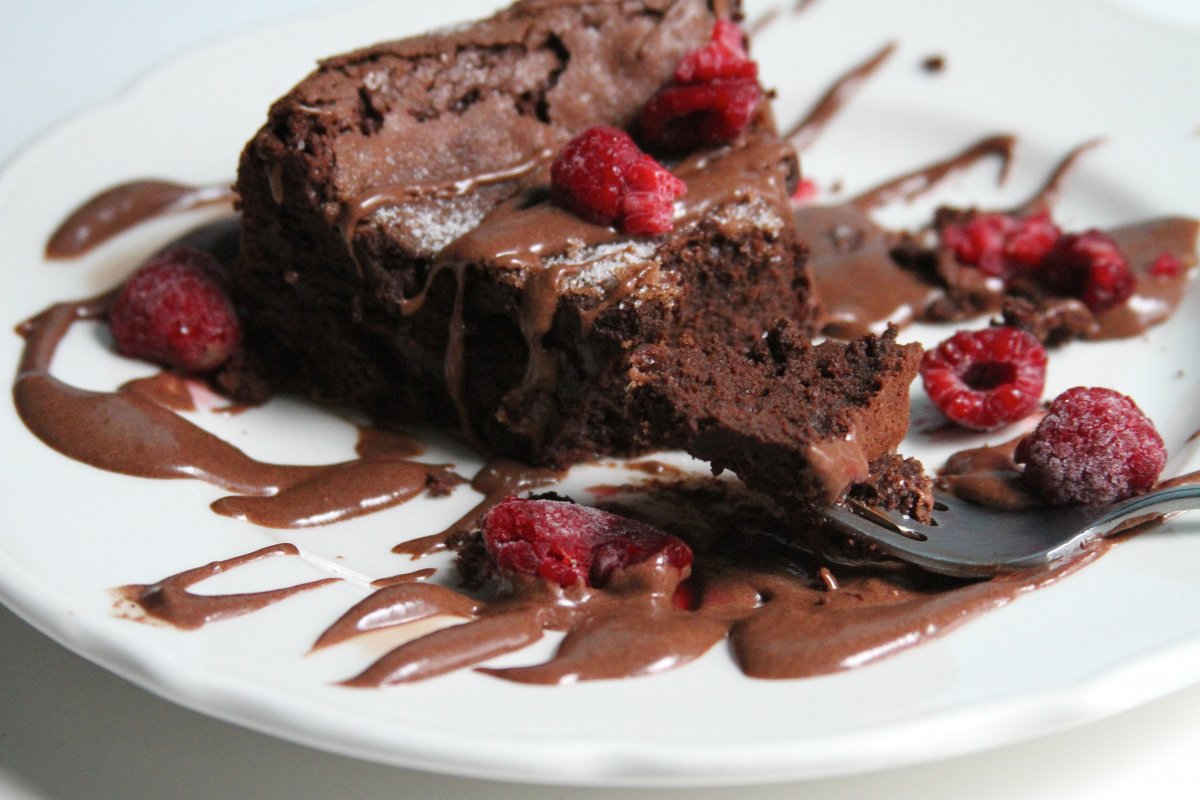 This flourless chocolate whiskey cake with chocolate whisky pudding sauce is the perfect combination of decadent meets light-enough-to-eat-in-90-degree-temperatures. The cake itself it pretty dense and utterly chocolatey, but since it's SO intense, a small piece is all you really need. Plus, it's best served cold, hence the "light-enough-to-eat-in-90-degree-temperatures" quote.
It's also awesome if you're in a colder climate. I know this because chocolate cake in any season is a good thing. It's a fact!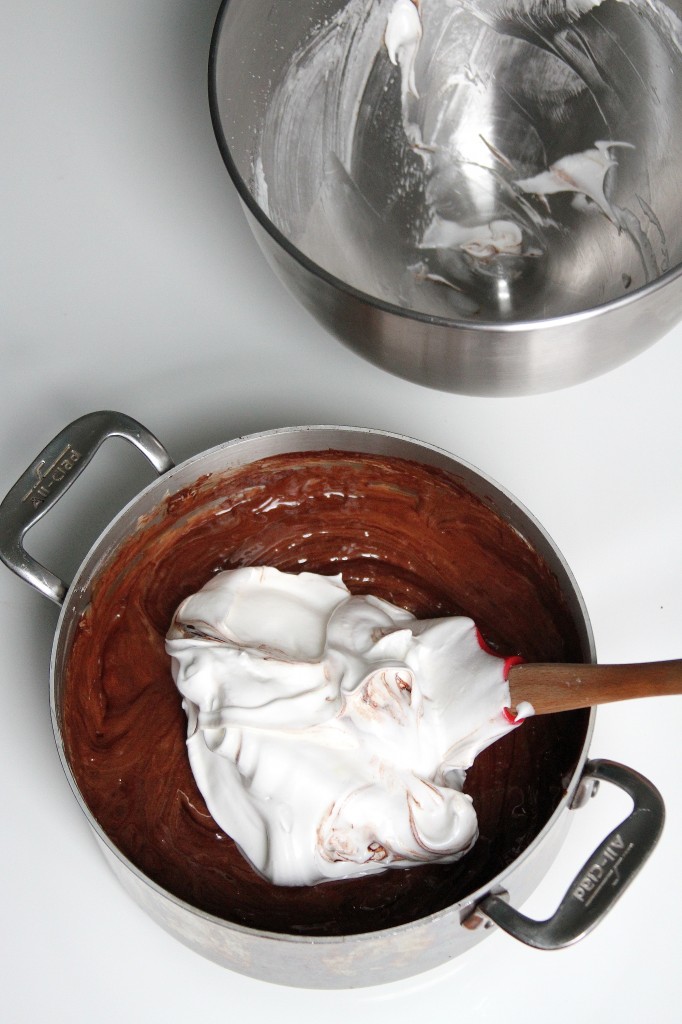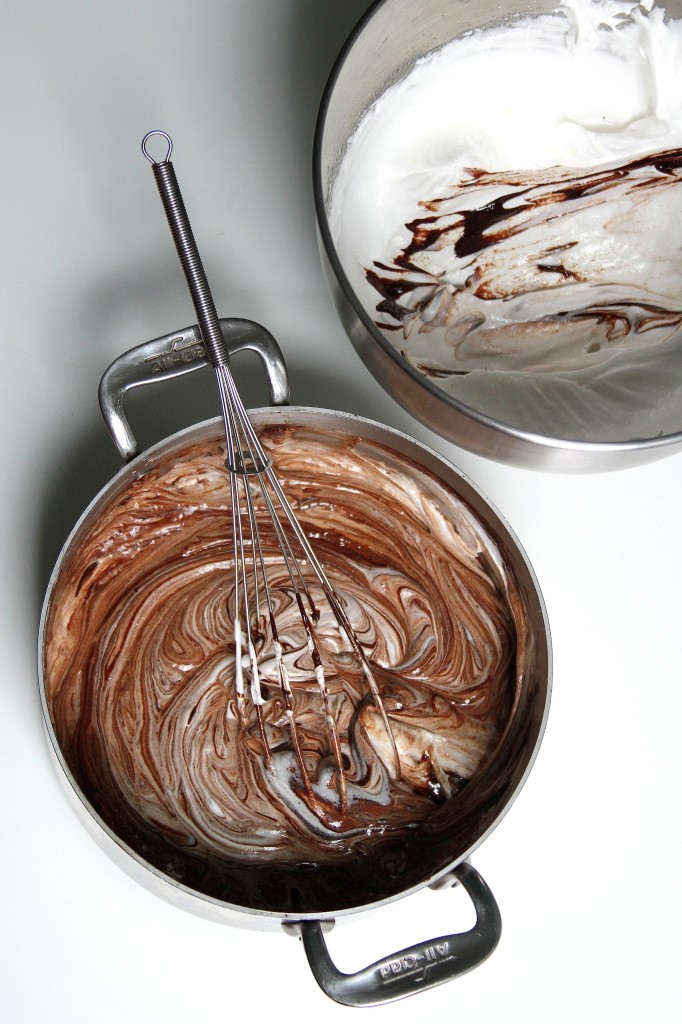 I think the whiskey pudding sauce helps give this an even more decadent feel since it's light, creamy, and slightly boozed up thanks to a splash of whiskey!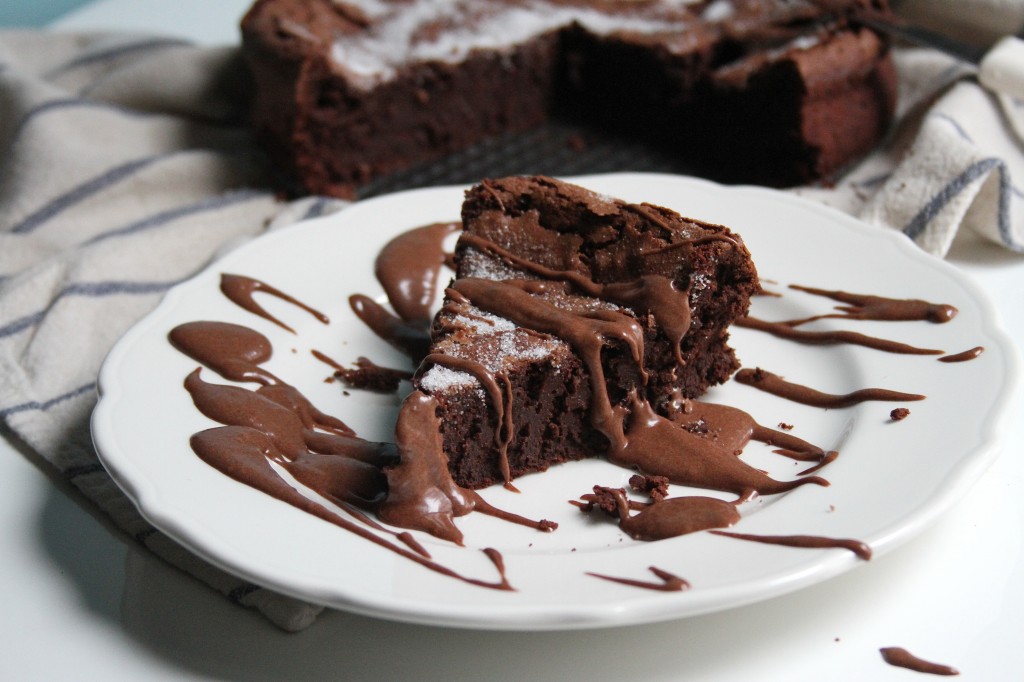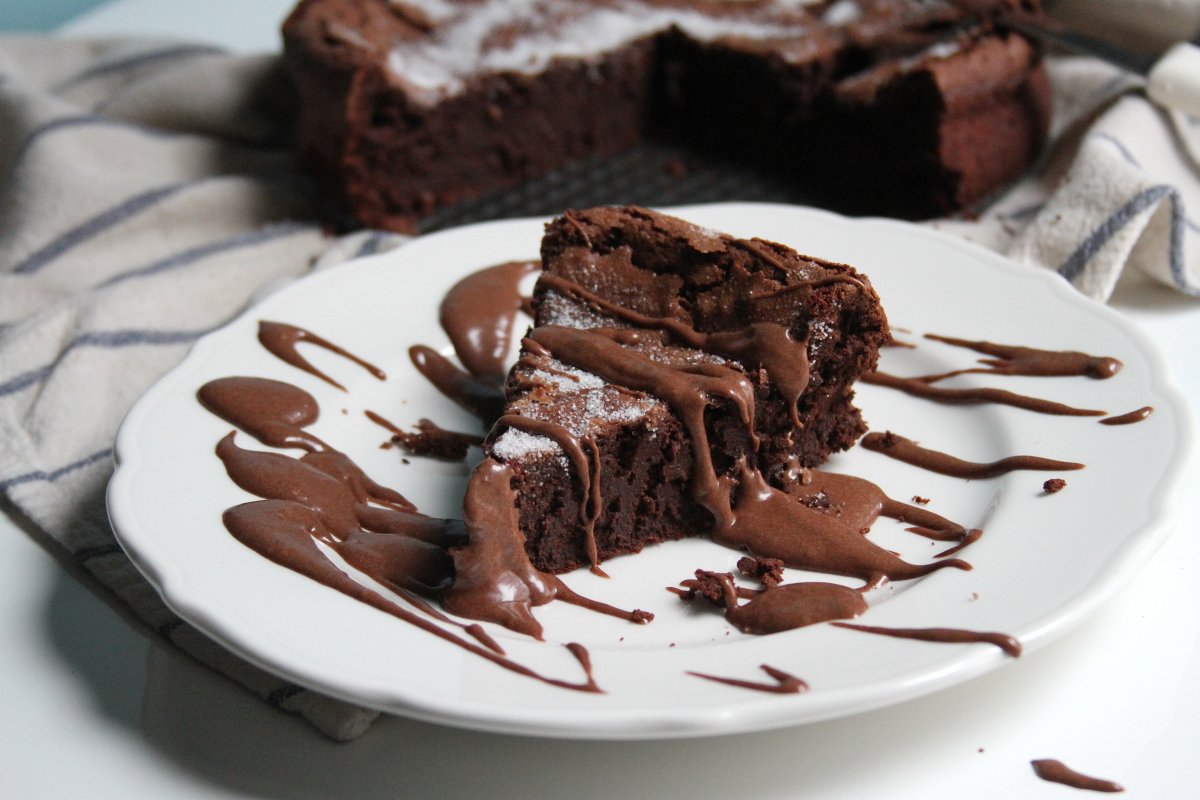 Oh, there's whiskey in the cake, too! I don't know what's gotten into me lately, but I can't stop myself from adding a splash of booze in my recipes. Chalk it up to a Summer thing?
Since I doubt I need to convince you guys you need a slice of chocolate cake spiked with whiskey (I don't, right?), I'll leave you with one more pic and wishes of a wonderful day! xo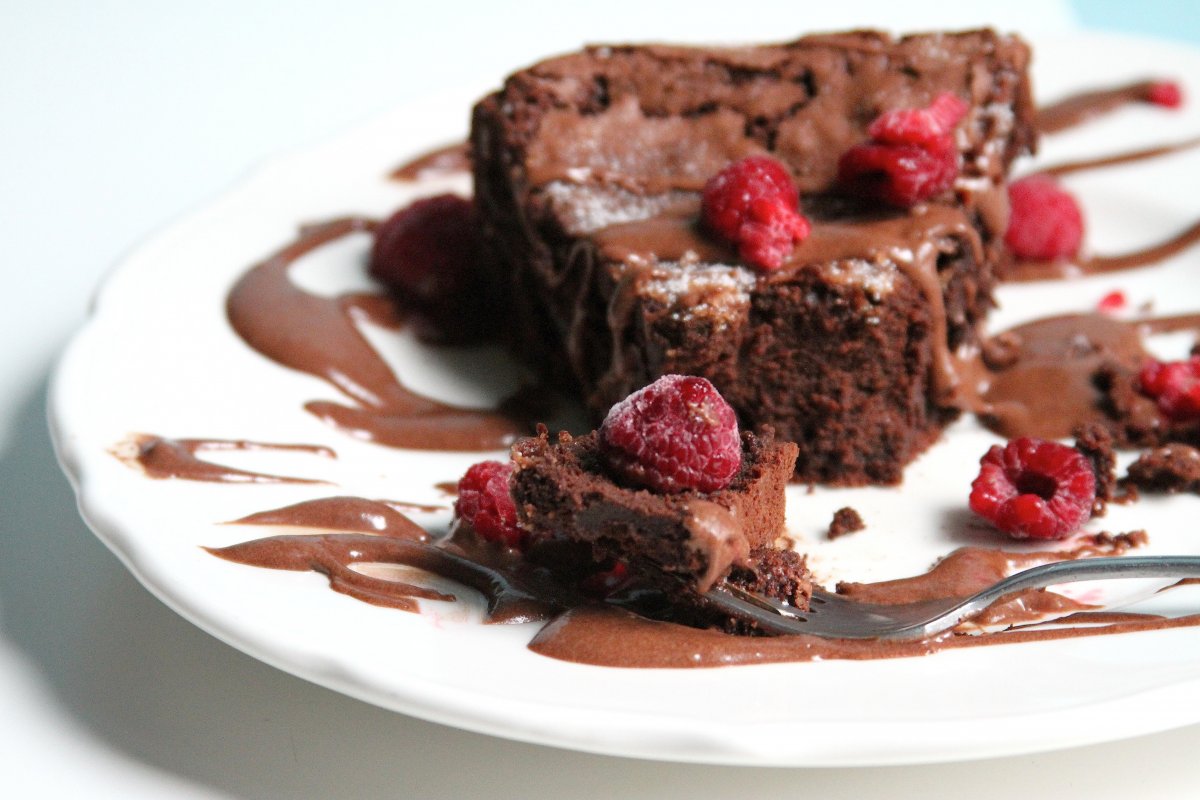 Flourless Chocolate Whiskey Cake with Chocolate Whiskey Pudding Sauce – Baker by Nature
Ingredients:
12 tablespoons unsalted butter, cut into small chunks and at room temperature
1 cup sugar
12 ounces bittersweet chocolate, chopped into small pieces
6 large eggs, at room temperature
2 tablespoons whiskey
2 teaspoons vanilla
1/4 cup natural, unsweetened cocoa powder
1 teaspoon salt
Instructions:
Preheat oven to 350 degrees (F). Grease and flour a 9″ round cake pan (springform works best here) and set aside. Melt  butter and chocolate together in a small pan over medium – low heat, stirring almost constantly. Once smooth remove pan from heat.
Separate 4 of the 6 eggs, placing the egg whites and yolks in separate medium bowls. Add the whiskey, cocoa powder, vanilla, salt, 1/2 cup sugar, and the 2 unseparated eggs to bowl with yolks and whisk until mixture is smooth. Carefully whisk the yolk mixture into the cooled chocolate mixture, mixing well.
Using an electric mixer set to high speed, beat egg whites until very frothy. Gradually beat in the remaining 1/2 cup sugar and beat until firm peaks form.
Carefully fold the egg whites into chocolate, stirring until incorporated. Pour batter into prepared pan and smooth top. Sprinkle with an additional 1/8 cup of sugar if you desire a crunchy lid.
Place pan in oven and bake until the top is slightly cracked and the middle no longer moves, about 40 – 45 minutes. Transfer cake to cooling wrack and let cool completely before cutting and serving.
For the Whiskey Spiked Chocolate Pudding Sauce – Baker by Nature
1 cup heavy cream OR coconut cream (I've made it with both)
1 – 2 tablespoons whiskey (depends how much kick you want)
1 1/2 cups powdered sugar
1 teaspoon vanilla extract
1/2 cup cocoa powder
Instructions:
In a stand mixer whisk the heavy cream and whiskey together on high until it begins to thicken slightly, about 2 – 3 minutes. Reduce speed to low and gradually stir in powdered sugar. Stir in vanilla. Whisk in cocoa powder.
Pour over cake, or chill until needed. This is also really yummy over ice cream and pancakes!