Quick and easy, this 20-Minute Puffed Pastry Pizza is loaded with crispy bacon, fresh lettuce, and juicy tomatoes! The tangy Greek yogurt ranch drizzle is the perfect finish.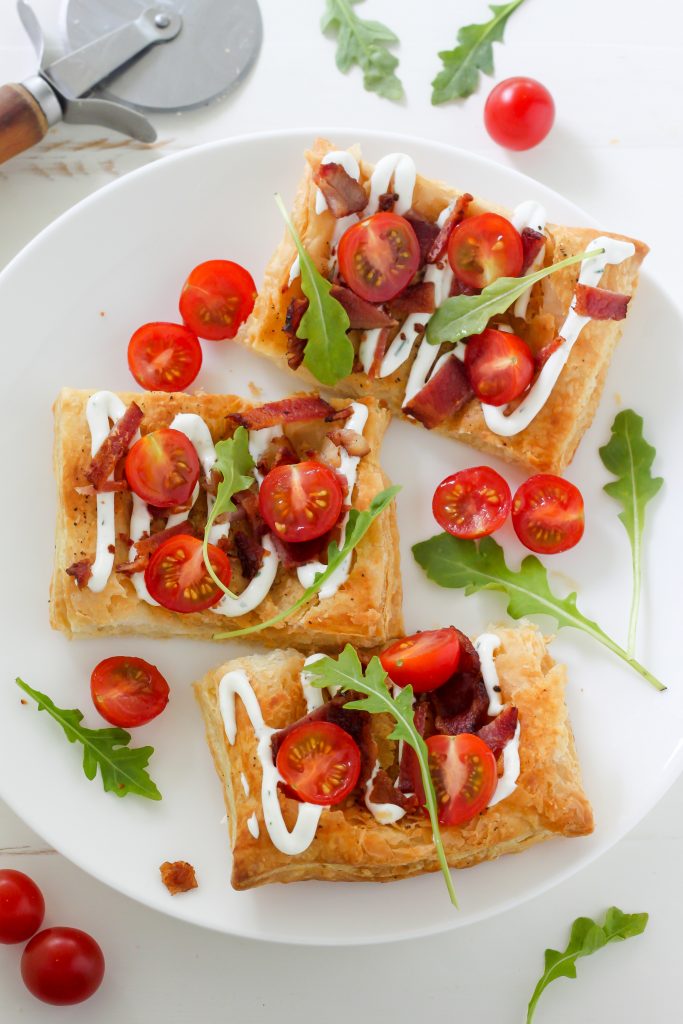 Happy Tuesday! Today we're jumping head first into the recipe and cutting straight to the point —> This BLT Pizza is going to change your life, my friend!
If you've got 20 minutes, you can make this meal. No fussy pizza dough; no mountains of dirty dishes. Just one pan to bake the pizza; one pan to fry the bacon; one little bowl to mix the dressing, and a cutting board for chopping. 4 dishes total, plus a knife and a fork – nooooooot bad, right?
And that's not even the best part! To me, the best part is this is a recipe almost anyone can make. No need to be a master chef or skilled baker for this one! If you can unwrap pastry puff, fry bacon, and chop tomatoes, you can make this pizza. And if you really want to save time, you can chop the tomatoes and fry the bacon a few hours ahead of time. Just be sure to keep them covered and in the fridge until needed.
Flaky buttery crust, extra crispy bacon, Summer fresh lettuce and tomato, light drizzle of creamy ranch. All packed on one little slice of pizza. <—— It's dreamy! ♡
Let's talk about that creamy ranch drizzle for a minute, mmk? Today's post is proudly brought to you by our good friends over at Hidden Valley®.  Yes, as in the famous makers of Hidden Valley® Original Ranch®.  The new Hidden Valley® Greek Yogurt Dips Mix and Hidden Valley® Greek Yogurt Salad Dressing Mix hit shelves nationally this May, and I couldn't wait to try them out. You guys know how much I love Greek yogurt, right?
The results: quick, easy, creamy, and flavorful. I used the Hidden Valley® Greek Yogurt Salad Dressing Mix to drizzle over the BLT pizza. It was everything I hoped for and more. I mean, how can you go wrong with salad ON A PIZZA? If you love ranch, you'll want to keep an eye out for this Hidden Valley® Greek Yogurt Salad Dressing Mix.
I've literally made this pizza 4 times in the past week – and that's no exaggeration. We hosted my family for lunch with this pizza; we've enjoyed an effortlessly easy dinner on the deck thanks to this pizza; finally we had a fabulous brunch twice by simply adding a few fried eggs to the top of this pizza. Yes, it really is that good.
Use this easy recipe as your secret weapon next time you need a quick meal sure to impress!
P.S. Just so we're on the same page – this is a 20 minute meal once you start cooking. The puffed pastry does need to thaw on the counter for 30 minutes prior to baking, so be sure to pull it out of the freezer ahead of time, or place it in the fridge a few hours before intended use 😉
20-Minute BLT Puffed Pastry Pizza
20-Minute BLT Puffed Pastry Pizza - A quick and easy meal sure to please the whole family!
Ingredients
2 whole sheets of frozen puffed pastry
2 teaspoons olive oil, for brushing
1/4 teaspoon freshly ground black pepper
1/4 teaspoon salt (I like using finely ground sea salt here)
(1) Packet Hidden Valley® Greek Yogurt Salad Dressing Mix
1 1/3 cups Greek yogurt (I used full-fat but reduced fat is OK)
3 tablespoons milk (I used 2% but any fat ratio should work fine)
8 strips of bacon, fried until crispy
2 cup baby arugula, or lettuce of your choice
2 cups cherry tomatoes, cut in half
Instructions
*Thaw the puffed pastry on the counter for at least 30 minutes.

Preheat oven to 425 degrees (F).

Once thawed, carefully open the sheets of pastry. Using a sharp knife slice them in half, straight down the middle. Place the pastry on a large baking sheet lined with parchment or a silicon baking mat. Lightly brush the olive oil over the top of each pastry piece, then sprinkle with salt and pepper. Pop the pan in the oven and bake for 12-13 minutes.
While the pizza cooks:
Fry the bacon in a large skillet over medium-heat until cooked through and crispy; about 6-7 minutes. Cool and drain bacon on a plate lined with paper towels (just a minute or so), then chop the bacon into small pieces; set aside. Cut cherry tomatoes in half; set aside. In a medium-sized bowl whisk together the Hidden Valley® Greek Yogurt Salad Dressing Mix, Greek yogurt, and milk; beat until smooth; set aside.

Once the puffed pastry is done baking, let it rest for a minute or so, then cut each piece into 3 even squares. Drizzle with dressing, then top with bacon, lettuce, and tomato. Serve at once!
Notes
This is a 20-minute meal ONCE the cooking process has begun. You will need to take the pasty out to thaw 30 minutes prior to baking.
Feel free to swap out the arugula for baby spinach, mixed greens, or any lettuce of your choice; swap out the cherry tomatoes for fresh chopped tomatoes or even sun dried tomatoes.
I recommend cutting the pastry into slices before dressing with the toppings for easier serving.
You will have a lot of Ranch dressing leftover; it goes great with raw veggies or on top of a salad.