Today I'm showing you exactly how to make my favorite Margherita Pizza!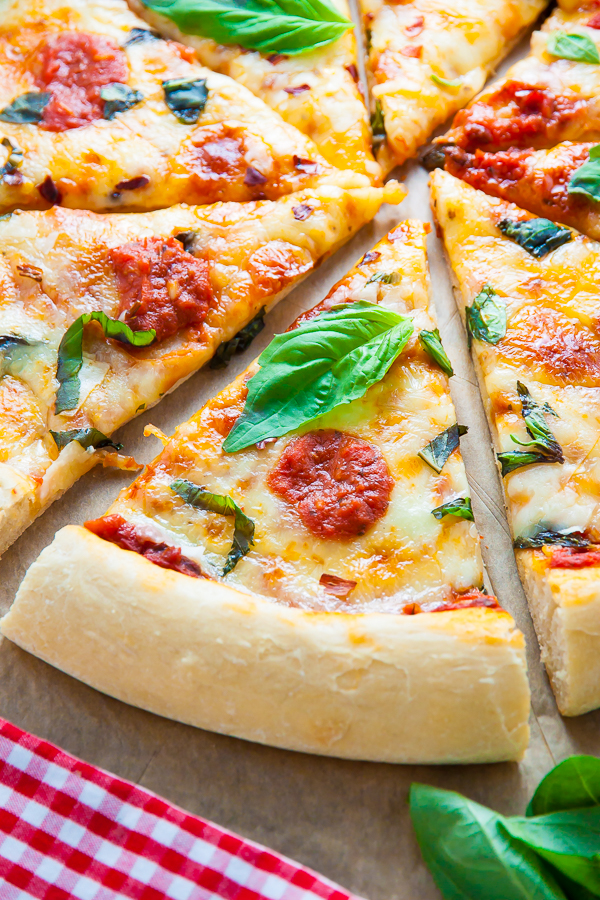 Homemade Margherita Pizza Recipe
Happy Friday! I don't know about you… but I'm so happy the weekend is upon us. Any fun plans on the horizon? I'm heading to California later today for some much needed fun in the sun, but first: PIZZA. More specifically, my favorite Margherita Pizza.
It boasts a delightfully chewy crust, homemade sauce that puts the jarred stuff to shame (my mom's recipe!), plenty of gooey mozzarella cheese, and fresh basil. The combination of those flavors is unbeatable! The best part? The crust and sauce can be made ahead of time. Dinner just got a whole lot easier!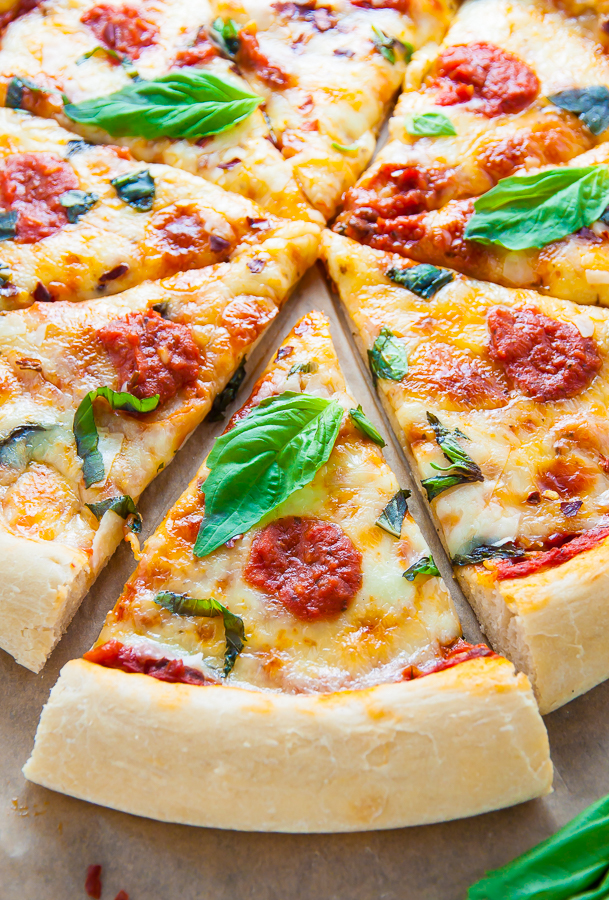 So simple, so flavorful, and so much better than delivery!
Also… so cheesy!!! NOM ↓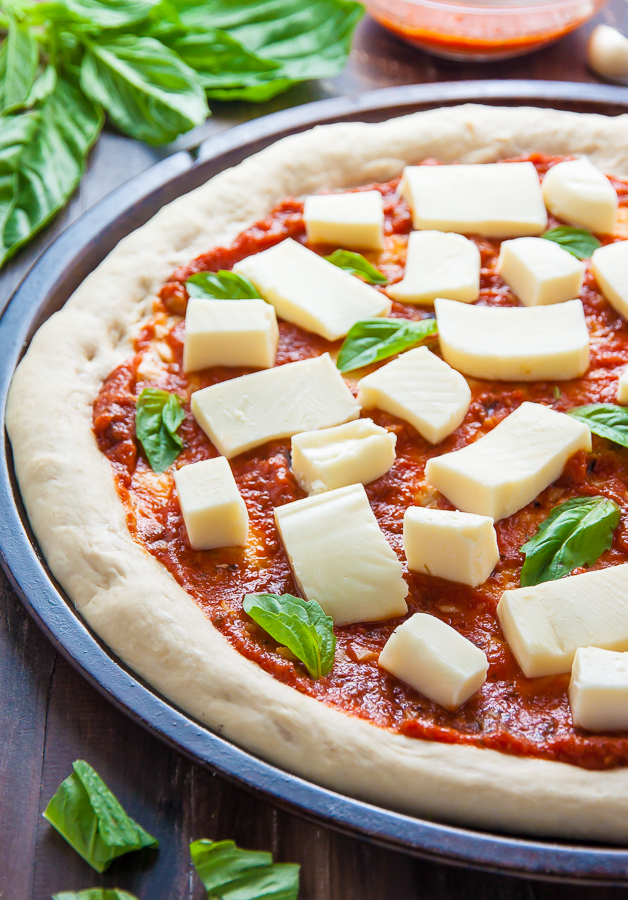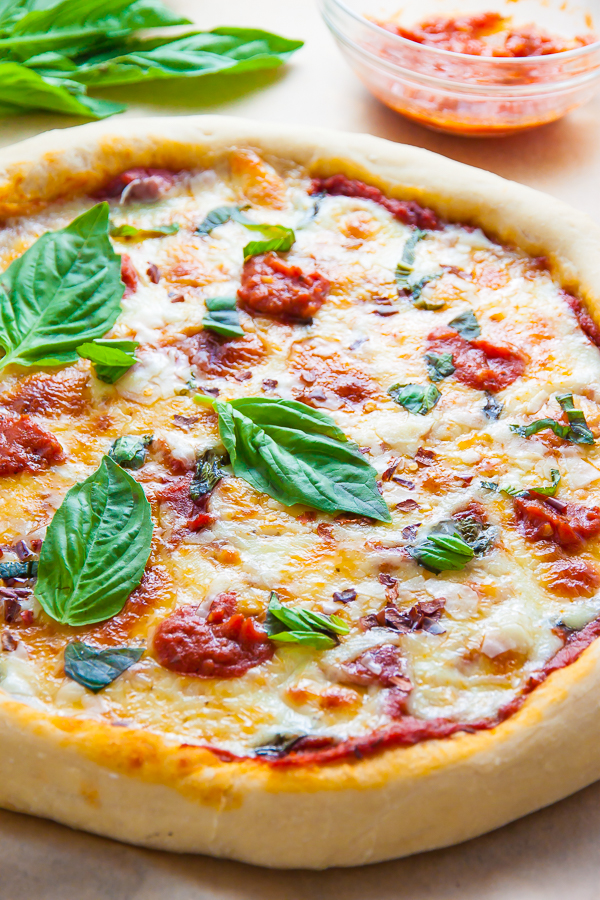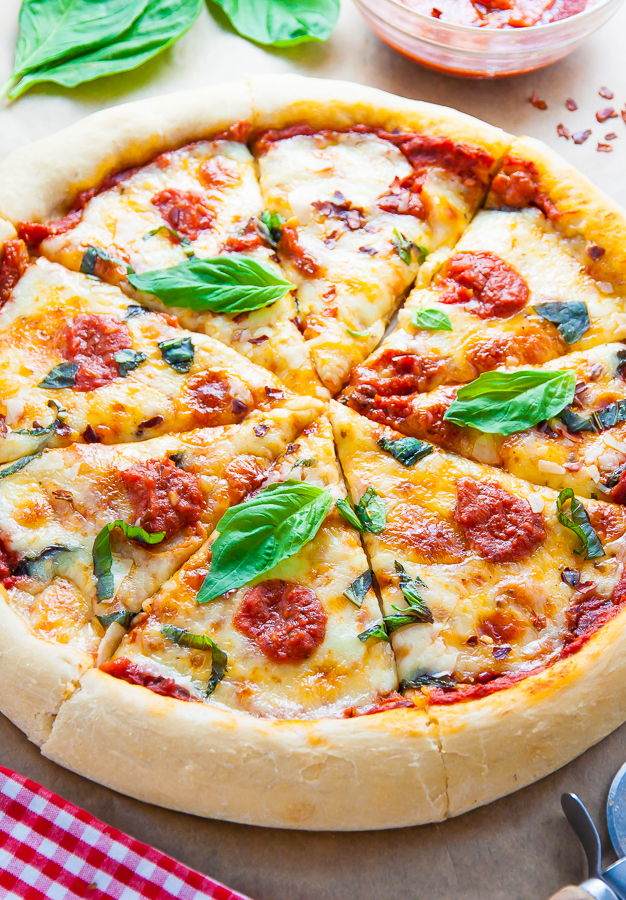 Tips and Tricks for Recipe Success:
Plan ahead. The pizza crust takes about an hour and a half to rise, then another 10 minutes to rest. The good news? You can make the pizza dough in advance and pop it in the fridge or freezer until needed. The dough makes enough for two pizzas, so you can easily double this recipe or freeze the other one for another time. Pizza dough freezes great for up to two months!
My trick to a perfect pizza is a VERY hot oven! Be sure to crank your oven on at its highest temperature for at least 30 minutes before baking. I usually preheat mine for 1 hour. A hot oven = gooey cheese and a crispy, chewy crust.
While it's not required, if you own a pizza stone, I suggest using it.
Go easy on the sauce. I suggest using a 1/4 cup to begin with, and adding more only if it doesn't cover the crust. You can freeze the leftover sauce, or if you're like me, serve it with the pizza and dip your crust in it.
Freeze your cheese! I always place my cheese in the freezer for 15 minutes before the pizza goes in the oven. I find it melts better and spreads more evenly this way.
Use the freshest basil you can find! I like to add a combination of whole leaves and chopped, but feel free to just do one or the other. Just be sure not to use dried basil.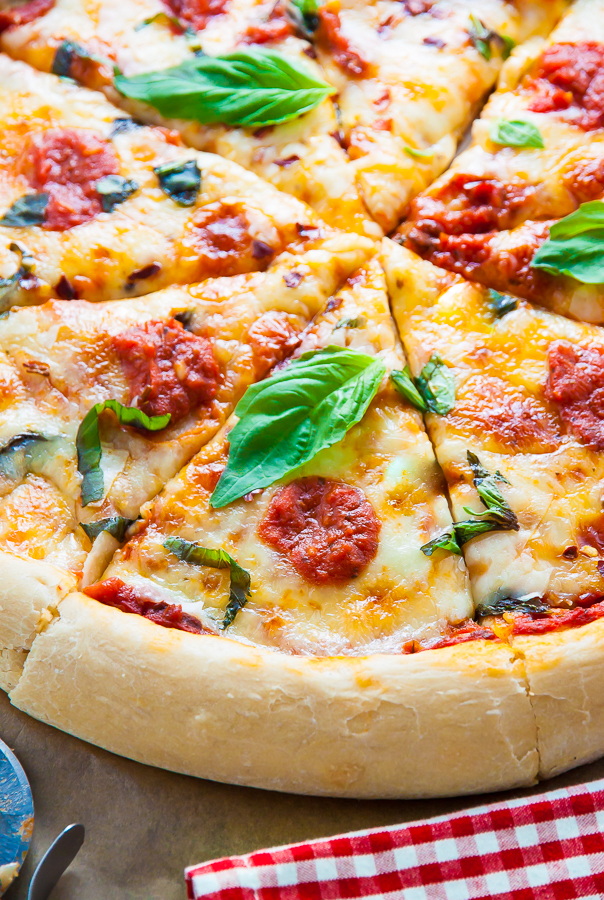 May I humbly suggest you ditch the delivery tonight and make this Margherita Pizza instead…? I promise you won't regret it 😉
P.S. the leftovers (if there are any…) reheat wonderfully the next day! ← Hello, dream lunch ♥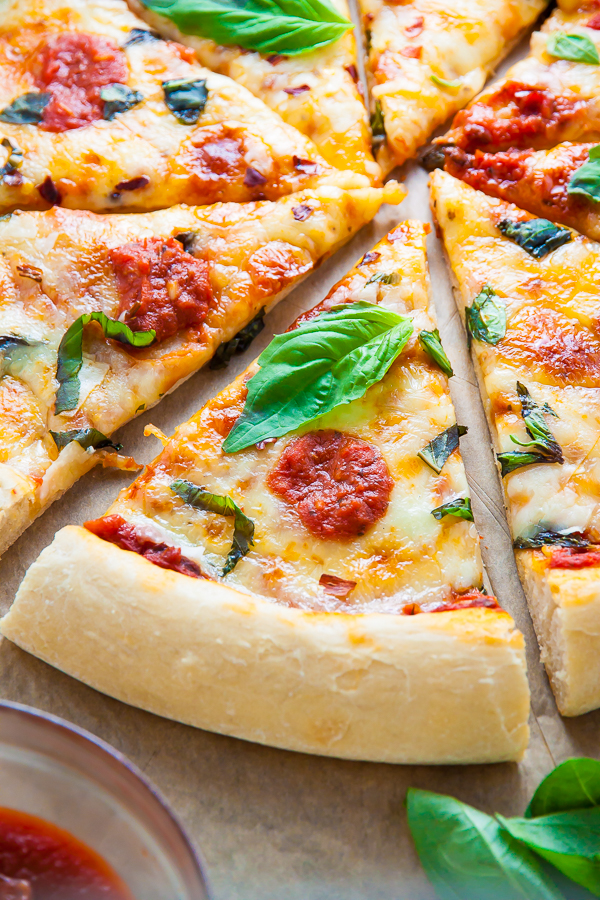 If you try this recipe, let me know what you think! Leave a comment below, and don't forget to snap a pic and tag it #bakerbynature on instagram! Seeing your creations makes my day.

My Favorite Margherita Pizza
My favorite recipe for Margherita Pizza. The crust and sauce can be made in advance and frozen for two months.
Ingredients
For the Crust:
3 and 3/4 cups bread flour
1 and 1/4 teaspoons sugar
1 envelope active dry yeast
2 teaspoons kosher salt
1 and 1/2 cups water, 110 - 115 degrees (F)
2 tablespoons plus 2 teaspoons olive oil, divided
For the Sauce:
3 tablespoons olive oil
2 garlic cloves, minced
1 (8 ounce) can crushed tomatoes
1 (6 ounce) can tomato paste
1 teaspoon dried basil
1 teaspoon dried oregano
1 teaspoon salt
1 teaspoon sugar
1/2 teaspoon black pepper
Toppings:
6 ounces mozzarella cheese, cut into chunky cubes
1/2 cup fresh basil leaves
1/2 teaspoon crushed red pepper flakes
1/4 cup Parmesan cheese, grated
1 teaspoon olive oil
Instructions
Preheat oven to 450 degrees (F) at least 30 minutes prior to baking pizza.
For the Crust:
In the bowl of a stand mixer fitted with the dough hook, combine the bread flour, sugar, yeast and salt; stir to combine.

Turn mixer on low speed and add the water and 2 tablespoons of the oil; beat until the dough forms into a ball around the hook. If the dough is super sticky, add additional flour, 1 tablespoon at a time, until the dough comes together in a solid ball. If the dough is too dry, add additional water, 1 tablespoon at a time.

Scrape the dough onto a lightly floured surface and gently knead into a smooth, firm ball.

Grease a large bowl with the remaining 2 teaspoons of olive oil, add the dough, and cover the bowl with plastic wrap. Place the bowl in a warm area and let it double in size, about 90 minutes.

Turn the dough out onto a lightly floured surface and divide it into 2 equal pieces. Wrap one dough well in saran wrap and place in the freezer for a later use.

Place the dough you'll be using on a piece of plastic wrap and let it rest for 10 minutes.
For the Sauce:
Heat the oil in a large saucepan over medium-heat. Add the garlic and saute until lightly golden and fragrant; about 2 minutes. Add tomato sauce and tomato paste and stir until smooth.

Add remaining ingredients and bring to slow simmer. Simmer for 30 minutes. Remove from heat and slightly cool before spreading the sauce on your prepared pizza dough.
Toppings and Assembly:
Chop the cheese into 2" cubes, then place them in a large, clean bowl. Place the bowl in the freezer for 20 minutes.

Roll the dough out into a large circle (about 12 inches). Pour a 1/4 cup of sauce in the center and spread it around evenly. Add the cheese. Place pizza in the oven to bake for 16-18 minutes, or until the crust is set and the cheese is bubbling. Sprinkle the warm pizza with fresh basil leaves, crushed red pepper flakes, Parmesan cheese, and olive oil. Cut into slices and serve at once!
Notes
Total time includes dough rising.
Next try: