My ultra chewy pizza crust is topped with BBQ sauce, Bacon, Pineapple, and Jalapenos – this is a new favorite!
Barbecue Bacon Pizza
When it comes to pizza, I'm what you could call an equal opportunity eater. BLT Pizza on Puffed Pastry? YES please. Bacon, Corn, and Caramelized Onion Pizza? You know it! Loaded Everything Bagel and Lox Pizza? Did someone say BRUNCH? Vegan Pesto Pizza? Hey there, Guilt free comfort food! Breakfast Pizza Bagels? I can think of a better way to wake. New York Style Cheese Pizza? There is nothing better on a Friday night! Pepperoni Polenta Pizza Bites? Cute, delicious, and gluten-free, baby!
♡♡♡ Can you tell I love pizza much?! ♡♡♡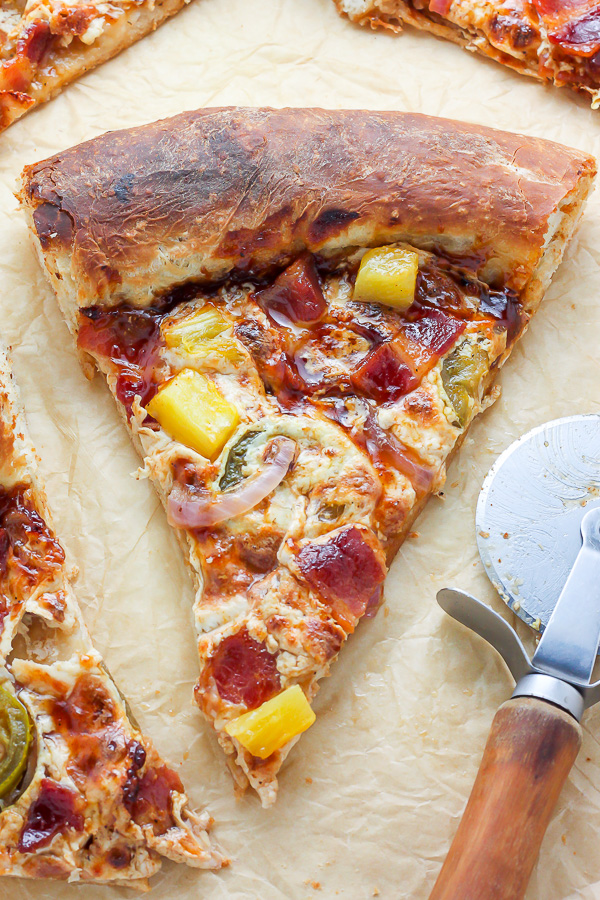 Today's feisty recipe is inspired by a slice of pizza I ate 7 years ago in NYC. I can't remember where the pizza shop was located… or what the name of the shop was (I was 21 and um, maybe just a little tipsy)… but what I do remember is how damn good each and every bite of it was.
What can I say? My pizza memory is strong like that.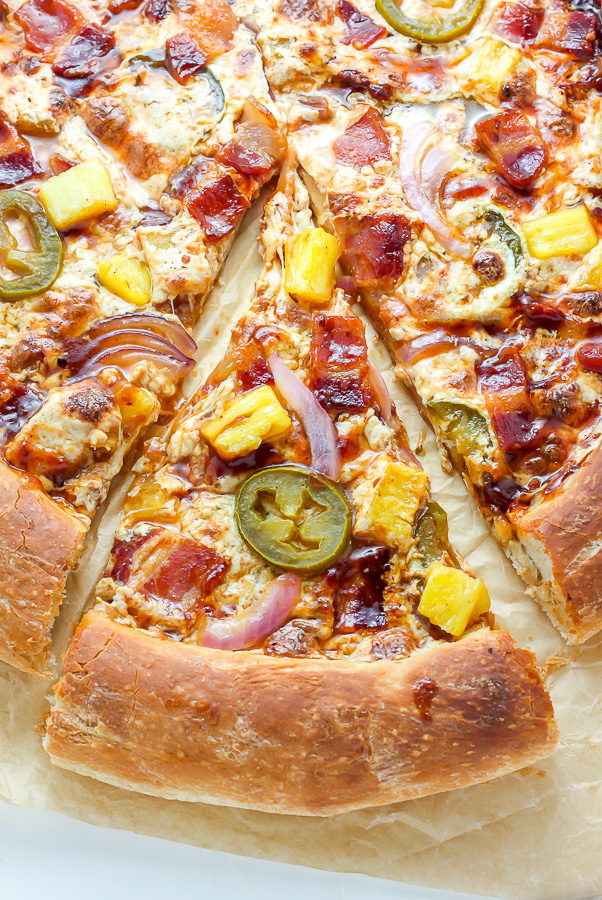 Say hello to my new favorite pizza! An extra crunchy crust topped with tangy BBQ sauce, gooey mozzarella, fresh pineapple chunks, pickled jalapenos, BACON (<— caps because yum), and red onion. This BBQ Bacon Hawaiian Pizza is just exploding with flavor!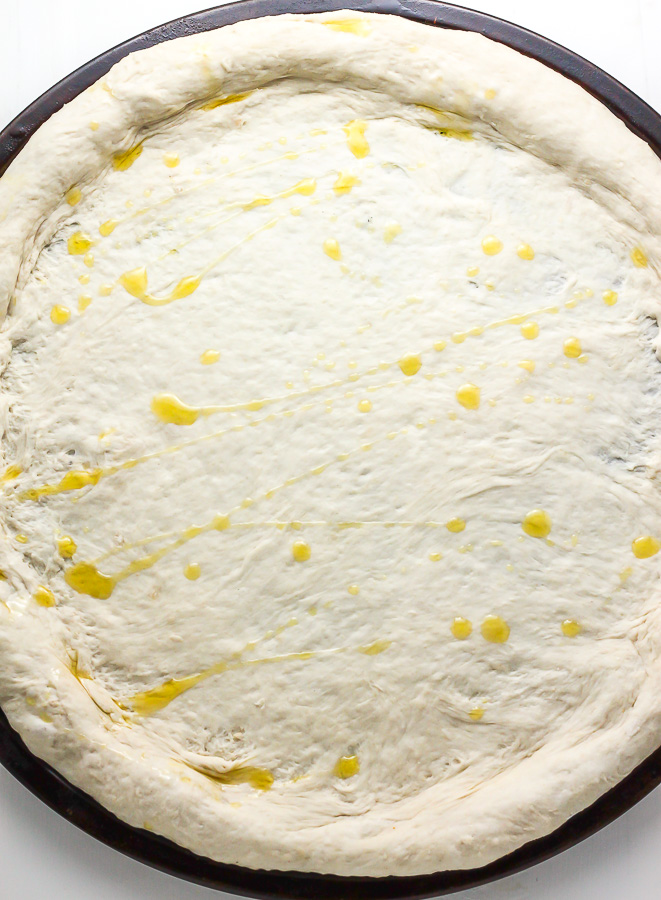 I use this pizza crust recipe for all of my homemade pizzas (step-by-step tutorial coming soon!), but feel free to use your favorite recipe here – or even a store-bought pizza crust (Trader Joe's has a great selection) if you're short on time.
Once the crust is rolled out, it's time to slather on that BBQ sauce! I used my homemade Chipotle Maple and Whiskey Barbecue Sauce, but use whatever sauce you know and love.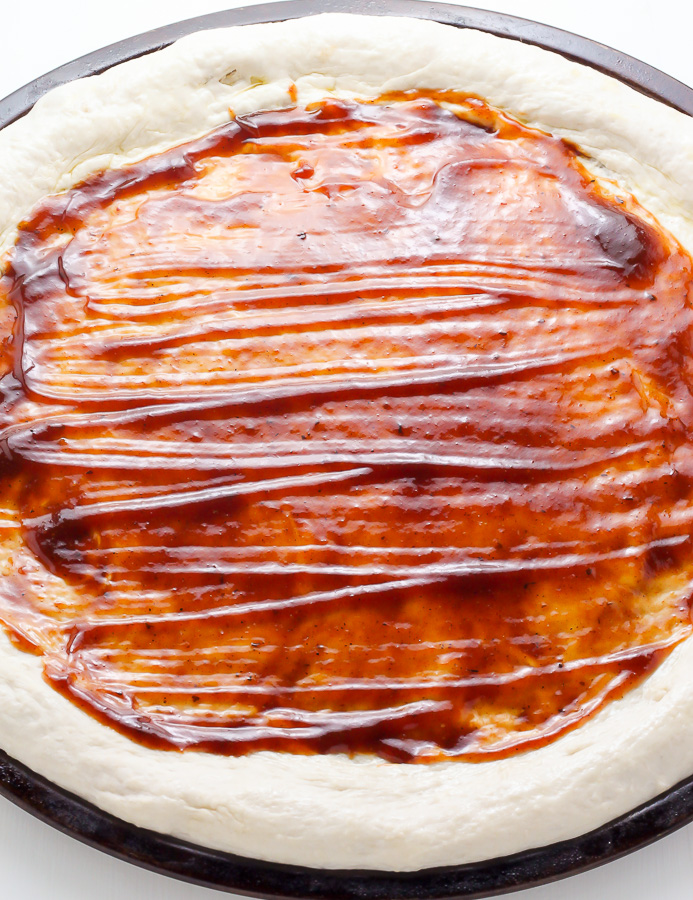 Bacon and Pineapple Pizza Toppings
Things are about to really get good: it's toppings time! Once you add the cheese, you'll add the bacon, pineapple, jalapenos, and onion. Let's pause for a second and acknowledge all of the awesomeness going on here, eh?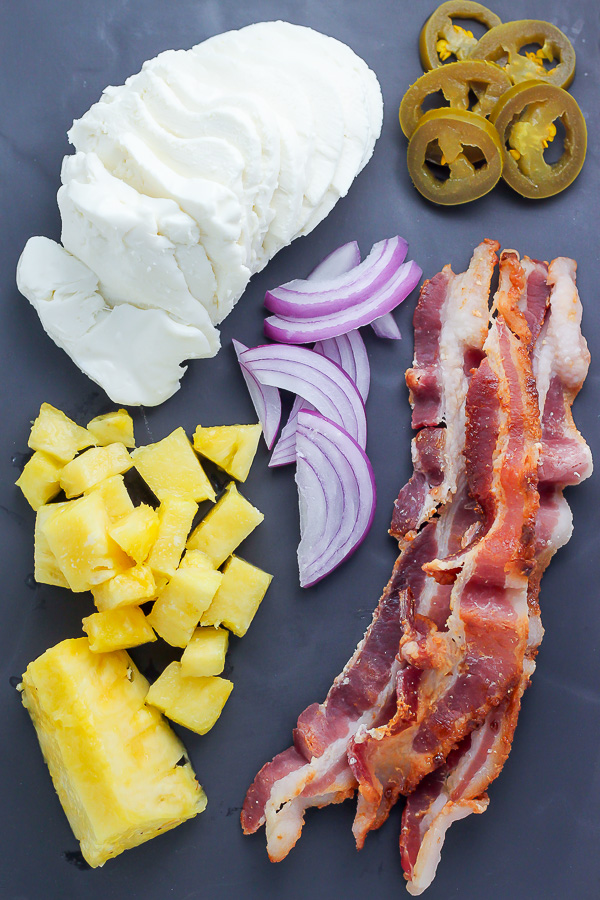 This pizza packs the sweet, the spicy, and the smokey; this pizza has it all!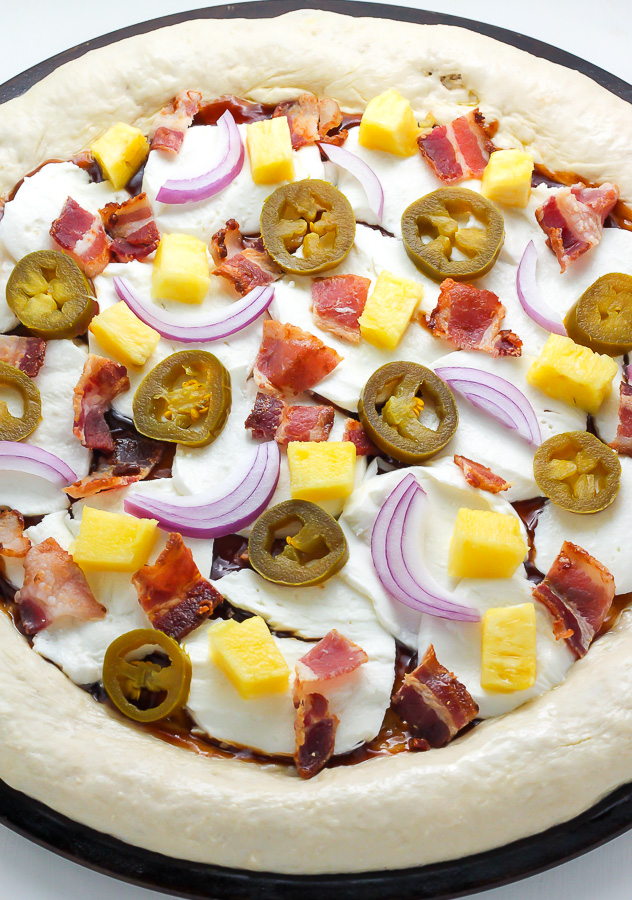 Once baked, you have two choices.
1) Slice and devour.
2) Slice, drizzle with extra BBQ sauce, and devour.
I choose #2 every time, but I'm a more is more person to the core 😉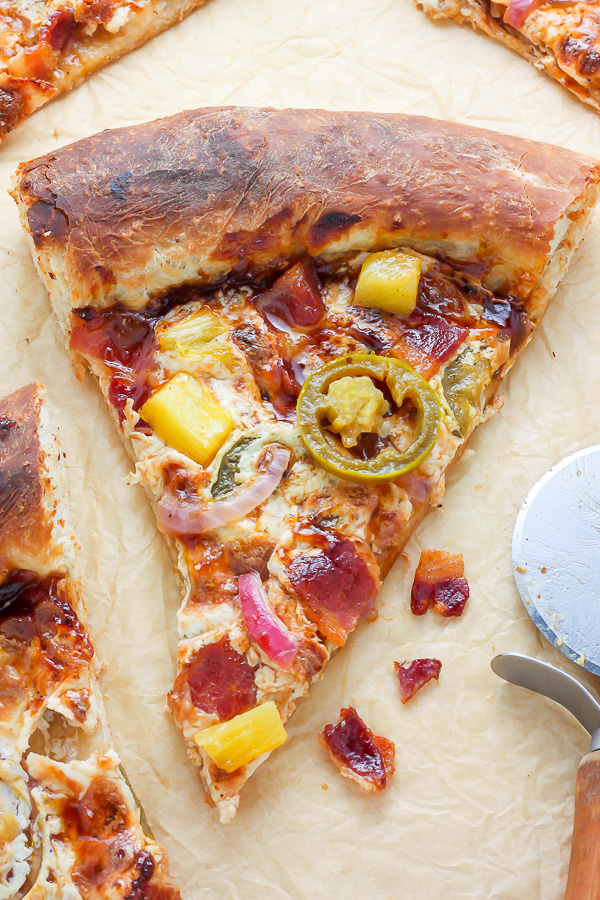 Fellow pizza lovers, do yourself a favor and ditch the delivery; this homemade pizza is going to change your world! You can thank me later 😉
BBQ Bacon Hawaiian Pizza
A delicious twist on Hawaiian Pizza!
Ingredients
2 teaspoons olive oil
(1) Pizza Crust (link to the crust I use in post)
1/4 cup BBQ Sauce
8 ounces Mozzarella Cheese, Shredded or thinly sliced
1/4 cup fresh pineapple, patted dry and cut into small chunks
4 slices bacon, cooked until crispy and cut into small pieces
2 tablespoons pickled jalapenos (more/less to taste)
1/4 cup red onion, thinly sliced
Instructions
Preheat oven to 500 degrees (F).

Lightly coat a round pizza pan with oil; set aside.

Roll out the pizza dough to desired shape and size; place in prepared pizza pan. Brush the dough lightly with a little olive oil.

Spread the BBQ sauce evenly in the center of the pizza dough, then top with cheese, pineapple, bacon, jalapenos, and red onion.

Bake the pizza in the preheated oven for 16-18 minutes, or until the crust is golden and the cheese is bubbling. Let rest for 5 minutes, then slice and serve!
You may also enjoy:
Jalapeno Popper Cheeseburger Pizza
Pineapple Upside-Down Donuts