My favorite White Pizza with tomatoes, basil, and zucchini! AKA the PERFECT Summer meal.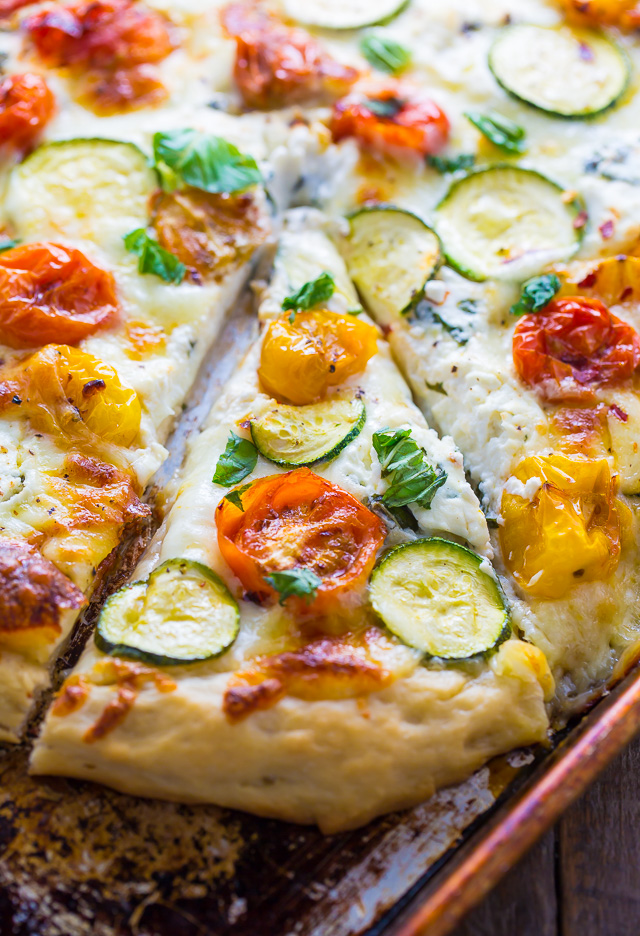 Summer Zucchini Tomato Pizza
Hello and happy Friday! Very excited to be sharing my favorite white pizza recipe with you today!!! I make this at least once a month, but in the Summer I find myself making it more like once a week! You really can't go wrong with a pizza that boasts creamy ricotta cheese, gooey mozzarella, garlic, olive oil, and crushed red pepper flakes. It goes so well with a little salad and a crisp glass of white wine. #dinnerofmydreams
Now, I know a white pizza is classically WHITE, but it's Summer and my garden is exploding with tomatoes, basil, and zucchini… so on to the pizza they go! I also love adding a little lemon zest, but that part is 100% optional.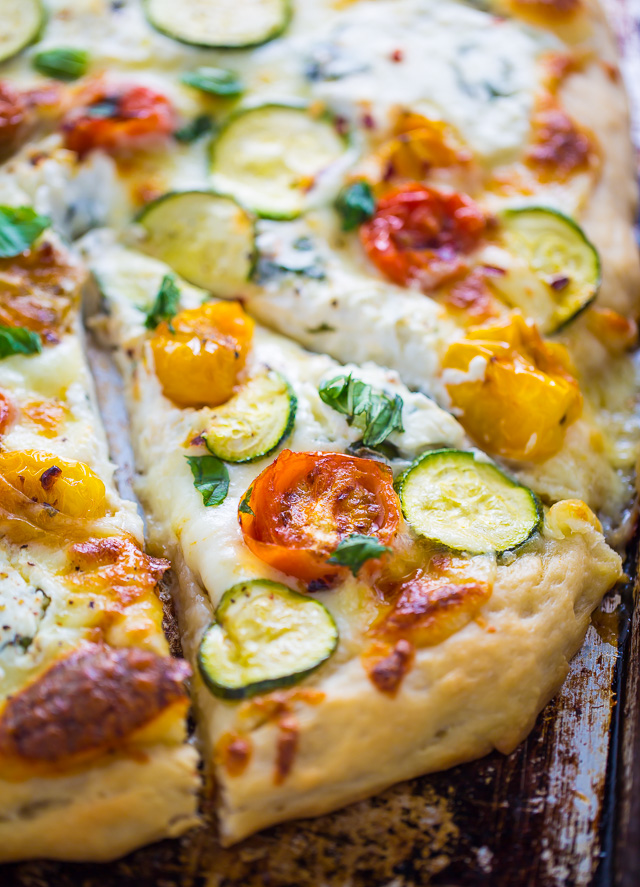 White Pizza with Tomato and Basil
Tips and Tricks for Recipe Success:
You'll want to plan ahead time wise since the pizza crust takes about an hour and a half to rise, then another 10 minutes to rest. The silver lining? You can make the pizza dough up to two months in advance and store it in the freezer until needed. Plus! The dough makes enough for two pizzas, so you can easily double this recipe or save the second half for another time.
If you're really in a rush and can't make your own dough, try buying fresh pizza dough from your local pizzeria, grocery store, or deli. Trader Joe's even sells whole wheat pizza dough! Just be sure to let it sit out at room temperature for about 15 minutes since warmer dough is much easier to work with.
My tried and true trick to a perfect pizza is a VERY hot oven! Be sure to crank your oven on at its highest temperature (for me that's 525 degrees F) for at least 30 minutes before baking. If I have the time I like to preheat mine for 1 hour. A hot oven is key to getting that crispy, chewy crust we all know and love.
While it's not required, if you own a pizza stone, I suggest using it. You can click here to check out the pizza stone I own and love.
Don't over do it on the cheese. I suggest using exactly the amount called for in the recipe. Adding too much cheese will weigh the crust down and make it soggy.
Freeze your shredded mozzarella! I know this may sound odd, but I always place my cheese in the freezer for 15 minutes before the pizza goes in the oven. I find it melts better and spreads more evenly this way.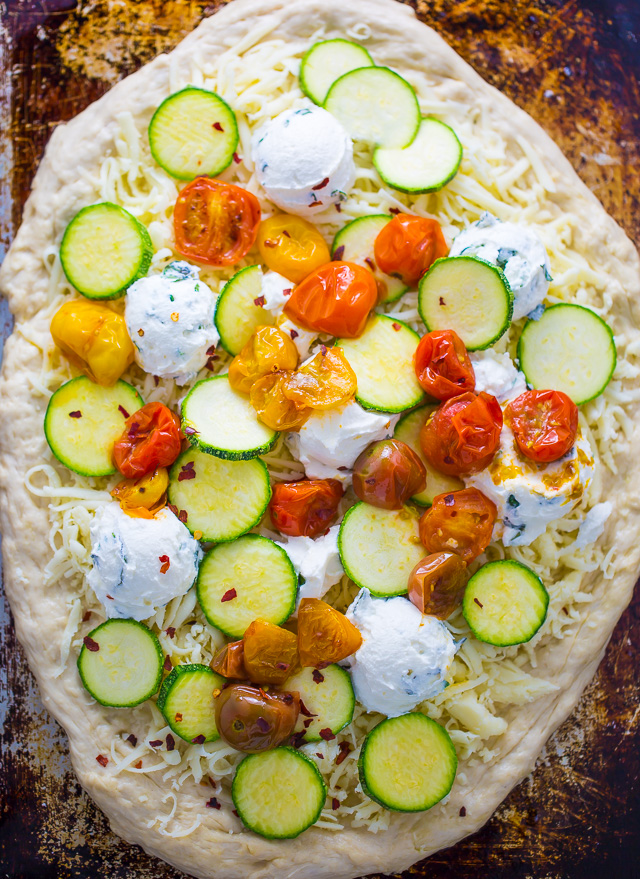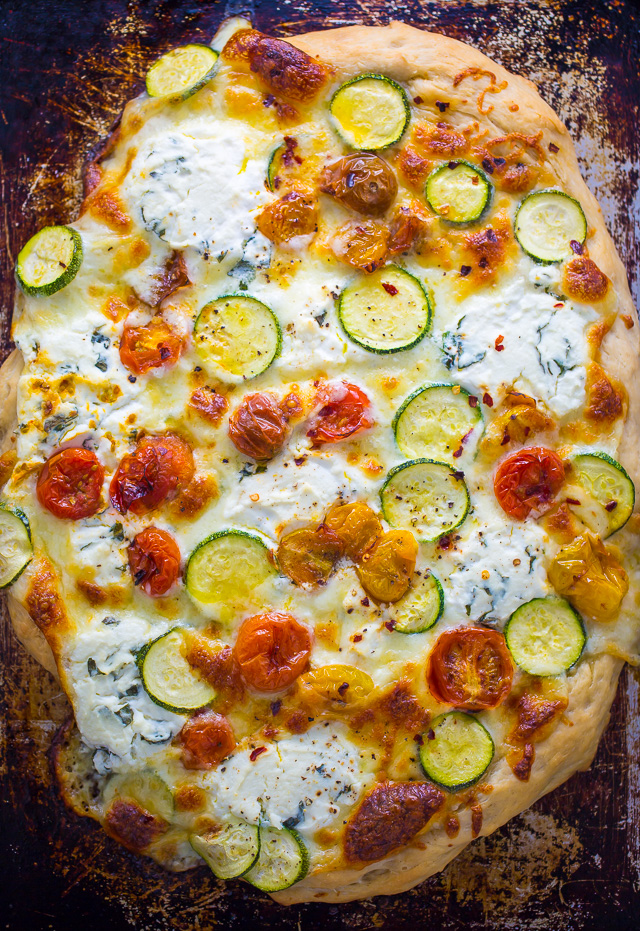 Give the delivery boy a break and try my favorite white pizza TONIGHT! I'm no prophet, but I think after one bite it'll be your favorite too 😉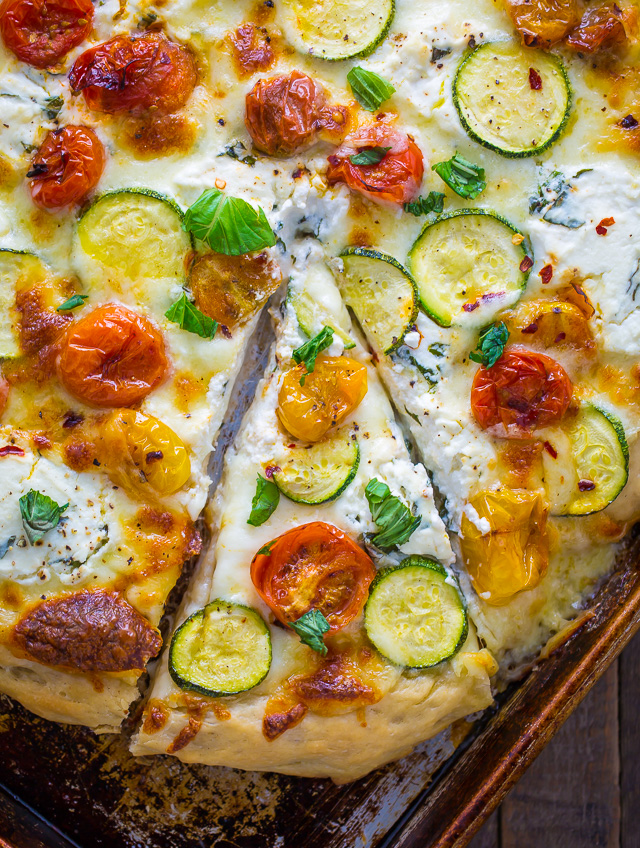 If you try this recipe, let me know what you think! Leave a comment below, and don't forget to snap a pic and tag it #bakerbynature on instagram! Seeing your creations makes my day.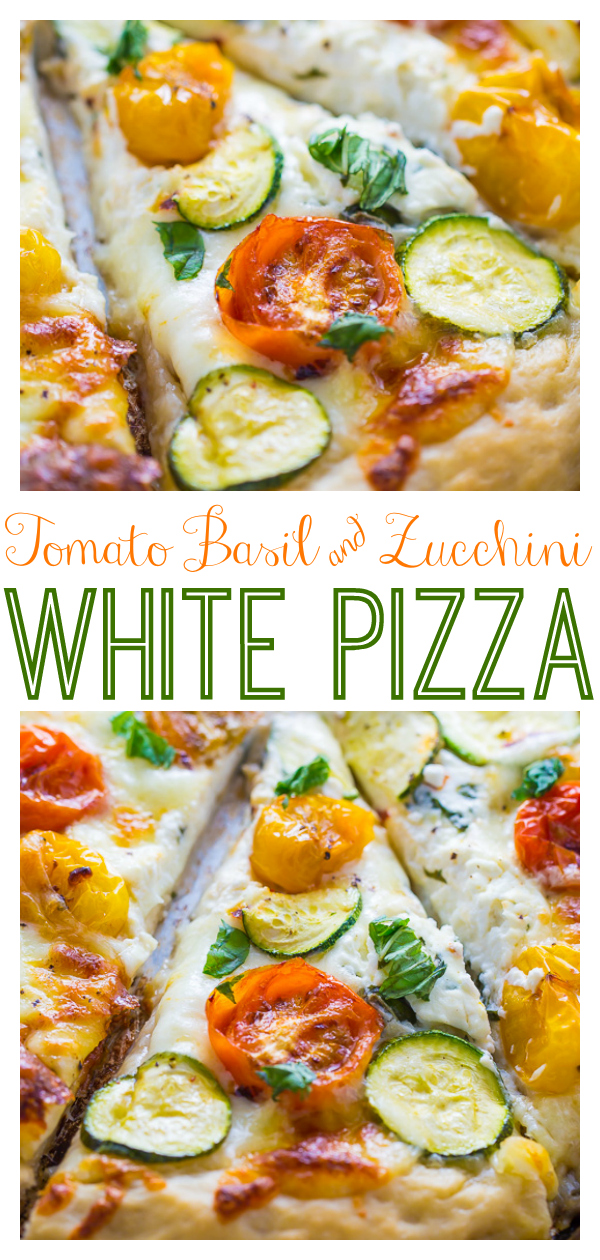 More Pizza Recipes: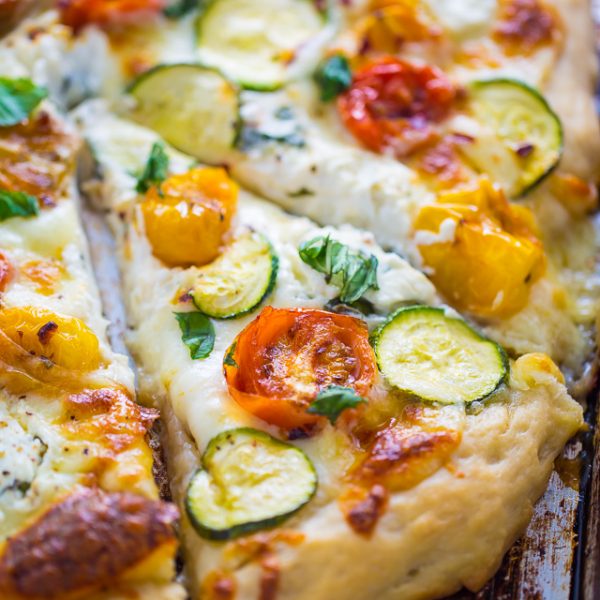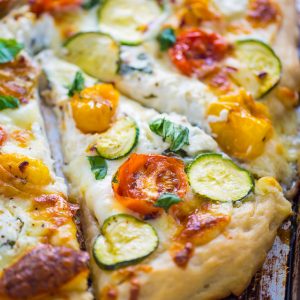 White Pizza with Tomatoes, Basil, and Zucchini
My favorite White Pizza with tomatoes, basil, and zucchini!
Ingredients
For the Crust:
3 and 3/4 cups bread flour
1 and 1/4 teaspoons sugar
1 envelope active dry yeast
2 teaspoons kosher salt
1 and 1/2 cups water, 110 - 115 degrees (F)
2 tablespoons plus 2 teaspoons olive oil, divided
For the Roasted Tomatoes:
2 cups cherry tomatoes
1 tablespoon olive oil
1/2 teaspoon salt
1/4 teaspoon black pepper
For the White Pizza:
2 teaspoons olive oil, divided
3 cups shredded part-skim mozzarella cheese
1 cup whole milk ricotta cheese
1/4 teaspoon salt
1/2 teaspoon fresh cracked black pepper
1/4 teaspoon crushed red pepper flakes
2 cups roasted cherry tomatoes (follow instructions above)
1 small zucchini, thinly sliced
1 clove of garlic, thinly sliced
1/4 cup torn basil leaves
1 teaspoon lemon zest (optional)
Instructions
Preheat oven to highest temperature setting at least 30 minutes prior to baking.
For the Crust:
In the bowl of a stand mixer fitted with the dough hook, combine the bread flour, sugar, yeast and salt; stir to combine.

Turn mixer on low speed and add the water and 2 tablespoons of the oil; beat until the dough forms into a ball around the hook. If the dough is super sticky, add additional flour, 1 tablespoon at a time, until the dough comes together in a solid ball. If the dough is too dry, add additional water, 1 tablespoon at a time.

Scrape the dough onto a lightly floured surface and gently knead into a smooth, firm ball.

Grease a large bowl with the remaining 2 teaspoons of olive oil, add the dough, and cover the bowl with plastic wrap. Place the bowl in a warm area and let it double in size, about 90 minutes.

Turn the dough out onto a lightly floured surface and divide it into 2 equal pieces. Wrap one dough well in saran wrap and place in the freezer for a later use.

Place the dough you'll be using on a piece of plastic wrap and let it rest for 10 minutes.
For the Roasted Tomatoes:
Preheat oven to 450 degrees (F). Line a baking sheet with parchment paper and set aside. In a bowl combine the tomatoes, olive oil, salt, and pepper; mix well to coat the tomatoes in the oil. Pour tomato mixture out onto the prepared baking sheet and roast for 30 to 35 minutes, or until they're soft and slightly blistered. Transfer tomatoes to a plate and set aside until needed.
Assembly:
Reduce preheated oven temperature to 400 degrees (F). Coat a pizza pan or pizza stone with 1 teaspoon of olive oil. Roll the dough out into a large circle (about 12 inches) and place it on prepared pan. Brush the entire surface of the dough lightly with remaining olive oil. Evenly spread the mozzarella on top of the crust, then dollop teaspoons of the ricotta evenly over the mozzarella. Season with salt, pepper, red pepper flakes, lemon zest (if using), and garlic, then top with roasted tomatoes and sliced zucchini.

Bake for 28 to 30 minutes, or until the crust is golden brown and cheese is bubbling. Sprinkle hot pizza with basil right before serving.
Notes
Pizza crust may be made ahead of time and stored in the fridge, for up to one week, or in the freezer, for up to two months. Tomatoes may be roasted, and stored covered in the fridge, up to 3 days in advance.