These delightfully simple to make 5 ingredient s'mores cookie bars have a crunchy graham cracker crust, a gooey marshmallow and chocolate center, and a sweet, crispy, almost creme brûlée like lid! Perfect for indulging your sweet tooth 😉 These travel friendly bars are sure to become a new favorite!
I love 5 ingredient recipes! I find so much joy in creating desserts based on minimalism, and they're especially awesome to have in your repertoire when you want to bake, but don't feel like running to the store to pick up a bunch of stuff. I personally dread running to the grocery store every other day, so improvising is my BFF. When I realized we just so happened to be out of eggs, flour AND sugar earlier this week (…!), I figured there was no time like the present to dig around the cupboards, grab the ingredients I did have on hand, and make it work…
Or at least try 😉
Luckily for us, this dessert attempt was a MAJOR success! These bars are pretty much the best thing ever! And a s'mores lovers dream. I love when experiments end in sweet success! 
The crust is made of ground graham cracker crumbs and a little melted butter – very simple! Then you top the crust with a cup of mini marshmallows, a cup of chocolate chunks, and finally, top it all off with a can of condensed milk. That's it! Then you send them off to bake for 35 minutes, let them chill, cut and serve. Seriously – could this recipe be any easier?! The hardest part is waiting for them to cool – but when it comes to dessert, isn't patience always the most challenging part? You can totally pop the pan in the freezer for 15 minutes if you really want to speed the cooling part up – I know it works for a fact 😉
5 Ingredient Caramelized S'mores Cookie Bars
Ingredients
1 1/2 cups graham cracker crumbs (about 1 1/2 sleeves pulsed in the blender)
6 Tbsp. butter, melted
1 1/2 cups mini marshmallows
1 1/4 cups Milk OR semi-sweet chocolate, chopped into small chunks
14.5 oz can sweetened condensed milk
Instructions
Preheat the oven to 350 degrees (F). Prepare an 8x8 baking dish by lining it with parchment paper and spraying lightly with nonstick cooking spray.

Pulse the graham crackers and melted butter in a food processor or blender until crackers are completely crushed and well blended with the butter.

Press the crumbs well into the bottom of the dish.

Top with marshmallows, chocolate chunks, and finally with the sweetened condensed milk, spreading it evenly over the top.

Bake for 35-40 minutes, or until the top is very golden and edges are bubbly. It will still be gooey and slightly wobbly, but don't worry - it will firm as it cools.

Let cool completely before cutting and serving.
Love S'mores?! Check out these other recipes!
(5 Ingredient // 5 Minute!) Nutella Greek Yogurt Rocky Road Parfaits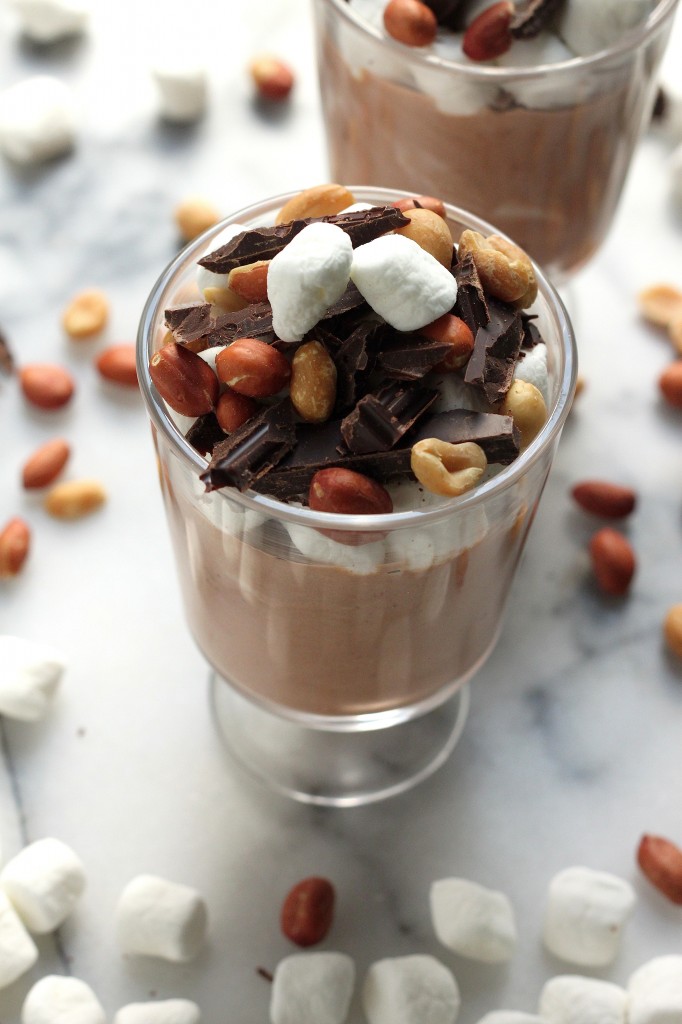 Double Decker S'mores Blondies!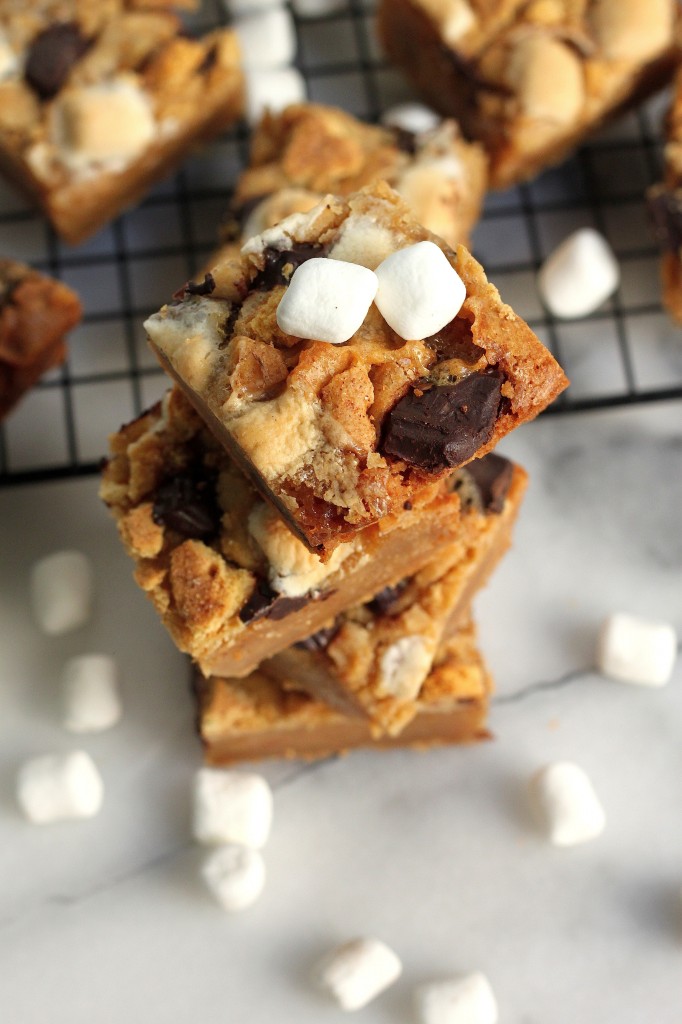 Kahlua Caramel S'mores Banana Bread