Easy M&M Cookie Bars are soft, chewy, and so delicious! Loved by kids and adults, these are perfect for bake sales, potlucks, and holiday baking! Just like my brown butter M&M cookies, but so much easier!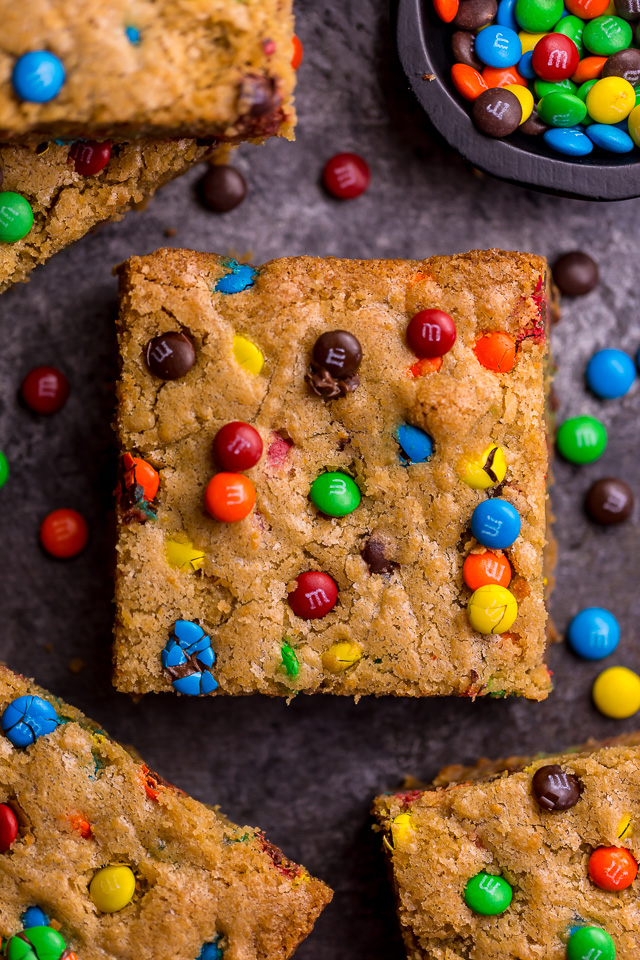 M&M Cookie Bars
We're on a cookie bar kick this month and I see no end in sight! First it was my easy chocolate chip cookie bars, then we baked up the best oatmeal cookie bars, and now? M&M COOKIE BARS!
My taste testers gave this recipe 5 stars! Which basically means they ate them all really fast and asked me to bake more lol. Which is why I love cookie bars so much! No cookie dough chilling… no rolling a million and one cookies… or baking "one tray at a time"… and no wonky looking cookies that decided to spread all over the pan! Instead I get thick and chewy homemade M&M cookies… in bar form. In less than an hour! You in?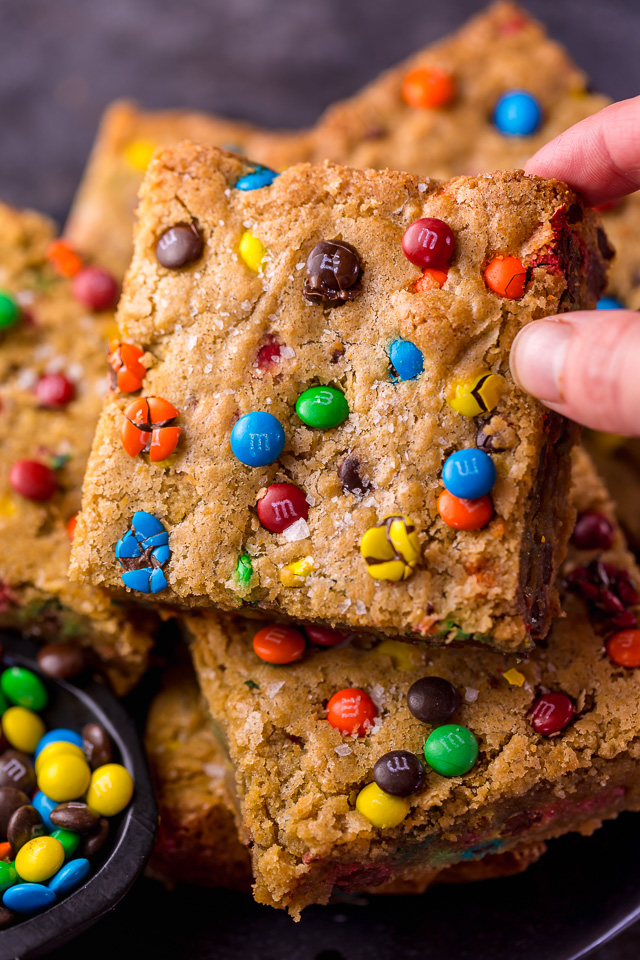 Excellent! Go preheat your oven to 350 degrees and let's dive into this new recipe!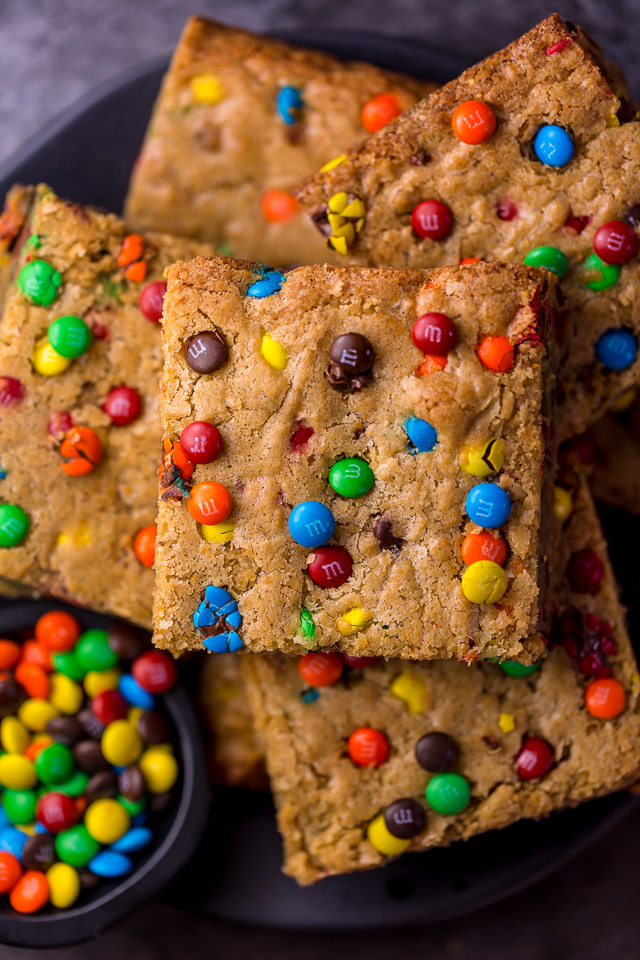 One of the things I really love about this recipe? It's made with super basic ingredients you probably have in your kitchen right now! You'll need: melted butter, brown sugar, granulated sugar, eggs, egg yolk, vanilla extract, flour, salt, and baking soda. Oh, and a cup of m&m candies! You can use classic M&Ms, peanut butter M&Ms, or mini M&Ms. I used mini because for some reason I have like a million bags in the pantry!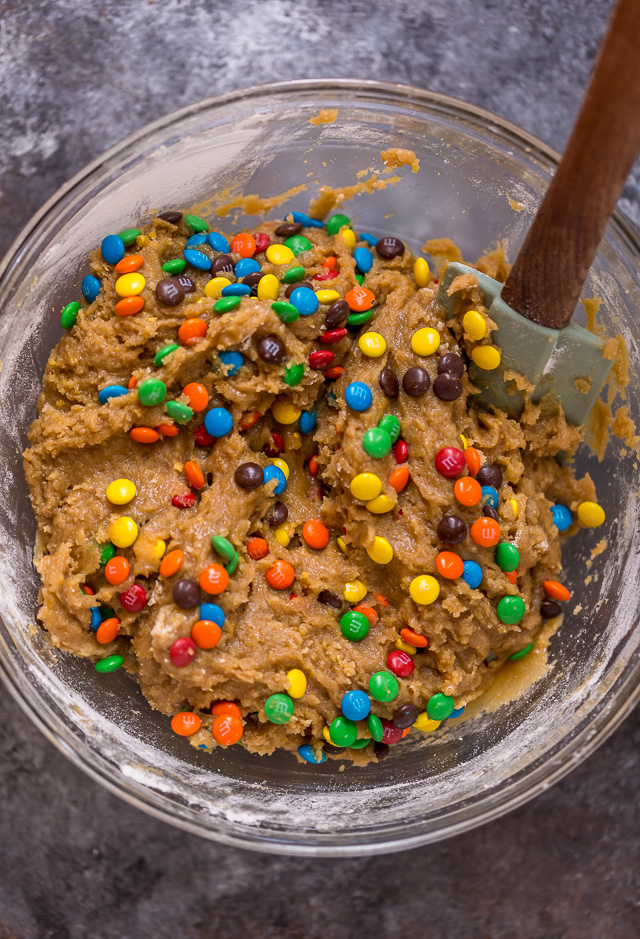 Modifications that will totally work in this recipe
No baking soda? No sweat. You can skip it and they'll just be slightly denser but still so delicious. No vanilla? That's fine! The flavor will be a little less complex, but it's not a deal breaker! Only have white sugar? Add a tablespoon and a half of molasses into the white sugar and rub it in until well combined. The continue as directed. Other than the perviously mentioned modifications, I do not recommend changing this recipe.
The one ingredient I suggest you DON'T skip? Salt! These bars are very sweet, and the salt balances that out, and enhances all of the other flavors.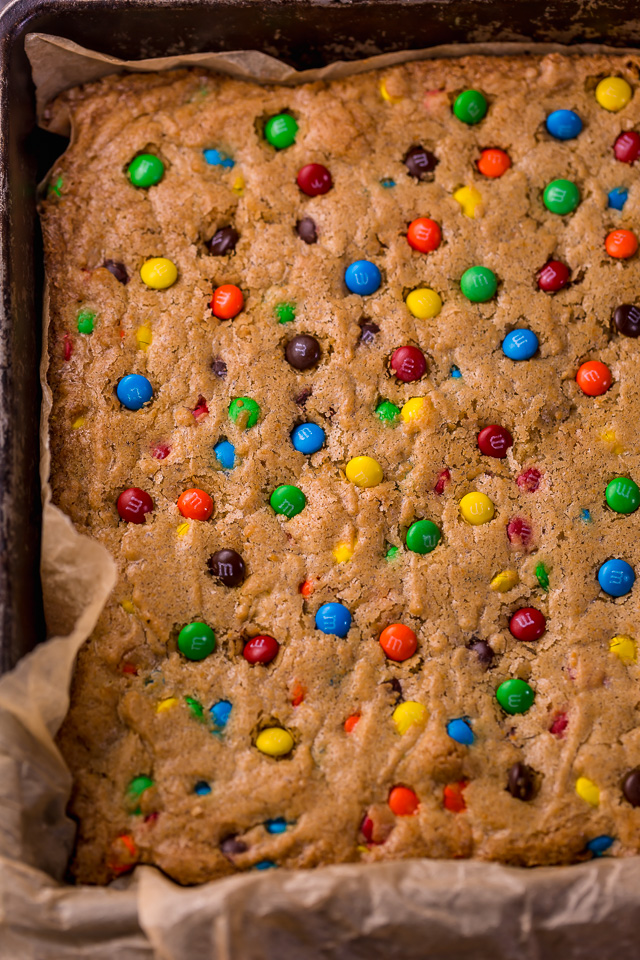 How to Bake M&M Cookie Bars
Making these cookie bars is quick and easy! The most time consuming step is probably browning the butter, which is optional. Personally, I love brown butter and add it to my baked goods whenever I get the chance. Brown Butter adds a rich almost nutty flavor! And definitely elevates the flavor of baked goods, especially simple recipes like cookie bars!
In most cookie recipes, you have to bring brown butter back to room temperature, which can be a bit of a pain and time consuming. But for these cookie bars, you simply brown the butter and combine it with the sugar and vanilla! So in my opinion, it's worth the extra 5 minutes.
If you're not browning your butter, this can definitely be a one bowl recipe! Simply melt the butter in a large bowl in the microwave. Then whisk in the sugars and vanilla. Then add in the eggs and yolk. Finally toss in the dry ingredients and fold in the m&ms. Press the dough evenly into the prepared pan and bake for about 35 minutes! Please remember that every oven runs differently, so bake times are purely suggestions. If your oven runs low, these may take closer to 40 minutes to bake.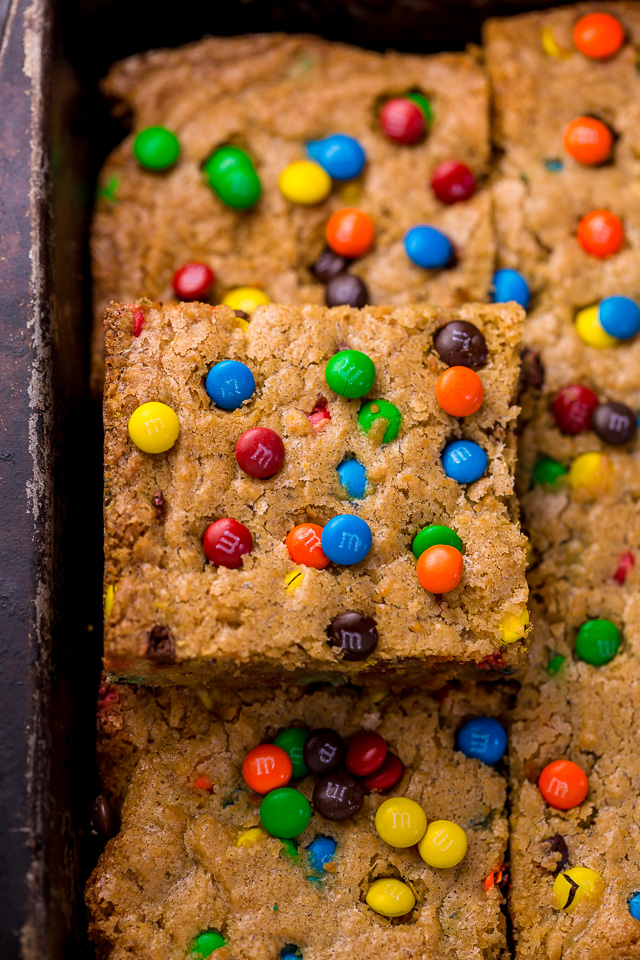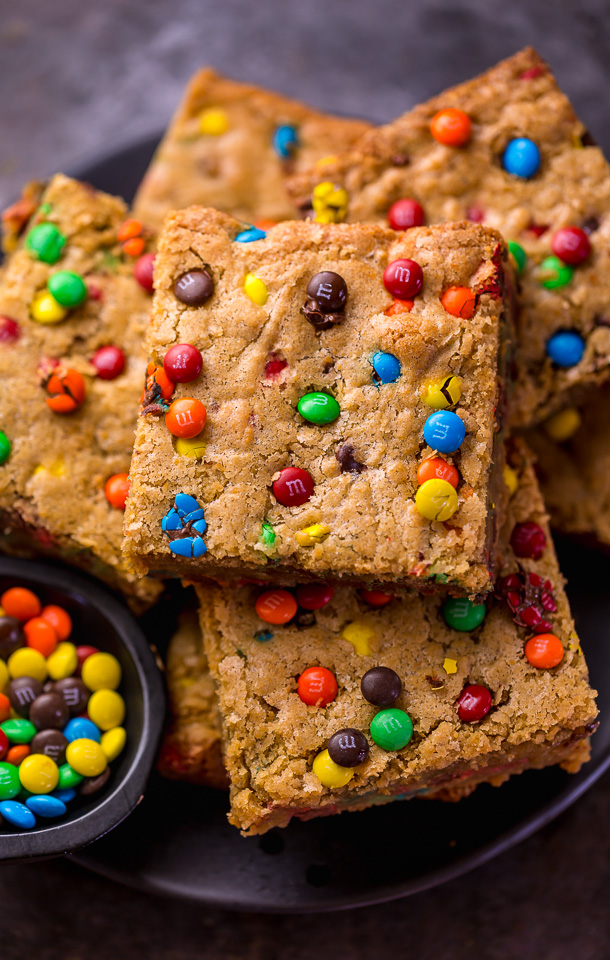 Ok, so the hardest part of this whole recipe? COOLING! I suggest letting the M&M cookie bars cool completely in the baking pan, which takes about 1 hour.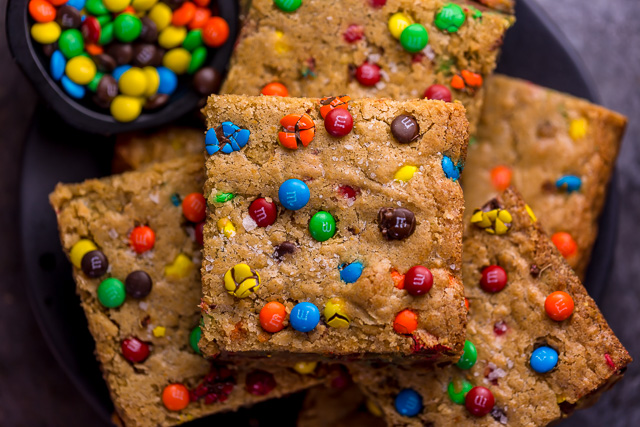 You can easily double this recipe by doubling all of the ingredients and baking in a 9 x 13 pan. But if you do this, you'll want to increase the baking time by a few minutes!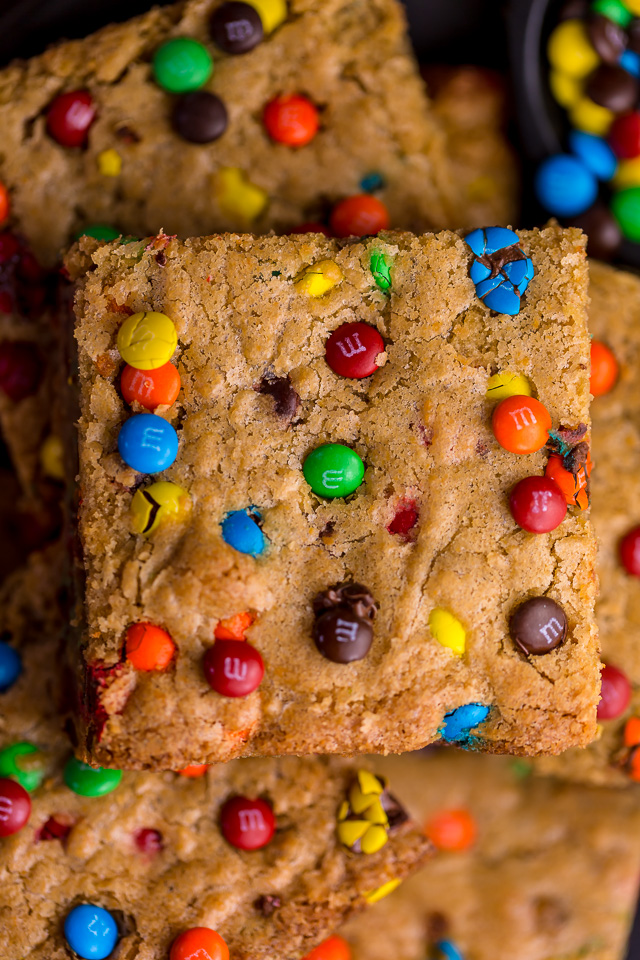 More M&M Cookie Recipes: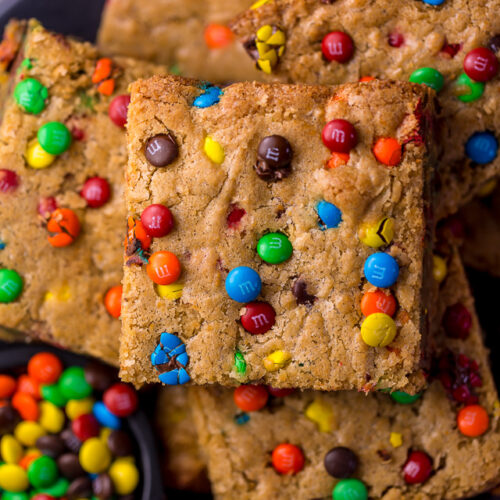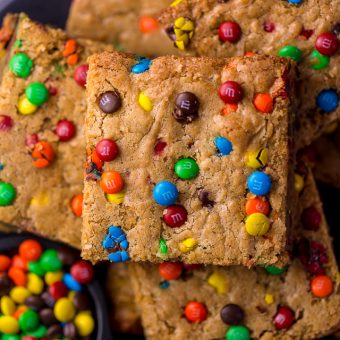 Easy M&M Cookie Bars
Easy M&M Cookie Bars are soft, chewy, and so delicious! Loved by kids and adults, these are perfect for bake sales, potlucks, and holiday baking! Just like my brown butter M&M cookies, but so much easier!
Ingredients
1 cup (227 grams) unsalted butter, melted until browned
1 cup (200 grams) light brown sugar, packed
1/4 cup (50 grams) granulated sugar
1 teaspoon pure vanilla extract
2 large eggs plus 1 large egg yolk, at room temperature
2 cups (254 grams) all-purpose flour
1 teaspoon baking soda
1/2 teaspoon salt
1 cup (6 ounces) M&M candies, plus more for the top, if desired
Flaky Sea Salt, optional
Instructions
Preheat oven to 350 degrees (F). Line an 9x9-inch baking pan with parchment paper or aluminum foil. Spray lightly with non-stick spray and set aside.

In a saucepan over medium heat, melt the butter, then continue to cook it, stirring occasionally, until golden brown. Keep an eye here, you don't want burnt butter! Remove from heat and scrape the butter into a large heat proof mixing bowl.

Whisk in both sugars and mix until well combined. Stir in the vanilla. Then add in the eggs and egg yolk, beating until combined. 

Using a rubber spatula, add in the flour, baking soda, and salt, mixing until just combined. Finally, fold in the M&Ms. Scrape the batter into the prepared pan. 

Bake for 32 to 35 minutes, or until the edges are firm and golden. Press extra M&Ms on top of the warm cookie bars, if desired. 

Cool in pan for at least 1 hour before cutting.