These are the BEST Oatmeal Cookie Bars you'll ever bake! Soft, chewy, and loaded with rolled oats and chocolate, this is a great recipe the whole family will love! Super easy and no mixer required!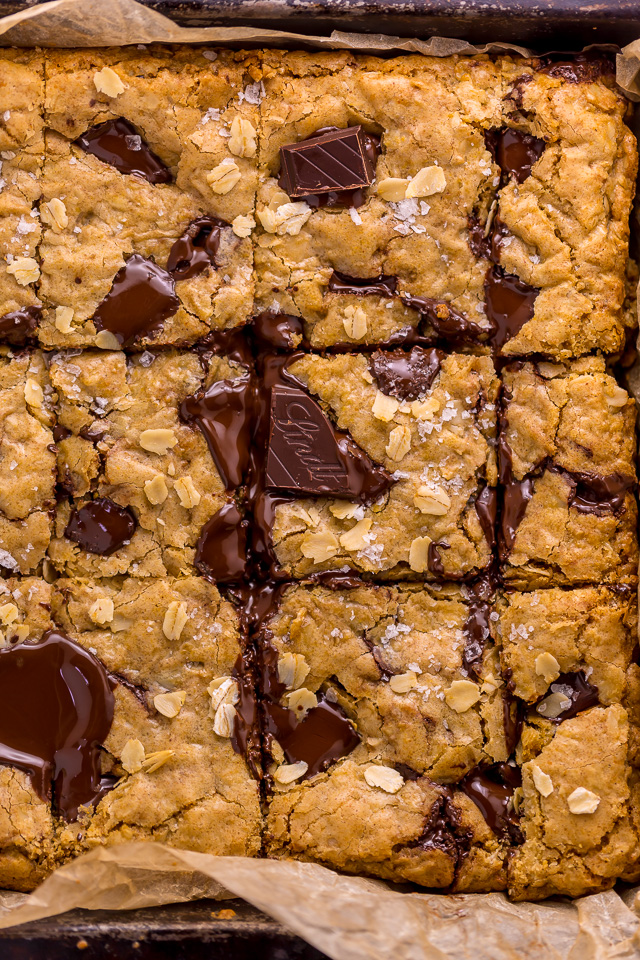 Oatmeal Cookie Bars
Last week I posted my Easy Chocolate Chip Cookie Bars and you guys went CRAZY for them! So I figured… why not make an oatmeal version?!
Yesterday, I took a quick peek into our pantry, and was relieved we had all required ingredients already on hand! A blessing right now, since we're still sheltering in place and only hitting up the grocery store once every 2 weeks.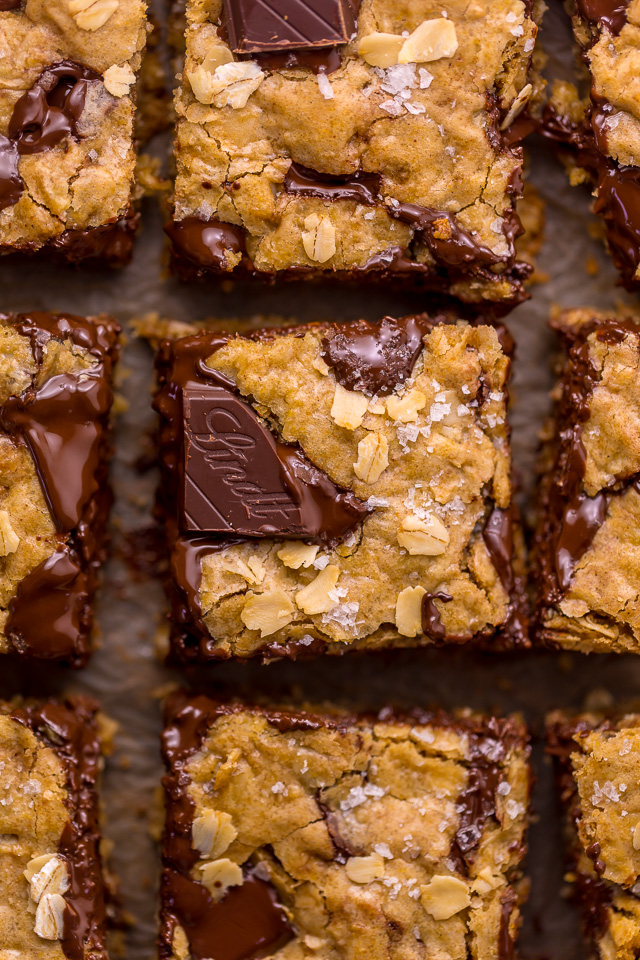 Another perk? No electric mixer required! I broke my kitchenaid glass mixing bowl a few weeks ago and with haven't been able to replace it yet. So all of the recipes I've been creating for you are truly 100% HAND made lol.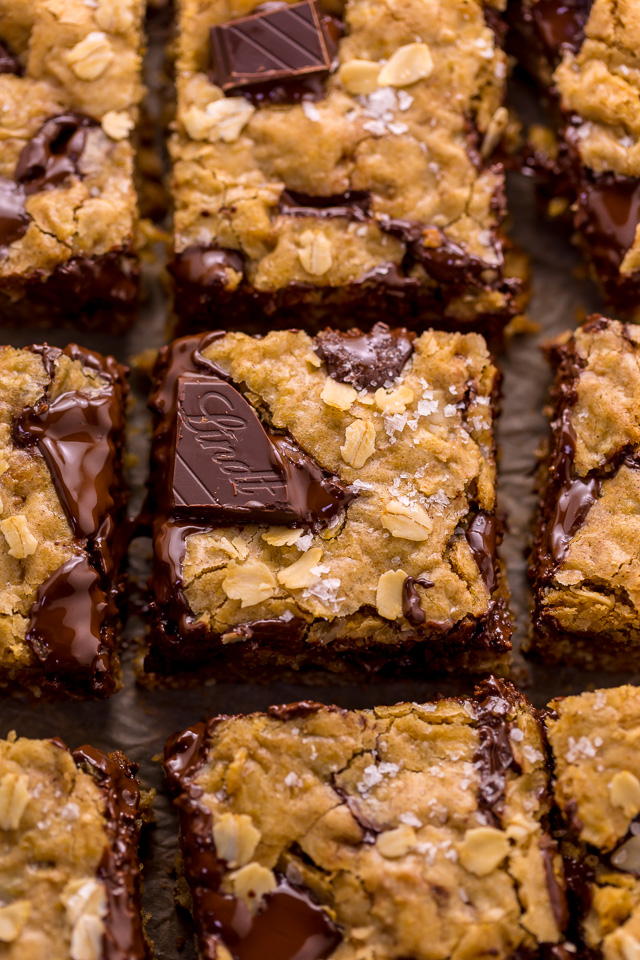 As you can see, my mix-in of choice for these bars were giant chunks of gooey dark chocolate. I had a bunch of random pieces from other recipes and this was the perfect was to use them up!
But you can use any mix-in you'd like! Here are some ideas:
semi-sweet or milk chocolate chips
chopped dark, milk, or white chocolate
peanut butter chips or peanut butter cups
raisins (they'll taste just like my brown butter oatmeal raisin cookies!)
dried cranberries and white chocolate chips
toffee bits
finely chopped chocolate covered espresso beans
Reese's pieces
M&M's
pretzels
pecans, walnuts, or even peanuts
shredded coconut
Now I could go on and on, but I think you get the point. Just don't exceed 1 and 1/4 cups of whatever you mix-in you add or it'll be too heavy.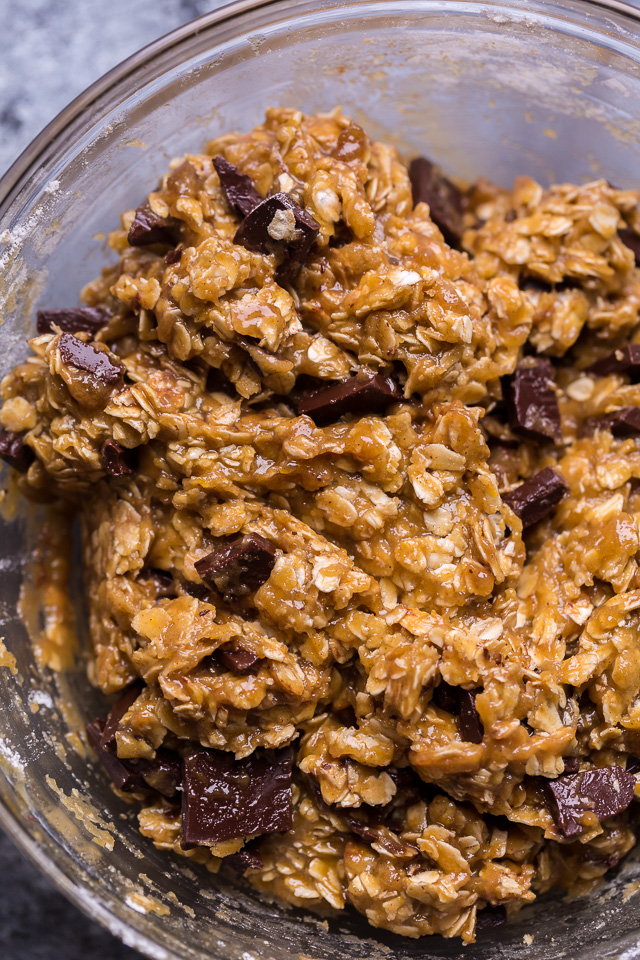 The flaky sea salt on top is also 100% optional! But a really nice touch if you like the whole salty/sweet thing. Plus, it makes these cookie bars look so pretty and posh!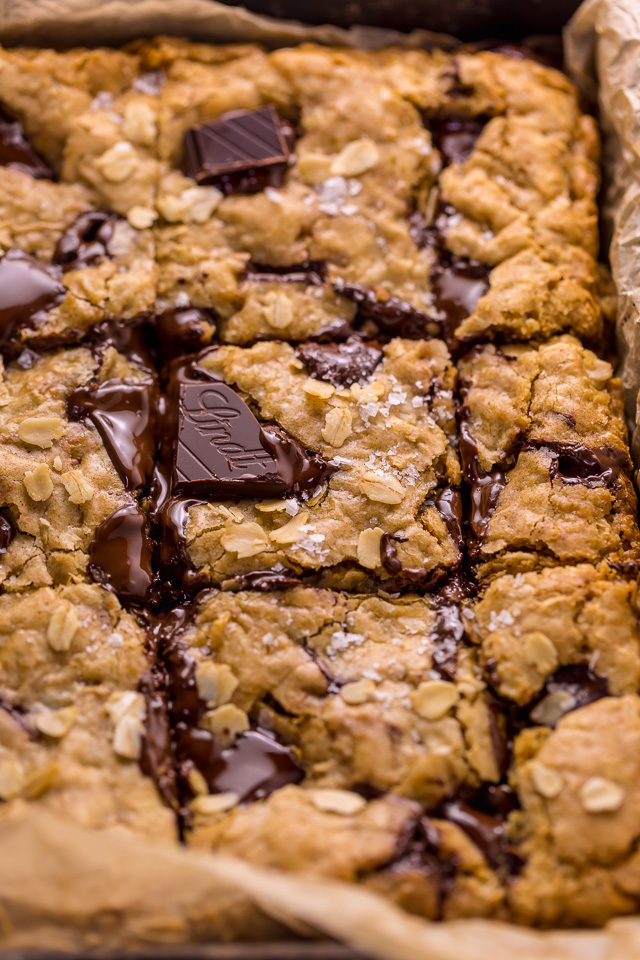 Can I use Quick Oats?
Yes! If you only have quick oats on hand, they'll work just fine! The texture will be a little different, but ultimately, it'll work! Just use the same amount called for in the recipe!
How to Make Oatmeal Cookie Bars
Preheat oven to 350 degrees (F). Line an 9×13-inch square baking pan with parchment paper.
In a large bowl combine melted butter and both sugars. Add in the eggs and vanilla extract and whisk well to combine.
Add the flour, baking soda, salt, oats, and cinnamon. Use a rubber spatula to fold in the flour mixture until just combined. Don't over mix here or you'll get cakey bars!!! Fold in chocolate chips (or whatever add-ins you're using).
Scrape the batter into the prepared pan and bake until golden brown, about 24 minutes. Maybe a little longer, depending on your oven.
Cool completely in the pan, placed on a cooling rack. Slice, devour, enjoy!
Just a quick note on cooling… if you don't mind a gooier bar, feel free to cut in after about 35 minutes. But they will still be soft! If you want a very structured bar (clean slices), cool COMPLETELY.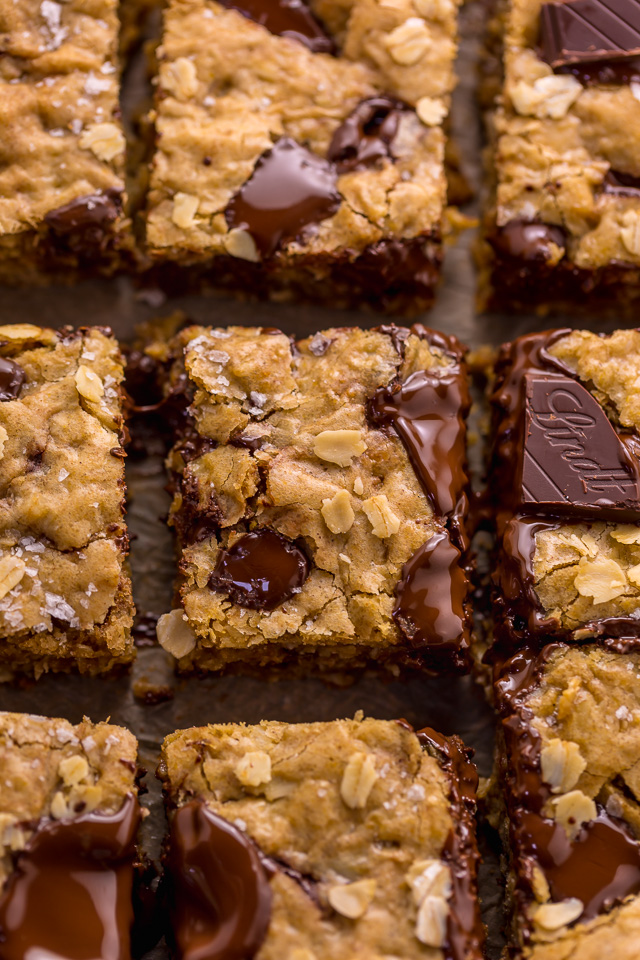 Full recipe (and print recipe option) below!
More Oatmeal Cookie Recipes: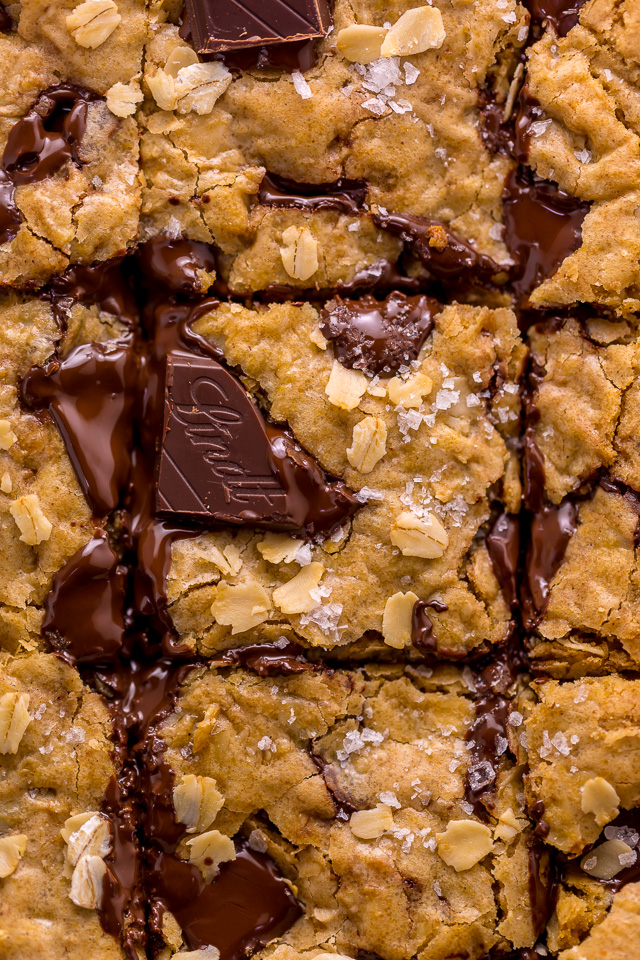 I served these soft and chewy oatmeal chocolate chunk cookie bars with a scoop of vanilla ice cream and they were a TOTAL hit! So I know this recipe will be in heavy rotation around here for years to come! They also travel great! So I'm planning on a baking a batch later today to ship to friends and family I'm missing dearly right now! – xoxo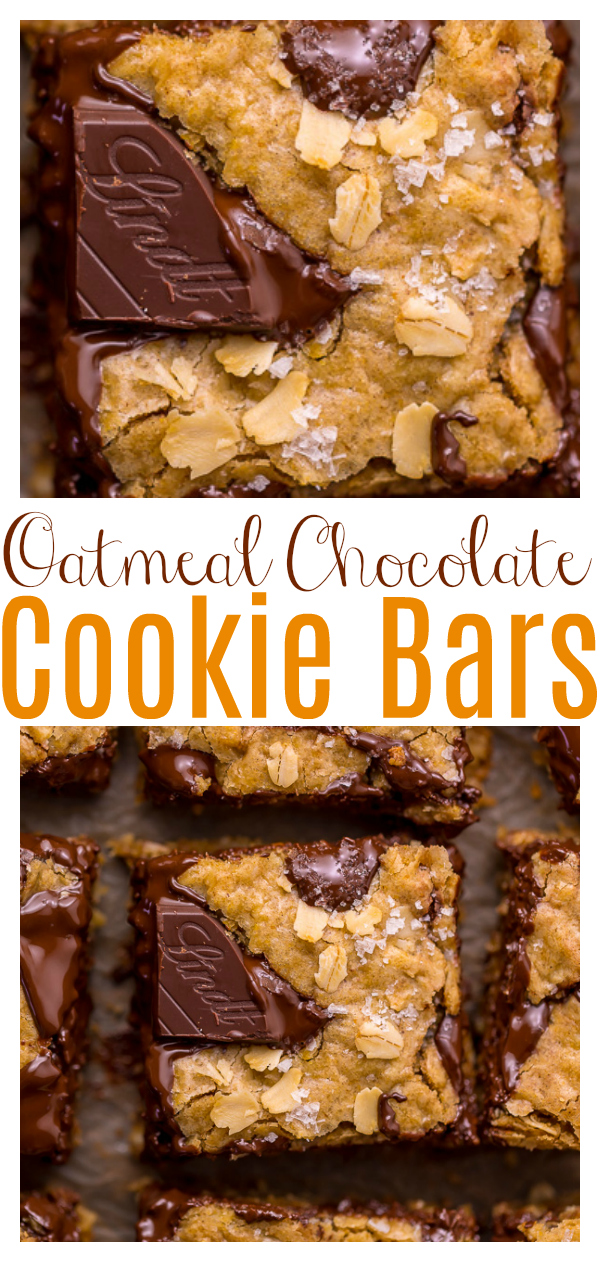 And if you try this recipe for Oatmeal Cookie Bars, please let me know! Leave a comment below and don't forget to snap a pic and tag it #bakerbynature on instagram! Seeing your kitchen creations makes my day and are so helpful to your fellow bakers ♥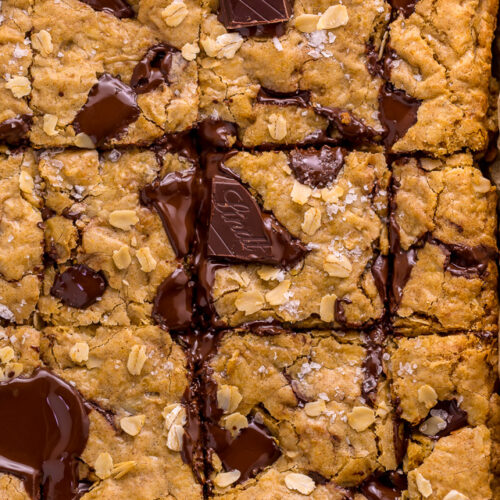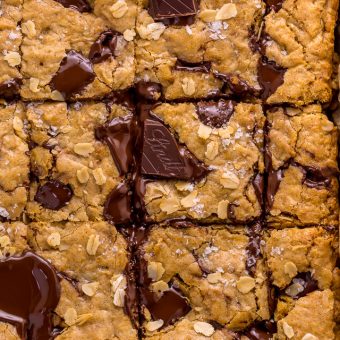 The Best Oatmeal Cookie Bars
These are the BEST Oatmeal Cookie Bars you'll ever bake! Soft, chewy, and loaded with rolled oats and chocolate, this is a great recipe the whole family will love! Super easy and no mixer required!
Ingredients
2 sticks (8 ounces, 1 cup) unsalted butter, melted
1 cup light brown sugar, packed
1/2 cup granulated sugar
2 large eggs plus 1 egg yolk, at room temperature
2 tablespoons milk
1 tablespoon vanilla extract
1 and 2/3 cups all-purpose flour
1 teaspoon baking soda
3/4 teaspoon salt
1/2 teaspoon ground cinnamon
2 cups rolled oats
1 and 1/4 cups chopped dark chocolate OR your mix-in of choice (see post for ideas!)
1 teaspoon flaky sea salt, optional
Instructions
Preheat oven to 350 degrees (F). Line an 9x13-inch baking pan with parchment paper or aluminum foil. Spray lightly with non-stick spray and set aside.

In a saucepan over medium heat, melt the butter, then continue to cook it, stirring occasionally, until golden brown. Keep an eye here, you don't want burnt butter! Remove from heat and scrape the butter into a large heat proof mixing bowl.

Whisk in both sugars and mix until well combined. Stir in the vanilla. Then add in the eggs and egg yolk, beating until combined. Stir in the milk.

Using a rubber spatula, add in the flour, baking soda, salt, cinnamon, and rolled oats, mixing until just combined. Finally, fold in the chocolate chunks. Scrape the batter into the prepared pan. 

Bake for 24 to 30 minutes, or until the edges are firm and golden. Press extra chocolate chunks on top of the warm bars, if desired. 

Cool in pan for at least 1 hour before cutting. Sprinkle with flaky sea salt before serving, if desired.