Homemade Peanut Butter Cups made with just 5 ingredients! This recipe is foolproof and so easy! If you love Reese's peanut butter cups, try this homemade version today!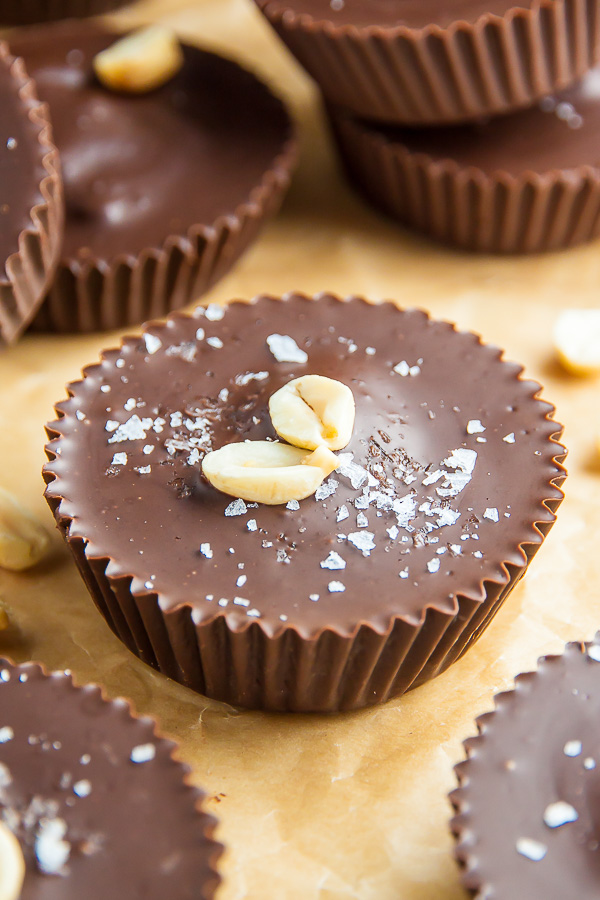 Homemade Peanut Butter Cup Recipe
Hello, friends! I hope this post finds you healthy, happy, and hungry.
As I write this, I'm sitting on my little orange couch, watching the snow fall (in APRIL?!), and enjoying my third peanut butter cup of the afternoon. With tea… and a furry blanket… and Seinfeld on in the background. I'm mixing some much needed unwinding with a little work and loving every second of it!
Also loving this view ↓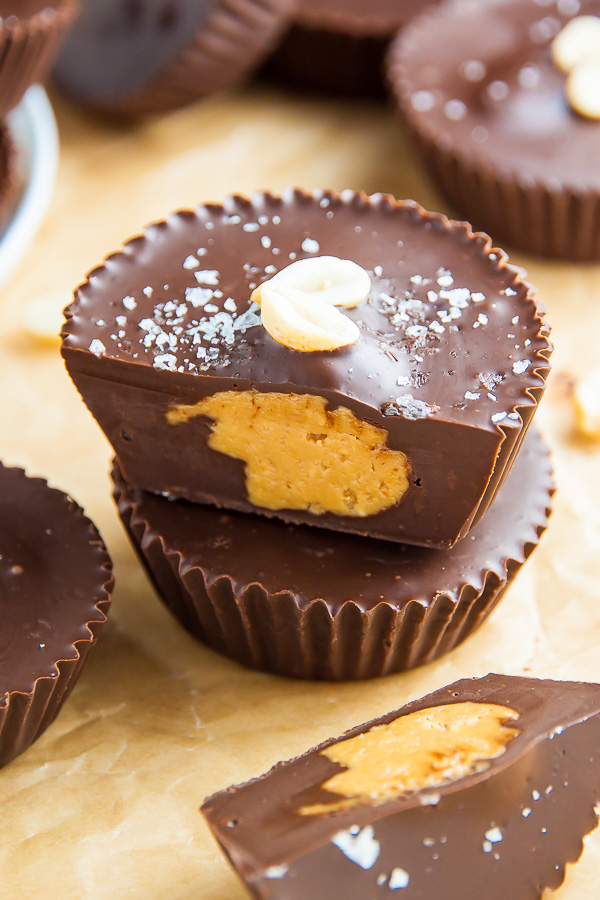 Chocolate + peanut butter + flaky sea salt = pure bliss.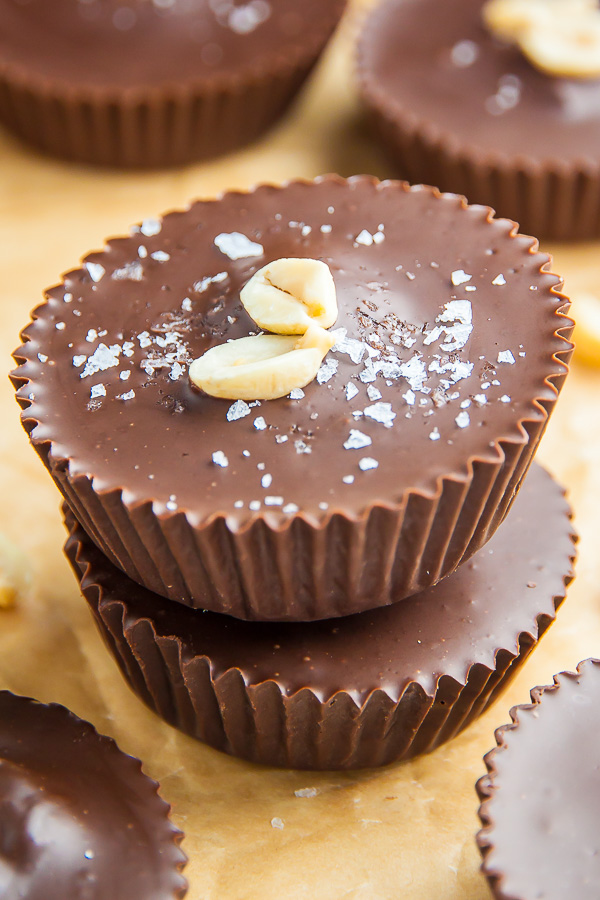 If you've never made homemade peanut butter cups before, you're in for a real treat! Not only are they 1,000,000 times tastier than the packaged ones, they're also a blast to make and SUPER friggin' easy. Even my 12 year old nephew can make these! And that boy, bless his soul, has issues with boxed mac 'n' cheese.
But I digress! Let me tell you exactly what you need to make these dreamy peanut butter cups a reality in your own kitchen. As mentioned in the title, this recipe only requires 5 simple ingredients: chocolate, peanut butter, honey, coconut oil, and sea salt. That's it! If you're allergic to coconut oil, you may use canola oil for the shell and butter in the filling, I have more on this in the 'notes' section of the recipe box below. That said, you cannot taste the coconut, so if you can find coconut oil (you can buy it online HERE), I suggest using it and sticking to the recipe as written.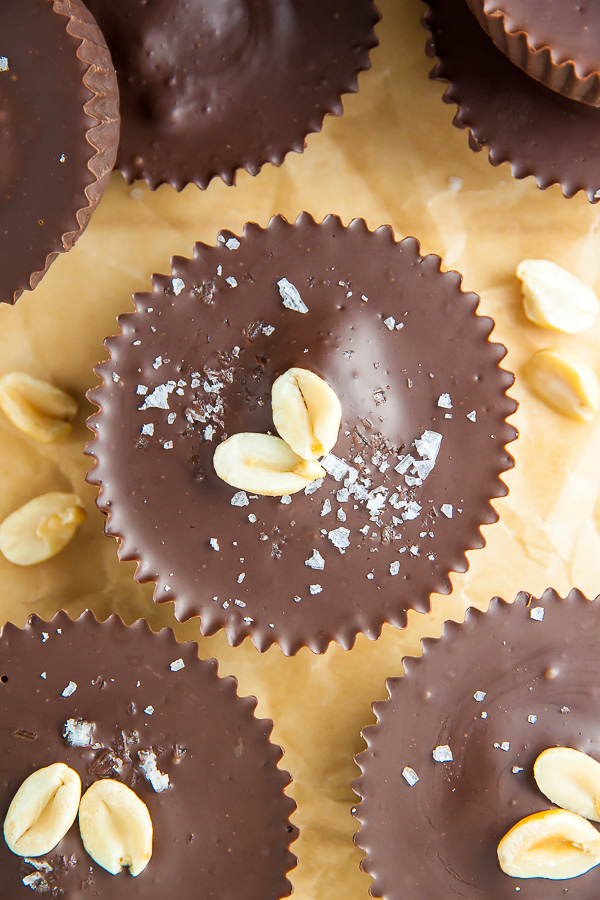 How to Make Peanut Butter Cups
To make the creamy peanut butter filling you'll simply combine peanut butter (I suggest using unsweetened peanut butter), honey, and a little coconut oil. I suggest starting with the amount of honey called for in the recipe, then adding more to taste, if desired. I also like to throw a pinch of flaky sea salt in the filling, but again, this is totally up to you and your taste buds 😉 I know sweet and salty isn't for everyone!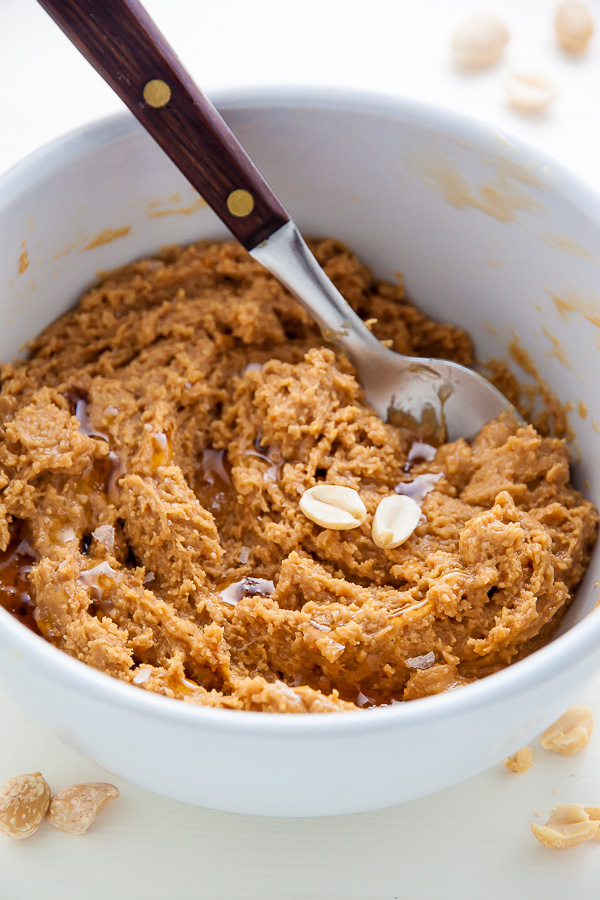 For the chocolate coating I suggest using a high-quality brand you know melts well and tastes great. I don't recommend using chocolate chips, as they can turn grainy and clump together. I find Baker's chocolate works great, and is a very affordable option. I love dark chocolate and chose to use that variety to coat my peanut butter cups in, but you can totally use milk chocolate or semi-sweet chocolate, if you wish!
To assemble you're going to line a muffin tin with paper liners (I'm obsessed with these parchment paper liners because they literally slide right off!) and fill each mold with a little melted chocolate…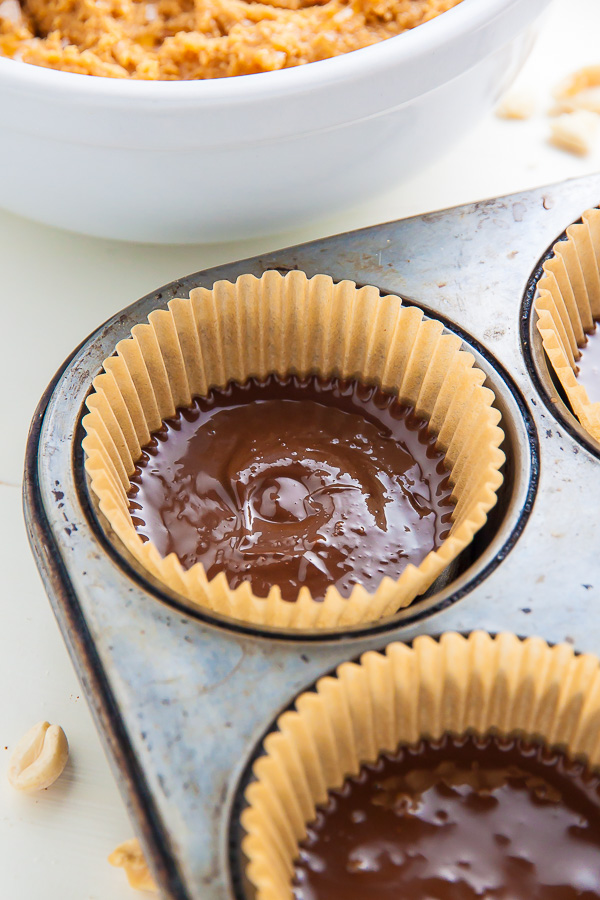 add in a dollop of peanut butter…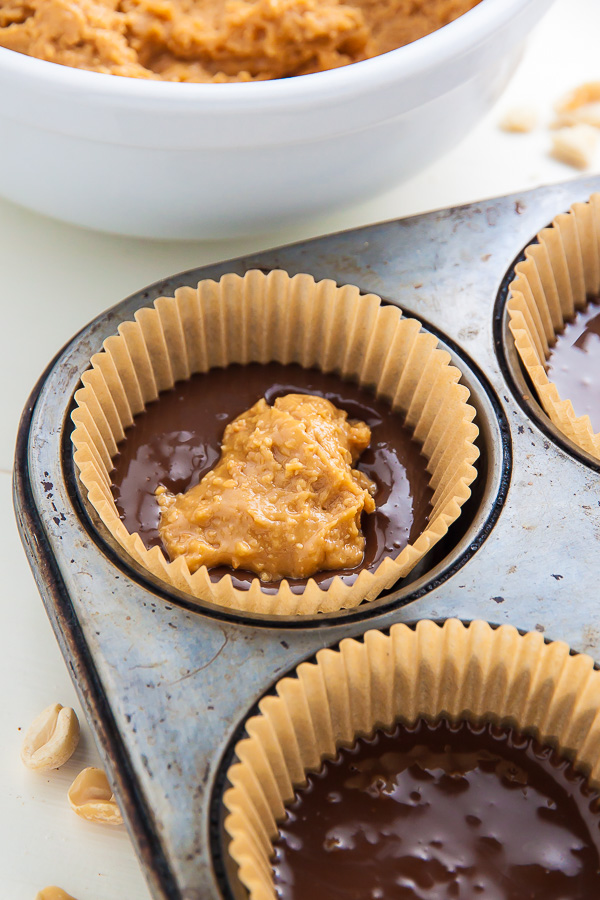 and cover with more chocolate! Then you'll pop the pan in the fridge for 20 minutes or so and wait for them to firm up.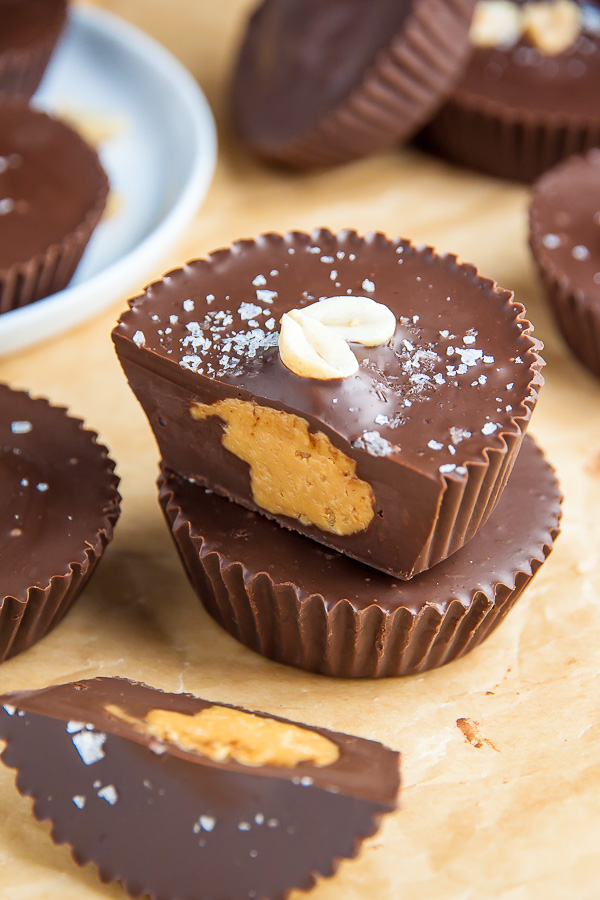 And that's it! You just made peanut butter cups. Really easy right?! The best part is you can store them in the fridge (or even in the freezer) for up to two weeks. Not that I think they'll last that long 😉
These peanut butter cups are creamy, crunchy, sweet, salty, homemade candy perfection! Magically simple to make and seriously one of the best "recipes" to come out of my kitchen this month. ♥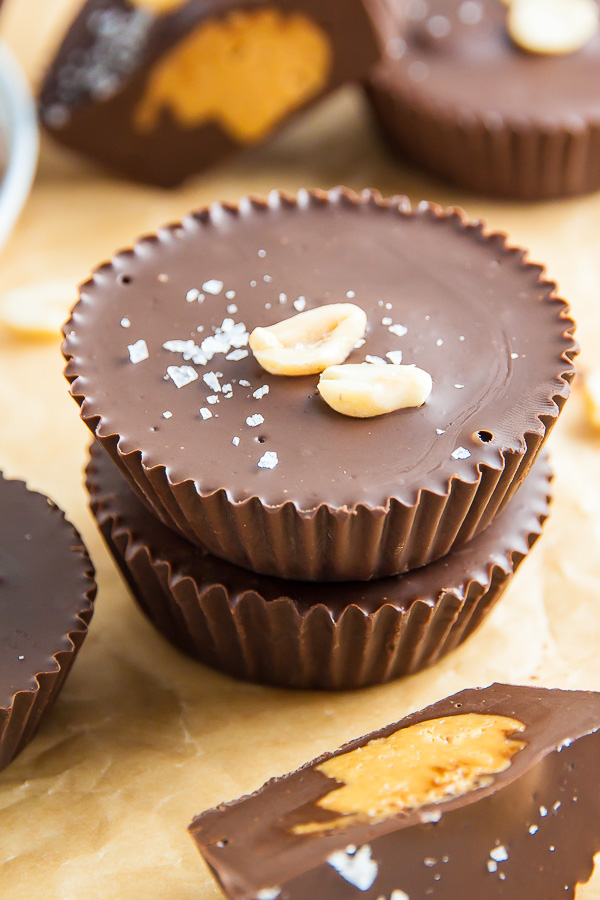 More Peanut Butter Recipes:
If you try this recipe, let me know! Leave a comment below and don't forget to snap a pic and tag it #bakerbynature on Instagram!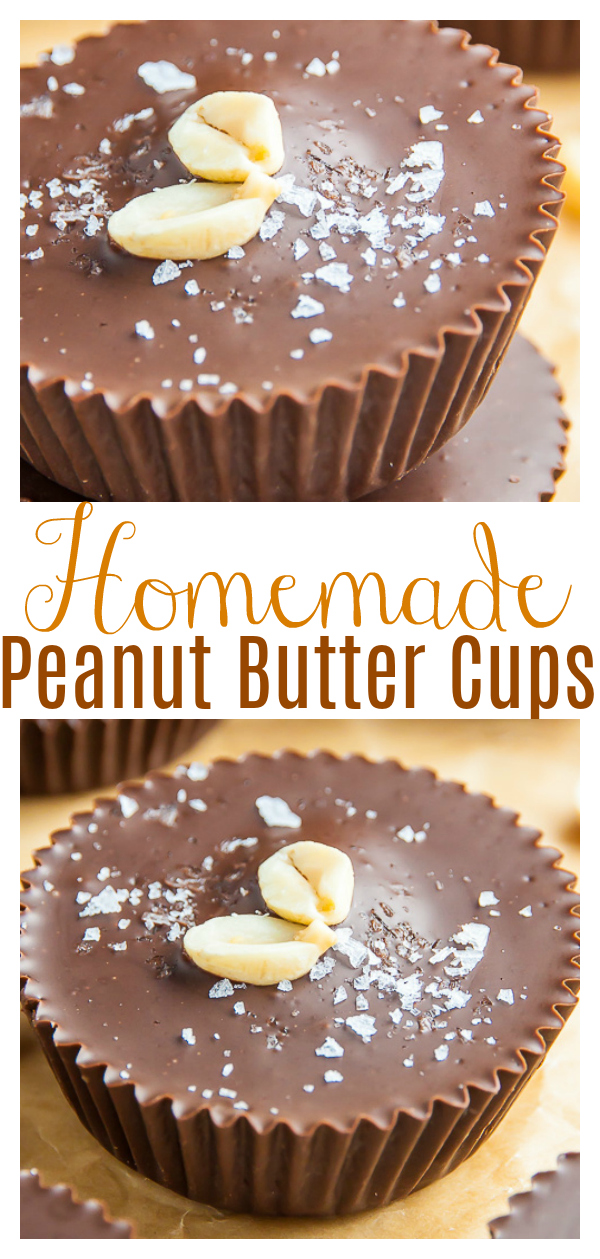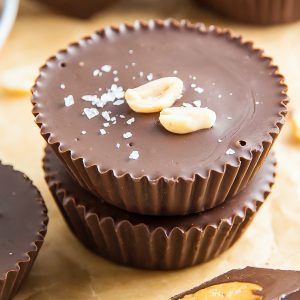 5-Ingredient Peanut Butter Cups
Homemade Peanut Butter Cups made with just 5 ingredients! This recipe is foolproof.
Ingredients
For the peanut butter filling:
1 cup creamy peanut butter, preferably unsweetened
2 teaspoons coconut oil, at room temperature (solid but soft enough to scoop)
3 tablespoons honey, more to taste (I love using raw honey, but any liquid variety will work)
Pinch of sea salt, optional
For the chocolate coating:
16 ounces high quality dark chocolate (you may use semi-sweet or milk chocolate if desired), roughly chopped
2 and 1/2 teaspoons coconut oil
1/2 teaspoon flaky sea salt, optional
Instructions
For the peanut butter filling:
In a medium-sized bowl combine the peanut butter, coconut oil, and honey; whisk well to combine. Season to taste, adding more honey and salt, if desired. Set aside.
For the chocolate coating:
In a medium-sized microwave safe bowl combine the chopped chocolate and coconut oil. Melt, using the microwave set on low, in 20 second increments, stirring in between, until completely melted. Whisk smooth and set aside.
Assembly:
Line two 12-mold muffin tins with paper liners. Fill each mold with 2 teaspoons of melted chocolate. Top each with a teaspoon of peanut butter filling, then top with another teaspoon or so of melted chocolate. Sprinkle with sea salt, if using, then place pans in the fridge for 20 minutes, or until chocolate has set. Serve at once, or keep stored in the fridge, in an airtight ziplock bag, for up to two weeks.
Notes
*Sea salt be omitted, if desired. *If you cannot find coconut oil, you may sub in canola oil for the chocolate shell and VERY soft, unsalted butter for the filling, using the same amounts called for in the recipe above. I do not recommend making any other substitutions. *There is no "wrong" when it comes to filling the cups, so feel free to make larger or smaller peanut butter cups, if desired.