With the holiday season right around the corner, this foolproof recipe for easy peanut butter fudge is sure to become your new best friend! Made with just 6 simple ingredients, this make a great gift for the peanut butter lover in your life! Top with mini peanut butter cups for extra pizzaz!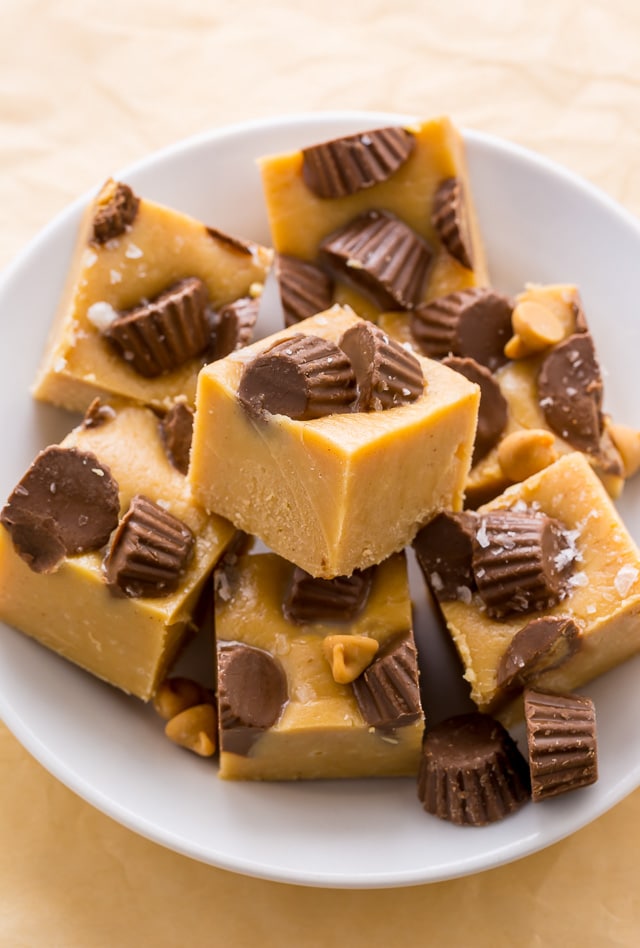 Peanut Butter Fudge Recipe
Calling all peanut butter lovers! Today we're making quick and easy white chocolate peanut butter fudge. And you guys… it's SO delicious. I can easily eat an entire batch within one week. Which is why I only make this when
This is a "simple fudge" recipe. Which means it's made with sweetened condensed milk and chocolate. Using these magical ingredients allows us to skip using a candy thermometer! And I don't know about you, but anytime I can skip using a thermometer in the kitchen is a good time!
This simple peanut butter fudge is:
perfectly sweet
slightly salty
creamy yet dense (it melts in your mouth, not in your hands)
and takes less than 20 minutes to assemble!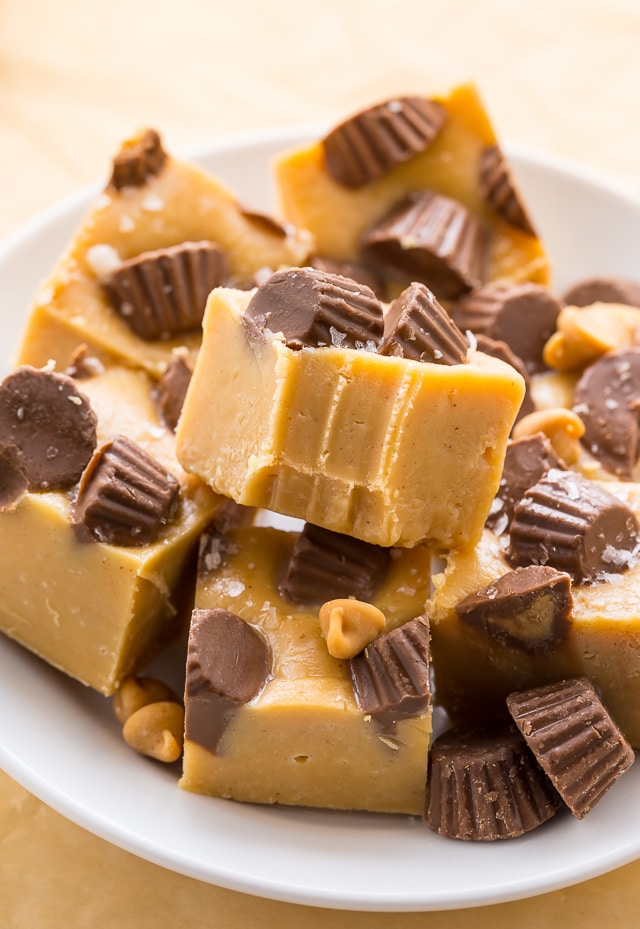 Foolproof Peanut Butter Fudge Recipe
To make this recipe, you'll need
sweetened condensed milk (we love eagle brand!)
quality white chocolate
peanut butter chips
butter
flaky sea salt
and mini peanut butter cups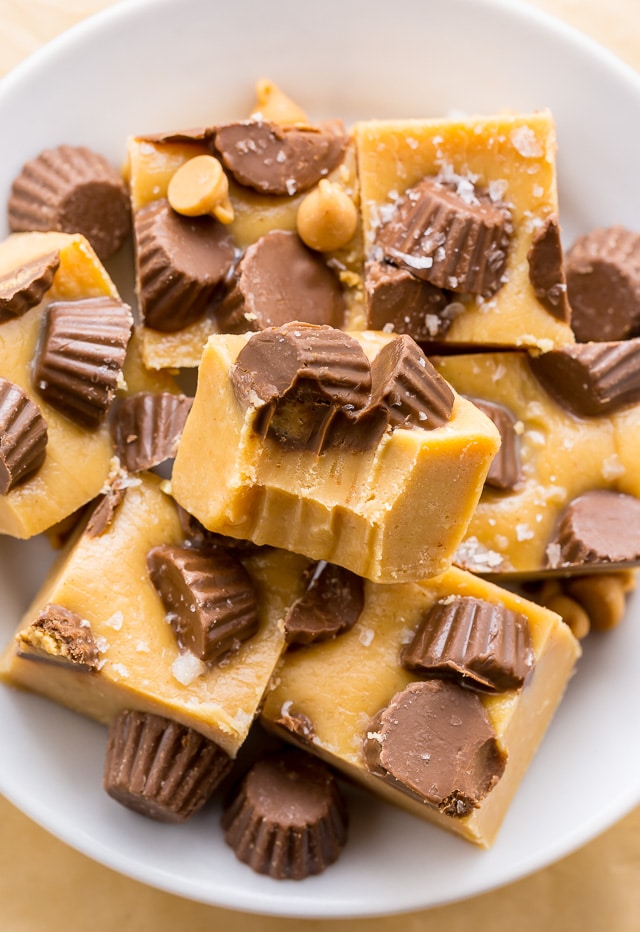 Because I wanted this recipe to be quick and easy, I use peanut butter chips instead of actual peanut butter. This may sound a little strange a first… but I assure you the chips give the perfect amount of peanut butter flavor! Plus, they don't leave a greasy residue, which I found happened all too often when I tested the recipe with peanut butter. If you have leftovers, you can use them in my White Chocolate Reese's Pieces Peanut Butter Chip Cookies or my White Chocolate Peanut Butter Blondies.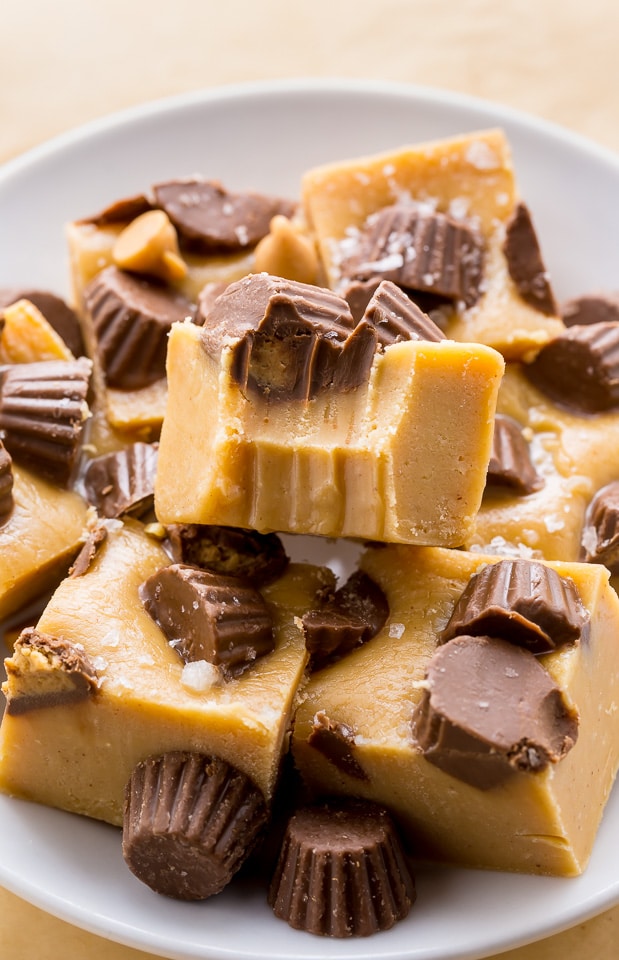 Tips and Tricks for Recipe Success:
If you cannot find peanut butter chips at your local grocery store (check the baking aisle), you can buy them online here.
Use high-quality white chocolate for this recipe, not white chocolate chips!
This recipe requires a double boiler. There are instructions on how to build one in the recipe box below.
When melting the ingredients together, have patience! The low heat guarantees the chocolate won't get gritty.
Due to the sweetness of this recipe, I suggest cutting the fudge into very tiny pieces. One batch will go far! I also do not suggest this recipe for those who like bittersweet or mildly sweet desserts, as this one is full on SWEET.
I love topping this easy peanut butter fudge with flaky sea salt and mini peanut butter cups, but this is totally optional.
The fudge will need at least two hours to set, so be sure to plan ahead time wise.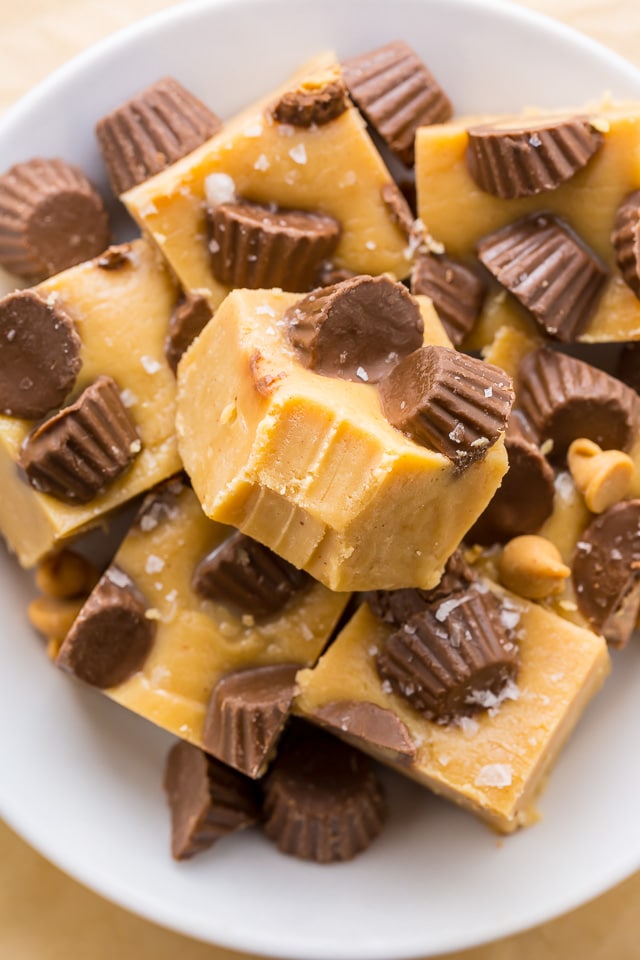 This easy peanut butter fudge is great for those days it's too hot to bake, but it'll also be a lifesaver come the holidays! Enjoy ♥
More Fudge Recipes: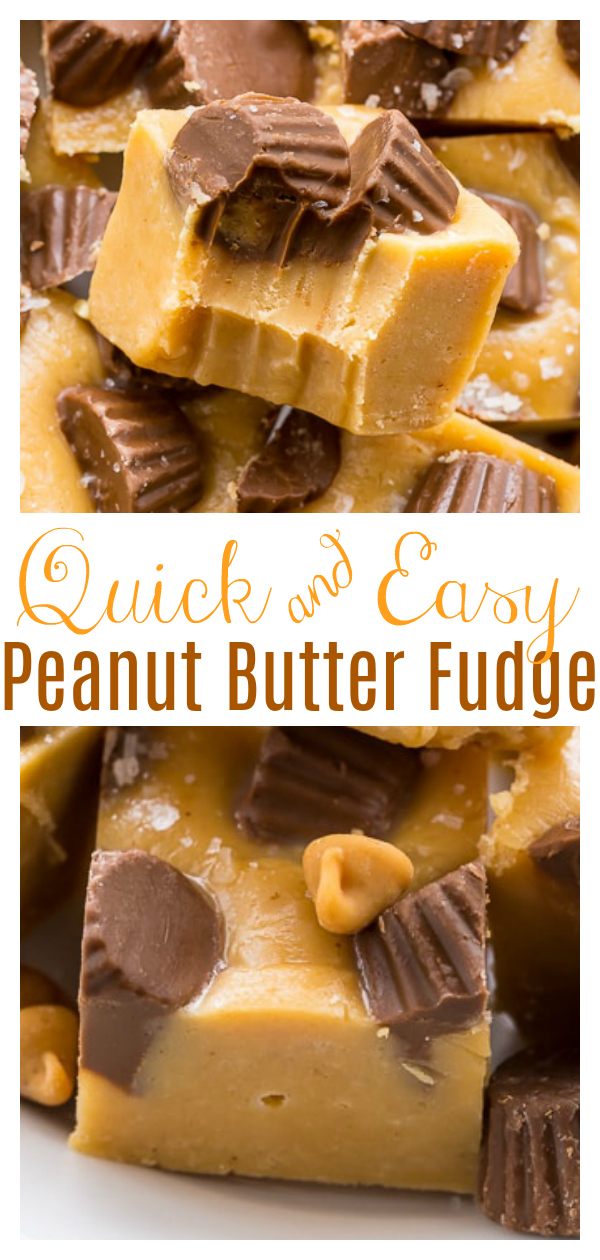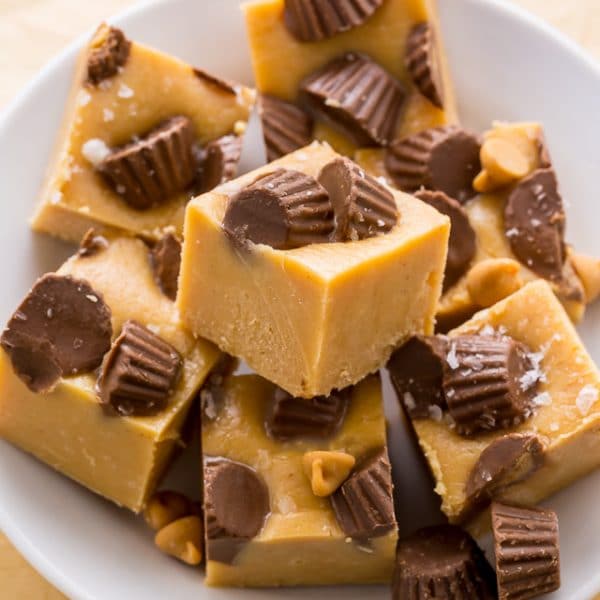 Easy Peanut Butter Fudge
A foolproof recipe for easy peanut butter fudge! Perfect for edible gifts.
Ingredients
(1) 14 ounce can sweetened condensed milk
12 ounces quality white chocolate, roughly chopped
3 tablespoons unsalted butter, cut into 1/2-inch pieces, at room temperature
Flaky sea salt, for sprinkling, optional
Mini peanut butter cups, optional
Instructions
Lightly grease an 8 x 8-inch baking pan. Line the pan with parchment paper, allowing the excess paper to overhang the sides. Grease the paper and any exposed pan with butter and set aside.

In a large, heatproof bowl combine the sweetened condensed milk, white chocolate, peanut butter chips, and butter; set aside. Fill a saucepan with a little water (you want it about 1/4 full) and bring it to a boil. Reduce the heat to barely a simmer. Place your heatproof glass bowl holding your ingredients on top of the pot. Stir frequently, until the white chocolate and peanut butter chips have melted and the mixture is completely smooth, about 10 - 12 minutes. Remove from heat. The mixture will be very thick! Using a sturdy spatula, scrape the fudge into the prepared pan and smooth the top. Sprinkle with sea salt and press on a few mini peanut butter cups, if using. Refrigerate for at least 2 hours.

Allow the fudge to rest at room temperature for at least 10 minutes before cutting. Then gently run a butter knife around the edge of the pan to loosen the fudge. Remove the fudge and transfer it to a cutting board. Peel off parchment paper, then slice the fudge into small pieces. Serve at once or store in the refrigerator for up to 1 month. You may also freeze the fudge, in an airtight freezer safe container for up to two months.
Notes
This post contains affiliate links.