Rich chocolate cupcakes, creamy peanut butter cups, and silky smooth peanut butter frosting. These are THE ultimate chocolate peanut butter cupcakes. ♥♥♥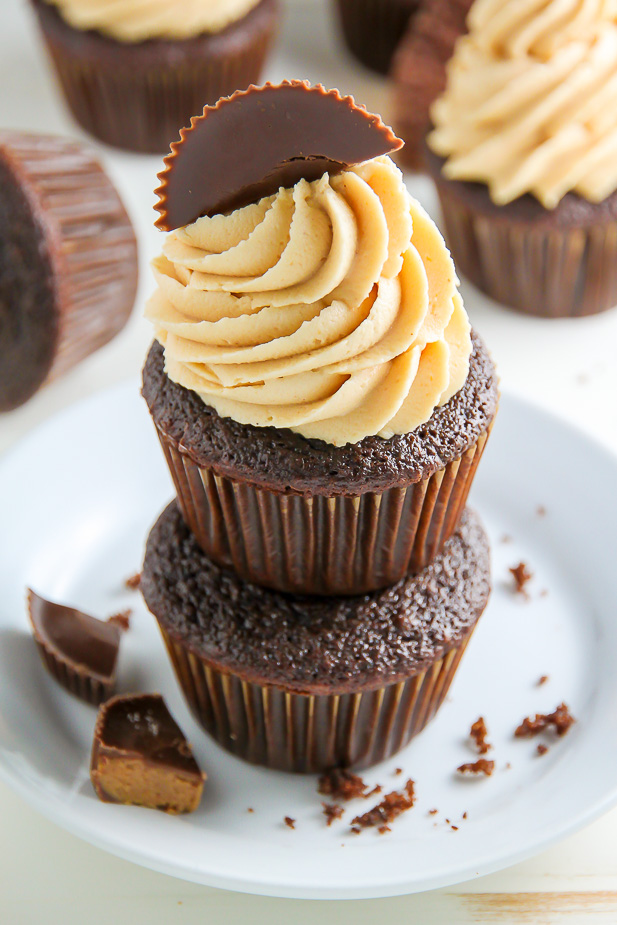 Chocolate Peanut Butter Cupcakes
Hello my friends, happy Halloween! I hope you have some major fun on the books for this weekend. Tell me. How are you celebrating? Are you dressing up? Carving pumpkins? Trick-or-treating? My family is coming up to visit and I'm pretty sure we're going to spend the entire weekend binging on old horror flicks and gobbling down fun-sized candy bars. We Halloween hard.
Given the holiday at hand, it's probably no surprise I have candy on the brain. I love all candy (have you seen this leftover Halloween candy cookie cake?!?) but one of my favorites is peanut butter cups. How can you not love creamy sweet peanut butter drenched in a chocolate shell? I mean… H-O-W?
And these gorgeous cupcakes? They're all about the peanut butter cup!!! It's peanut butter chocolate time. ← Cue the happy dance.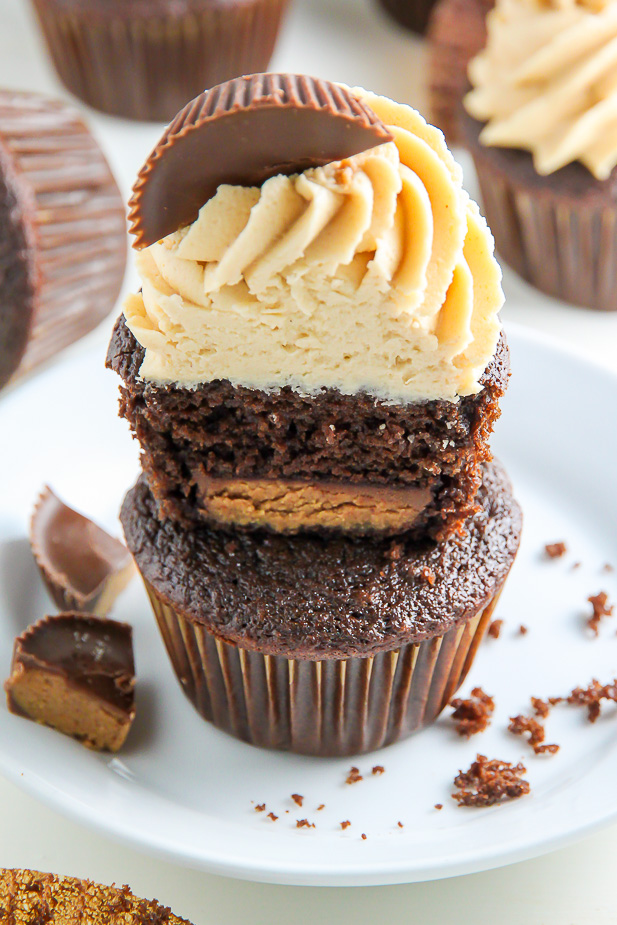 Chocolate Cupcakes with Peanut Butter Frosting
Have you tried my super decadent chocolate cupcake recipe yet? This recipe is almost identical to that, except I added a delicious peanut butter cup right into the batter. When it comes time to assemble you're going to want to scoop a little batter into the cupcake mold, press the peanut butter in, then add more batter.
These cupcakes are rich, moist, and bursting with chocolate peanut butter flavor. I freaking love these cupcakes.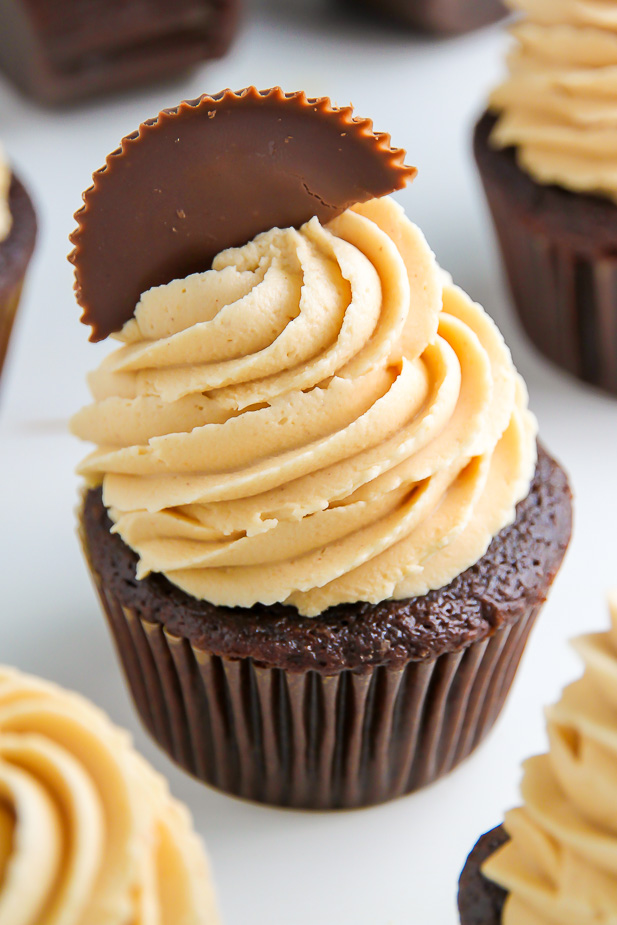 This easy homemade peanut butter frosting is a far cry from that dull, overly sweet, tooth-ache-in-a-jar frosting you're used to finding at the store. The best part? It's made with simple, easy to find ingredients. For this frosting you'll need butter, peanut butter, vanilla extract, salt, and confectioners' sugar. That's it! No yucky or hard to pronounce ingredients here.
You'll beat the butter and peanut butter smooth, add in the remaining ingredients, and whip to fluffy frosting perfection. It'll be ready in 3 minutes!!! Not too shabby.
These cupcakes are everything you could want and more! Bake, devour, and don't apologize.
More Peanut Butter Recipes:
Ultimate Chocolate Peanut Butter Cupcakes
Yield 18 cupcakes
Super moist chocolate cupcakes have a peanut butter cup INSIDE and are topped with creamy peanut butter frosting.
Ingredients
For the Chocolate Cupcakes:
3 tablespoons coconut OR canola oil
1 stick unsalted butter, melted and slightly cooled
1/2 cup semi-sweet chocolate chips
3/4 cup + 2 tablespoons all-purpose flour, not packed
1/2 teaspoon baking soda
1 teaspoon baking powder
1/2 cup unsweetened cocoa powder
1/2 teaspoon salt
2 large eggs + 1 large egg yolk, at room temperature
1 cup granulated sugar
1 teaspoon vanilla
1/2 cup full fat sour cream
1/2 cup hot coffee OR hot water
18 peanut butter cups (I used the full-sized ones, but think the minis would work, too)
For the Peanut Butter Frosting:
1 and 1/2 cups creamy peanut butter
1 cup (2 stick) unsalted butter, very soft
1 teaspoon vanilla extract
3 cups confectioners' sugar
1/4 teaspoon salt
3-4 tablespoons heavy cream
9 peanut butter cups, cut in half (I used the full-sized ones, but again, minis could work)
Instructions
For the Chocolate Cupcakes:
Preheat the oven to 350 degrees (F). Line a 12-cup cupcake/muffin tin with cupcake liners and lightly spray the liners with non-stick spray (optional but it does help them peel right off). Set aside.
Melt the oil, butter, and chocolate together in the microwave, heating in 30 second increments, stirring between. *You can also melt the oil, butter, and chocolate over very low heat on the stove top, but I find the microwave to be much easier. Whisk mixture completely smooth and set aside to cool.
In a medium-sized bowl combine the flour, baking soda, baking powder, cocoa powder, and salt; stir together until thoroughly combined and set aside.
In a large bowl whisk together the eggs, yolk, sugar and vanilla together; beat until smooth. Add the cooled oil/butter/chocolate mixture and whisk until smooth. Add half of the flour mixture, then half of the sour cream. Repeat the process until everything is added, and be sure to mix until JUST combined. Quickly stir in the hot coffee/water. It's important not to over mix, here! Just stir until evenly combined.
Scoop 2 tablespoons of batter into the bottom of each cupcake tin, press a peanut butter cup into the batter, then top with another 3 tablespoons of batter; each cupcake mold should be 3/4 full. You will have leftover batter (enough to make another 6 cupcakes).
Bake for 16-18 minutes, or until a toothpick inserted in the center comes out clean. Cool completely before frosting.
For the Peanut Butter Frosting:
Using an electric mixer, beat the peanut butter and butter on medium-speed until completely smooth. Beat in vanilla. Reduce the speed to low and add in the remaining ingredients, beating until fully incorporated. Increase speed to medium-high and beat the frosting for 1-2 minutes, or until light and fluffy.
Once the cupcakes are cooled, spread or pipe the frosting on top then press half of a peanut butter cup on top.
Courses Dessert
Cuisine American
Nutrition Facts
Serving Size 1 cupcake
Amount Per Serving
% Daily Value
* Percent Daily Values are based on a 2,000 calorie diet. Your daily values may be higher or lower depending on your calorie needs.