I'm a big believer in the "add an egg on top of anything, and BOOM, it's breakfast" theory.
Eggs on salad? Heck to the yes.
Eggs on top of latkes? You're talking my language!
Eggs on pizza? Totally a breakfast thing.
Eggs on fries? YES. Dude. Just say yes.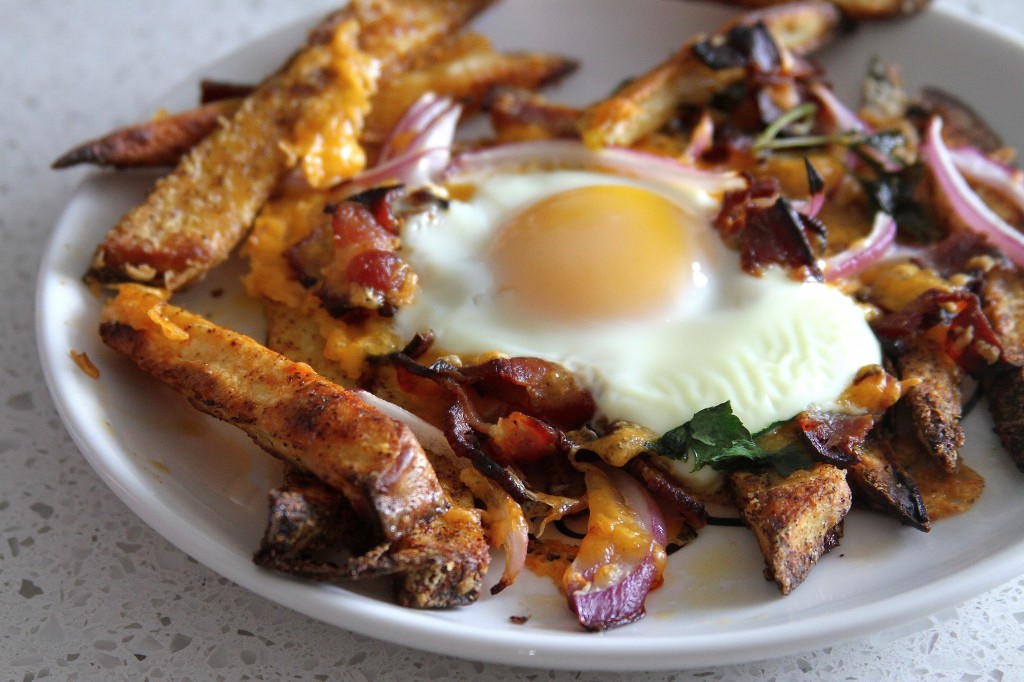 To get your breakfast french fry on, you'll need a few things.
These things specifically include a giant potato of the sweet variety, bacon (fried up, but not too crispy; it's going in the oven for a second cooking), some thinly sliced red onion (for a little kick), parsley (because I've convinced myself that adding something green means it's totally OK to eat fries at 6 am…), CHEESE (yes, I screamed that), chili powder (because sometimes your am coffee just isn't enough), and some eggs.
The first thing you'll do is peel your potato, chop it into fries, and soak them in water while you're getting your bacon, onion, cheese, etc ready. This should only take 20-30 minutes, but I've found over time that the soaking part really does help create a crisper fry. And isn't that really what we're all searching for?
I also used a wee bit of cornstarch to help these guys get their crisp on. They love it.
After your fries are 95% done doing their thing in the oven, you'll pull them out and let the fun really begin. First, you'll want to bump that oven up to 450, so things happen hotter and faster than before.
After that you'll graciously drench those fries in cheese, bacon, parsley, and onion, before very carefully cracking an egg over each layer of fries and (again, carefully) placing the baking sheet back in the oven to get its bake on.
After about 6 minutes, the eggs will set, the cheese will melt, and your life will be 198% better than it had been before. Ok… that last part might just be for me.
Breakfast fries… because why the heck not?
Bacon, Egg, and Cheese Breakfast Chili Fries – Baker by Nature
Serves one very hungry face… two if you're a nicer, less greedy gal than me
Ingredients:
(1) Large sweet potato, washed, peeled, and cut into fries (not too thick, but not strings)
1 tablespoon cornstarch
1 teaspoon chili powder
1/2 teaspoon sea salt
1/2 teaspoon freshly ground black pepper
2 tablespoons olive oil
1/2 cup grated cheddar cheese
4 slices bacon, fried until almost crispy (you're going to be putting it in the oven, so you don't want it cooked too well, or it will emerge from its second cook quite burnt)
1/4 cup red onion (in retrospect I think scallions would rock here, too), thinly sliced
2 tablespoons parsley, chopped
2 large eggs
Instructions:
Preheat oven to 425 degrees (F). Line a large baking sheet with parchment paper and set aside.
Wash, peel, and cut potato (es), and soak them in a pot of cold water while the oven is preheating and you're prepping the toppings. I usually let mine soak for at least 30 minutes.
While they're soaking…
Fry bacon (once it's cooled, chop or crumble), slice onions, chop parsley, and grate cheese. Set these guys to the side and get back to your potatoes.
In a large ziplock back, add a tablespoon of cornstarch, then toss a handful of drained potatoes in at a time, holding the top of the bag shut and giving it a good shake to ensure even coating. Once you've done this with all the fries, place them in a large mixing bowl, drizzle with the olive oil, and sprinkle on the chili powder, salt, and pepper, mixing well so each fry gets some of the good stuff.
Spread fries in an even layer and bake for 20 minutes, flip the fries and cook for another 20 minutes. Remove fries from the oven, adjust the temperature to 450 degrees (F), and evenly disperse the topping on top of the fries, carefully cracking one egg on each layer at the very end and gently placing the pan back in the oven. Bake for 6-8 minutes, or until the cheese has melted and the eggs have set. Plate (totally optional) and enjoy immediately!