Baked, not fried, these bright and citrus-y Grapefruit Poppy Seed Doughnuts are the perfect morning treat! The best part? They bake up in just 10 minutes.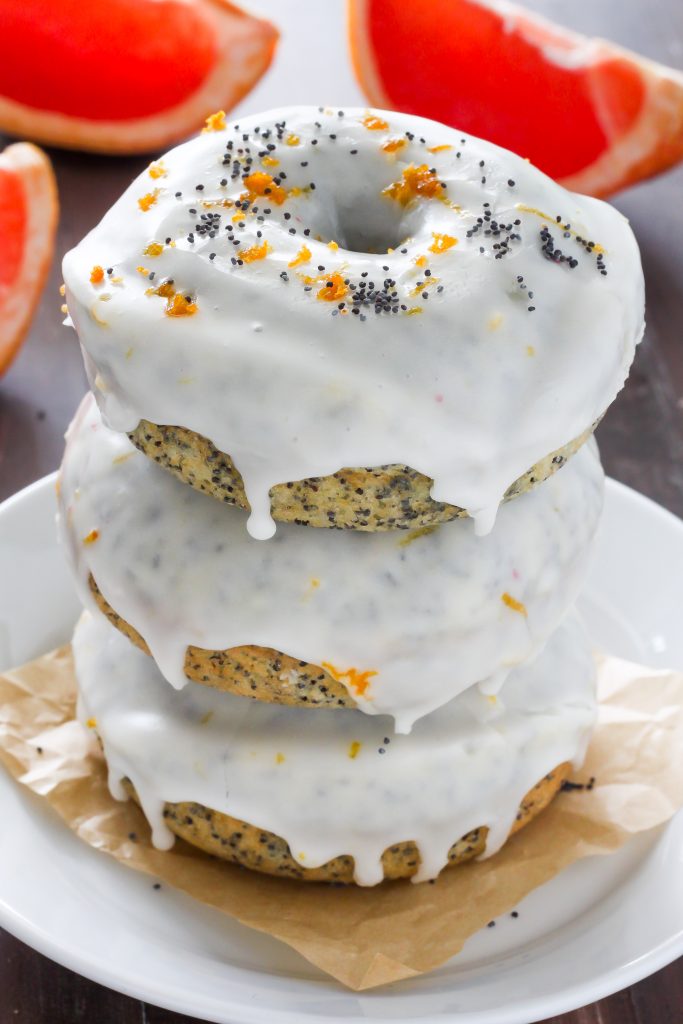 Doughnuts for breakfast are pretty much the best thing ever! Yesterday we both had the morning off, so I baked these grapefruit poppy seed pretties as an extra special morning treat, and whoa! It was instant love. I ate two without muttering a single word! And if you know me at all, that never happens. I'm a chatter box through and through.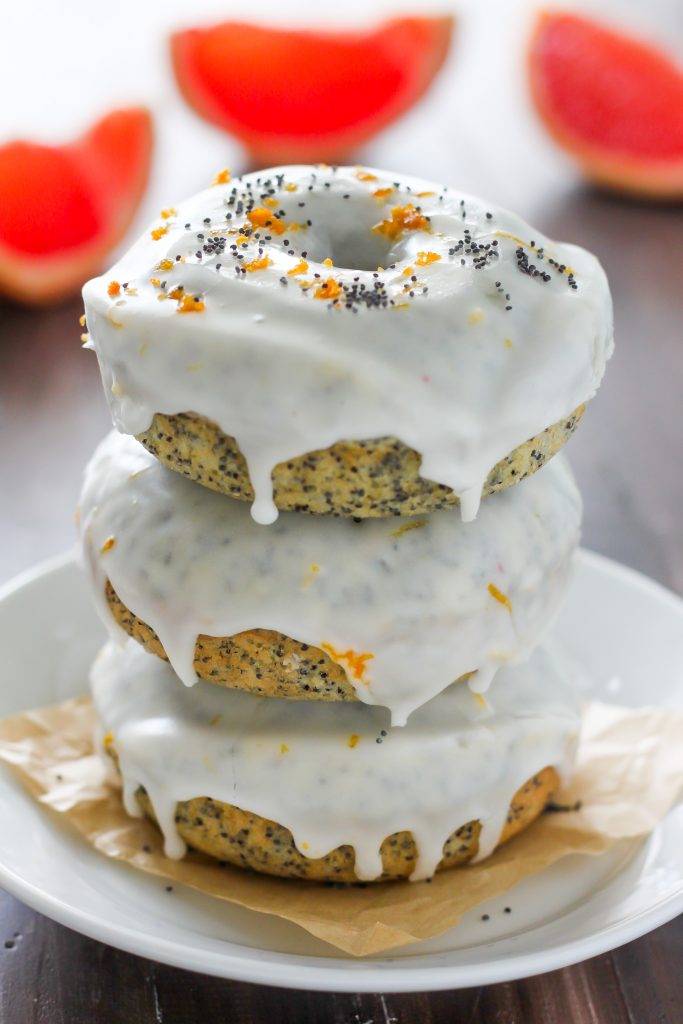 What I really love about these poppy seed freckled doughnuts is how light and citrusy they are! They're a nice way to break up all the heavy Winter foods lingering around these days. And I just really love citrus! It's ultimately refreshing… even – or should I say especially – in doughnut form 😉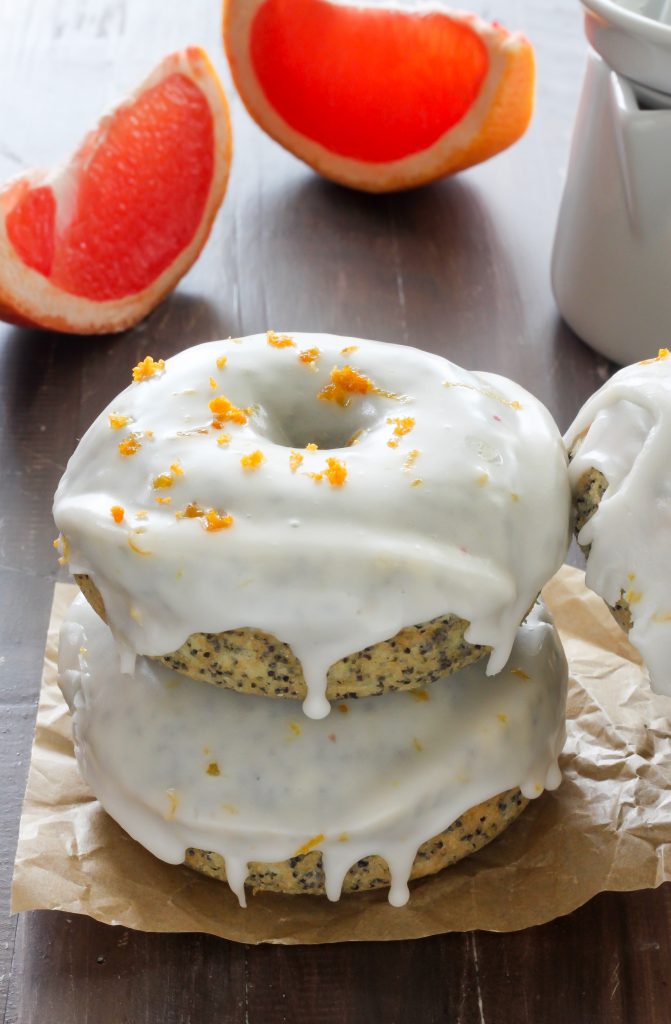 The grapefruit taste here is subtle, yet brilliantly vibrant – especially in the glaze (!!!). If you're a fan of citrus-y desserts, I think you're going to fall hard for these delightful little doughnuts! Just be warned… stopping at one most likely isn't going to happen! They're addicting.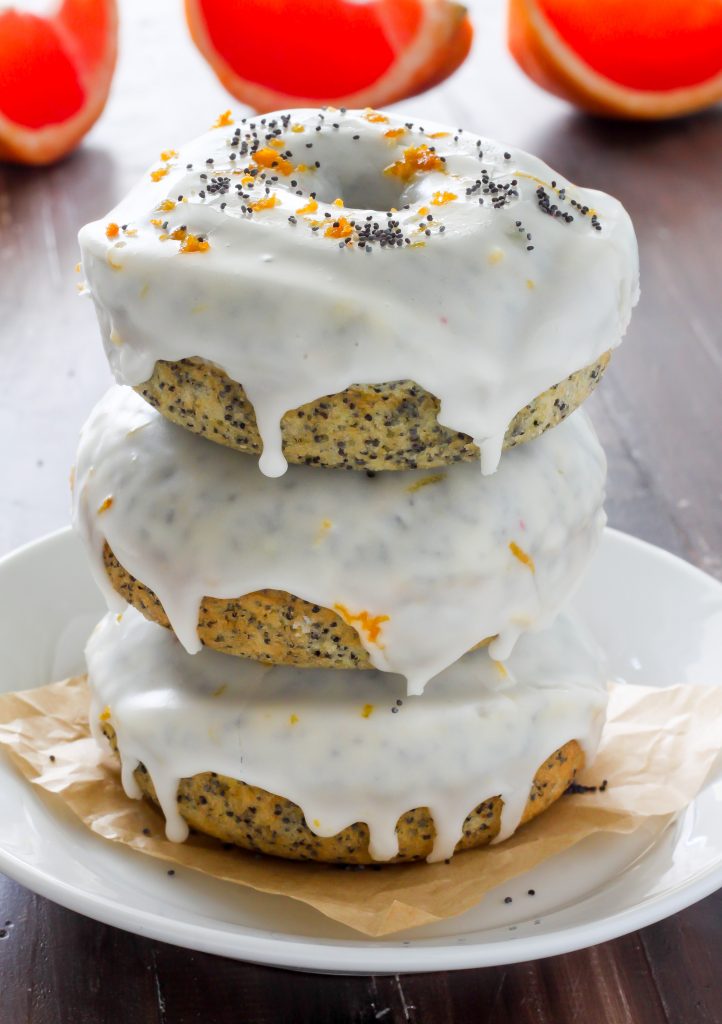 Baked Grapefruit Poppy Seed Doughnuts
Ingredients
For the donuts:
1 1/4 cups all purpose flour
1 1/4 teaspoons baking powder
1/2 teaspoon salt
3 tablespoons poppy seeds
1/2 cup granulated sugar
1 tablespoon grapefruit zest
2 1/2 tablespoons unsalted butter, melted
1 large egg, at room temperature
1 teaspoon vanilla extract
1/4 cup milk (whole, reduced fat, skim, or almond should work fine here)
For the glaze:
1 1/4 cups confectioners' sugar
1-2 tablespoons grapefruit juice
Instructions
For the donuts:
Preheat oven to 350 degrees (F). Generously grease a doughnut pan; set aside.

In a small bowl whisk together flour, baking powder, salt, and poppy seeds; set aside.

In a large bowl combine the granulated sugar and grapefruit zest; mix together with your fingers until zest is evenly distributed in the sugar. Add in the melted butter and beat until combined. Add in the egg and vanilla; beat well. Stir in milk.

Add in the dry ingredients and gently fold the mixture together using a rubber spatula, stirring only until mixture is evenly combined.

Spoon the thick batter into the molds of your prepared pan, filling each mold up 2/3 of the way. Bake for 10-11 minutes, or until firm and lightly golden on the tops.

Remove pan from oven and allow doughnuts to cool for at least 10 minutes in the tray before transferring to a cooling wrack to cool completely.

Once cool, dip each doughnut in glaze and serve! The glaze does take a few minutes to set, so you may want to wait about 5 minutes after glazing to dig in... but it's hard!
For the Glaze:
In a wide, shallow dish combine juice and sugar, and whisk to combine. Carefully dip cooled doughnuts in the glaze, and let rest for 5 minutes - if you can wait - before serving.