If I had to name the one dessert I love making the most – time and time again – it would have to be donuts. I adore donuts. Baked, fried, or topped with pineapple – I heart them all. New flavors, new techniques, new ways of reinventing the classics. Something about making donuts just gets my creative juices flowing.
Inspired by our upcoming city weekend, today I give you black and white confetti donuts. An old New York classic, with a very colorful twist!
These donuts are baked, not fried, so you will need a donut pan for this baking adventure! Investing in a donut pan is something I highly recommend (especially if you love donuts like I do), and in case you need a little help picking a good one out from the crowd, I've included a link to the one that's served me well the past 3 years. Only a couple of bucks and still going strong after countless batches of donuts! Treat yourself 🙂
Let's move on to the donut base, shall we? This recipe seriously couldn't be easier! The ingredient list is short and basic, and I bet you have most of the ingredients – if not all of them – sitting right in your kitchen! For the dry ingredients you'll need all-purpose baking flour, baking powder, salt, sugar, and SPRINKLES. Rainbow sprinkles is our magic ingredient here, and what turns these donuts into a colorful confetti situation, so be sure you have those on hand! For the wet ingredients you'll need an egg, some milk, and a few tablespoons of melted butter. And that's that.
Those simple ingredients will give you these fluffy, fun, and fiercely delicious donuts!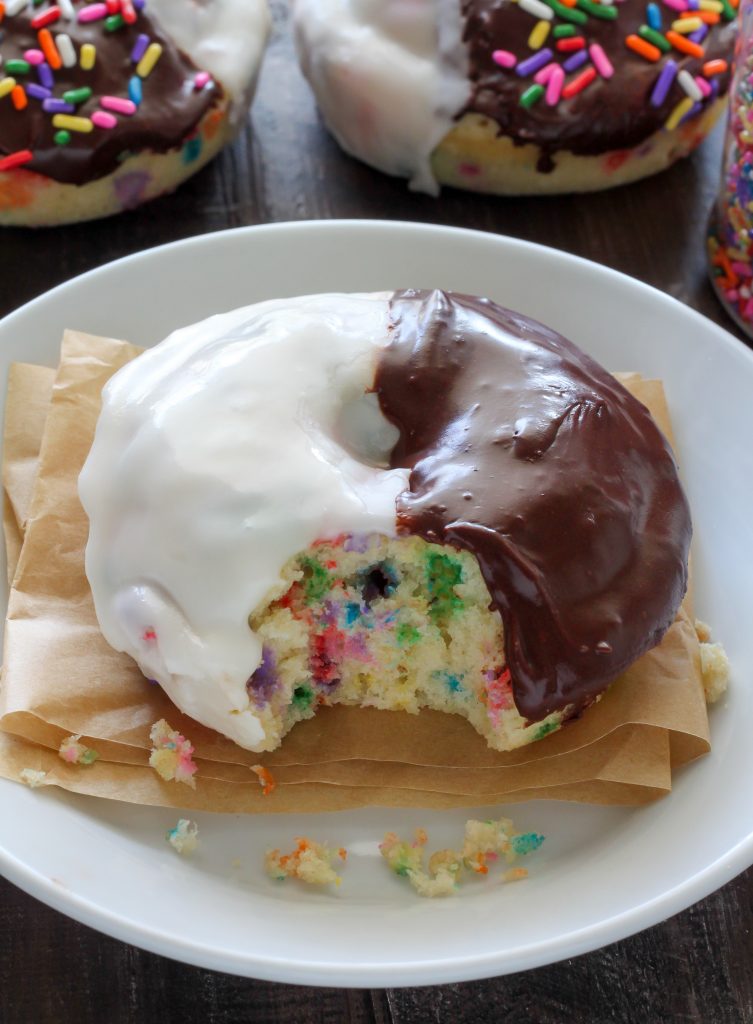 While the donuts bake you can whip up your black and white frosting! Don't worry – making two frosting flavors may sound like a hassle, but these recipes are a walk in the park. For the vanilla (white) frosting you're simply going to combine confectioners' sugar, heavy cream, a dash of salt, and a little vanilla. For the chocolate (black) frosting you're going to do the same exact thing, except you'll add in some cocoa powder to that mix. I've given you a loose ingredient list for the frosting below, but be sure to use your best judgement when making it. If the frosting appears too thick or is not spreading easily, add a little more cream; if the frosting seems way too thin, go on and add a few more tablespoons of sugar. The end result should be thick, creamy, and easily spreadable.
When it's time to frost your (cooled) donuts, simply use a butter knife to spread one side with the white frosting, and then the other side with the black frosting. Add more sprinkles if you dare, and then, EAT! Or serve, if you're sharing these pretties 😉 xoxo
Black and White Confetti Donuts
Fluffy Confetti Donuts topped with Chocolate and Vanilla Frosting! These are the best of both worlds.
Ingredients
For the Confetti Donuts:
1 cup + 2 tablespoons all-purpose baking flour
1/4 cup packed light brown sugar
1/4 cup granulated sugar
1/2 teaspoon salt
1 teaspoon baking powder
1/2 cup milk (I used almond milk but cow's milk will work)
2 1/2 tablespoons unsalted butter, melted
1 large egg, at room temperature
1/4 cup rainbow sprinkles
For the white frosting:
1 tablespoon heavy cream (more if needed)
1/2 cup confectioners' sugar
Pinch of salt
1/8 teaspoon vanilla extract
For the black (chocolate) frosting:
1 1/2 tablespoons heavy cream (more if needed)
1/2 cup confectioners' sugar
3 tablespoons cocoa powder, sifted
Pinch of salt
1/8 teaspoon vanilla extract
1/2 cup rainbow sprinkles, for decorating
Instructions
Preheat oven to 350 degrees (F).

Lightly grease a doughnut pan; set aside.

In a large bowl whisk together the dry ingredients. In a separate bowl whisk together the milk, butter, and egg. Gently fold the wet mixture into the dry mixture until just combined - don't over mix! Gently fold in sprinkles.

Spoon mixture into prepared doughnut pan, and bake for 10-11 minutes, or until the doughnuts spring back when lightly pressed. Allow doughnuts to cool a few minutes in the pan before transferring to a wire wrack to cool for a few more minutes.
For the White Frosting:
Combine heavy cream and confectioners' sugar in a medium-sized bowl. Whisk smooth, adding a touch more cream if the frosting seems too thick; adding a touch more sugar if the frosting seems too thin. Mix in salt and vanilla.
For the Black Frosting:
Combine heavy cream, confectioners' sugar, and cocoa powder in a medium-sized bowl. Whisk smooth, adding a touch more cream if the frosting seems too thick; adding a touch more sugar if the frosting seems too thin. Mix in salt and vanilla.

Once the donuts have cooled completely, spread the white frosting over one side of each donut, then the black frosting over the other side of each donut. Decorate with sprinkles.
Notes
I like these donuts best the first day, but they will last in the fridge for up to 3 days.