Light and fluffy Baked Donuts are loaded with fresh blueberries and rolled in cinnamon sugar! Topped with a simple Vanilla Glaze – what could be better?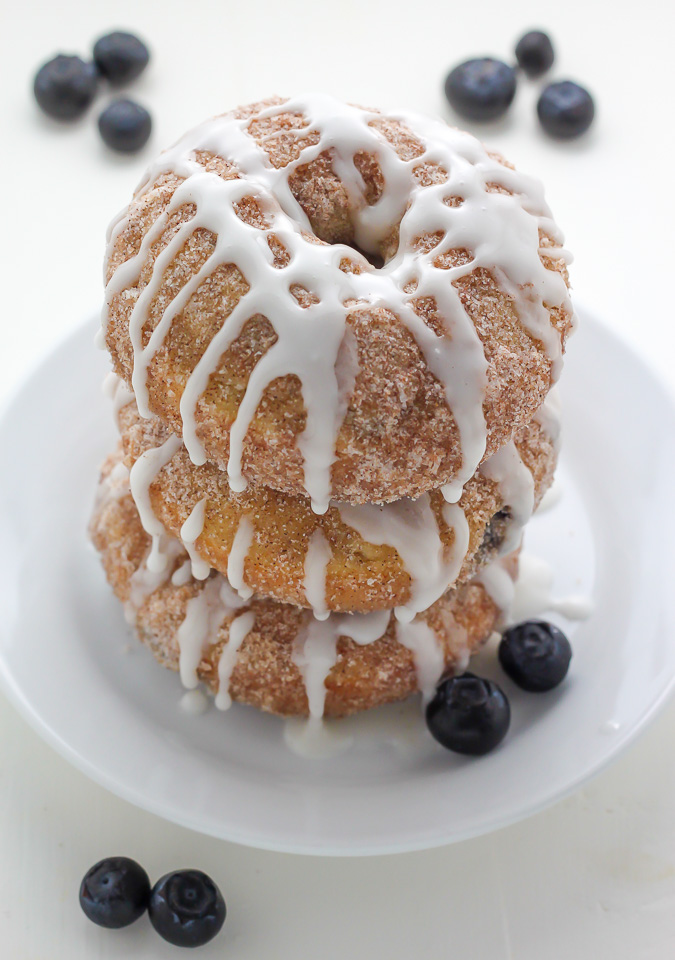 Summer – my favorite season – has finally landed in the Hudson Valley. Our pool is open; ICED COFFEE is an everyday event; my birthday is just weeks away; the farmers market is bumping; and our local health food store currently has organic blueberries on sale for 99 cents! These are the things I live for ♡♡♡♡♡♡
Question for you: What's your favorite part of Summer?
My blueberry kick officially got its start last week when I made you my beloved blueberry ricotta crumb cake. Have you made that yet? It's seriously dreamy! But I digress. After getting my hands on a few more pints of fresh blueberries, I just couldn't resist adding them to another recipe for you. What can I say…? Summer is all about the berries, baby! 
Let's jump into this blueberry rabbit hole hand-in-hand 😉
Enter these Blueberry Cinnamon Sugar Donuts. Super soft crumbs; rich buttery flavor; bursting with juicy blueberries in every bite. The crunchy cinnamon sugar coating is just the icing on the cake. The best part? Making these donuts is SO stinkin' simple. This recipe takes about 20 minutes from start to finish.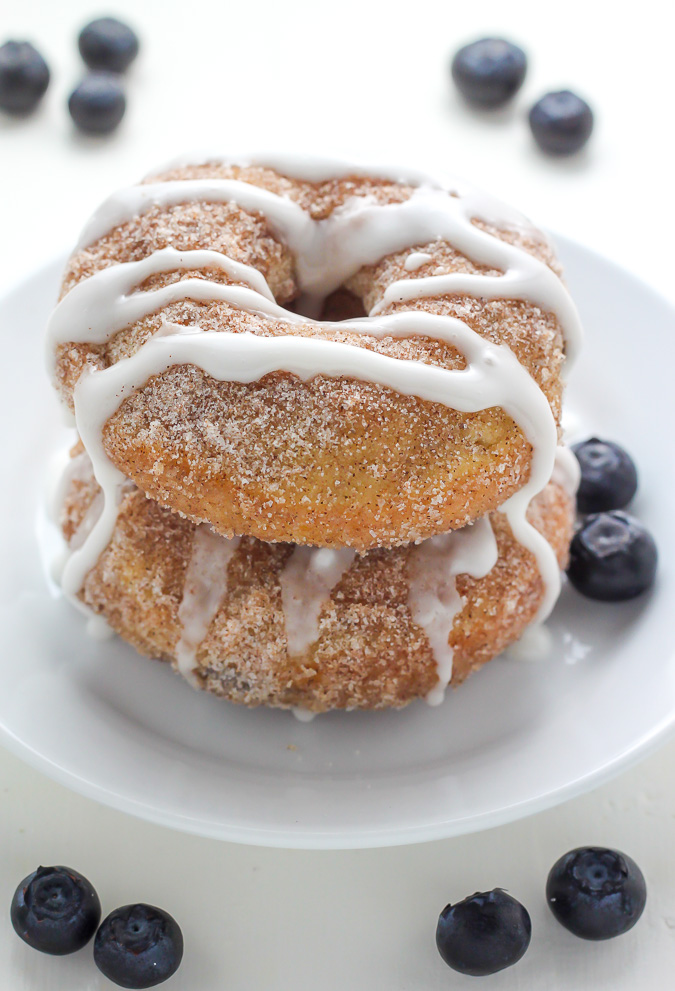 Donuts for breakfast? It's a good idea! Donuts for dessert? It's a no-brainer! Happy baking, donut lovers 🙂 xoxo
Blueberry Cinnamon Sugar Donuts (with Vegan, Gluten Free, & Dairy Free Options)
Fluffy Blueberry Cinnamon Sugar Donuts bake up in just 10 minutes!
Ingredients
1 cup + 2 tablespoons all-purpose flour
1/2 cup light brown sugar, packed
1/2 teaspoon kosher salt
1 teaspoon baking powder
1/2 cup sour cream (I used full-fat but think reduced fat will work fine)
2 1/2 tablespoons unsalted butter, melted
1 large egg, at room temperature
1/4 cup fresh blueberries (be sure not too add more or they will become too soft)
For the Cinnamon Sugar Coating:
3 tablespoons unsalted butter, melted
1 cup sugar
2 tablespoons ground cinnamon
For the glaze:
1-2 tablespoons whole milk
1 cup confectioners' sugar, sifted
1/4 teaspoon kosher salt
Instructions
Preheat oven to 350 degrees (F).

Generously grease a doughnut pan; set aside.

In a large bowl whisk together the dry ingredients; set aside. In a separate bowl whisk together the sour cream, butter, and egg.

Gently fold the wet mixture into the dry mixture - careful not to over mix! Quickly fold in blueberries.

Spoon mixture into prepared doughnut pan, and bake for 10-11 minutes, or until the doughnuts spring back when lightly pressed. Allow doughnuts to cool a few minutes in the pan before transferring to a wire wrack to cool completely.

Once the donuts are cooled fully, melt the butter for the cinnamon sugar coating; set aside. Mix the sugar and cinnamon together in a medium-sized bowl; set aside.

For the Glaze: In a small bowl combine the confectioners sugar, milk, and salt; whisk smooth. The glaze should be thick but easily pourable; add more milk/sugar as needed.

Dip the firm, completely cooled donuts in the melted butter, then roll them in the cinnamon sugar mixture; repeat until all donuts have been covered.

Drizzle a swirl of glaze on each donut and serve! These are best eaten the day they are made.