The only thing better than crumb cake is Blueberry RICOTTA Crumb Cake! Super moist, loaded with juicy blueberries, and topped with buttery crumbs and a sweet glaze, this truly is the full package! Perfect for breakfast, dessert, or as an afternoon snack!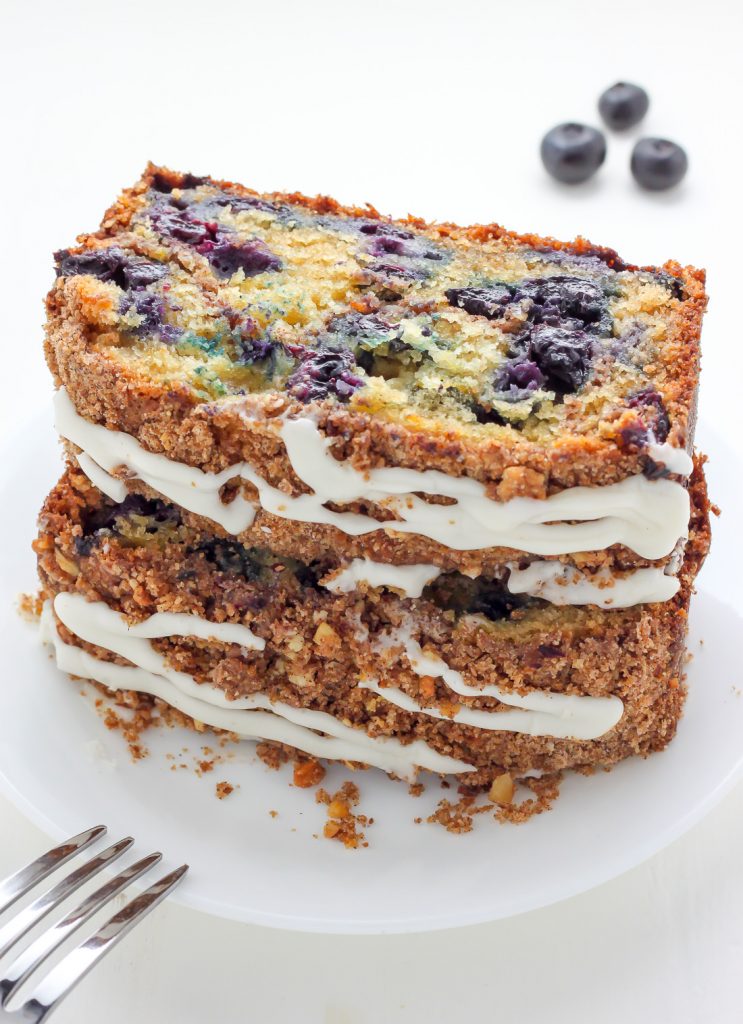 Blueberry Crumb Cake
It's official: ricotta cheese is my new favorite baking buddy!
This little love affair sparked last Winter after making this Cranberry-Orange Ricotta Pound Cake… then it grew stronger after baking a batch of these Blueberry Ricotta Scones… and I'm pretty sure it bloomed into full on obsession right after making this Lemon Ricotta Cheesecake.
Have you tried any of these recipes yet?! 
If you answered no… I highly recommend adding a GIANT tub of ricotta cheese to your grocery list now 😉
Alrighty my friends. It's time to get down to business. Lucky for us our business today is sweet and rich; moist and buttery; fresh, fruity, and totally berrylicious. ♡♡♡ This bread is the bees knees… times ten.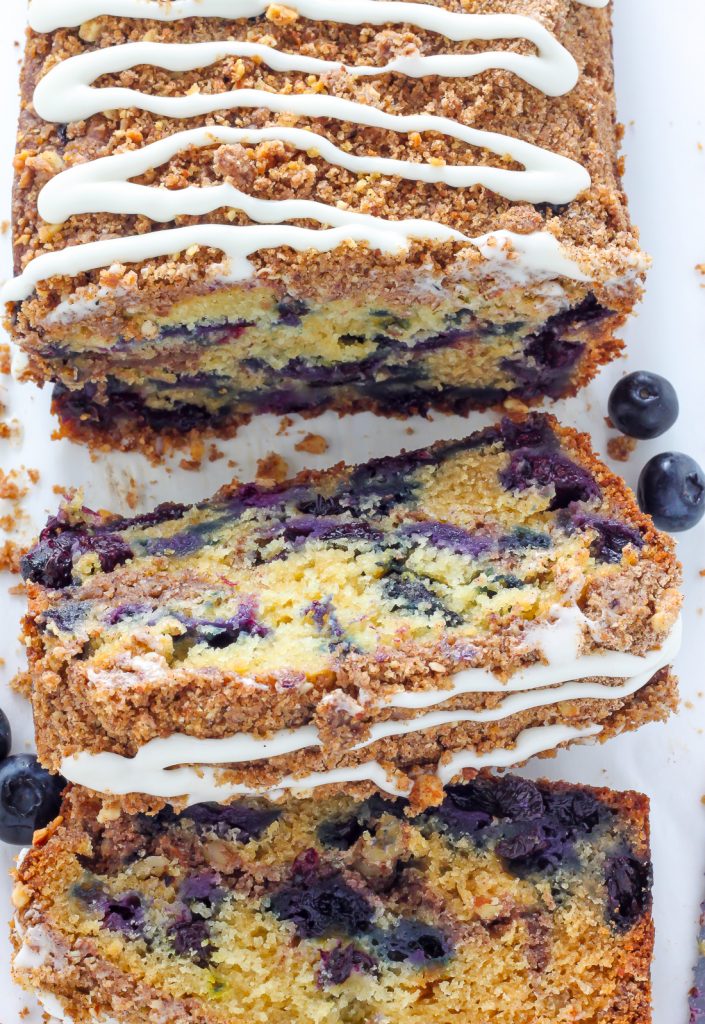 Here are the need to know details for baking this cake like a BOSS:
1) This recipe calls for cake flour. Cake flour is extra finely ground which is what gives our cake it's silky soft texture. In most grocery stores you can find cake flour in the baking aisle. If you can't find it – don't fret! Making your own cake flour is easy, and only requires two ingredients: cornstarch and all-purpose flour. Here's what you do: For every 1 cup of flour called for in the recipe, remove 2 Tbsp of flour. Then add in 2 Tbsp of Cornstarch for every 1 cup of flour (you're replacing the tablespoons of flour taken out with cornstarch). Sift this mixture a few times (you want it well combined) and that's it – you just made ready-to-use cake flour.
2) I highly recommend using whole-milk ricotta cheese for this recipe. While skim ricotta will work (I tested this recipe both ways), I found the flavor and texture of the full-fat version to be far superior than it's low fat counterpart. Cake is cake… so just splurge on this one and go full fat 😉
3) You must (must must must) toss the berries in all-purpose flour. This dusting of flour helps keep the berries afloat during the baking process, and ensure you won't slice into a loaf full of sunken berries. It's a simple step, but an important one.
4) When you're making the buttery crumb, work quickly with the chilled butter. You want to work the butter into the other ingredients, and stop when the buttery crumbs resemble small peas. If the mixture begins to look too soft or melted, pop the bowl into the freezer for a few minutes then start again.
5) The cake batter is very thick, so you'll need to use a spatula to spread the initial layer, as well as the layer that goes on top of the crumb. Don't worry too much if some of the crumb gets mixed into the top layer. It will bake up pretty and delicious either way.
6) If you'd like a less golden top, place a sheet of tinfoil over the cake 40 minutes into the baking cycle. I don't mind the top getting some color, so I rarely do this, but it's a great option for those who'd like a more golden crumb.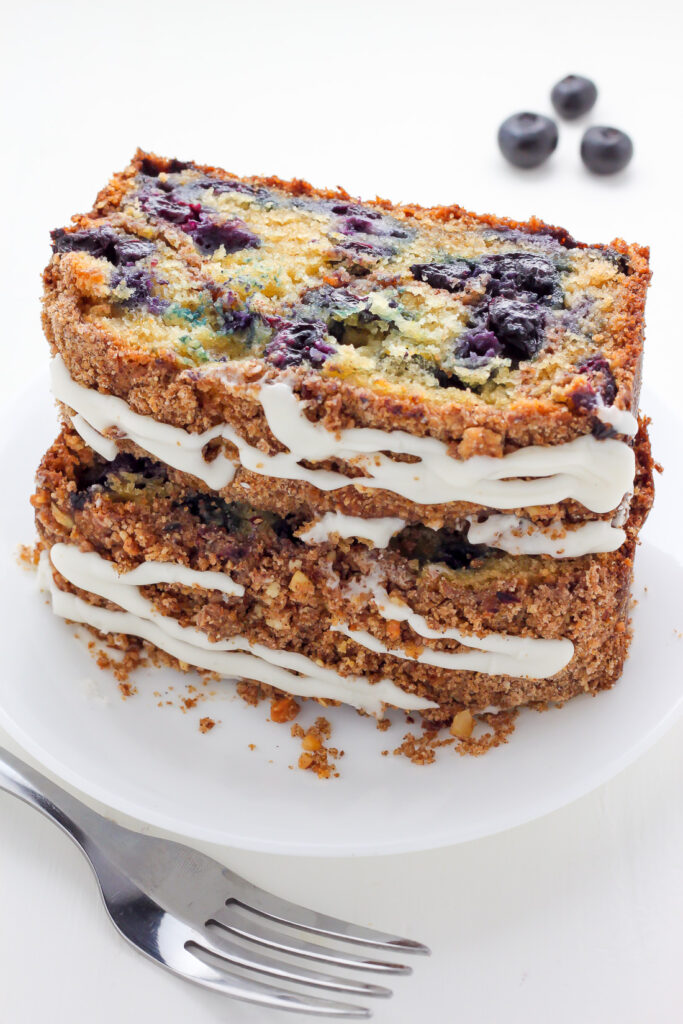 More Crumb Cake Recipes:
Blueberry lovers… make this one ASAP! P.S. Drizzle with extra vanilla icing because YUM.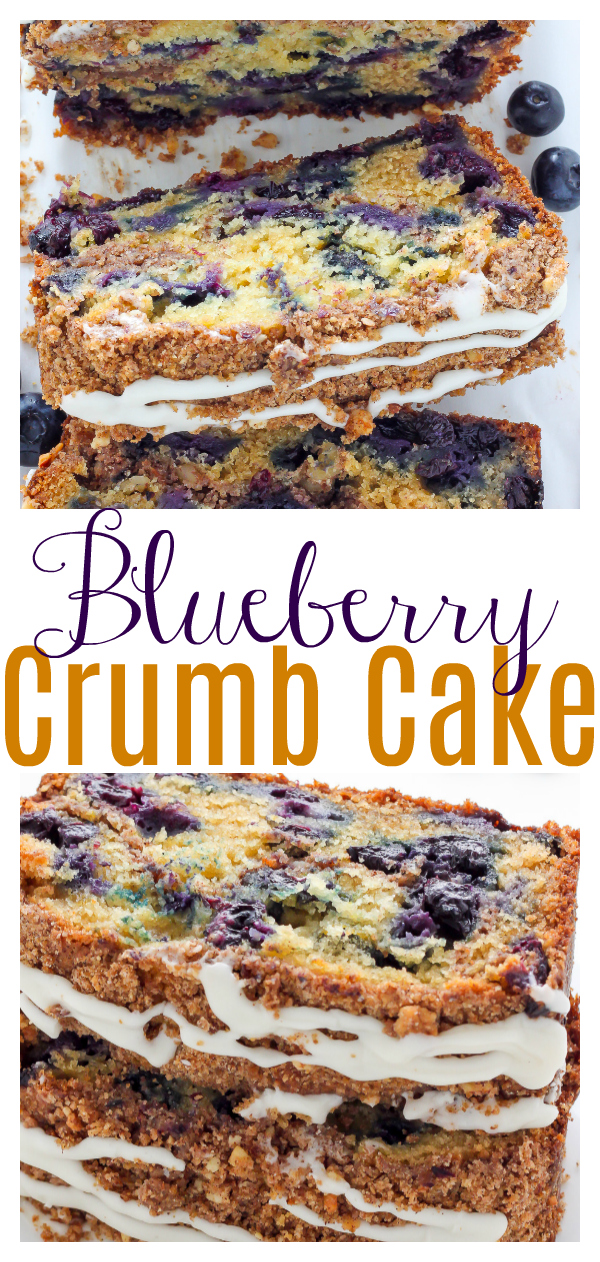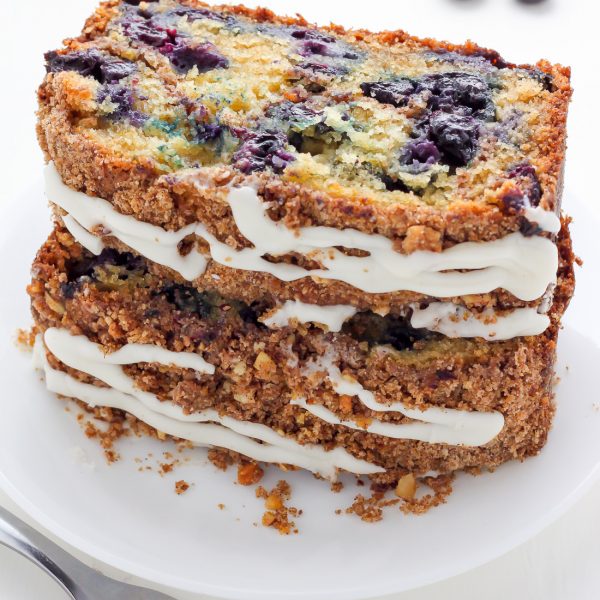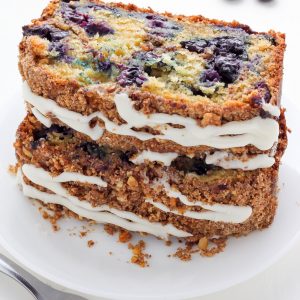 Blueberry Ricotta Crumb Cake
A moist ricotta crumb cake that's bursting with fresh blueberries! Topped with a sweet vanilla glaze, this is perfect for breakfast, brunch, or dessert.
Ingredients
For the Blueberry Ricotta Cake:
4 ounces unsalted butter, melted
3/4 cup granulated sugar
2 and a 1/2 teaspoons pure vanilla extract
2 large eggs, at room temperature
1 and a 1/4 cups cake flour
1 teaspoon baking powder
1/2 teaspoon baking soda
1/2 teaspoon finely ground sea salt or table salt
1/2 cup whole-milk ricotta cheese
1 cup fresh blueberries (frozen may be used, but do not thaw them first)
2 tablespoons all-purpose flour
For the Buttery Crumb:
1/4 cup light brown sugar, packed
1/2 cup all-purpose flour
3 teaspoons ground cinnamon
1/2 teaspoon finely ground sea salt or table salt
3 tablespoons unsalted butter, very cold
1/2 cup almonds, chopped
For the Vanilla Icing:
1/2 cup confectioners' sugar, sifted
3-4 tablespoons milk (I used whole here, but reduced fat or even almond milk will work here)
1/2 teaspoon vanilla extract
1/4 teaspoon finely ground sea salt or table salt
Instructions
For the Blueberry Ricotta Cake:
Preheat oven to 350 degrees (F). Line a 9x5 inch loaf pan with parchment paper so that the paper hangs slightly over the edges on two sides (this will help you lift the cake out without loosing any delicious crumbs!). Spray the parchment paper and any exposed pan with non-stick spray; set aside.

In a large bowl using a handheld electric mixer or in the bowl of a stand mixer fitted with the paddle attachment, combine the butter and sugar and beat on medium speed for 3 minutes; or until well combined and creamy.

Add in the vanilla and beat for another minute. Add in eggs, one at a time, beating well after each addition.

Turn mixer off and allow the wet mixture to rest while you prepare the dry ingredients.

In a medium-sized bowl combine the cake flour, baking powder, baking soda and salt; mix well to combine.

On low speed, add the dry ingredients into the wet ingredient mixture, stirring just until combined. Turn electric mixer off. Using a rubber spatula fold the ricotta cheese into the mixture.

Place the blueberries in a small bowl and gently toss them with 2 tablespoons of all-purpose flour - be sure to really coat the berries in the flour, as this helps them not sink to the bottom of the loaf while baking.

Gently fold the flour covered blueberries into the batter, stirring just until combined. Set batter aside and quickly prepare the buttery crumb.
For the Buttery Crumb:
In medium-sized bowl combine all ingredients. Quickly mix the ingredients together using a pastry cutter, fork, or your fingers until well combined; stop when the butter reaches the size of tiny peas.
Assembly and Baking:
Pour half of the batter into the prepared pan and top with half of the buttery crumb mixture.

Add the remaining batter, then top with remaining buttery crumb mixture.

Bake for one hour, or until the top is deeply golden and a cake tester inserted in the middle of the loaf comes out clean, or with just a few crumbs attached.

Allow cake to cool in the pan for 20 minutes, then, using the overlapping edges of parchment paper, lift up and transfer the cake to a cooling wrack to cool completely.

Once the cake is completely cooled, you may top it with the vanilla icing, slice, and serve!
For the Vanilla Icing:
Combine all of the ingredients together in a medium-sized bowl; whisk well to completely combine.

Drizzle over cooled cake right before serving.