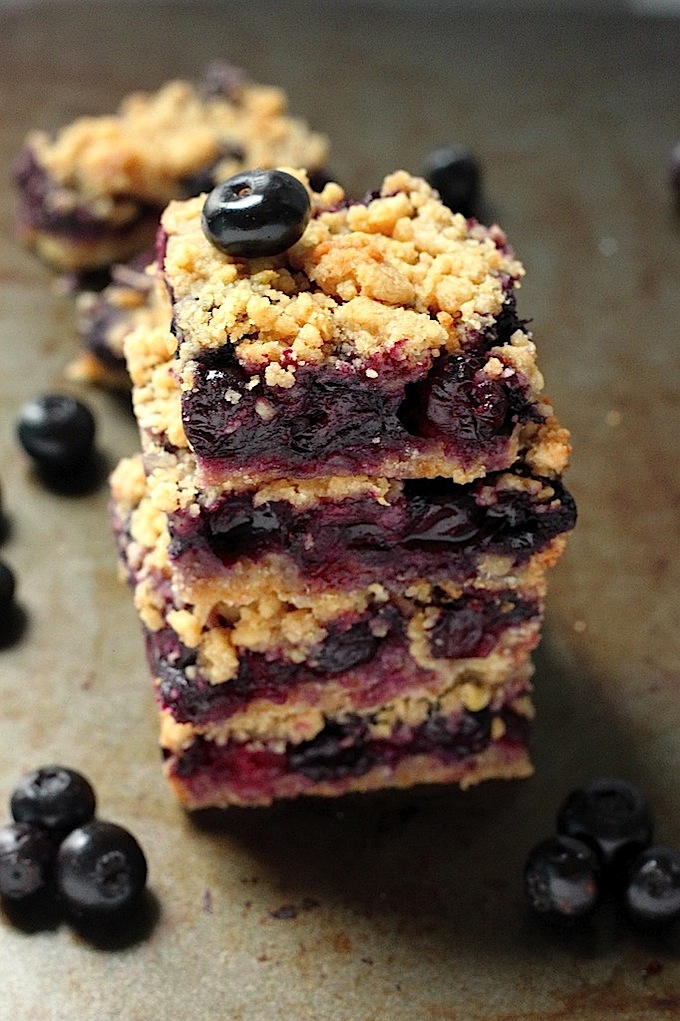 An easy recipe for light and luscious blueberry crumb bars! These berry packed little squares have a simple shortbread crust, a juicy fresh blueberry filling, and an addictive crumb topping! No way you'll be able to stop at just one 😉
Oooooh Summer! I wish you would stick around forever! The warm air, long days, and the fresh, local, gorgeous fruit has me in love. The fact that it's still mild enough to keep the windows open and the oven ON only makes things better. That means I can bake with these fresh berries! And not melt while in the act. I mean… does life get any sweeter than that? Please hold while I touch wood. No jinxes!
With early blueberry season in swing, I'm swiping up those pretty plump little beauties whenever I get the chance. Truthfully my favorite way to eat them is raw and by the handful! But last week I got an itch for a batch of blueberry crumb bars and knew exactly what needed to be done. I gathered the butter, brown sugar, and flour at once!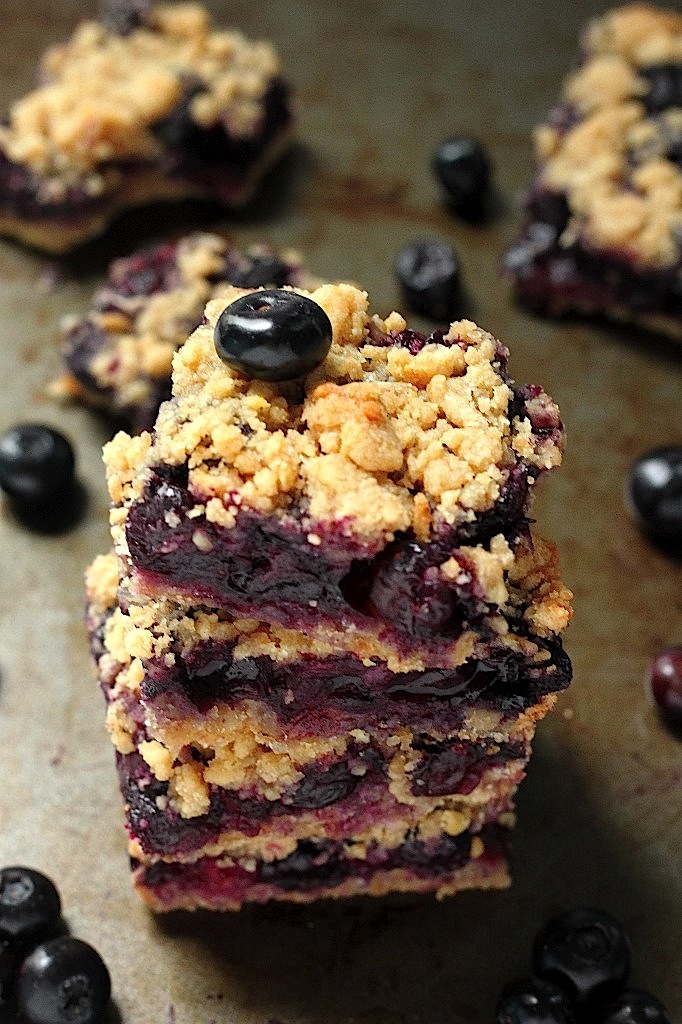 Have you made crumb bars recently? One of the reasons I love them so much is their simplicity. The dough comes together very quickly, and needs no chill time. YES! And the berries just need a quick toss in lemon juice and cornstarch. So simple!
I also love that this recipe keeps the berries whole. I grew up making crumb bars that used jams/jellies – which, btw, are equally tasty – but I knew I wanted to develop a recipe that would honor the lovely berries and keep them as natural as possible.
After a few tries, I finally got the perfect end result! I mean don't you just want to reach out and grab one!?
Rich buttery crust, sweet // juicy // berrylicious filling, and a simple crumb topping spiked with crystallized ginger… what are you waiting for?! xo
Blueberry Crumb Bars
Ingredients
1 cup dark brown sugar
2 3/4 cups all-purpose flour
1 cup cold unsalted butter (2 sticks), cut into tiny cubes
1 large egg, at room temperature
1/2 teaspoon salt
Zest and juice of one small lemon; divided
5 cups fresh blueberries
1/2 cup + 2 tablespoons white sugar
4 tablespoons cornstarch
1 tablespoon crystalized ginger, chopped
Instructions
Preheat the oven to 375 degrees (F).

In a large bowl, stir together the brown sugar, flour, salt and lemon zest. Use your hands to blend in the butter and egg. The dough will be crumbly! Divide in half; press the one half into a 9x13 inch non-stick baking dish.

In a separate large bowl, stir together the sugar, cornstarch, ginger, and lemon juice. Gently stir in the blueberries. Sprinkle the blueberry mixture evenly over the crust. Crumble remaining dough over the berry layer.

Bake in preheated oven for 35-45 minutes, or until top is slightly brown. Cool completely before cutting into squares. These go great with coffee 😉