Sweet and fruity Brown Butter Cherry Crumb Bars made with just 7 simple ingredients!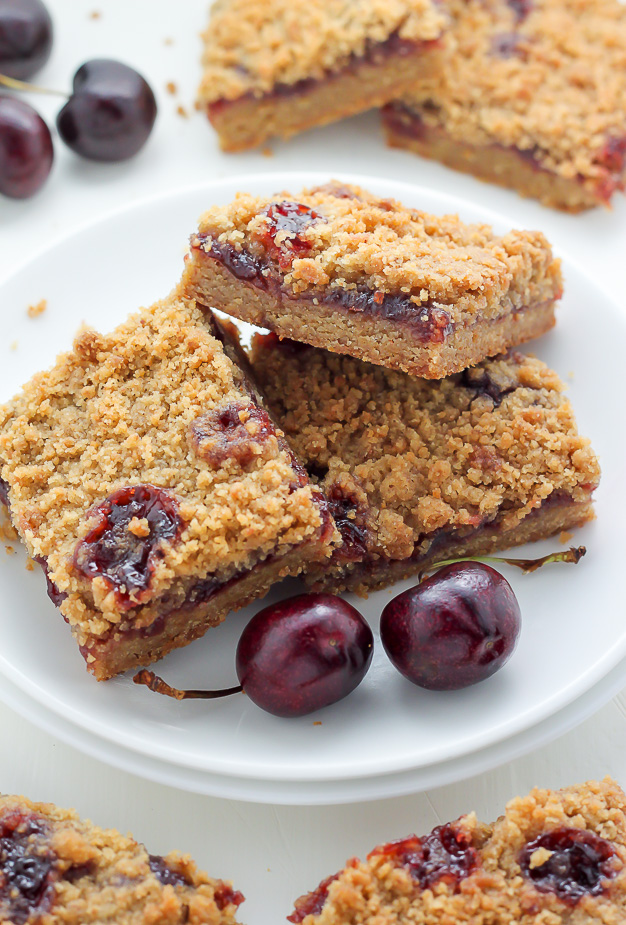 Over the weekend I had the rare pleasure of having the entire house all to myself. I didn't leave once! Saturday morning was spent in bed with this book
book and this frozen coffee (so luxurious), and Sunday my sister came over for a much needed day date; we drank, we laughed, we baked. It was all kinds of wonderful. ♡♡♡
After an entirely too hectic week of work and an approaching week of travel, it was so nice to just stay in and play hermit for a few days. We also had some wild thunderstorms most of the weekend, so I felt 0% guilt for skipping the outdoors 😉 What did you do over the weekend?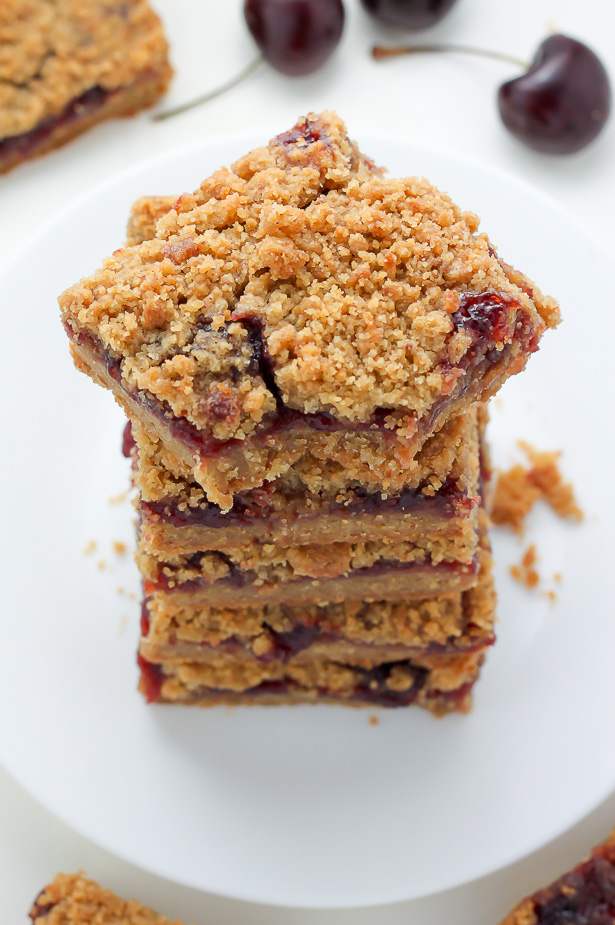 My sister stopped by our local market on her way to my house and swiped up these gorgeous cherry preserves along with a bottle of champagne and a few pastries. We gobbled the pastries and champagne a little too quickly, but I had plans for those preserves! The minute she placed the jar on the counter I knew crumb bars were a must. I based the recipe off of these raspberry crumb bars, making just two simple changes.
I browned the butter called for in the recipe, then cooled it in the freezer until it was once again solid. If you know me, you know my brown butter obsession runs deep. If you're suuuuuper short on time, you can brown the butter a few days ahead of time, or just use plain old butter straight from the fridge. <—– In case you like options 😉
I swapped the raspberry preserves for cherry preserves. That was probably a given, but you know… clarity is key.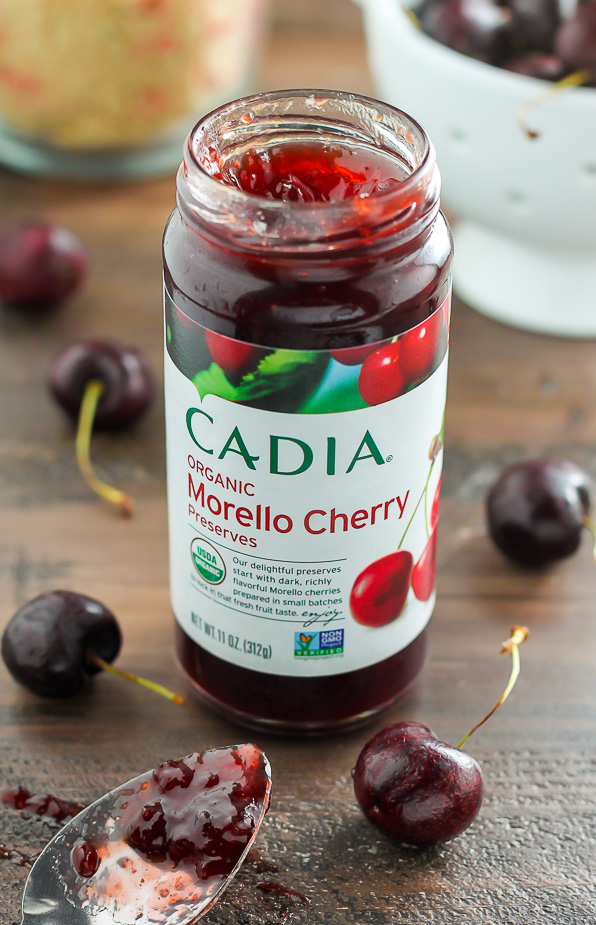 So let's talk about exactly what you'll need to do to make these dreamy brown butter cherry crumb bars your very own delicious reality. Don't worry – the steps are super quick and easy!
First thing you'll want to do is make your crumb. The really great thing about this recipe is the crumb for the base and the crumb for the topping is made all in one bowl. <<< This means only one bowl to wash! #winning
One VERY important step in this recipe is browning the butter. You must – I seriously cannot stress this enough – place the browned butter (which will be very hot and completely liquified) into the fridge or freezer until it's solid again. I find in my fridge this takes around an hour and in my freezer around 40 minutes. Once it's solid, you'll simply scoop it into the bowl of a stand mixer, add in the remaining ingredients, and beat until it's niiice and crumbly.
Quick Tip: Brown your butter ahead of time so you can make and bake right away!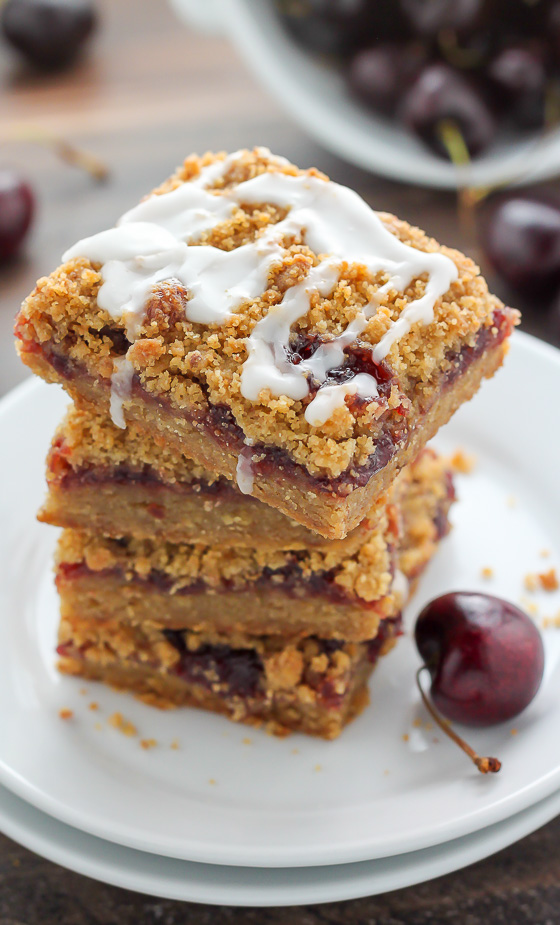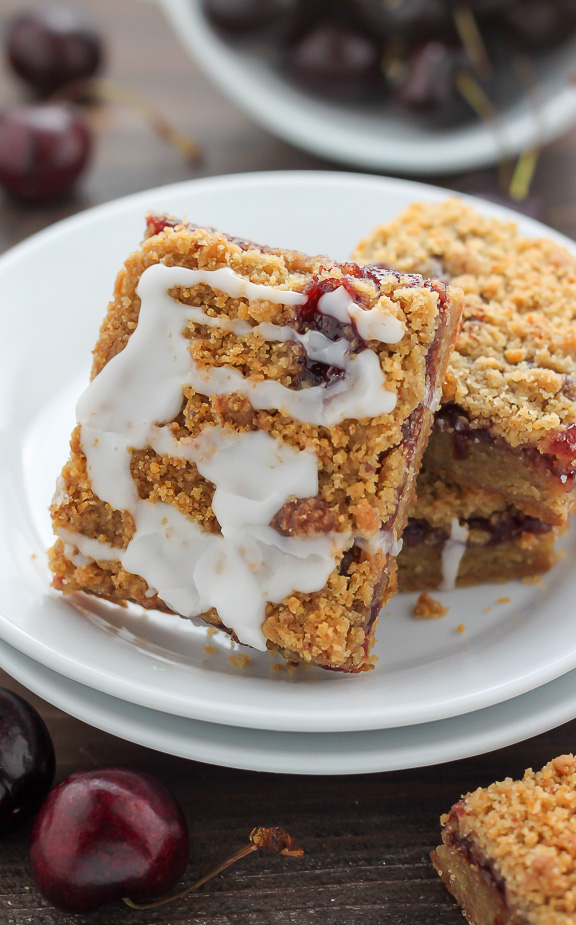 You'll want to line your baking pan with a slice of parchment paper and give it a light spritz with non-stick spray; this step guarantees no crumb or yummy corner piece will be left behind! Once the pan is prepped, you'll press half of the crumb mixture down into the pan (be firm here!), top with preserves (be sure to leave a clean border so they have some room to spread), and finish off with a hearty sprinkle of remaining crumbs. Time to place them in the oven and bake to gooey, golden perfection.
P.S. Your kitchen is about to smell ah-mazing!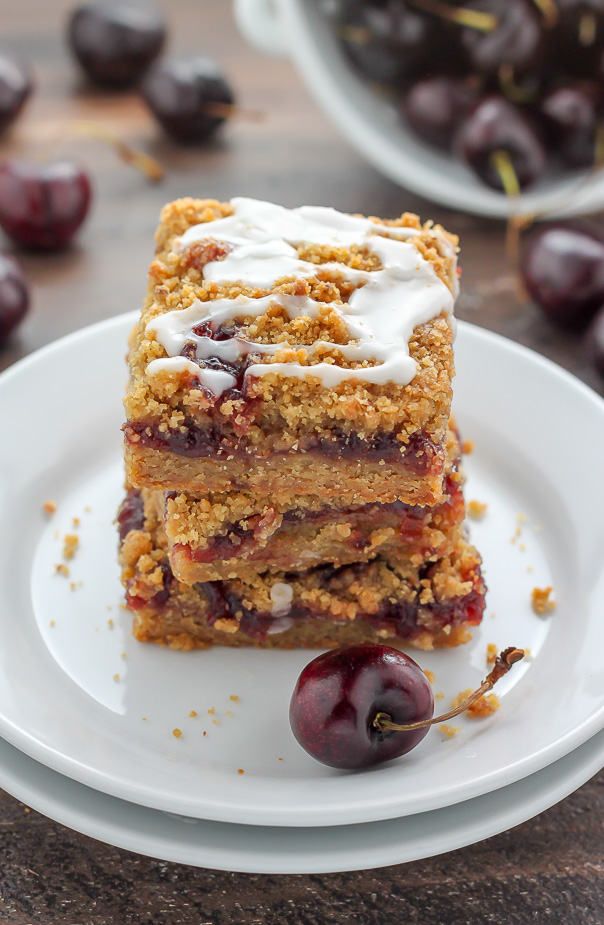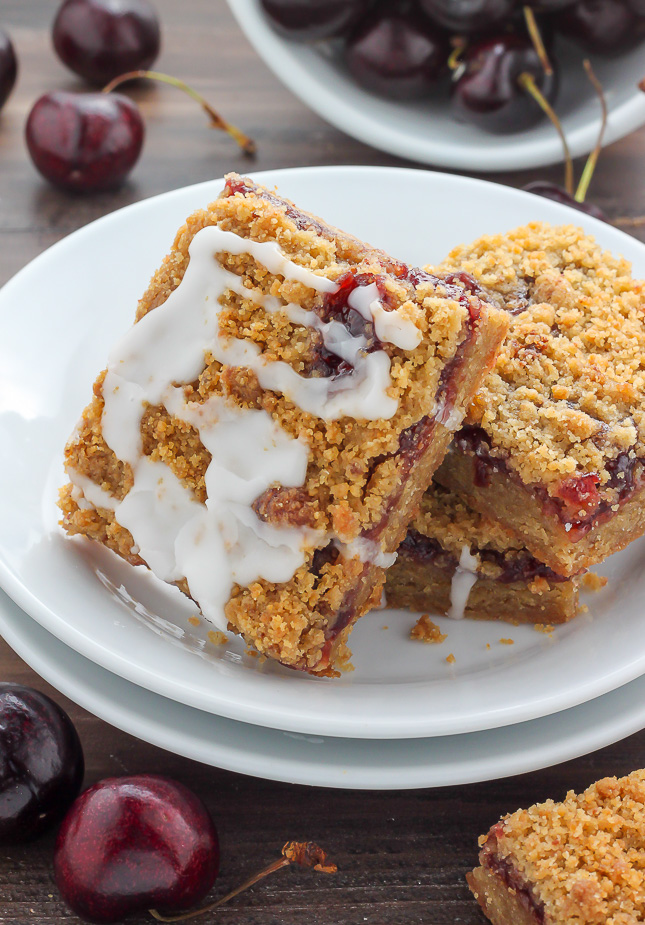 I like to top each bar with a hearty drizzle of vanilla glaze because, um… delicious!!! Sweet, fruity, and loaded with buttery crumbs – I hope you treat yo'self to a batch of these very soon. I love you like that.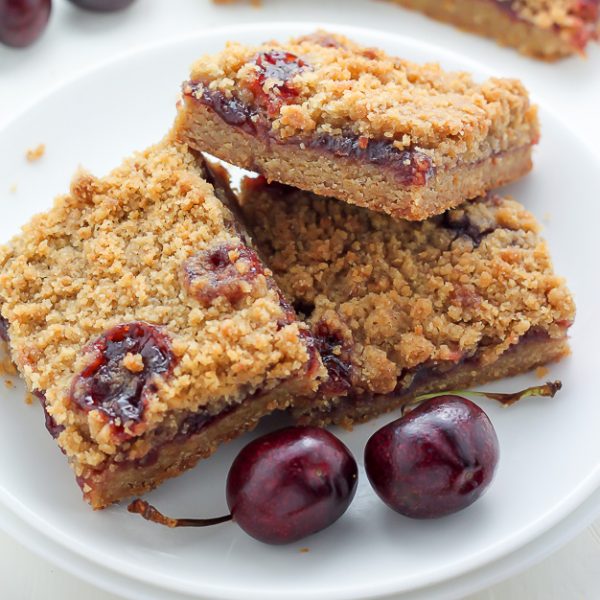 Brown Butter Cherry Crumb Bars
Rich and Buttery Cherry Crumb Bars - make a double batch if you're serving a crowd - they go fast!
Ingredients
1 large egg, at room temperature
2 1/4 cups all-purpose flour
1 cup brown sugar
1 cup butter (8 ounces), *melted until browned and brought back to a solid state
1/2 tsp salt
1/2 tsp cinnamon
3/4 cup cherry preserves
Vanilla Glaze:
1 cup confectioners' sugar
2-3 tablespoons milk (use what you have)
1 teaspoon vanilla
Instructions
Preheat oven to 350°(F). Line an 8-inch square baking pan with parchment paper, extending paper over edges. Lightly grease parchment; set aside.

In the bowl of a stand mixer fitted with the paddle attachment, or in a large bowl using a handheld electric mixer, combine all crumb mixture ingredients (the first 6 ingredients). Beat at low speed, scraping down the sides of the bowl often, until mixture resembles coarse crumbs. Reserve 2 cups crumb mixture; set aside.

Press the remaining crumb mixture into the bottom of the prepared baking pan. Spread preserves on top, leaving a 1/2 inch clean border around the edges. Crumble reserved crumb topping over preserves.

Bake for 35-40 minutes or until golden brown. Cool completely; cut into bars.
For the glaze:
In a small bowl whisk together the confectioners' sugar, milk, and vanilla; beat until completely smooth, adding more liquid if a thinner consistency is needed, and more sugar if a thicker consistency is needed. Drizzle over cooled, cut bars.
Notes
*If you choose to skip the brown butter step, simply use 2 sticks (8 ounces) of cold butter cut into cubes.