These BIG bakery-style Blueberry Lemon Poppy Seed Muffins are moist, fluffy, and bursting with juicy blueberry and fresh lemon flavor! The poppy seeds add a toothy bite everyone loves. We love these for breakfast, but they also make a great afternoon snack!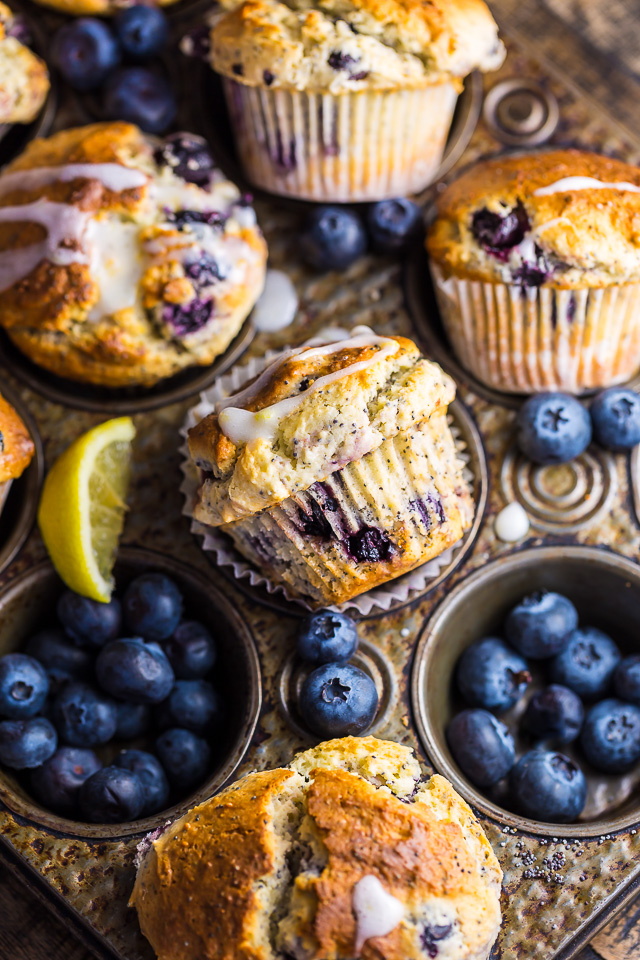 Lemon Poppy Seed Muffins with Blueberries
I like lemon poppy seed muffins as much as the next person…
but blueberry lemon poppy seed muffins? It's not just like; it's love. Because we all know sweet, juicy, bursting blueberries make everything better, right?
RIGHT ↓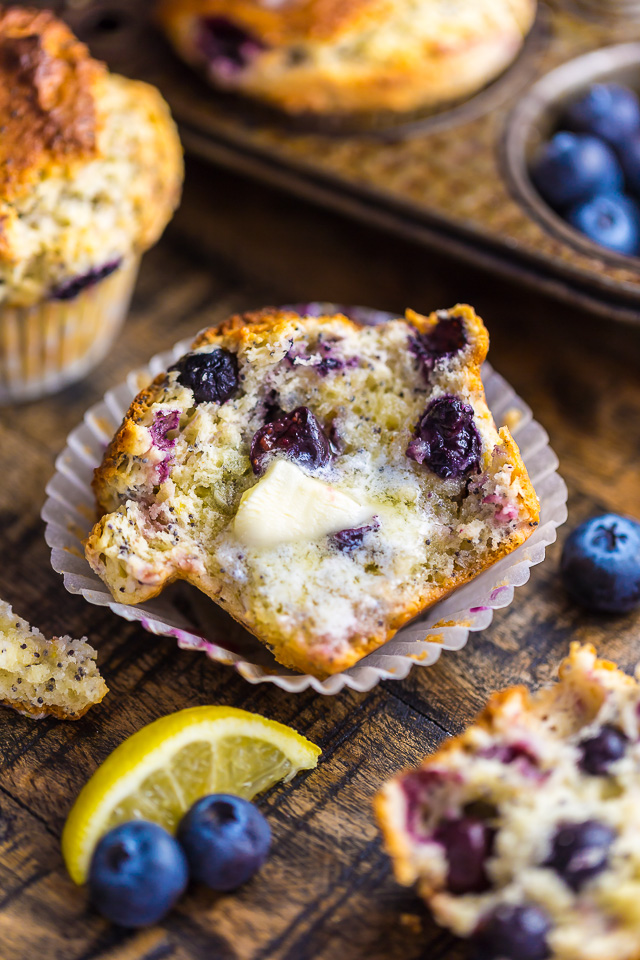 I've baked these poppy seed muffins 4 times in the past month and everyone always goes crazy over them! I brought them to a meeting, a lunch date, a family party, and… pilates! Because balance, right?!
But seriously, these muffins are super versatile and easy to travel with. And the flavors are hard to resist! The lemon flavor is bright without being overwhelming, the poppy seeds add a nice toothy crunch, and the blueberries? Well as I mentioned above… they just make everything a little better. The sweet lemon glaze is optional, but absolutely delicious!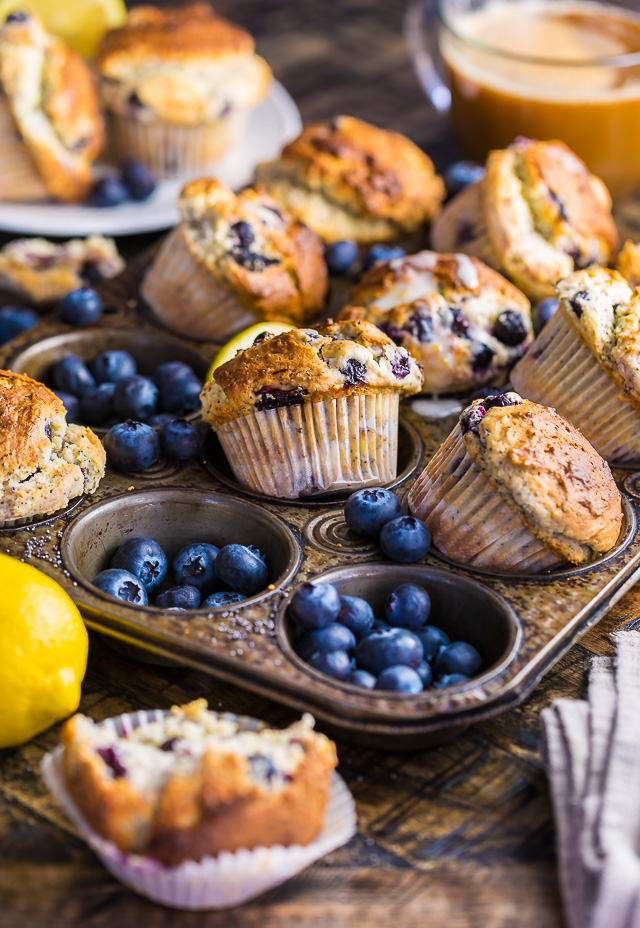 Tips and Tricks for Recipe Success:
I used fresh blueberries in this recipe, but have a feeling frozen would work. Just be sure not to thaw them before adding to the batter.
This is probably obvious… but you must use fresh lemon juice and zest. Because this is where the lemon flavor comes from! You'll want to zest the lemons first, then cut them in half and juice them. I suggest buying 4 or 5 large, heavy lemons so you have enough on hand for the muffins and the glaze.
You can use regular lemons or meyer lemons for this recipe.
Before assembling the muffin batter, you'll want to bring your butter, eggs, and sour cream to room temperature.
The batter will be very thick! Avoid over mixing it or your muffins will bake up dense.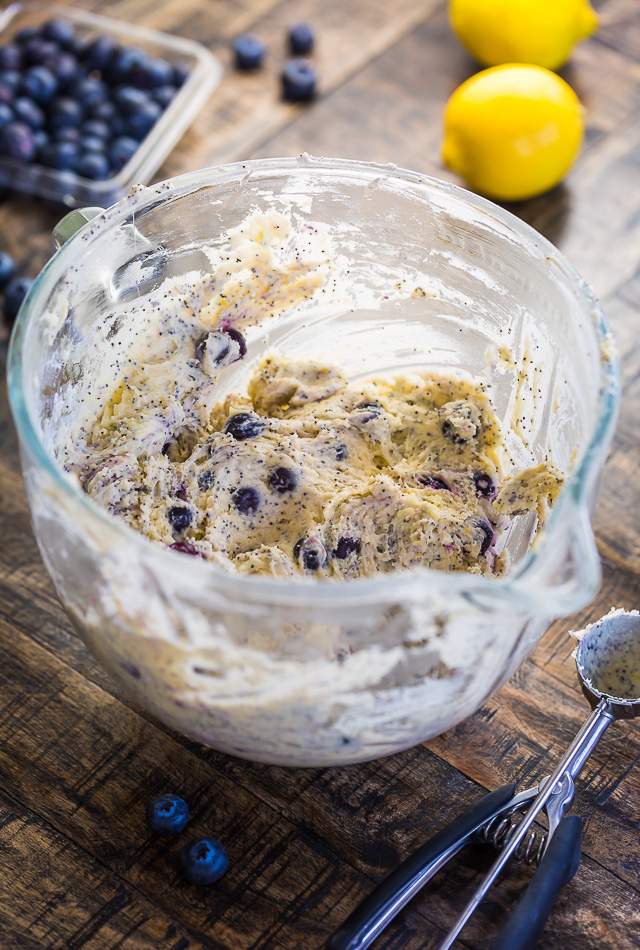 To avoid over baking, keep an eye on your muffins after the 20 minute mark.
In my opinion, these muffins are best eaten warm the day they're made, but they'll "keep" in an airtight container for 48 hours.
I suggest glazing the muffins right before you plan on serving them. This ensure the tops don't get too moist and soggy. This will also help prevent premature molding.
Perfect for brunch, picnics, play dates, office parties, weekday snacks, and beyond, these Blueberry Lemon Poppy Seed Muffins are sure to be in heavy rotation year round!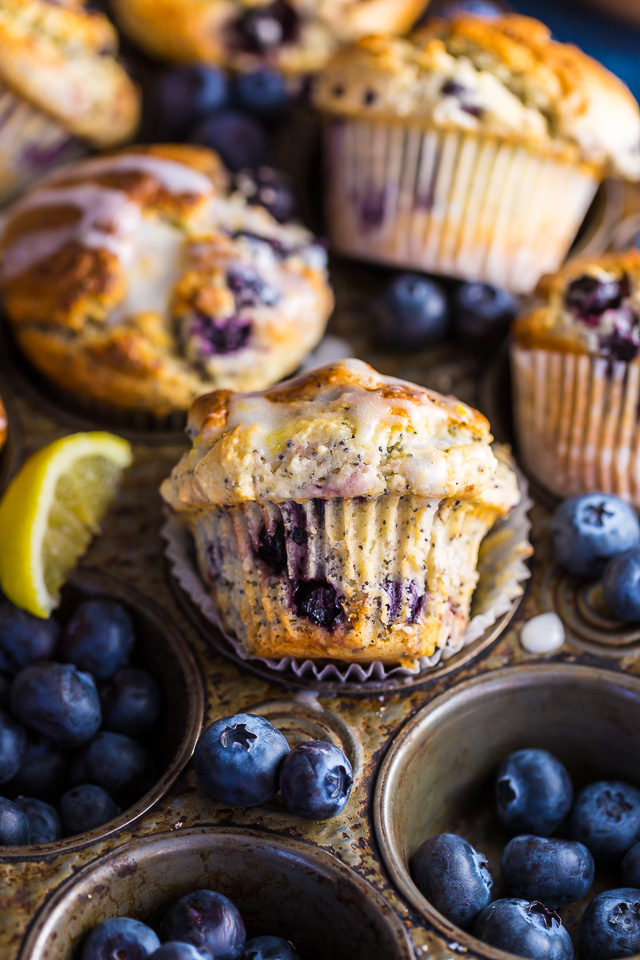 If you try this recipe for Blueberry Lemon Poppy Muffins, let me know what you think! Leave a comment below, and don't forget to snap a pic and tag it #bakerbynature on instagram! Seeing your creations makes my day ♥

More Muffin Recipes: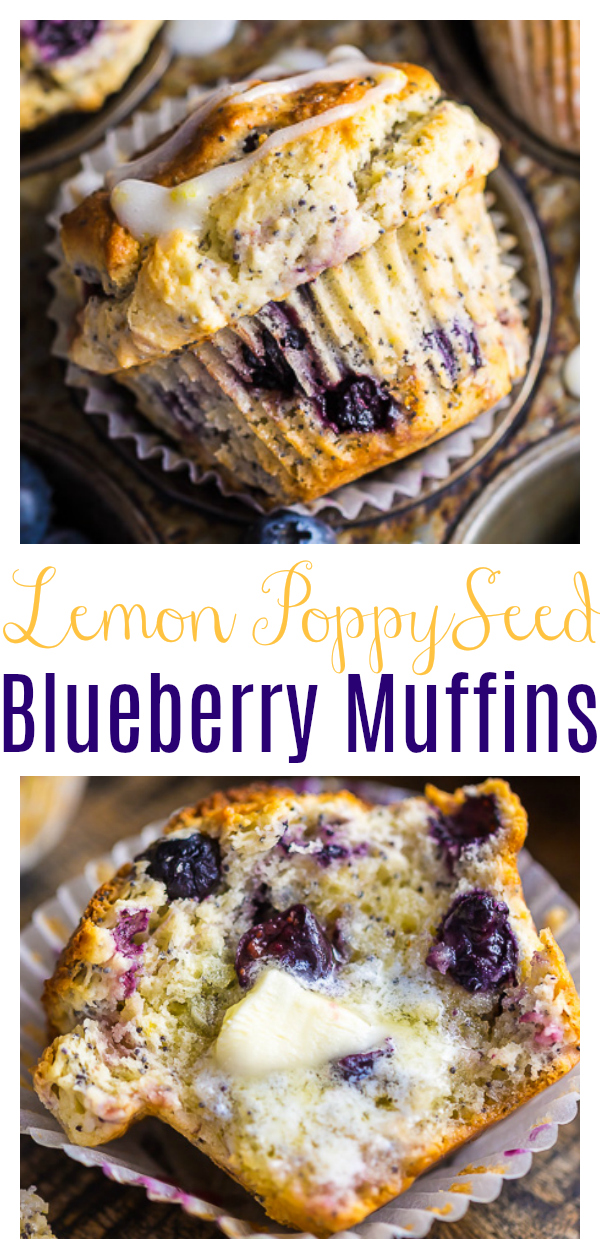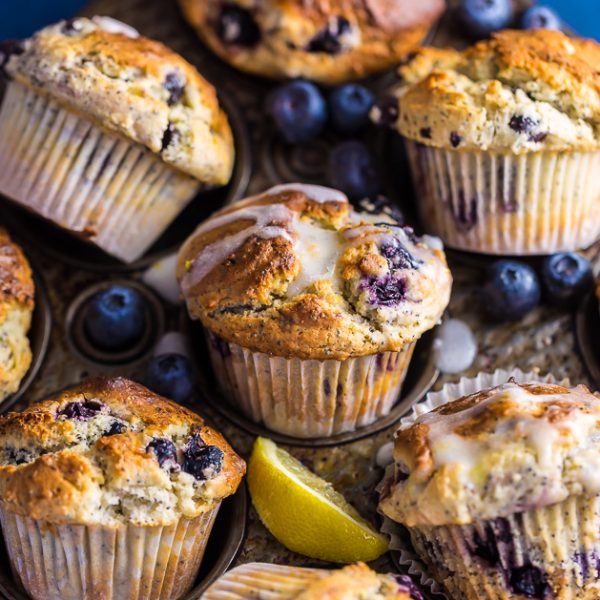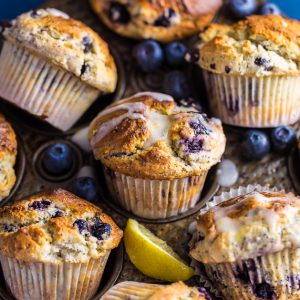 Blueberry Lemon Poppy Seed Muffins
These BIG bakery-style Blueberry Lemon Poppy Seed Muffins are so darn good! Especially with a cup of coffee.
Ingredients
For the Blueberry Lemon Poppy Seed Muffins:
3 cups plus 2 tablespoons all-purpose flour, divided
1 tablespoon baking powder
1/2 teaspoon salt
8 tablespoons (4 ounces) unsalted butter, at room temperature
1 and 1/3 cups granulated sugar
3 teaspoons lemon zest, finely grated
2 large eggs, at room temperature
2 teaspoons pure vanilla extract
1 cup full-fat sour cream
1/3 cup freshly squeezed lemon juice
3 Tablespoons poppy seeds
1 and 1/2 cups blueberries
For the Lemon Glaze:
1 and 1/2 cups confectioners' sugar, sifted
2 tablespoons freshly squeezed lemon juice
1 teaspoon lemon zest, finely grated
2 teaspoons whole milk, more if needed to achieve desired consistency
Instructions
For the Blueberry Lemon Poppy Seed Muffins:
Preheat oven to 400 degrees (F). Line a 12 cup muffin tin with paper liners; set aside.

In a large bowl, sift together 3 cups of the flour, baking powder, and salt; set aside.

In a large bowl using a handheld electric mixer, or in the bowl of a stand mixer fitted with the paddle attachment, combine the butter, sugar, lemon zest, and vanilla extract; beat on medium speed until light and fluffy, about 3 minutes.

Add in the eggs, one at a time, beating well after each addition and scraping down the sides of the bowl as needed.

Turn mixer off and set batter aside for a moment. In a spouted bowl or measuring cup add the sour cream and lemon juice; whisk well to combine and set aside. In a separate bowl combine add the blueberries and remaining flour; toss well to coat the berries in the flour.

With the mixer speed on low, alternate adding the flour mixture and the sour cream mixture, beginning and ending with flour. Be sure not to over mix here. Fold the blueberries and poppy seeds into the batter, mixing just until evenly combined.

Divide the batter evenly among prepared muffin tins.

Bake for 25 to 27 minutes, or until the tops are lightly golden brown and a toothpick inserted in the middle comes out clean, or with a just a few moist crumbs attached. Cool muffins 10 minutes in the pan before transferring to a cooling rack.
For the Lemon Glaze:
In a medium mixing bowl combine the confectioners' sugar, lemon juice, zest, and milk; whisk until smooth, adding more milk as needed to reach desired consistency. Drizzle over the muffins right before serving.