The Ultimate Lemon Poppy Seed Muffins are stuffed with a dollop of creamy lemon curd and topped with lemon glaze! Sunshiny sweet, these muffins are perfect for breakfast or as an after-school snack. A must try muffin recipe for lemon lovers!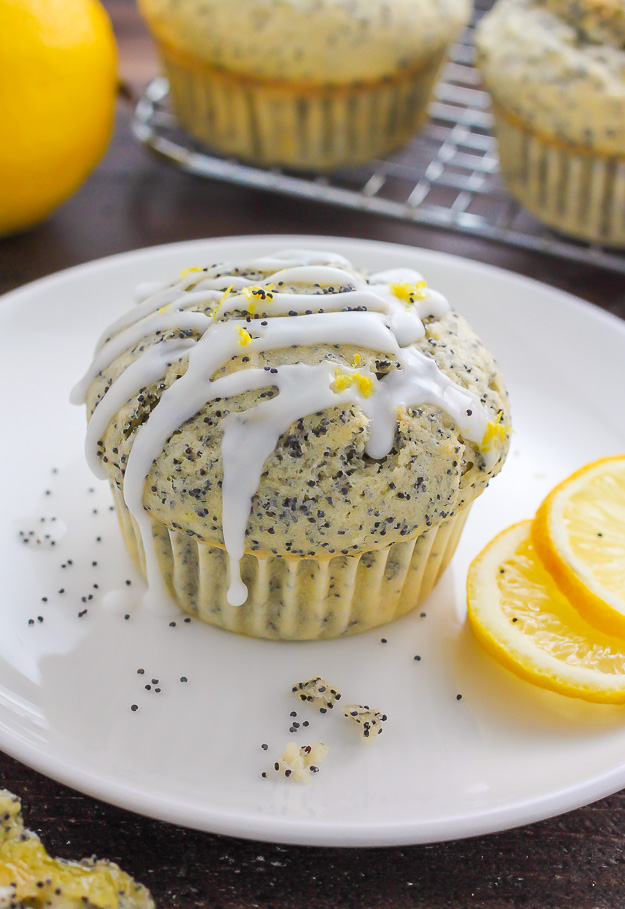 Lemon Poppy Seed Muffins
These perfectly pretty poppy seed muffins represent my deep love for all things lemon. The supremely soft muffin base is just exploding with lemon flavor thanks to lemon zest, lemon extract, and lemon juice. And each fluffy center is stuffed with a silky smooth pocket of lemon curd! And the topping is a sweet drizzle of lemon glaze. The toothy poppy seeds help balance everything out from complete lemon domination. With all that lemon, the title ULTIMATE lemon poppy seed muffins was an easy one.
Also, how many times did I just type LEMON? Ser-i-ous-ly.
Ingredients for Lemon Poppy Seed Muffins
The first ingredients I'll address are the ones you may not already have hanging around:
Lemon extract (I love this Nielsen Massey PURE Lemon Extract )
Lemon Curd
Poppy seeds (check out ethnic food stores to buy in bulk or grab a bag here )
and 3 fresh lemons: I used classic lemons, but if you're reading this post during meyer lemon season feel free to use them instead!
If you're unfamiliar with lemon curd, here's a quick rundown; I promise it's a lot less fancy/weird than it sounds. Lemon curd is simply a preserve with a very thick consistency; it's typically made from simple ingredients like lemons, butter, eggs, and sugar. It's sweet, tart, and velvety smooth. Basically it's heaven in a jar for lemon lover's. You can make your own or buy it in a jar. Whatever brand you choose, just be sure the lemon curd is on the firmer side. Homemade curds can be "looser" or verrry creamy, and those will not work for this recipe.

Now that we've got our lemon situation under control, let's move on to the remaining ingredients. You'll need: flour, sugar, baking powder, baking soda, salt, milk, eggs, and butter. These are all pretty basic pantry/fridge staples, but it's always smart to double check you have all of the ingredients needed (and that they're not expired) before embarking on any baking adventure 😉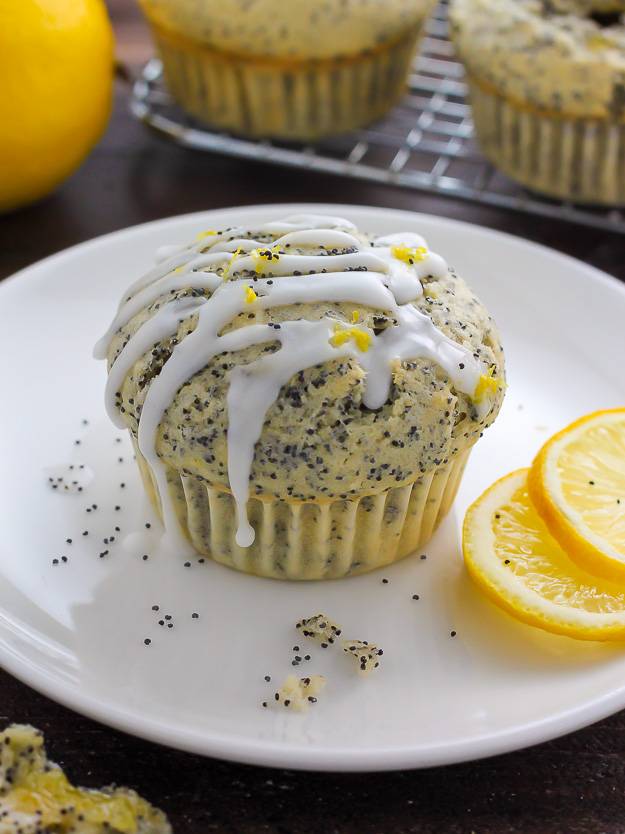 The batter will be pretty thick (and perfectly dotted with poppy seeds!), but avoid the temptation to over mix. Once the flour disappears, put the spatula doooooown 😉
To assemble you'll fill each cup halfway with batter, add in a teaspoon of lemon curd, then top with another generous scoop of muffin batter. Time to bake bake bake.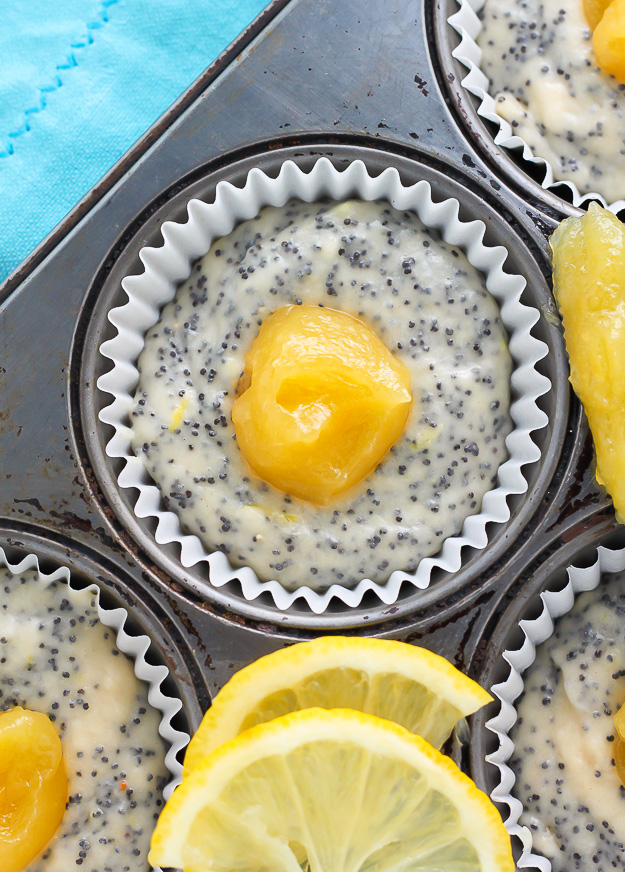 I like to enjoy these vibrant muffins as a morning treat with my coffee, but they also make a wonderful addition to any brunch/dessert spread. Bright citrus, buttery crumbs, creamy lemon filling… is your muffin tin out yet?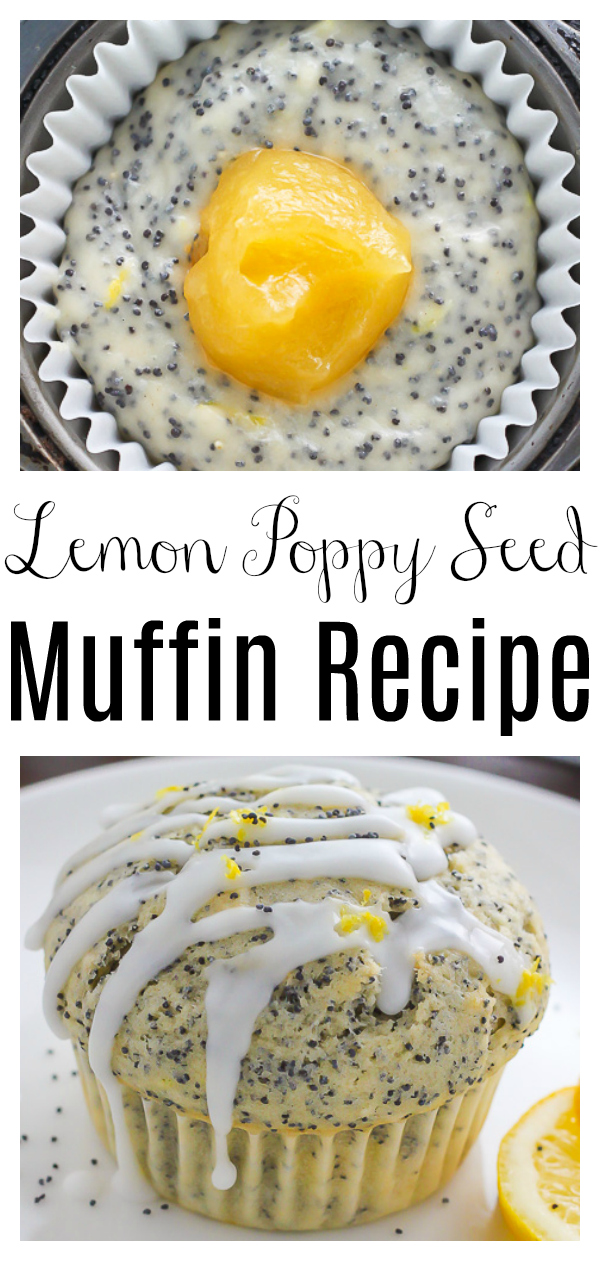 More Lemon Poppy Seed Recipes: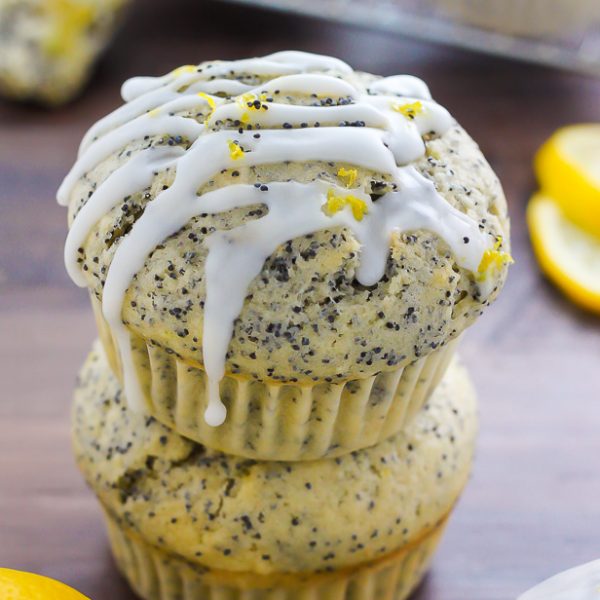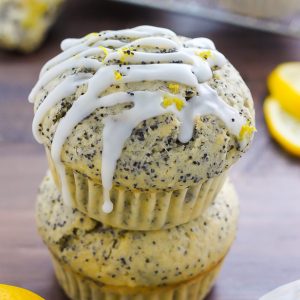 Ultimate Lemon Poppy Seed Muffins
The ULTIMATE Lemon Poppy Seed Muffin loaded with lemon zest, juice, and extract and stuffed with a silky smooth pocket of lemon curd.
Ingredients
1 cup granulated sugar
2 teaspoons lemon zest (usually the zest of two large lemons)
3 cups all-purpose flour (not packed)
1 tablespoon baking powder
1/4 teaspoon baking soda
1/4 teaspoon salt
1 and 1/2 cups WHOLE milk (whole milk or full-fat will yield the best results)
2 large eggs, at room temperature
1/2 teaspoon lemon extract
1 stick (4 ounces) unsalted butter, melted and slightly cooled
1 teaspoon lemon juice
1/3 cup poppy seeds
1/4 cup lemon curd
For the glaze:
1 cup confectioners' sugar
2-3 tablespoons lemon juice
1 teaspoon lemon zest (usually the zest of one lemon)
1/4 teaspoon salt
1/4 teaspoon lemon extract (I recommend tasting the glaze first before adding this; it may be lemony enough and not need it)
Instructions
Adjust and oven rack to the middle position; preheat oven to 375 degrees (F). Line a 12-cup muffin tin with paper liners; spray lightly with non-stick spray; set aside.

Combine sugar and lemon zest in a large bowl; using your fingers rub the lemon zest into the sugar until well combined and fragrant. Add the flour, baking powder, baking soda, and salt into the bowl and mix well to combine.

In a medium-sized bowl combine the milk, eggs, and lemon extract; whisk well until smooth and combined. Gently fold the liquid mixture into the dry mixture, stirring with a rubber spatula until just combined. Fold in melted butter, then quickly fold in lemon juice and poppy seeds.

Scoop two tablespoon sized dollops of batter into the bottom of each cup, top with a teaspoon of lemon curd, then top with another 1 and 1/2 tablespoons of muffin batter.

Bake until set in the center and golden brown; about 22 minutes.

Allow muffins to cool in the pan 5 minutes, then serve or cool completely and store for later use.