Yes, you read that right: BLUEBERRY PIE FUDGE!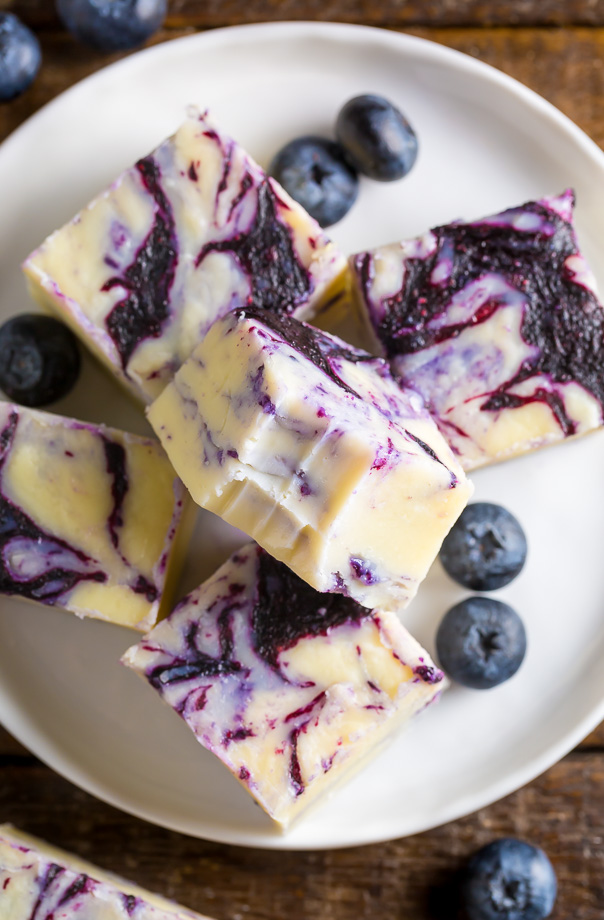 Blueberry Fudge Recipe
5 years ago I was strolling down the boardwalk when a sign caught my eye. "Fresh Blueberry Pie Fudge Sold Here" it read. I was instantly intrigued. And not because fudge on the boardwalk is anything new. Especially not at the Jersey Shore! But blueberry pie fudge?! The idea alone was worth making a pit stop.
So I popped into the store and did a little investigating. And by investigating, I mean I ate a half dozen samples before finally spotting the blueberry pie fudge. Visually, it was stunning. Pale white chocolate fudge swirled with a vibrant ribbon of blueberry puree. I had to have it. And have it I did.
Most people would have probably just had a small square and went on their merry way, but I ended up buying an entire pound (hello, my name is Ashley… I'm excessive) and taking it home to "share" with the family for dessert.
Sharing turned out to be harder than I imagined. I mean… would you have been able to share something that looked like this?! ↓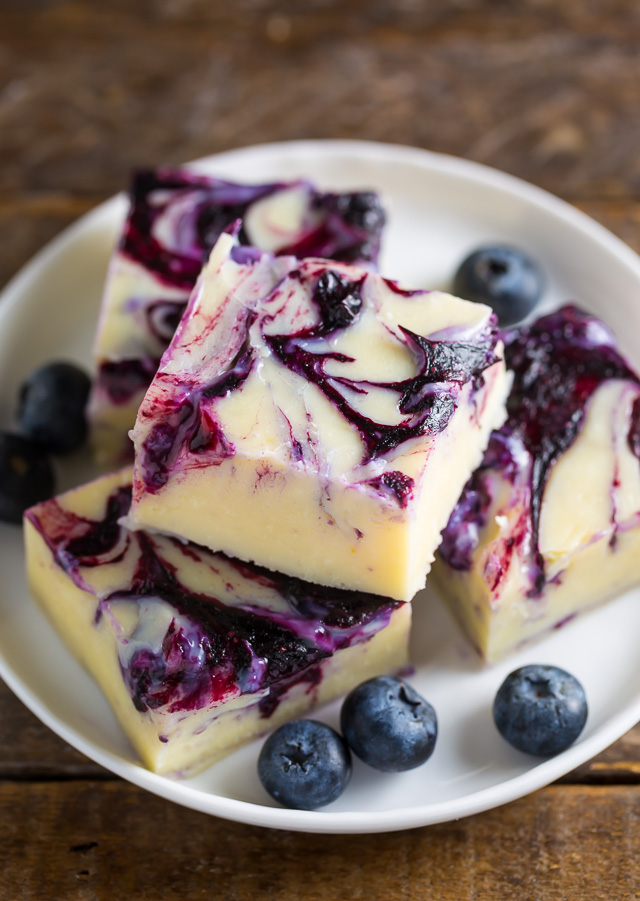 Don't worry! I didn't eat it all myself. Although I certainly dreamed about it. Everyone got a taste and everyone agreed: blueberry pie fudge = heaven on earth.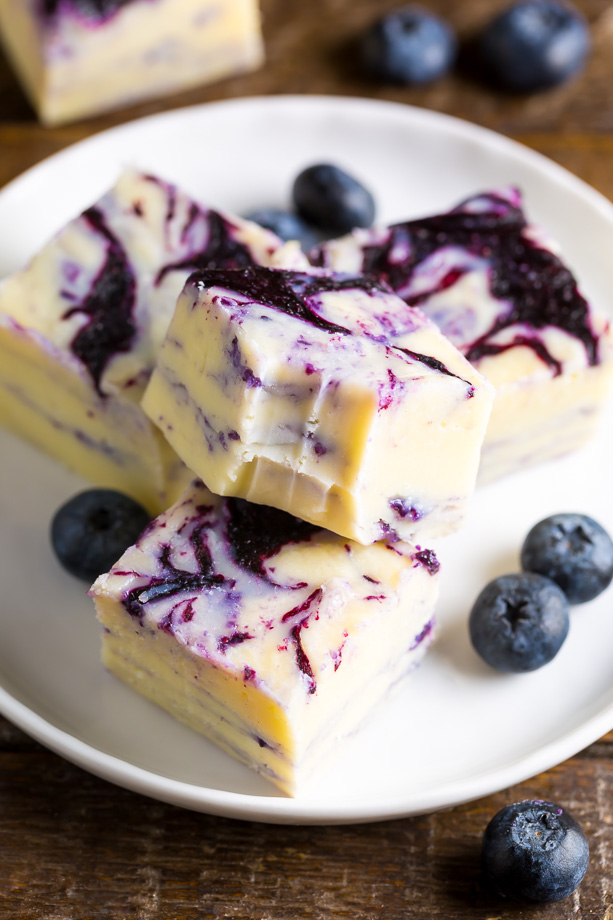 Naturally I wanted to recreate the recipe in my own kitchen so I could share it with you! And it only took me 5 years to get it right. Aren't you glad I didn't give up on this recipe?!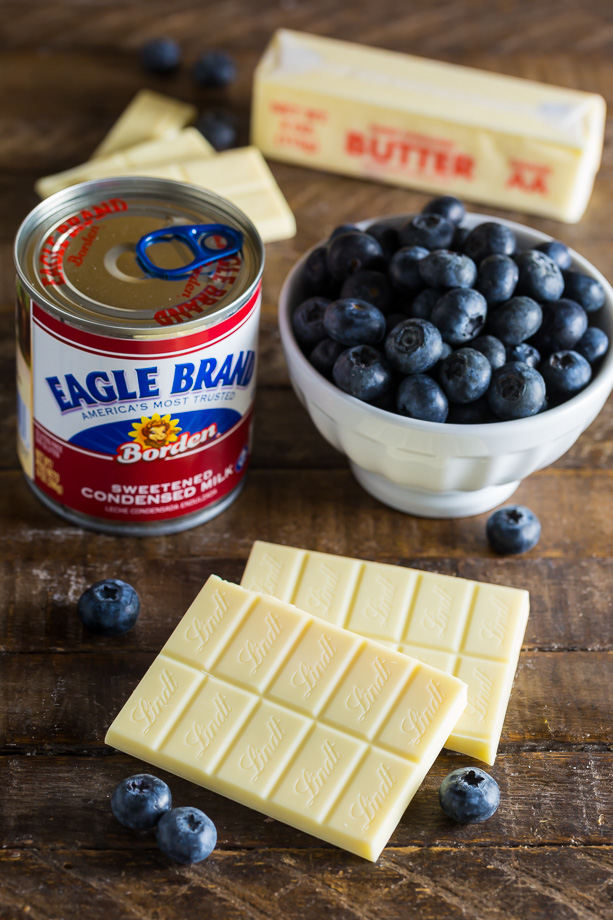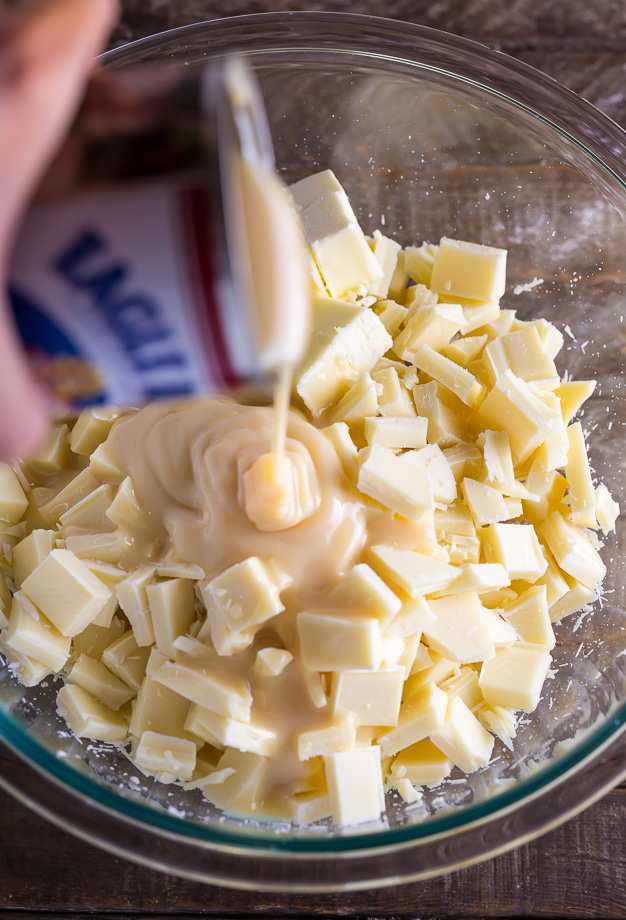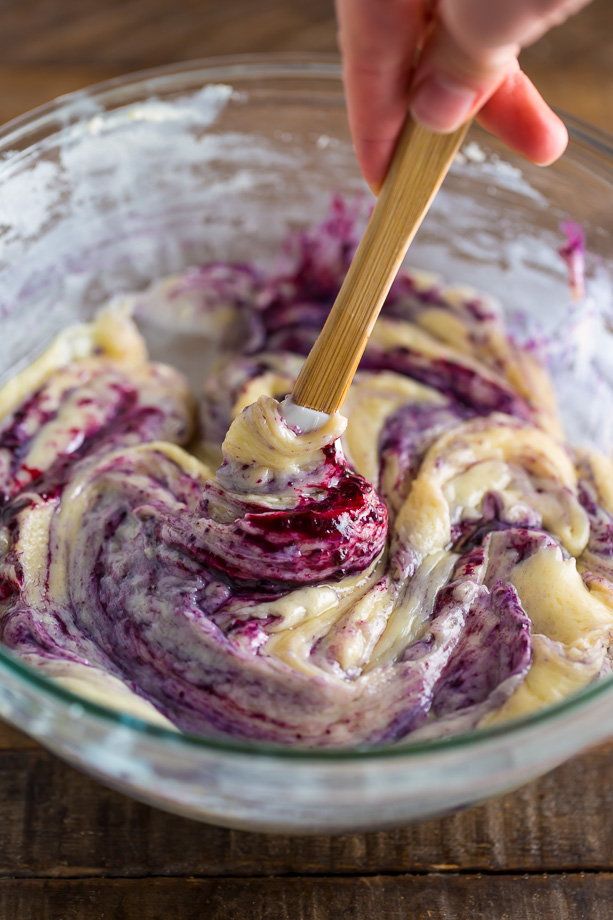 Tips and Tricks for Recipe Success:
Use a high-quality white chocolate brand you know tastes good and melts well. Because they don't work well in this recipe, I do not recommend using white chocolate chips.
Fresh blueberries and frozen blueberries work the same for this recipe, so feel free to use either.
You'll need a fine-mesh strainer to make the blueberry pie filling. You'll place the strainer over a small bowl and push the puree though. You're only going to use the liquid in the bowl. You should have about 1/4 cup of liquid in your bowl. Discard any skins/seeds left in the strainer.
Your blueberry pie fudge will need to chill in the fridge for at least 2 hours before betting sliced and served.
Finally, and most importantly, please don't be alarmed if this fudge slices a little differently than typical fudge. This is not typical fudge! It will be a little messy but 100% delicious. Kind of like real blueberry pie 😉 Also, because this fudge contains a fresh fruit topping, I do not suggest shipping it or storing it at room temperature. It's best eaten within 2 days.
In my opinion, no Summer is complete without a blueberry pie fudge binge! Make a batch now, thank me later 😉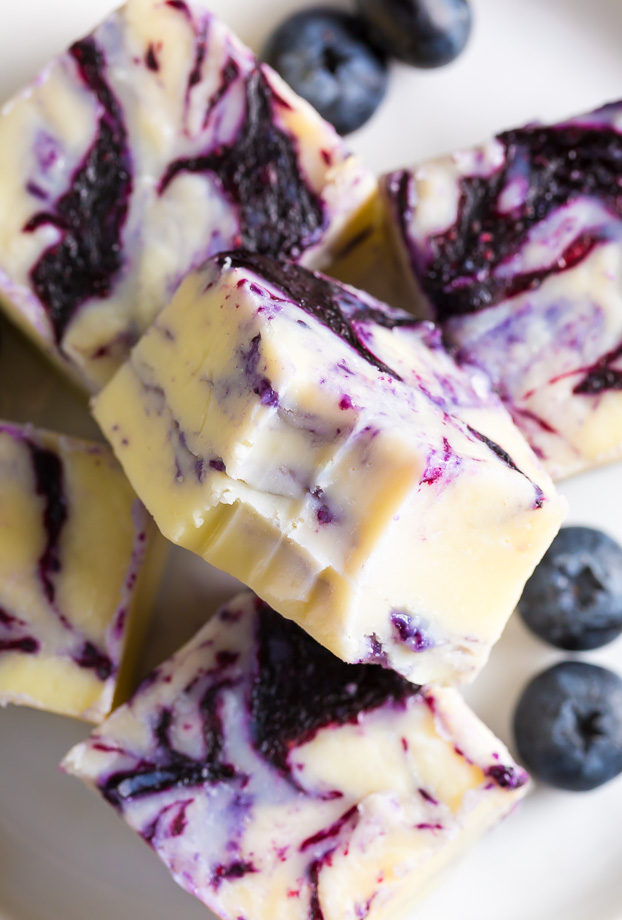 And Because I know someone will ask, the store was titled "Edna's". It's sadly no longer there 🙁
If you try this recipe for Blueberry Pie Fudge, let me know what you think! Leave a comment below, and don't forget to snap a pic and tag it #bakerbynature on instagram! Seeing your creations makes my day ♥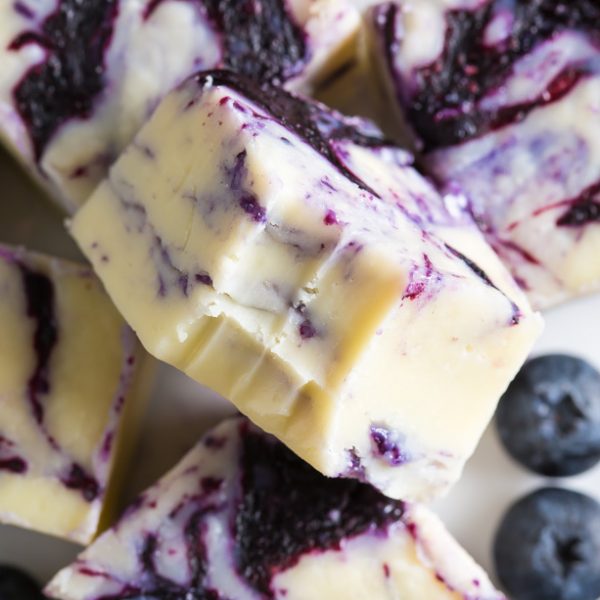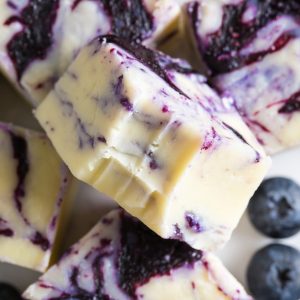 Blueberry Pie Fudge
This homemade Blueberry Pie Fudge is extraordinary! Made with just 7 ingredients. Perfect for parties or days it's too hot to bake.
Ingredients
For the Blueberry Pie Filling:
1 cup blueberries, fresh or frozen, if using frozen don't thaw first
1 tablespoon fresh lemon juice
2 teaspoons cornstarch
For the White Chocolate Fudge:
(1) 14 ounce can sweetened condensed milk
20 ounces high-quality white chocolate, roughly chopped
3 tablespoons unsalted butter, cut into 1/2-inch pieces, at room temperature
1/8 teaspoon salt
Instructions
For the Blueberry Pie Filling:
In a small saucepan combine the blueberries, lemon juice, and cornstarch; bring to a simmer over medium heat and cook, stirring constantly and gently smashing the blueberries smooth, until thickened into a deep, dark blueberry reduction, about 10 minutes. Remove from heat. Place a fine-mesh strainer over a small bowl and push the puree though, leaving any skin/large chunks behind. Be sure to scrape the bottom of the strainer, which catches a lot of the puree! Set aside until needed.
For the White Chocolate Fudge:
Lightly grease an 8 x 8-inch baking pan. Line the pan with parchment paper, allowing the excess paper to hang over the sides; set aside. In a large, heatproof bowl combine the sweetened condensed milk, white chocolate, butter, and salt; set aside. Fill a saucepan with a little water (you want it about 1/4 full) and bring it to a boil. Reduce the heat to barely a simmer. Place your heatproof glass bowl holding your ingredients on top of the pot. Stir frequently, until the white chocolate has melted and the mixture is completely smooth, about 10 minutes. Remove from heat and fold in 3/4 of the blueberry pie filling, setting aside about 2 tables for later use. Fold the blueberry pie filling in about 3 or 4 times, but be sure not to over mix. The mixture will be very thick. Using a sturdy spatula, scrape the fudge into the prepared pan and smooth the top. Dot the remaining blueberry pie filling on top of the fudge and use a toothpick to marble it into the top of the fudge. Refrigerate for at least 2 hours before slicing.

Gently run a butter knife around the edge of the pan to loosen the fudge. Remove the fudge and transfer it to a cutting board. Peel off parchment paper, then slice the fudge into small pieces. Serve at once or store in the refrigerator for up to 1 week. You may also freeze the fudge, in an airtight freezer safe container for up to two months.