The only thing better than hot fudge sauce? Chocolate Caramel Fudge Sauce! You're going to want to put this on EVERYTHING!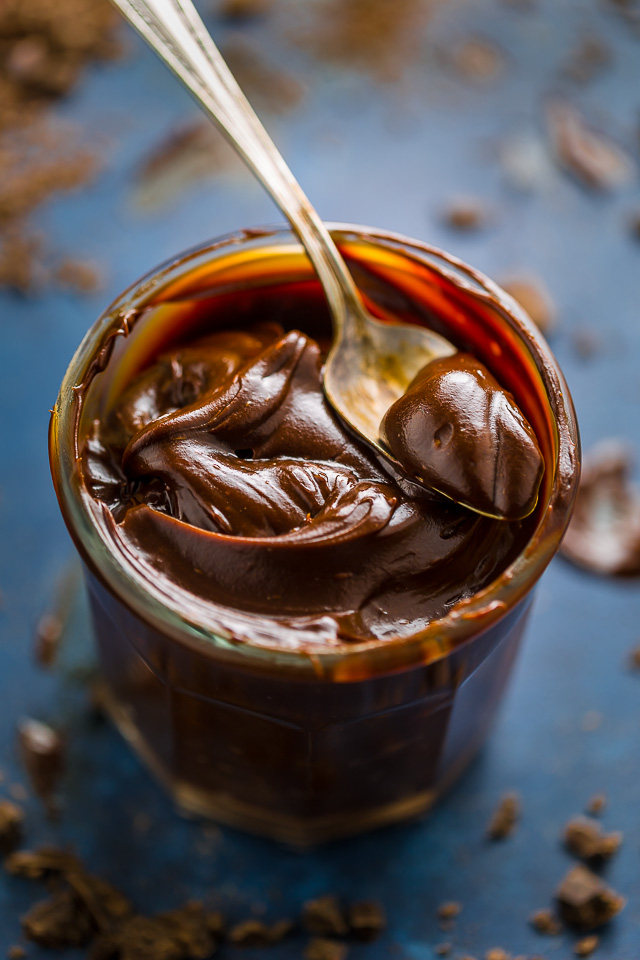 How to Make Caramel Fudge Sauce
Whenever we're in Paris, I try to visit as many grocery stores, boutique food shops, and boulangeries as humanly possible. They're so much fun to peruse and never cease to delight me! As a blogger, and a food lover in general, it's fun to discover new items I've never seen or heard of before, and I always end up splurging on a few to bring home and try out. Last trip I hauled home not one, but two (!!!) giant jars of salted caramel chocolate sauce from a small shop in Montmarte. The kind girl working there offered me a sample before I checked out… and seconds after tasting it I swiped up a second jar. Clearly she is very good at her job haha.
But seriously! It was literally one of the best things to ever hit my tongue. And so when I ran out of my second jar last weekend, I knew what needed to be done. So I got in the kitchen and did what I do best…
I tested and tweaked and tested some more. And after quite a few fails, I finally recreated a chocolate caramel fudge sauce that's worthy of sharing with you! It's thick, rich, supremely flavorful, and so decadent. Perfect for ice cream, but you can also use it in recipes like my death by chocolate cake… or just spread it on toast! I'm sure you'll find a million ways to gobble this stuff up.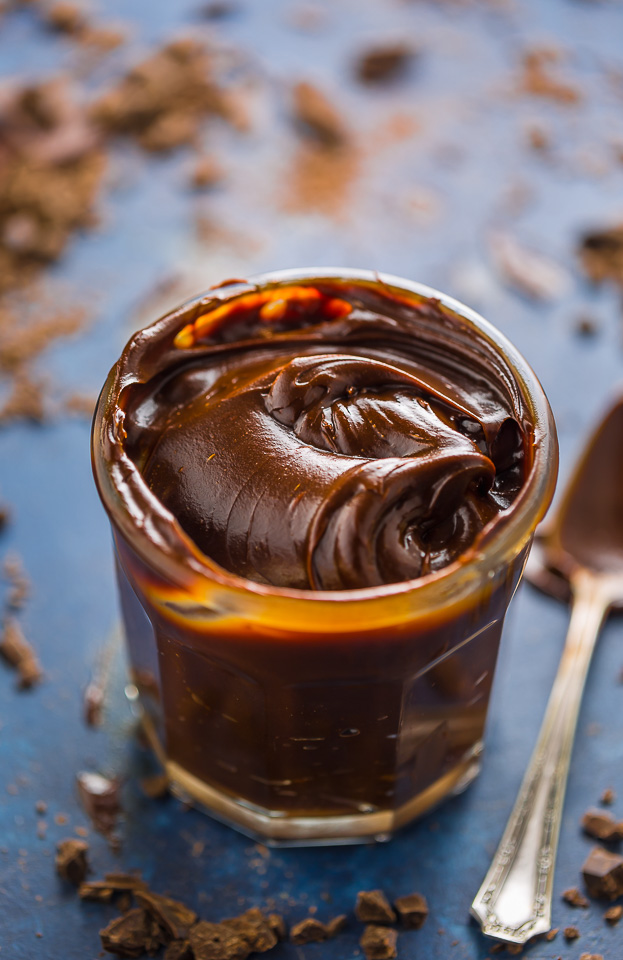 My favorite way to eat this chocolate caramel syrup? By the spoonful! No shame in my game 😉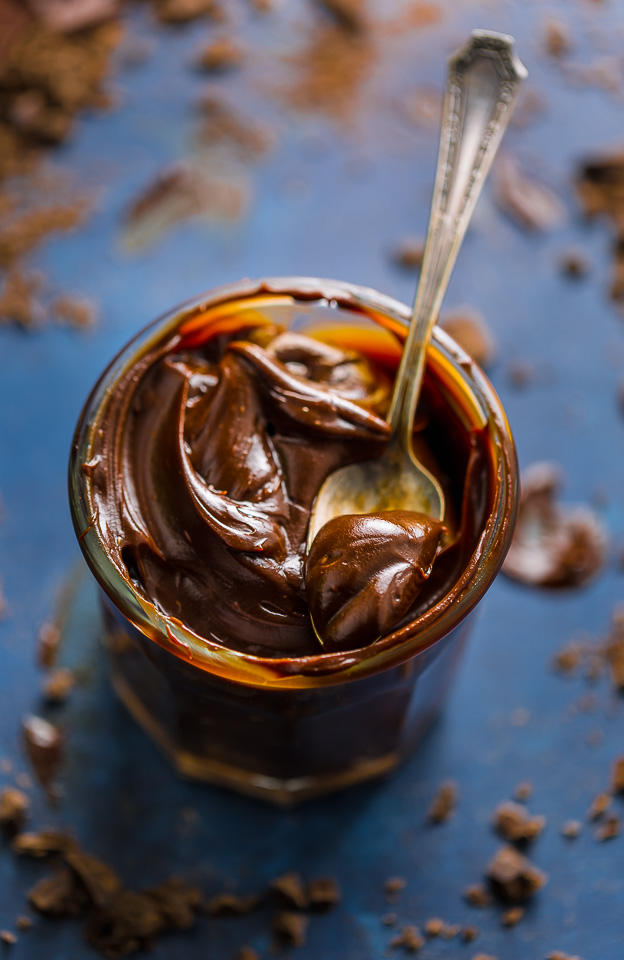 How to make Chocolate Caramel Sauce
Tips and Tricks for Recipe Success:
You're going to want to use a pot with very tall sides, because when you add the cream to the caramel it will bubble up furiously! Please be careful during this step ♥
Speaking of the pot, be sure to use a high-quality heavy metal pot. Most cheap cookware is very thin and heats unevenly, so avoid using them for caramel. I also don't recommend non-stick pans since high-heat can damage them. I love using this Kitchenaid saucepan.
Once you've added the sugar, water, and corn syrup to the pan, you'll want to whisk them together until well combined, and then avoid stirring the rest of the time. Instead, occasionally, and gently, tilt the pan side-to-side to help the ingredients cook evenly and avoid burning. This no-stir method helps avoid sugar crystals from forming.
The caramel takes time to develop, so be patient while it boils. You want it to reach a deep golden brown color before removing it from the heat. Removing it too soon can cause gritty caramel.
Once you've removed your caramel from the heat you want to add your cream right away! Make sure you've placed it in a spouted measuring cup so you can slowly add it in. As mentioned earlier, the mixture will aggressively bubble up, but as long as you used a tall sided pan, it won't overflow. Be sure to whisk the mixture together well after adding the cream.
For the chocolate, I suggest using a quality dark chocolate, such as Lindt 70%. I don't recommend using milk chocolate, but semi-sweet chocolate may be used if you prefer a very sweet sauce.
Because the caramel is so hot when it comes off the stove, it will look very thin. However once it cools it will thicken up quite a bit. If you'd like to return the chocolate caramel fudge sauce to a liquid form, simply reheat it in the microwave or on the stove top.
Finally, if you burn your caramel sauce… there's unfortunately no method of saving it. Just toss it and start over again.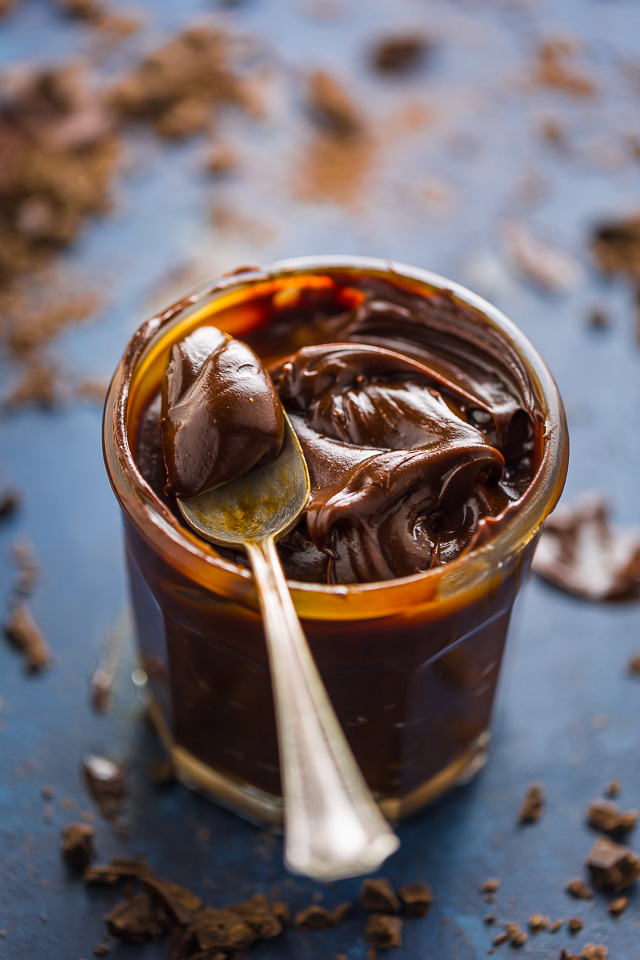 If you try this recipe for Chocolate Caramel Sauce Recipe, let me know! Leave a comment below and don't forget to snap a pic and tag it #bakerbynature on instagram! Seeing your kitchen creations makes my day.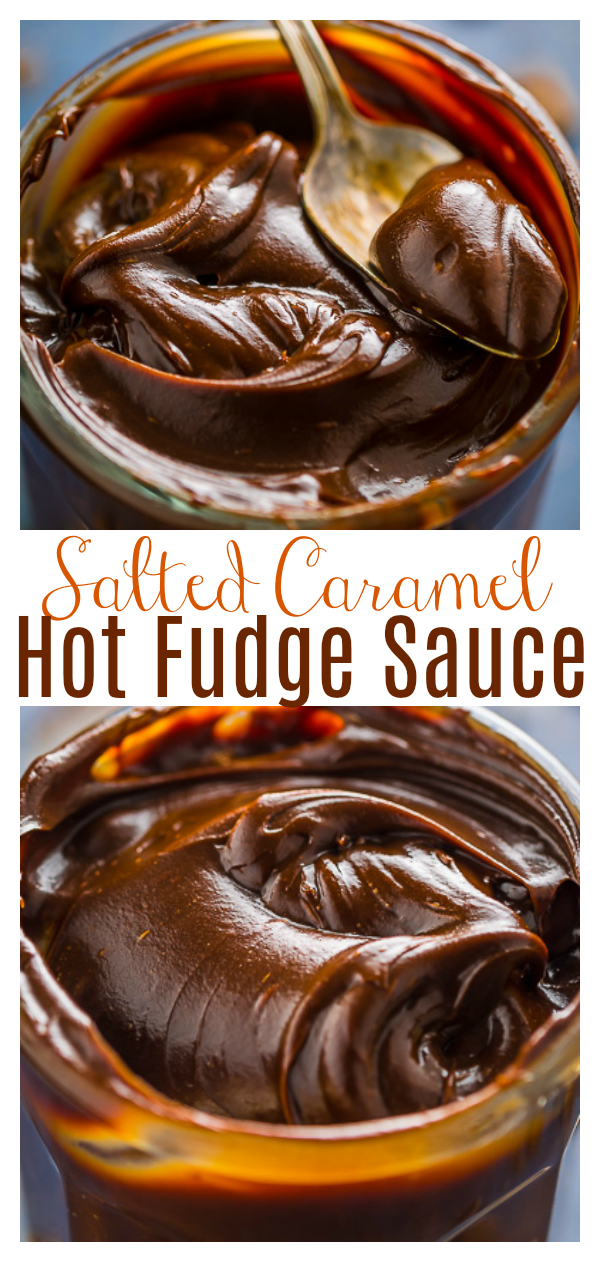 More Fudge Recipes:
More Caramel Recipes: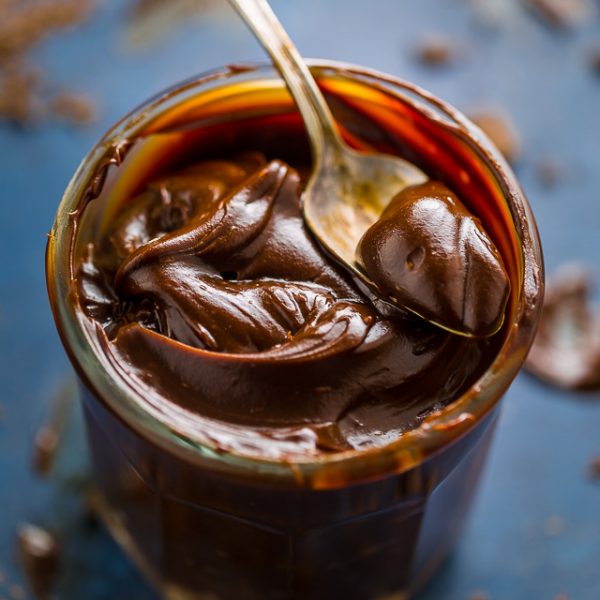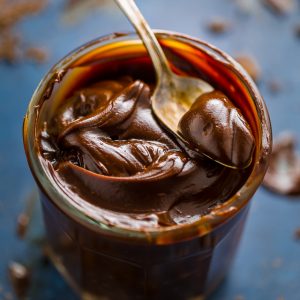 Chocolate Caramel Fudge Sauce
You'll want to drizzle this Chocolate Caramel Fudge Sauce on EVERYTHING!
Ingredients
1 cup granulated sugar
1/4 cup water
1/4 cup light corn syrup
1 and 1/3 cups heavy cream
6 ounces dark chocolate, finely chopped
2 and 1/2 teaspoons vanilla extract
1/4 teaspoon sea salt
Instructions
Whisk together the sugar, water, and corn syrup in a 3-quart saucepan. Cook over medium heat, gently tilting the pan side-to-side to help the ingredients cook evenly and avoid burning, for 8 to 10 minutes, or until the sugar turns a deep golden brown/copper color. Once the caramel reaches this color, remove from heat and immediately add in the heavy cream. Be very careful during this step - the caramel will hiss and bubble up aggressively!

Add in the chopped chocolate and stir smooth. Finally, stir in the vanilla and sea salt. Vigorously whisk the mixture smooth and set aside to cool. Store covered, for up to one week, in the fridge.