This Easy Rocky Road Fudge Recipe is so creamy and decadent! Loaded with mini marshmallows and slivered almonds, this chocolate fudge is always a crowd pleaser! Makes a great gift!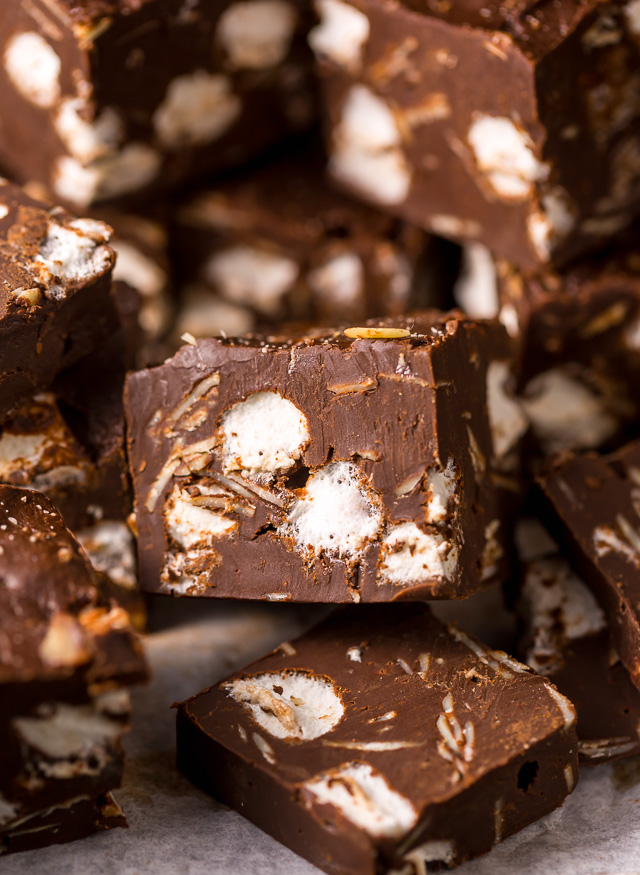 Rocky Road Fudge
It's not even July and guess what? We've already had several days where it's been way too hot to bake! But we're still craving sweets! So we're making lots of easy no bake recipes like fudge! More specifically, this super easy rocky road fudge! It's very similar to my foolproof chocolate fudge. But it's loaded with crunchy almonds and chewy marshmallows! The taste and texture rival the fudge you'd buy from a fancy candy shop, so no one will guess it takes less than 15 minutes to throw together! We'll definitely be making this treat all Summer long! And then again during the holiday season, because this rocky road fudge makes an amazing gift for any chocolate lover!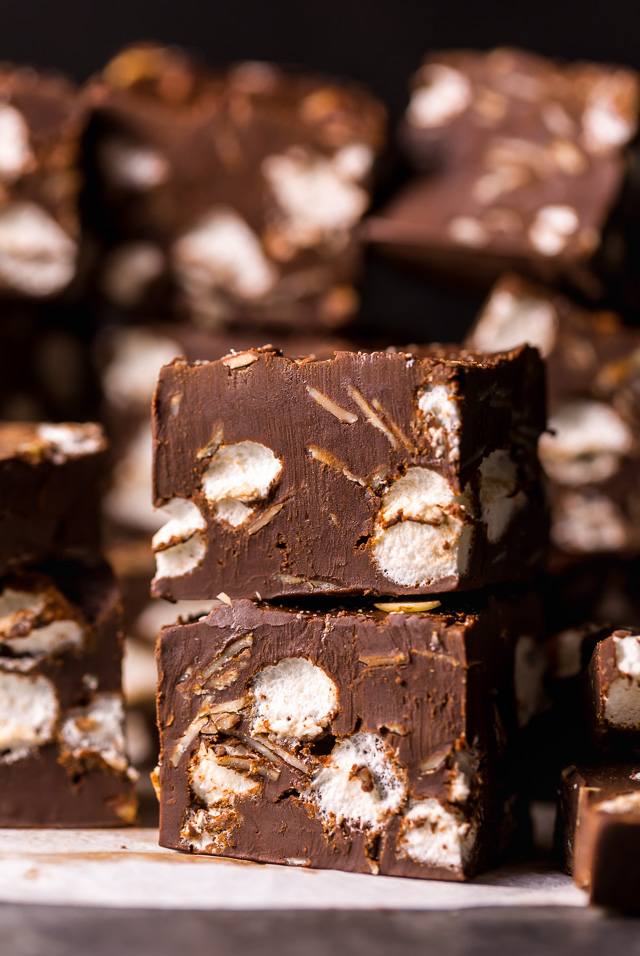 How to make Rocky Road Fudge
To make this recipe you'll need:
Chocolate: you may use semi-sweet chocolate or dark chocolate. I don't suggest using white chocolate or milk chocolate unless you like extremely sweet fudge. You could also use semi-sweet chocolate chips, but I suggest sticking to high-quality chocolate if possible.
Sweetened Condensed Milk: I love eagle brand! Unfortunately I do not have a substitution for this ingredient.
Butter: unsalted or salted will work.
Salt: to balance out the sweetness! Don't skip it.
Vanilla extract: to enhance all of the other flavors.
Almond Extract: adds a pleasant almond flavor.
Slivered almonds and Mini Marshmallows: but you could easily use marshmallows and peanuts if you can't find almonds. Even walnuts are delicious in this recipe!!!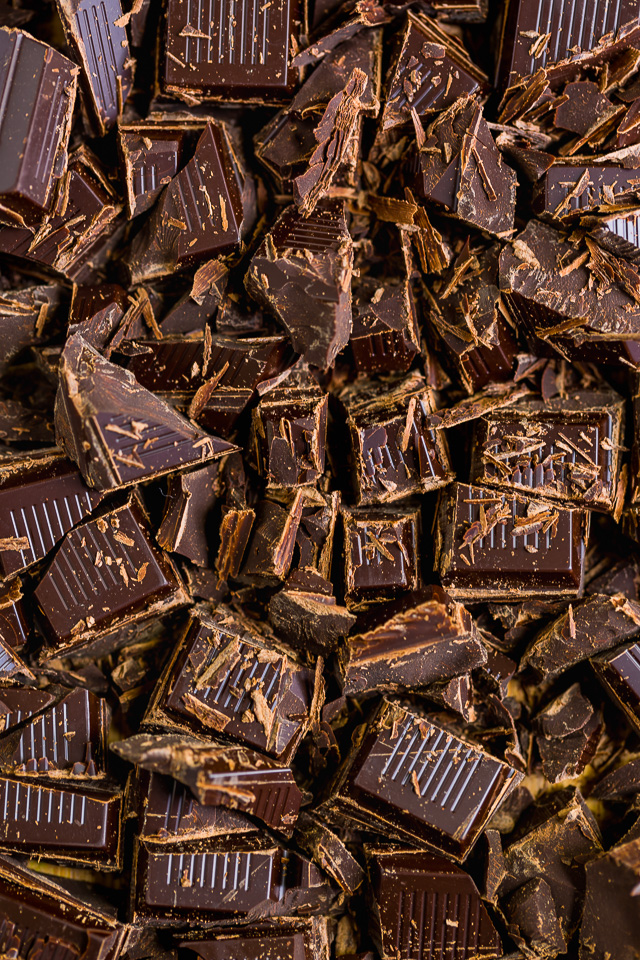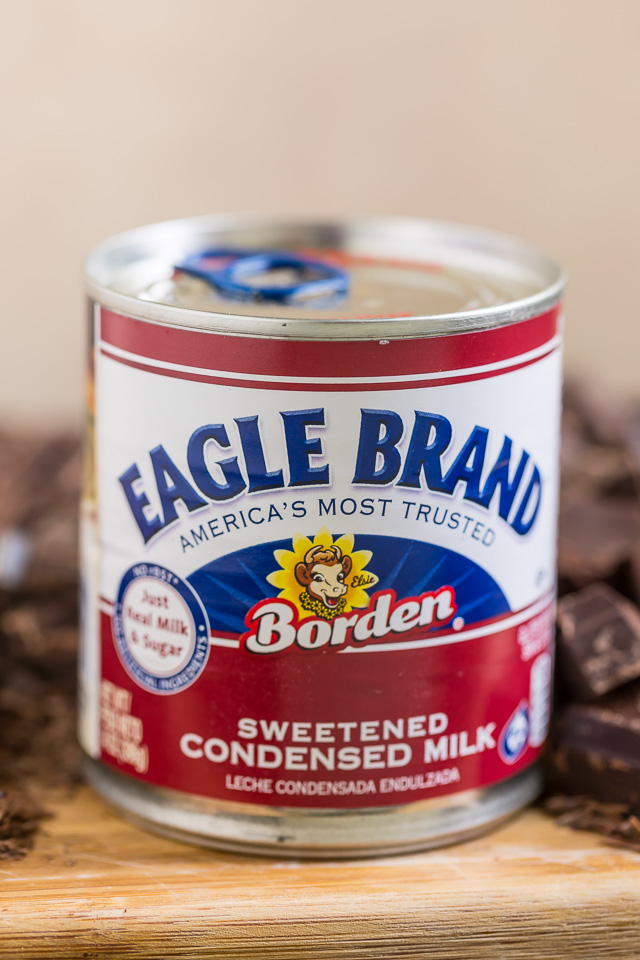 This is what I like to call "shortcut fudge", because the method doesn't require a candy thermometer or tons of stirring. Instead the method is super simple and straightforward. You'll simply place the chopped chocolate (or chocolate chips) into a large heatproof glass bowl. Then place the bowl over a large pot of gently simmering water. Essentially you're making a double-boiler.
Once the chocolate has completely melted, you'll keep the bowl over the water. Add the butter to the melted chocolate and stir constantly until it's completely melted. Next you'll add in the sweetened condensed milk and let it hear for a minute then stir until completely combined. Remove from heat then stir in the vanilla and almond extracts. Finally, you'll fold in the almonds and marshmallows. Work quickly here.
Scrape the fudge into a lined pan with foil or parchment paper. The mixture will be very thick! So use a strong spatula to help you scrape the fudge mixture into the prepared pan and smooth the top. You can use the spatula or a piece of wax paper to press the fudge into an even layer.
You'll need to place the fudge in the fridge for at least 2 hours! During this time the fudge will set. So don't attempt to cut into it before it has fully chilled. Once set, simply cut into small squares and serve!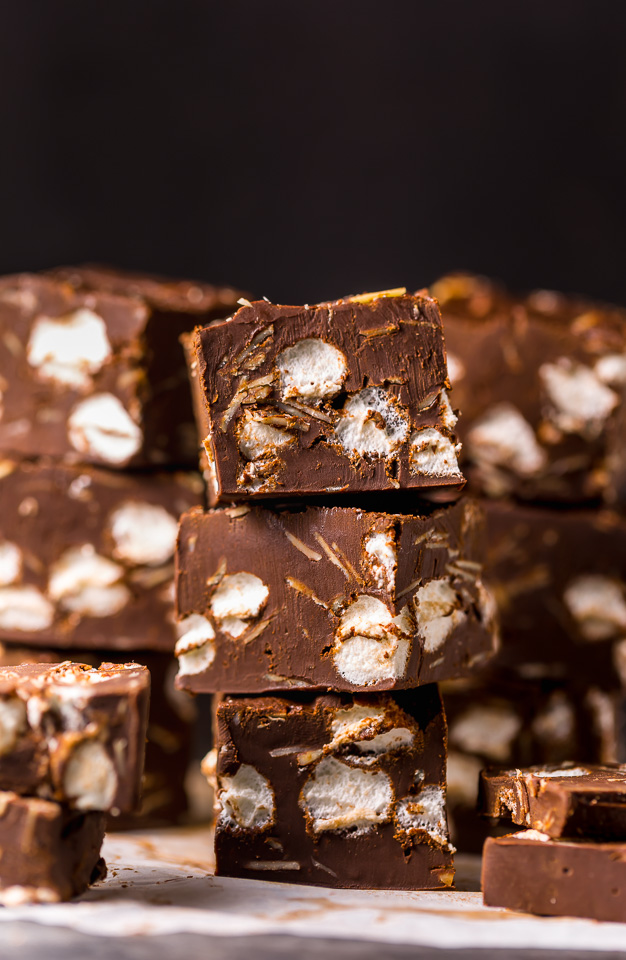 Does fudge have to be refrigerated?
Nope! Almost all fudge recipes will keep at room temperature. So it does not need to be refrigerated. But you definitely can keep it in the refrigerator! Especially if you enjoy biting into a cold square of chocolate fudge! Just be sure you store it in an airtight container. Because cold air will dry out fudge faster.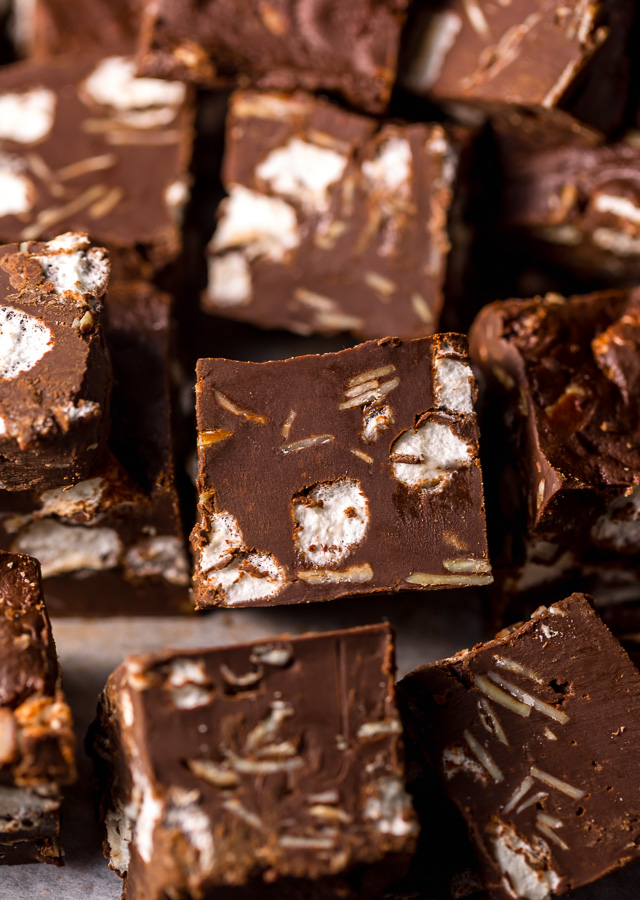 Can you freeze fudge?
You sure can! It's best to freeze the entire block of fudge. Then slice it into small squares after it has been thawed. To ensure your fudge stays fresh in the freezer, be sure to Fudge tightly wrapped the block in two layers of plastic wrap, then placed in a freezer bag. It will keep for 2 months!
To thaw, place the block of fudge in the refrigerator for 12 hours, then let it sit at room temperature for an hour before slicing.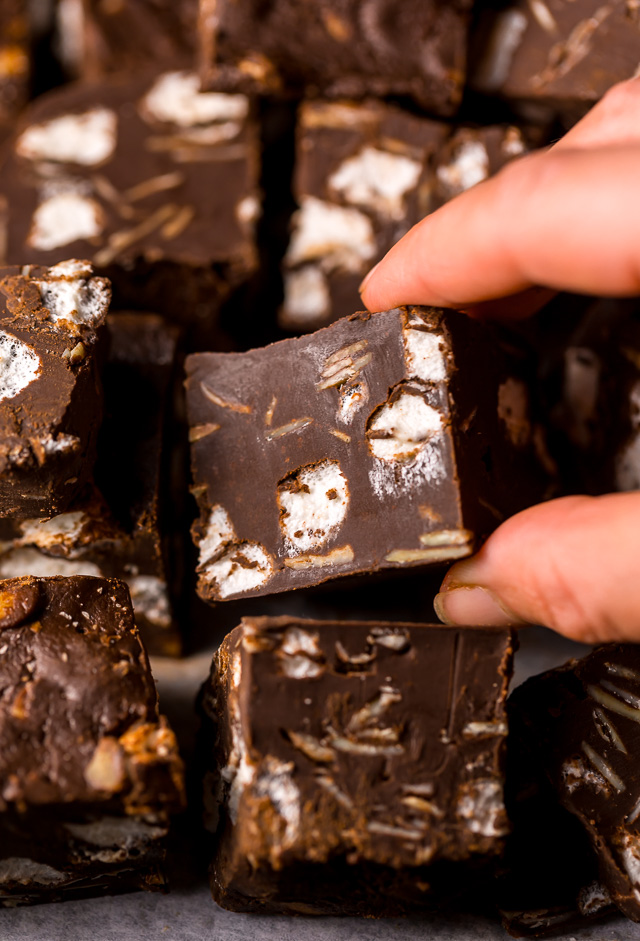 Fudge Recipes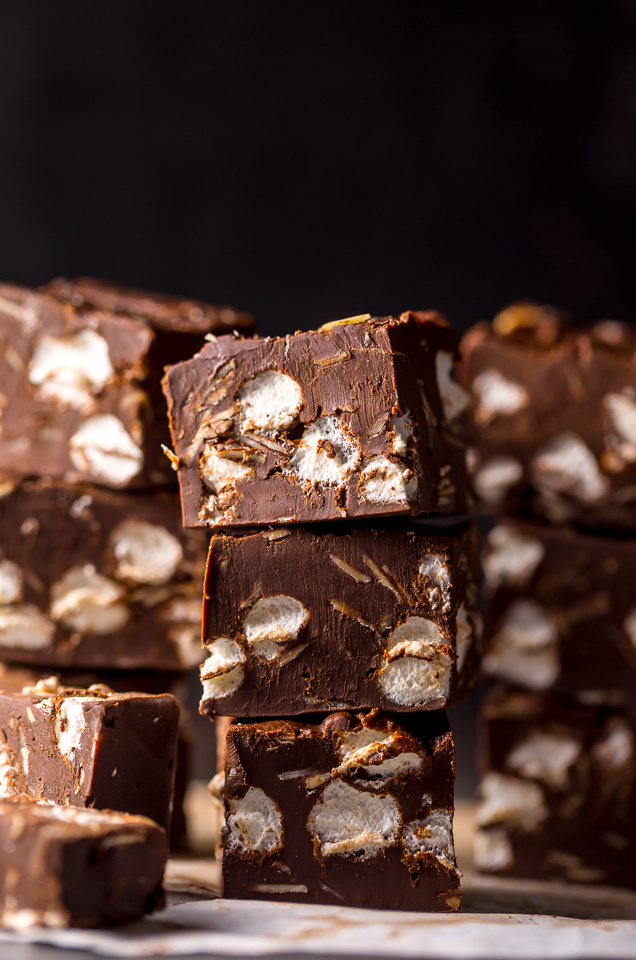 If you try this Super Easy Rocky Road Fudge Recipe, let me know what you think! Leave a comment below, and don't forget to snap a pic and tag it #bakerbynature on instagram! Seeing your creations makes my day ♥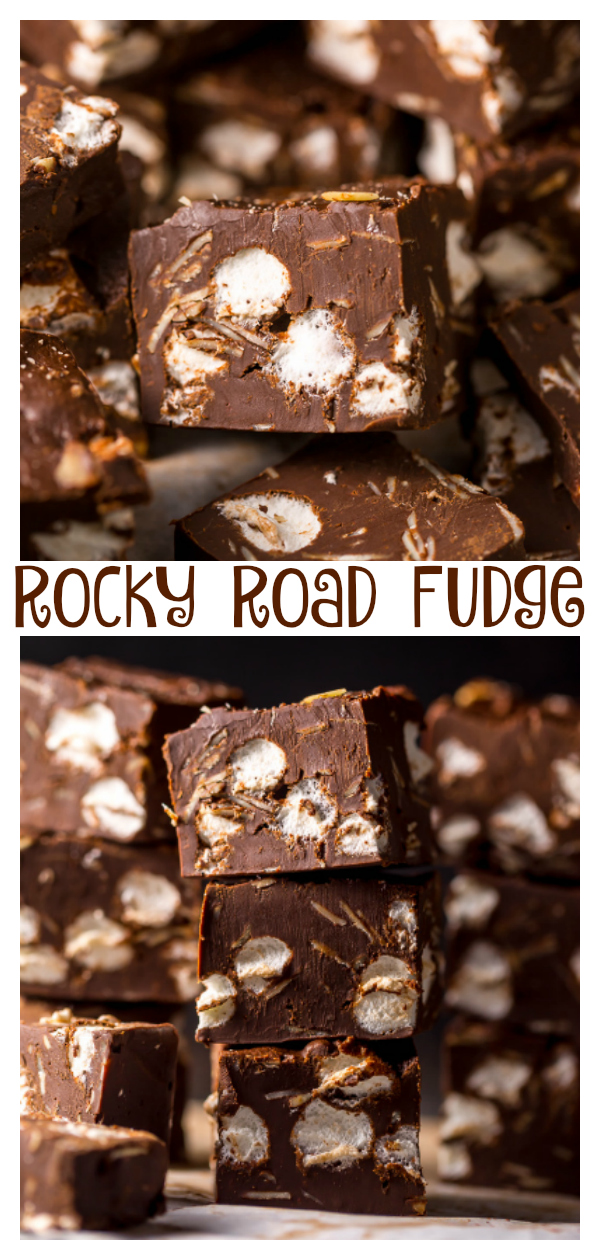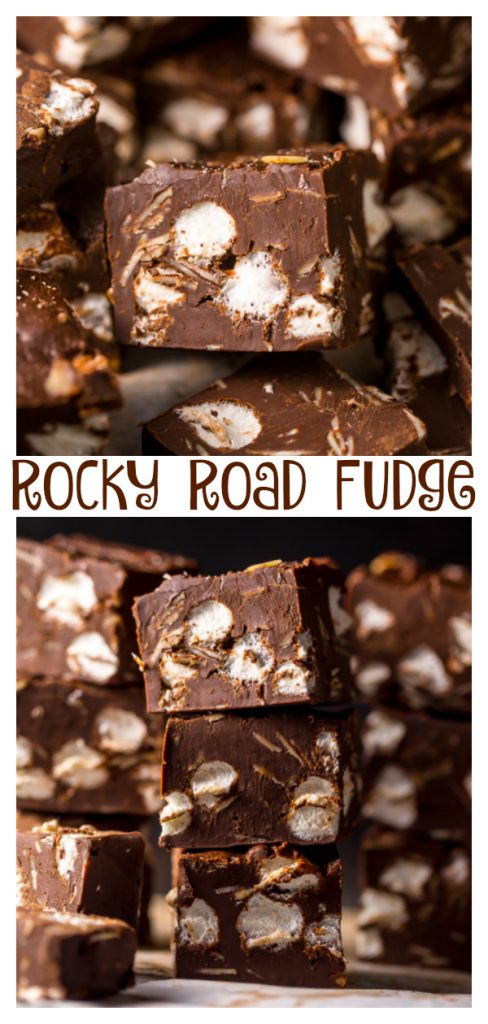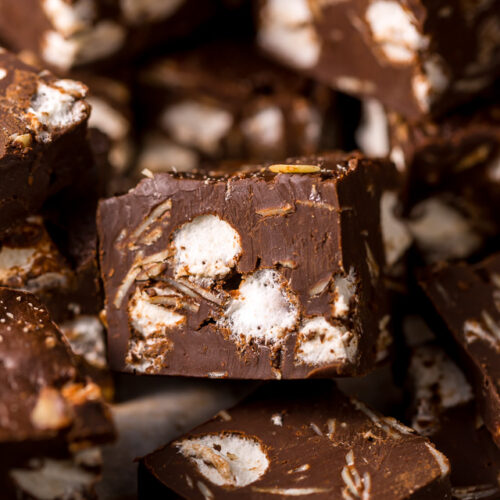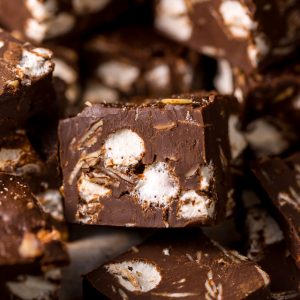 Easy Rocky Road Fudge Recipe
This Easy Rocky Road Fudge Recipe is so creamy and decadent! Loaded with mini marshmallows and slivered almonds, this chocolate fudge is always a crowd pleaser! Makes a great gift!
Ingredients
18 ounces semi-sweet chocolate, roughly chopped
(1) 14 ounce can sweetened condensed milk
2 tablespoons unsalted butter, cut into 1/2-inch pieces, at room temperature
1 teaspoon vanilla extract
1/2 teaspoon almond extract
1/8 teaspoon salt
1 and 1/4 cup slivered almonds
1 and 1/2 cups mini marshmallows
Instructions
Lightly grease an 8 x 8-inch baking pan. Line the pan with foil or parchment paper, allowing the excess paper to overhang the sides, set aside.

Place the chopped chocolate in a large, heatproof bowl. Fill a saucepan with a few inches of water (you want it about 1/4 full) and bring it to a boil. Reduce the heat to barely a simmer.

Place your heatproof glass bowl holding your chocolate on top of the pot. Stir frequently, until the chocolate has melted and is completely smooth, about 8 minutes. 

Add in the butter and continue cooking until butter has melted. Add in sweetened condensed milk and stir well to combine. 

Remove from heat. Stir in the vanilla and almond extracts. Stir in the salt.

Fold in the almonds and marshmallows and stir until combined. 

Using a sturdy spatula, scrape the fudge into the prepared pan and smooth the top. Refrigerate for at least 2 hours.

Gently run a butter knife around the edge of the pan to loosen the fudge. Remove the fudge and transfer it to a cutting board.

Peel off parchment paper, then slice the fudge into small pieces. Serve at once or store in the refrigerator for up to 1 month.

You may also freeze the fudge, in an airtight freezer safe container for up to two months.