This EASY Chocolate Peppermint Fudge Recipe is rich, creamy, and topped with crunchy crushed candy canes! If you love the combination of chocolate and peppermint, you're going to love this fudge! And it makes a great holiday gift for friends and family!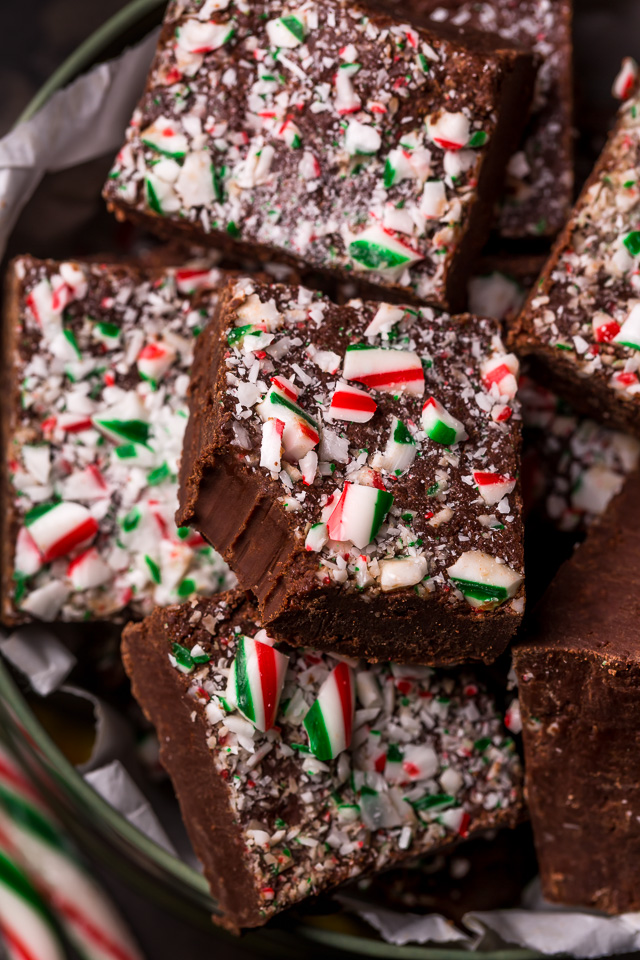 Peppermint Fudge
'Tis the season for all things delicious and festive! And I can't think of anything more festive than a GIANT plate of homemade peppermint fudge! Just thinking about it puts me in the holiday spirit!
The best part about this recipe? No candy thermometer or marshmallow creme required! Instead we're using simple ingredients like chocolate, peppermint extract, sweetened condensed milk, and butter. You'll also need some candy canes or crushed peppermint candy to press on top of the fudge! This adds a great crunch and a pop of holiday color!
What kind of Chocolate should I use?
When it comes to chocolate, you definitely have options! White chocolate, milk chocolate, semi-sweet chocolate, and even dark chocolate work great! I'm not a huge fan of SUPER sweet desserts (especially fudge), so I prefer semi-sweet or dark chocolate! But you do you!
Can I use Chocolate Chips?
I prefer to use high-quality chocolate bars for fudge because it melts beautifully and the taste is FAR superior to chocolate chips. That said, I know bars of chocolate are much more expensive than chocolate chips or baking chips. So yes, technically you can use them, but the taste and texture won't be as high-quality. And in some cases, you may have issues getting the chocolate mixture super smooth. I've found this especially true when using white chocolate chips, which tend to get very grainy.
If you have a brand of chocolate chips you know melts well, then go for it! Otherwise, I'd recommend stocking up on bars of quality chocolate when they go on sale! After all, fudge is MAINLY chocolate. So you definitely want to use the best you can find/afford!
What can I use instead of Sweetened Condensed Milk?
Unfortunately, I don't have any recommendations for suggestions here. But you should have no problem finding sweetened condensed milk at your local grocery store! It's typically in the baking aisle! Just make sure you don't pick up evaporated milk instead. Which will not work! And if you cannot find it locally, you can always order it online!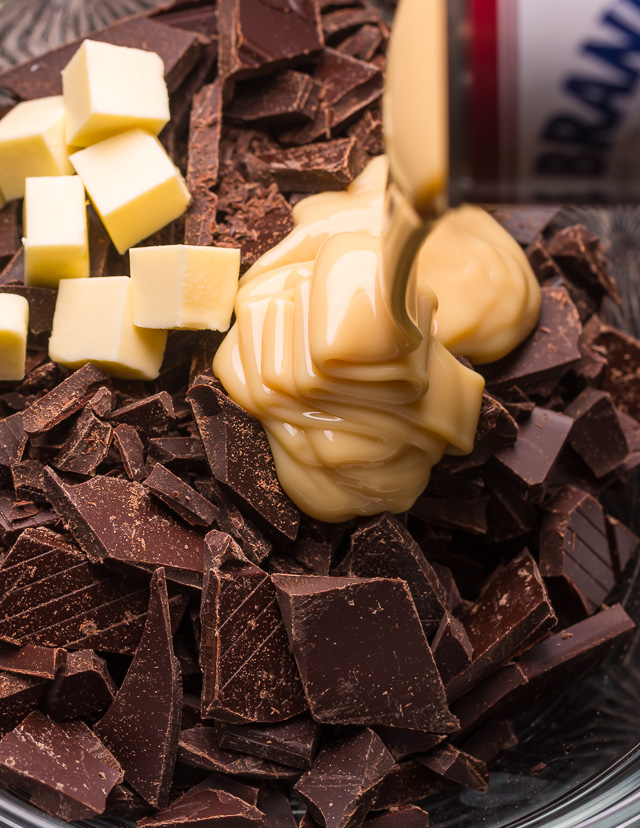 Can I double the recipe?
Absolutely! In fact, I almost always do. Especially around the holidays when I'm filling up goodies boxes for friends and family! To double, you'll simply swap your square baking pan for a large 9×13-inch pan. And double all of the ingredients! Just be sure you line your pan with parchment paper so your fudge doesn't stick!
Do I have to chill it?
YES!!! Your fudge must (must, must, must) go in the fridge to chill for at least 2 hours! Otherwise it will be far too soft and squishy to slice. The good news? You can chill it overnight, and up to 3 days!
If the fudge feels rock hard when you take it out of the fridge, just let it thaw for a few minutes before slicing. It'll ease up as it comes to room temperature. And in my opinion, firmer fudge is always better than too soft fudge!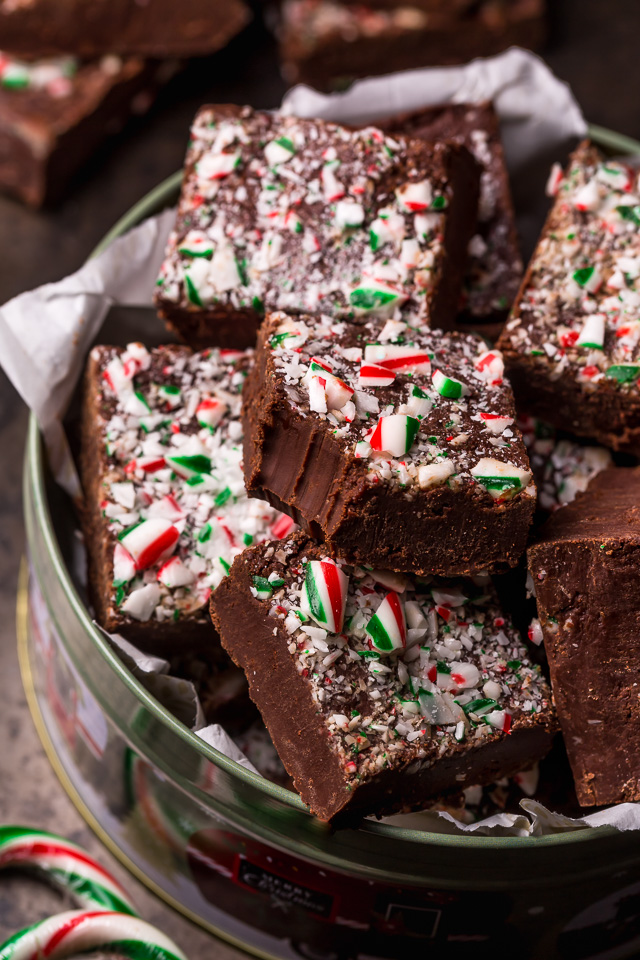 Tips and Tricks for Perfect Fudge:
This is "shortcut fudge", meaning the method doesn't require a candy thermometer or tons of stirring. Instead, you'll simply combine the chocolate, butter, and condensed milk into a large heatproof glass bowl. Then you'll fill a saucepan with a few inches of water, and place the saucepan over medium heat until the water is simmering. Then place the bowl on top of the simmering water. Essentially you're making a double-boiler.
Be sure the ingredients are completely melted before you remove from heat! Then you can remove and add in the peppermint extract and top with crushed candy canes!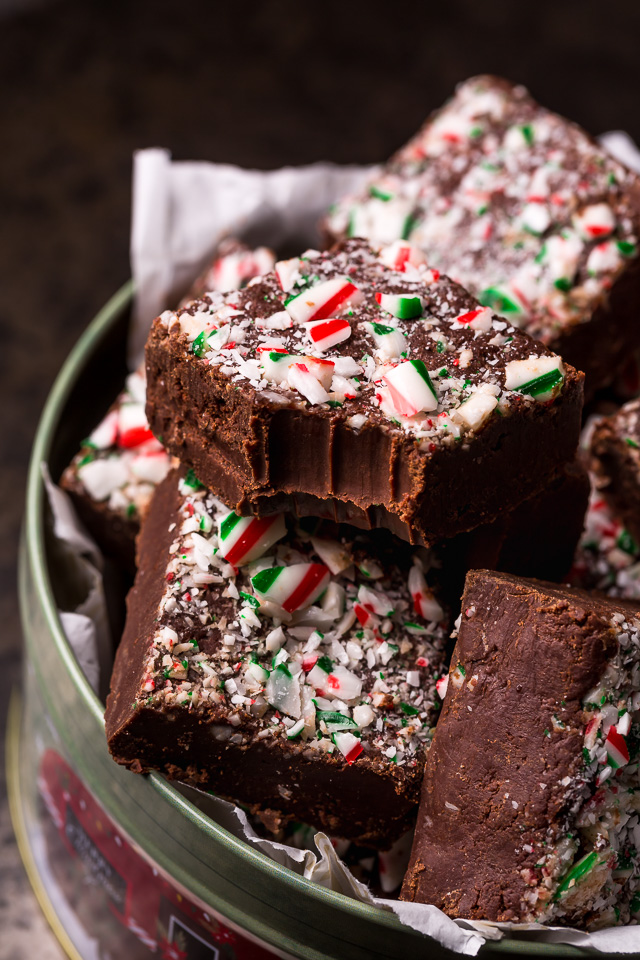 More Fudge Recipes: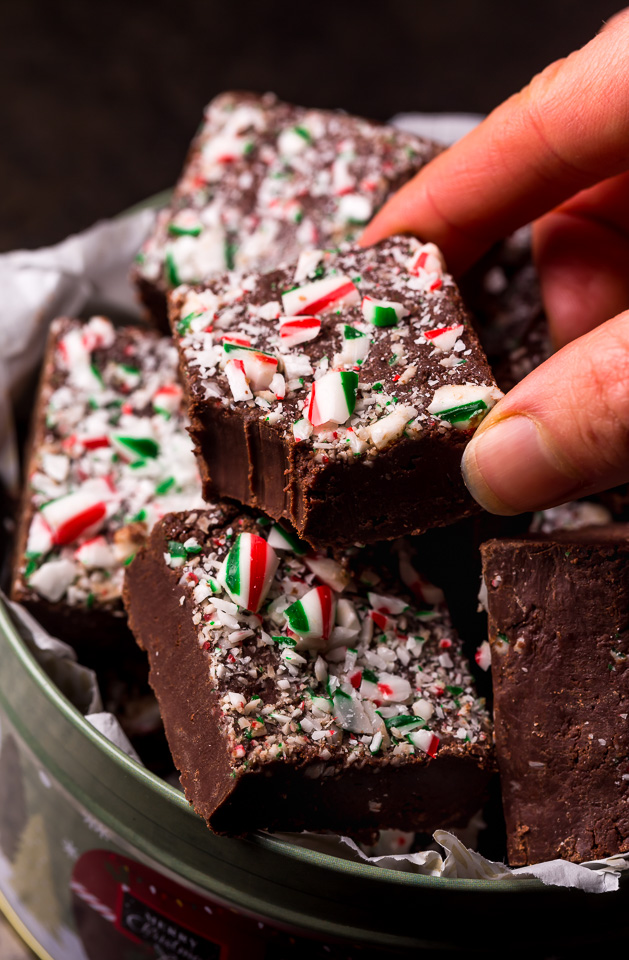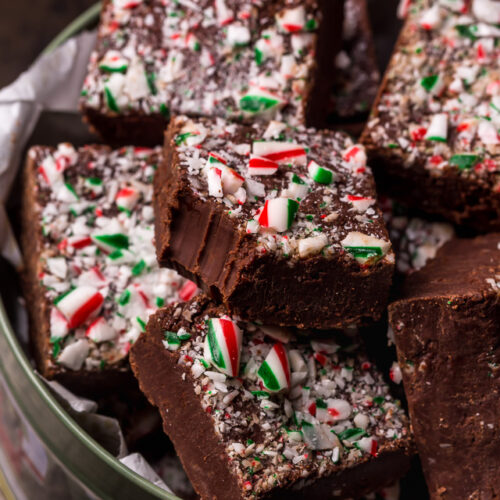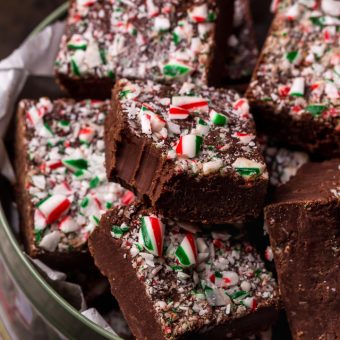 Easy Chocolate Peppermint Fudge
This EASY Chocolate Peppermint Fudge Recipe is rich, creamy, and topped with crunchy crushed candy canes! If you love the combination of chocolate and peppermint, you're going to love this fudge! And it makes a great holiday gift for friends and family!
Ingredients
(1) 14 ounce can sweetened condensed milk
18 ounces semi-sweet chocolate, roughly chopped
3 tablespoons unsalted butter, cut into 1/2-inch pieces, at room temperature
1 teaspoon peppermint extract
1/2 teaspoon pure vanilla extract
1/3 cup crushed candy canes
Instructions
Lightly grease an 8 x 8-inch baking pan. Line the pan with parchment paper, allowing the excess paper to overhang the sides, set aside.

In a large, heatproof bowl combine the sweetened condensed milk, chocolate, and butter; set aside.

Fill a saucepan with water (you want it about 1/4 full) and bring it to a boil. Reduce the heat to barely a simmer. Place your heatproof glass bowl holding your ingredients on top of the pot.

Stir frequently, until the chocolate has melted and the mixture is completely smooth, about 8 minutes.

Remove from heat. The mixture will be very thick. Using a sturdy spatula, stir in the peppermint and vanilla extract. Then scrape the fudge into the prepared pan and smooth the top. Sprinkle with crushed candy canes. Refrigerate for at least 2 hours.

Gently run a butter knife around the edge of the pan to loosen the fudge. Remove the fudge and transfer it to a cutting board.

Peel off parchment paper, then slice the fudge into small pieces. Serve at once or store in the refrigerator for up to 1 month. You may also freeze the fudge, in an airtight freezer safe container for up to two months.