This Foolproof Chocolate Fudge is made with semi-sweet chocolate, sweetened condensed milk, butter, salt and vanilla extract. Nuts are optional! A great holiday gift for chocolate lovers!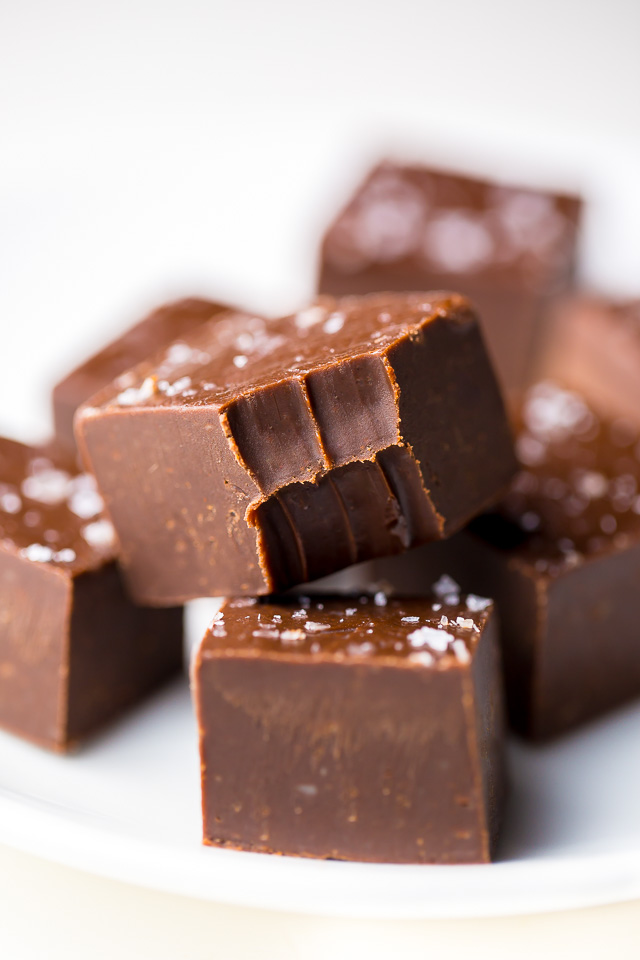 Chocolate Fudge
It's the holiday season! And in our house that means so many things… including lots and lots of homemade fudge!
I learned how to make chocolate fudge when I was in first grade! And have been making it ever since. I joke that my mom can credit this easy chocolate fudge recipe for turning me into the chocoholic I am today. It's rich in chocolate flavor and melts in your mouth! But it's not crumbly or soupy. It's truly the perfect fudge recipe! So without further ado, let me teach you how to make it!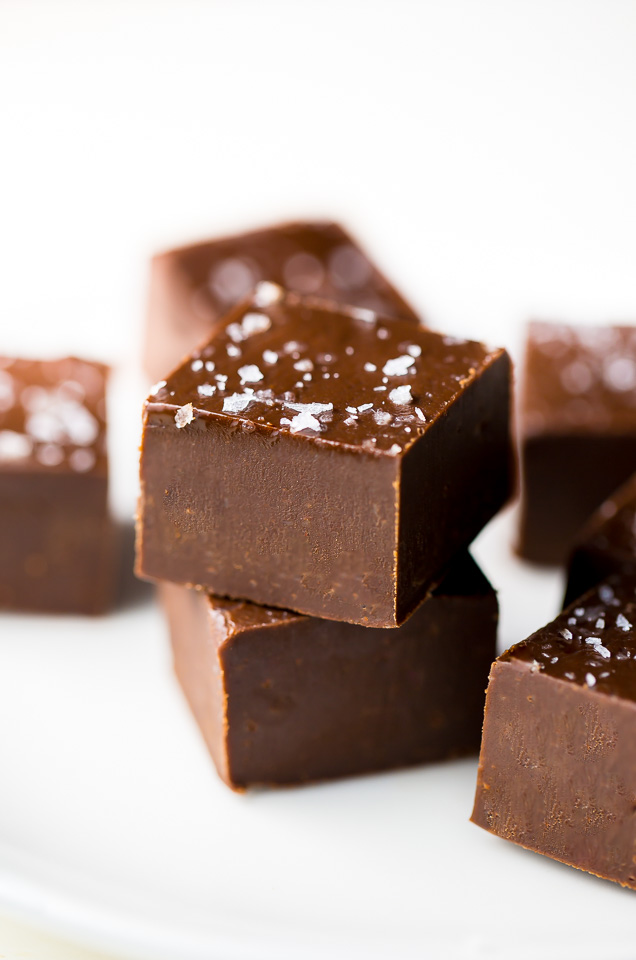 How to make Chocolate Fudge
To make this recipe you'll need:
Chocolate: you may use semi-sweet chocolate or dark chocolate. If you want milk chocolate fudge, I suggest using a combination of milk and semi-sweet, so that it's not overly sweet. But this is up to you! You could also use semi-sweet chocolate chips, but I suggest sticking to high-quality chocolate if possible.
Sweetened Condensed Milk: I love eagle brand! Unfortunately I do not have a substitution for this ingredient.
Butter: unsalted or salted will work.
Salt: to balance out the sweetness! Don't skip it.
And vanilla extract: which enhances all of the other flavors.
You can also add in a 1/2 cup of chopped nuts! Stir in the nuts and vanilla at the same time, if using.
This is what I like to call "shortcut fudge", because the method doesn't require a candy thermometer or tons of stirring. Instead the method is super simple and straightforward. You'll simply combine the chocolate chips, butter, and condensed milk into a large heatproof glass bowl. Then place the bowl over a large bowl of gently simmering water. Essentially you're making a double-boiler.
Once the chocolate and butter have completely melted, you'll remove it from heat and stir in the vanilla.
The mixture will be very thick! Use a strong spatula to scrape the fudge mixture into the prepared pan and smooth the top.
You'll need to place the fudge in the fridge for at least 2 hours! During this time the fudge will set. Once set, simply cut into small squares and serve!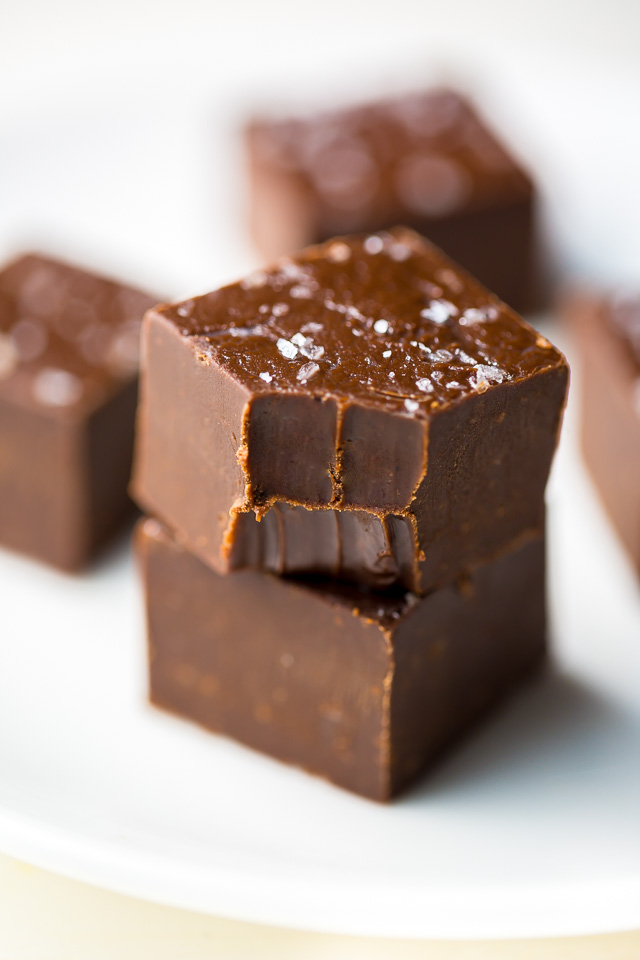 Does fudge have to be refrigerated?
Nope! Almost all fudge recipes will keep at room temperature. So it does not need to be refrigerated. But you definitely can keep it in the refrigerator! Especially if you enjoy biting into a cold square of chocolate fudge! Just be sure you store it in an airtight container. Because cold air will dry out fudge faster.
Can you freeze fudge?
You sure can! It's best to freeze the entire block of fudge. Then slice it into small squares after it has been thawed. To ensure your fudge stays fresh in the freezer, be sure to Fudge tightly wrapped the block in two layers of plastic wrap, then placed in a freezer bag. It will keep for 2 months!
To thaw, place the block of fudge in the refrigerator for 12 hours, then let it sit at room temperature for an hour before slicing.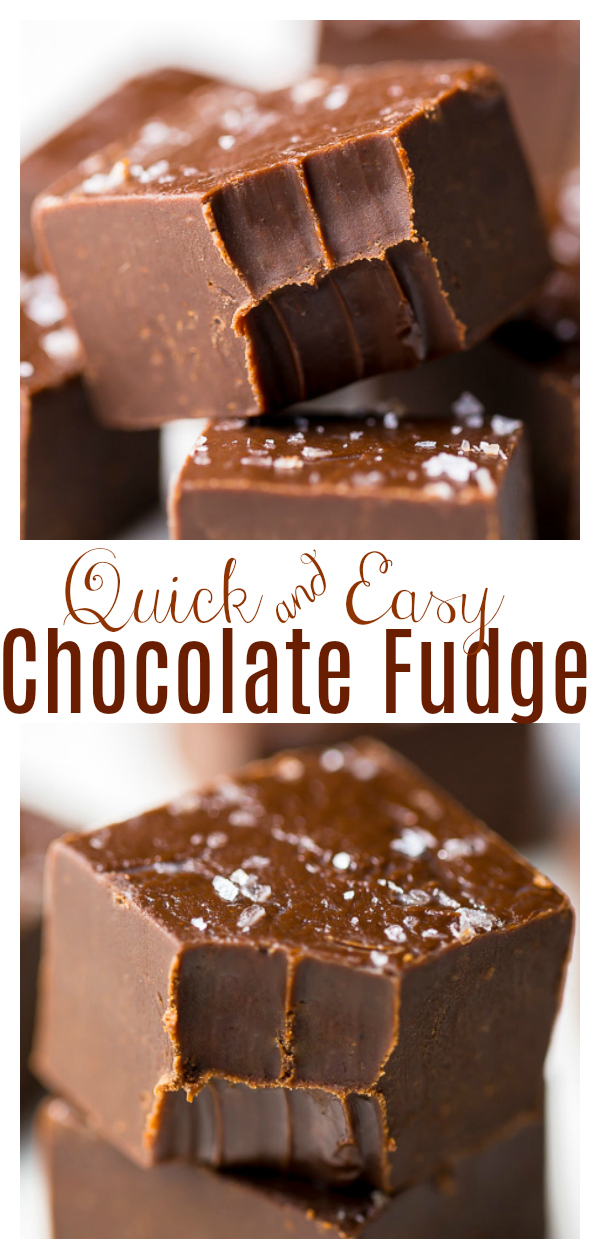 More Fudge Recipes:
If you try this Foolproof Fudge Recipe, let me know what you think! Leave a comment below, and don't forget to snap a pic and tag it #bakerbynature on instagram! Seeing your creations makes my day ♥
Foolproof Chocolate Fudge
This Foolproof Chocolate Fudge is made with semi-sweet chocolate, sweetened condensed milk, butter, salt and vanilla extract. Nuts are optional! A great holiday gift for chocolate lovers!
Ingredients
(1) 14 ounce can sweetened condensed milk
1/2 teaspoon pure vanilla extract
20 ounces semi-sweet chocolate, roughly chopped
3 tablespoons unsalted butter, cut into 1/2-inch pieces, at room temperature
Flaky sea salt, for sprinkling, optional
Instructions
Lightly grease an 8 x 8-inch baking pan. Line the pan with parchment paper, allowing the excess paper to overhang the sides, set aside.

In a large, heatproof bowl combine the sweetened condensed milk, vanilla extract, chocolate, and butter; set aside. Fill a saucepan with a little water (you want it about 1/4 full) and bring it to a boil. Reduce the heat to barely a simmer. Place your heatproof glass bowl holding your ingredients on top of the pot. Stir frequently, until the chocolate has melted and the mixture is completely smooth, about 8 minutes.

Remove from heat. The mixture will be very thick. Using a sturdy spatula, scrape the fudge into the prepared pan and smooth the top. Sprinkle with sea salt, if using. Refrigerate for at least 2 hours.

Gently run a butter knife around the edge of the pan to loosen the fudge. Remove the fudge and transfer it to a cutting board.

Peel off parchment paper, then slice the fudge into small pieces. Serve at once or store in the refrigerator for up to 1 month. You may also freeze the fudge, in an airtight freezer safe container for up to two months.