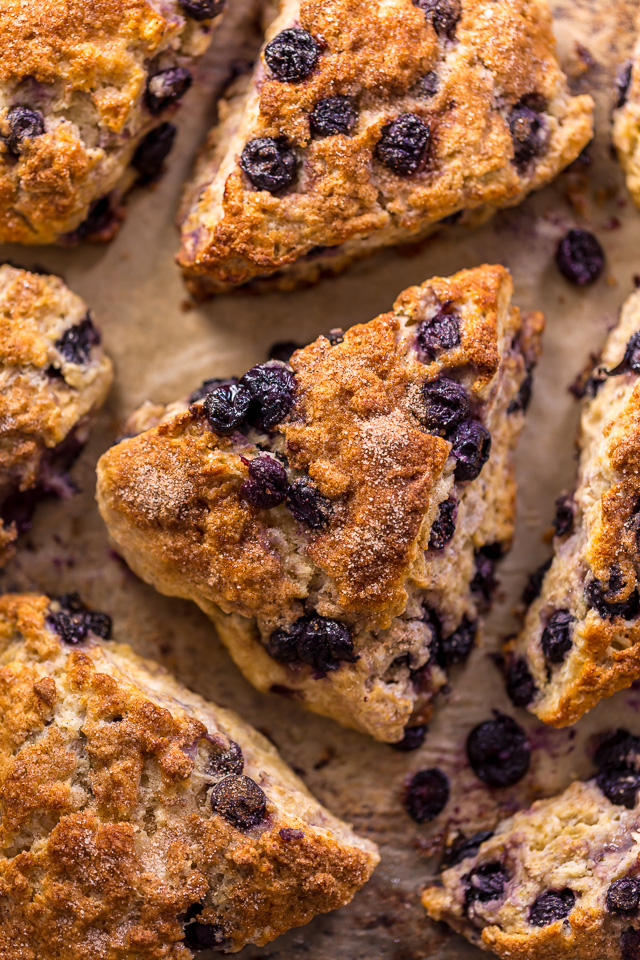 Blueberry Snickerdoodle Scones
Yield 8 scones
Warmly spiced and so delicious, these Blueberry Snickerdoodle Scones are perfect for breakfast or brunch! 
Ingredients
 2 and 3/4 cups (326g/11 and 1/2 ounces) all-purpose flour
1/3 cup (71g/2.5 ounces) light brown sugar, packed
1 Tablespoon baking powder
1 teaspoon cream of tartar
1/4 teaspoon ground nutmeg
1/2 teaspoon ground cinnamon
1/2 teaspoon salt
1/2 cup (113g/4 ounces) unsalted butter, cold and cut into small cubes
1 large egg, cold
3/4 cup (191g/6 and 3/4 ounces) buttermilk, cold
2 cups blueberries 
For the Snickerdoodle Topping:
3 Tablespoons granulated sugar
2 teaspoons ground cinnamon
2 Tablespoons buttermilk 
Instructions
Preheat oven to 400°F (204°C). Line a large baking sheet with parchment paper and set it aside.
In a large mixing bowl, whisk together the flour, brown sugar, baking powder, cream of tartar, nutmeg, cinnamon, and salt. Using a pastry cutter, cut in the butter until the mixture resembles a coarse meal.
In a medium mixing bowl, whisk together the egg and buttermilk until well combined. Add the liquid ingredients to the dry ingredients and, using a rubber spatula, stir until the mixture is evenly moistened and holds together. Gently fold in the blueberries. The dough will still be slightly shaggy at this point.
Transfer the dough to a lightly floured work surface gently knead it together a few times before shaping it into an 8-inch circle. Using a large knife, cut the dough into 8 even wedges and carefully transfer them to the prepared baking sheet.
For the Snickerdoodle Topping:
In a small mixing bowl, combine the sugar and cinnamon. Lightly brush the top of each scone with buttermilk, then sprinkle with the cinnamon sugar mixture. Be sure not to let the buttermilk drip on the parchment paper, or it will burn.
Bake for 20 to 22 minutes, or until the tops are lightly golden brown. Allow scones to cool for 5 minutes on the baking sheet then serve warm. 
Courses Breakfast
Cuisine Scones
Recipe by Baker by Nature at https://bakerbynature.com/blueberry-snickerdoodle-scones/