The only thing better than classic cream puffs are Boston Cream Puffs! Featuring a delicate pâte à choux shell, silky smooth Boston cream filling, and chocolate ganache, these are totally additive! And didn't last an hour in our house.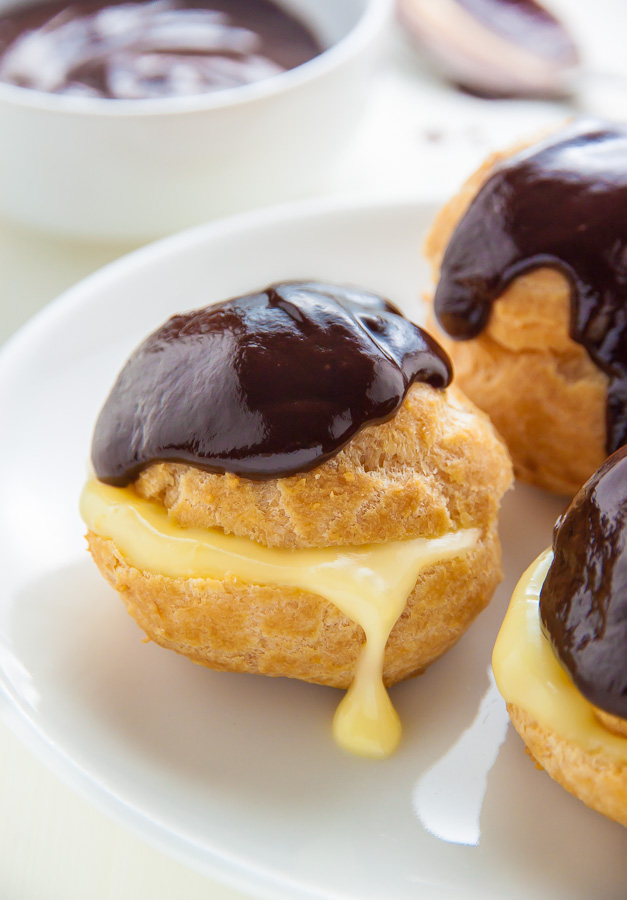 Happy Tuesday! Here are those cream puffs I promised you. Shockingly, this is the first cream puff recipe to make its way onto my website… but certainly not the last! I started working on an Italian lemon version yesterday, and last night my food brain told me that a white chocolate raspberry combo could be a good idea.
What's your favorite cream puff flavor combo? I have so much catching up to do!
But I digress. Back to the recipe! Today's cream puffs are of the Boston Cream variety and they are the definition of delicious.
These Chocolate Covered Cream Puffs are:
Light and airy
stuffed with creamy filling
covered in chocolate ganache
surprisingly simple to make
better than the bakery
incredibly impressive
perfect for parties or special occasions
make ahead friendly
a must for Boston cream fanatics (like me!)
simply irresistible!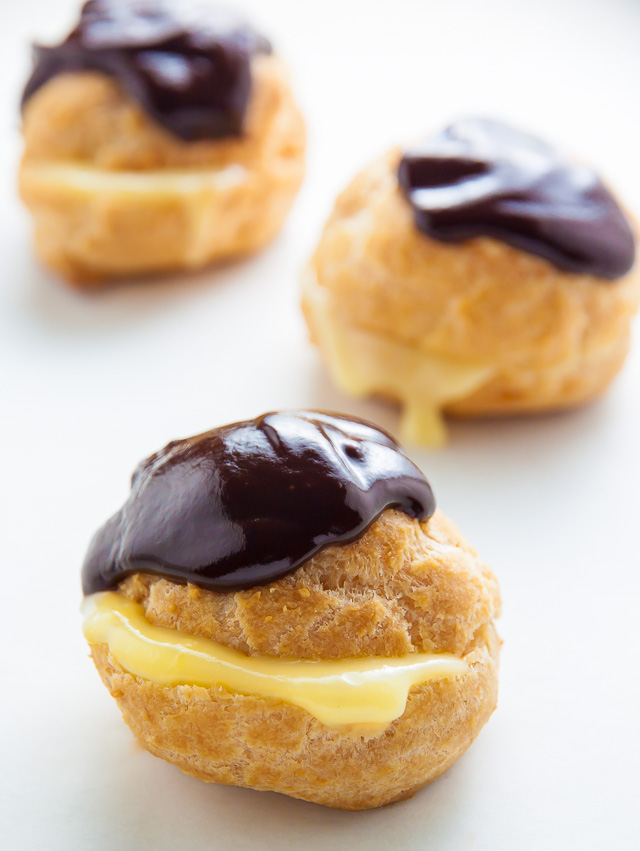 There are three parts to these Boston Cream Puffs: the luscious cream filling, the pastry shell (pâte à choux), and the chocolate ganache. I suggest starting with the filling, since it needs to completely cool in the fridge, which can take an hour or two.
Tips and Tricks for Recipe Success:
The Boston Cream filling is made with sugar, cornstarch, salt, egg yolks, milk, butter, and vanilla extract. The egg yolks give it its signature yellow color, and should not be replaced with whole eggs.
If you'd like a visual guide on how to separate eggs, click here for a step-by-step guide.
You'll cook the Boston cream mixture for 8 to 10 minutes. It's important you stir the mixture constantly so it doesn't seize up or clump. You'll know the filling is done when it's thick enough to coat the back of a spoon and looks like pudding. This happens fast, right around the 8 minute mark, so don't worry if it looks thin for the first few minutes of cooking.
If you find your filling has clumps, you can place a fine mesh strainer over a large bowl, and run the filling through it. This will ensure your filling is silky smooth.
Make sure your filling is completely chilled before stuffing the pastry shells.
For the cream puff shells, you'll make a pâte à choux. Don't worry – it sounds a lot fancier than it is! All you need is water, butter, flour, salt, and eggs.
To make the pâte à choux you'll first combine the water and butter, then once they've come to a boil, add in the flour and salt. You'll want to stir constantly until a smooth but shaggy ball forms. At this point you'll remove from pan from heat and let it rest for 5 minutes. Then you'll add in the eggs and beat smooth. Don't worry if the dough looks a little sticky.
When it's time to bake your puffs, use a measuring spoon or melon baller to scoop the dough onto the baking sheet. Avoid using your hands if possible.
When the puffs come out of the oven, you'll use a serrated knife to slice the puff shells in half, horizontally. You'll want to remove the dough from the bottom part of the shells, but not from the top. We remove the bottom part so there's room for the Boston cream filling.
Resist the temptation to overfill the shells. I intentionally overfilled the ones you see in my photos so you could see the filling, however this makes them very messy to eat. I suggest adding one to two tablespoons of filling. Trust me, it's plenty!
I suggest letting the chocolate set before serving. To speed this up, you can place the Boston cream puffs in the fridge for a few minutes.
While I honestly believe these are best served the day they are made, the cream puffs will keep in the fridge for 3 days.
Cream puffs are messy by nature, so I recommend serving these with plenty of napkins.
↑ Sorry if that was a snoozefest! Your reward for all that reading? PERFECT cream puffs 😉
#worthit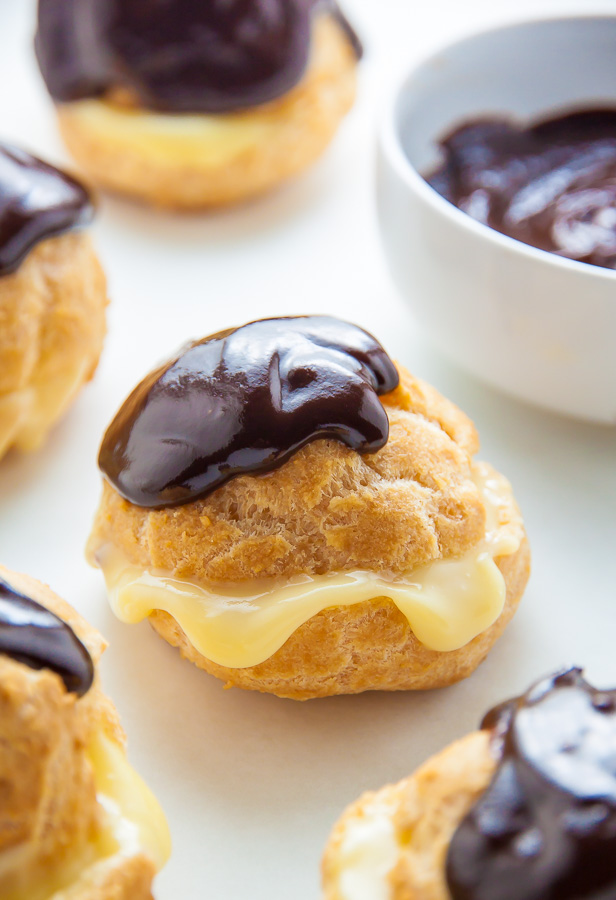 I know this recipe may look intimidating, but I know you can do it!
I originally made these Boston Cream Puffs with a few of my girlfriends and it was a really fun baking project, so if you think baking these on your own would be overwhelming, gather up a group of your faves for a baking date.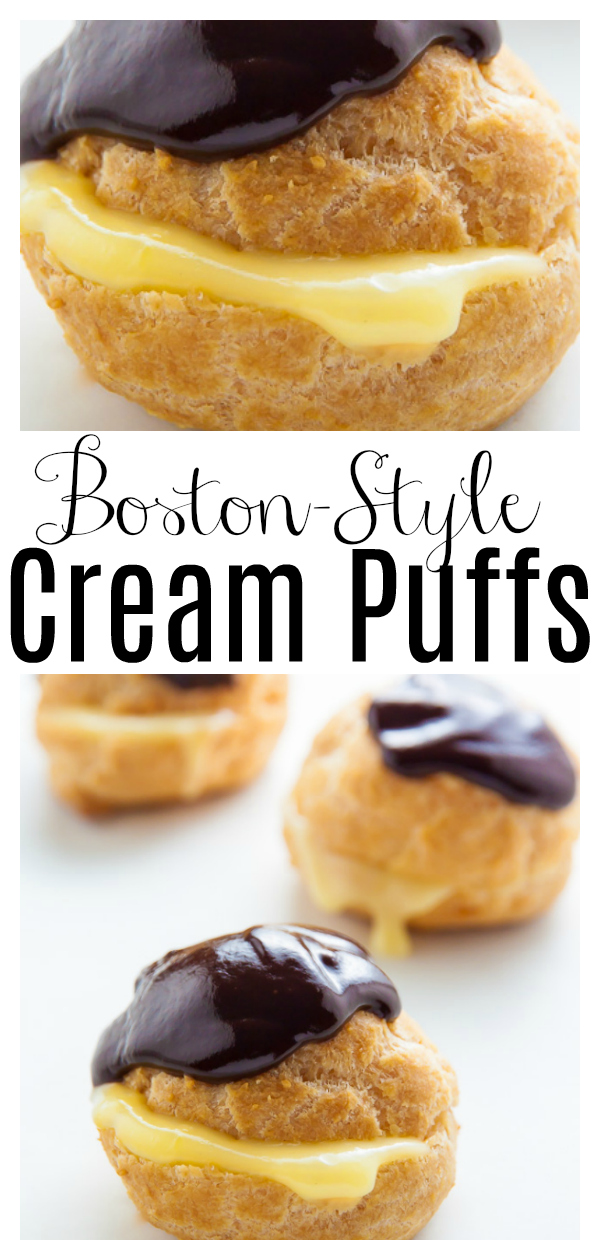 If you try this recipe, let me know what you think! Leave a comment below, and don't forget to snap a pic and tag it #bakerbynature on instagram! Seeing your creations makes my day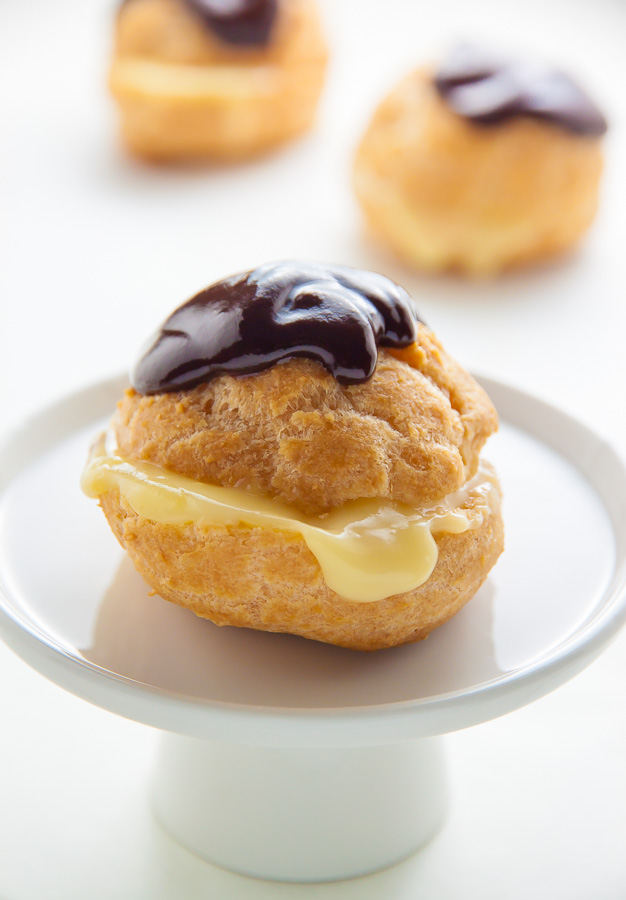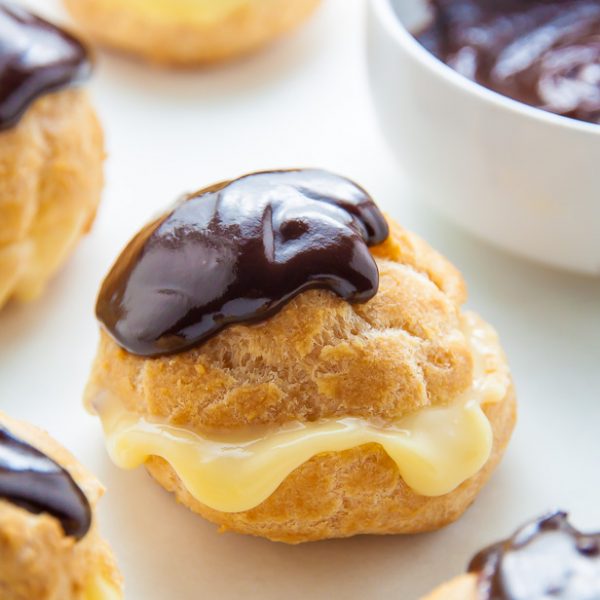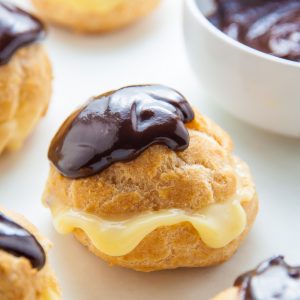 Boston Cream Puffs
Delicate Cream Puffs stuffed with Boston Cream Filling and topped with Chocolate Ganache!
Ingredients
For the Boston Cream Filling:
1/2 cup granulated sugar
2 and 1/2 tablespoons cornstarch
1/4 teaspoon salt
4 large egg yolks, at room temperature
1 and 1/3 cups whole milk
2 tablespoons unsalted butter
1 teaspoon pure vanilla extract
For the Cream Puff Pastry:
1/2 cup water
1/4 cup butter, cubed
1/2 cup all-purpose flour (not packed)
1/4 teaspoon salt
2 large eggs, at room temperature
For the Chocolate Glaze:
4 ounces semi-sweet chocolate, chopped
1/4 cup heavy cream
Instructions
For the Boston Cream Filling:
In a medium saucepan, add the granulated sugar, cornstarch, and salt; whisk well to combine. All at once, add in the egg yolks and whisk until smooth. Add in 1/3 cup of the milk and whisk until combined; whisk in the remaining milk. Place the pan over medium heat. Cook the mixture, stirring constantly with a whisk, until thick and creamy, about 8 to 10 minutes. You will know the mixture is done when it's thick enough to coat the back of a spoon and almost resembles pudding. Remove pan from heat and whisk in the butter and vanilla; beat until smooth. Transfer the custard to a heatproof bowl and cover tightly with plastic wrap. Be sure to press the plastic wrap right against the surface of the pudding to prevent "skin" from forming. Use a small knife to poke a few holes in the plastic. Place bowl in the refrigerator for 1 hour, or until completely chilled and firm.
For the Cream Puff Pastry:
Preheat oven to 400°(F). Line a large baking sheet with parchment paper; set aside.

In a large saucepan, combine the water and cubed butter; bring to a light boil. All at once, add the flour and salt, stirring constantly until a smooth ball forms. Remove from heat and allow the mixture to rest for 5 minutes (set a timer as this recipe is time sensitive). Add in the eggs, one at a time, beating well after each addition. Continue beating until mixture is completely smooth.

Drop rounded tablespoonfuls of the dough onto the prepared baking sheet, leaving 2 inches in between each for spreading. Bake for 30-35 minutes or until puffy and lightly golden brown. Transfer the warm puffs onto a cooling rack. Using a serrated knife, immediately - and carefully - slice the puff shells in half, horizontally. Gently gut and discard the soft dough from the bottom half of the shell (leave the tops of the shells as is). Set shells aside (tops and bottoms) to cool.
For the Chocolate Glaze:
Place the chopped chocolate in a small, heatproof bowl; set aside. In a small saucepan, heat the cream to a light simmer; pour warmed cream over the chopped chip. Allow the mixture to stand for 1 minute, then gently stir until the chocolate is fully melted and the mixture is completely smooth.
Assembly:
Fill each cream puff with a few tablespoons of the Boston cream; replace the tops. Drizzle a tablespoon of the chocolate glaze on top of each. Serve at once, or keep cream puffs stored in the fridge for up to 3 days.
Notes
*For best results, follow recipe exactly as written. *Cream puffs are best served the day they are made, but will keep, stored in the fridge for 3 days. *This recipe does not double. If you'd like more than one batch, make each one separately. *Do not over stuff the cream puffs or they will be very messy to eat. I recommend 2 to 3 heaping tablespoons of filling per puff.