Breakfast Pizza Bagels are so easy and fun! A breakfast the whole family will enjoy! Customize this recipe to make it your own!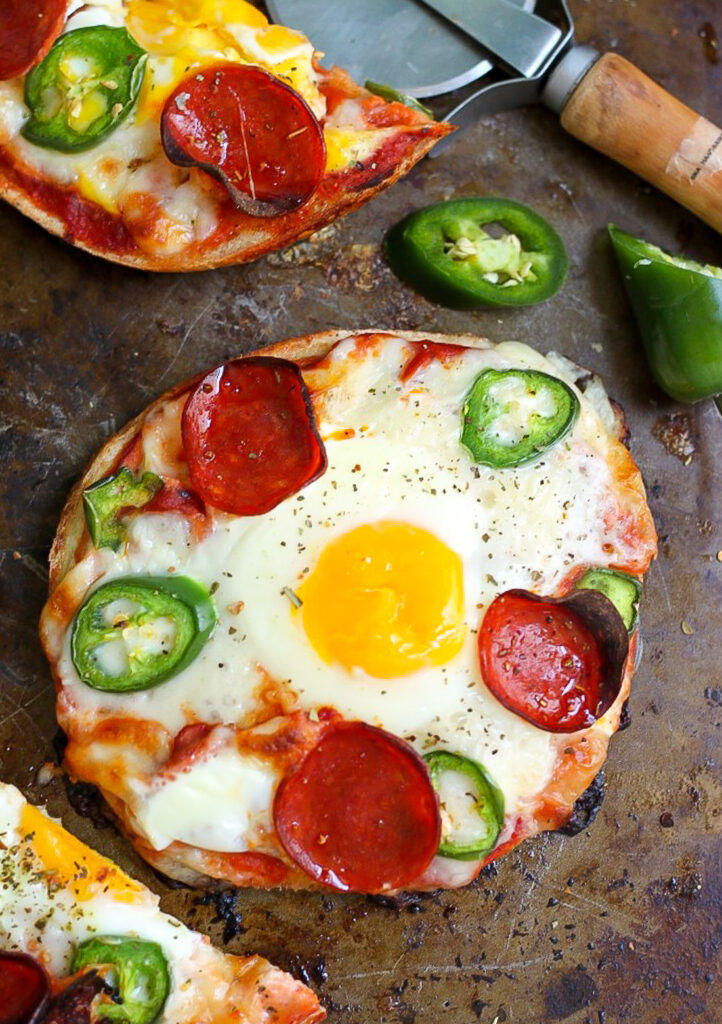 Pizza Bagels
Breakfast is definitely my favorite meal of the day! C and I try to have at least 2 breakfast dates a week (usually just at home, but still…!), and they're always the perfect way to start off a day! Such a treat 🙂
I peeped some bagels hiding in the back of our freezer this morning when I was grabbing the coffee, and my brain immediately was like "ding-ding-ding – THAT'S GONNA BE BREAKFAST". I love bagels! Do you? I can never pass up the chance to gobble one up. Like, never-ever-ever. My hips don't lie.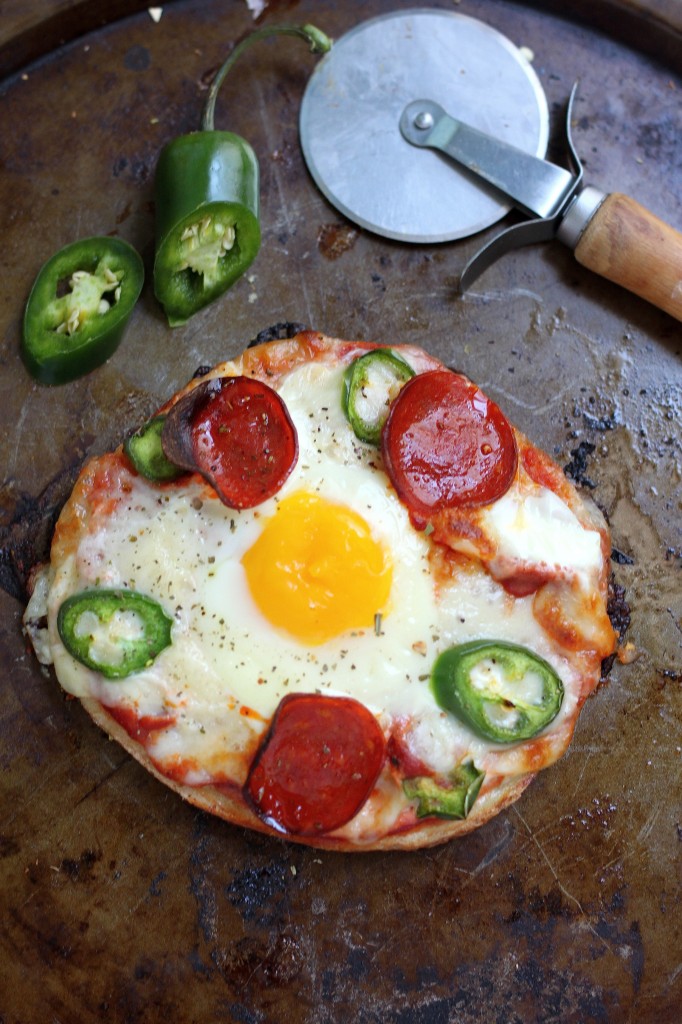 Pizza Bagel Recipe
After I realized we were fresh out of cream cheese (wtf roomies?!), I decided to pizza these bagels UP. Have you ever made pizza bagels before? They're super easy to whip up! And if you pop an egg in the middle, it magically becomes breakfast food. POOF! You're welcome 😉
Are you guys into the runny yolk egg trend? I loooooove it. I think a runny egg on pretty much anything – except like, ice cream… – is pure heaven and bliss. BUT! I know a lot of people – including the very handsome but picky man I keep – are not into the liquid yolk. So! My point of this whole runny vs firm ramble is you can bake it either way when you make your little bagel pizza. If you want a runny yolk, 16 minutes, baby. Like it firm? 20 minutes and you're solid.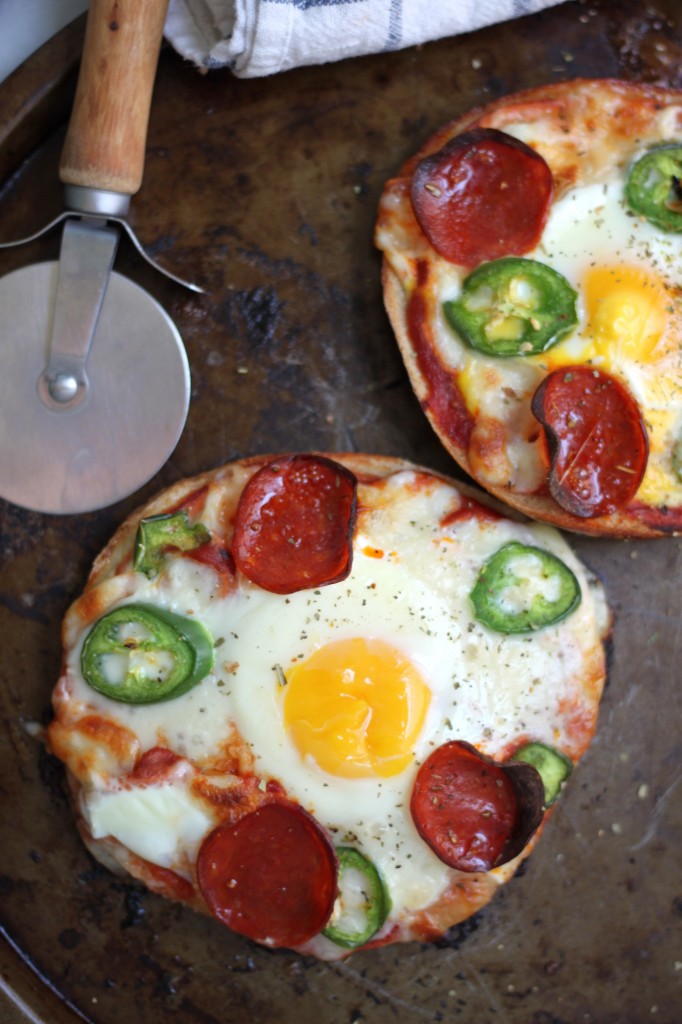 How to Make Pizza Bagels
This recipe starts with a – wait for it – BAGEL! This is actually a flagel. Uh huh. Flat bagels for the win! Less bread = MORE cheese. Yay-ah.
*Regular round bagels will work!!! Perfectly.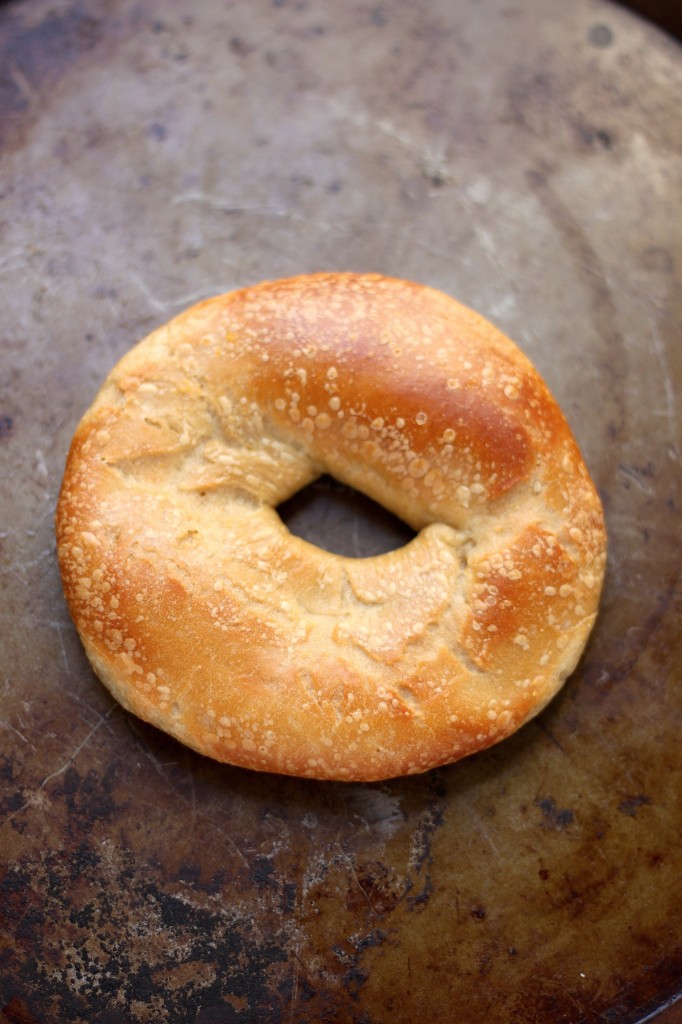 Then we're gonna get down to the serious business: toppings! We got our sauce and cheese – pizza staples! And add some slivered jalapeños and pepperoni. Amen.
*You can add whatever the heck you want to your pizza bagel. W-h-a-t-e-v-e-r!
Breakfast Pizza Bagel
Now we add the ingredient that makes these pizza bagels BREAKFAST pizza bagels. The EGG. I love the egg. Add the egg. It makes it breakfast. It makes you happy.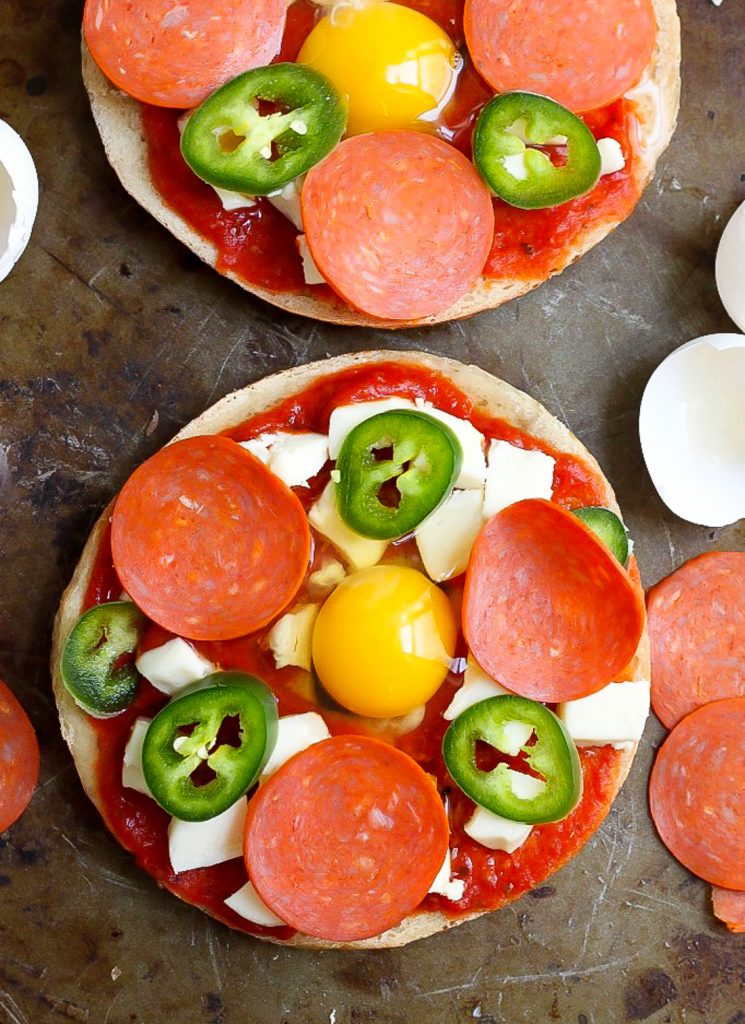 Then we just bake it up, and viola! Breakfast Pizza Bagels! Yippee-yahoo-and yay!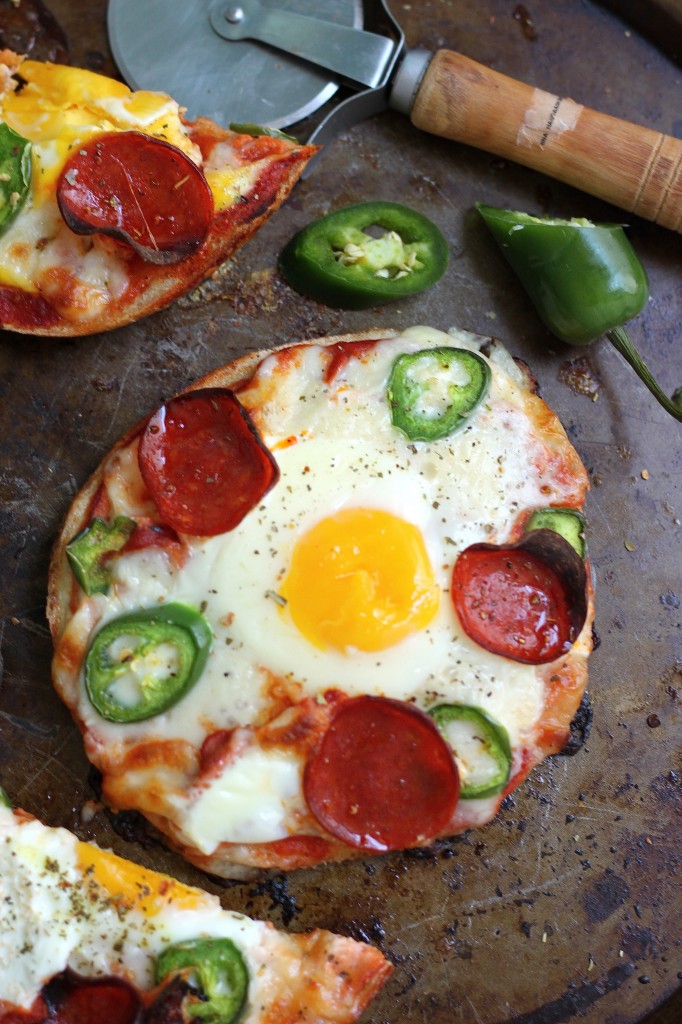 P.S. If you're like "o-m-g (Becky)… I can't believe she's posting a recipe for bagels." Well, Psssh! Wait till you make this. I ser-i-ous. Once you make these – you'll be a bagel pizza convert for life! I'm already craving another one. At least I know what's for breakfast tomorrow 😉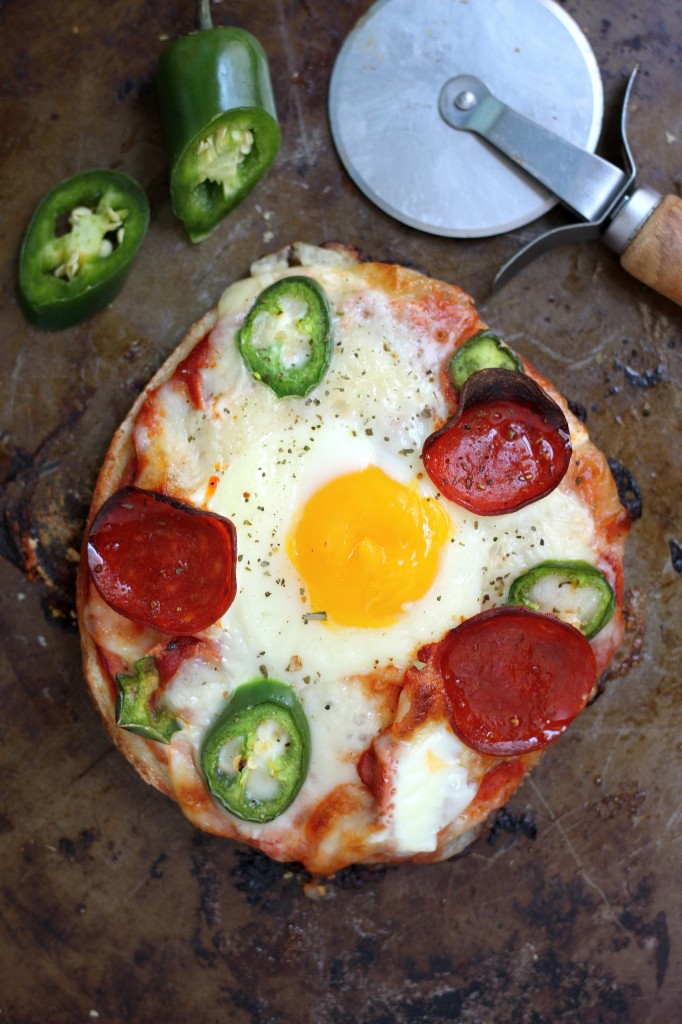 See you sweet things tomorrow with some fruity, boozy, perfect-for-Summer cake! xoxo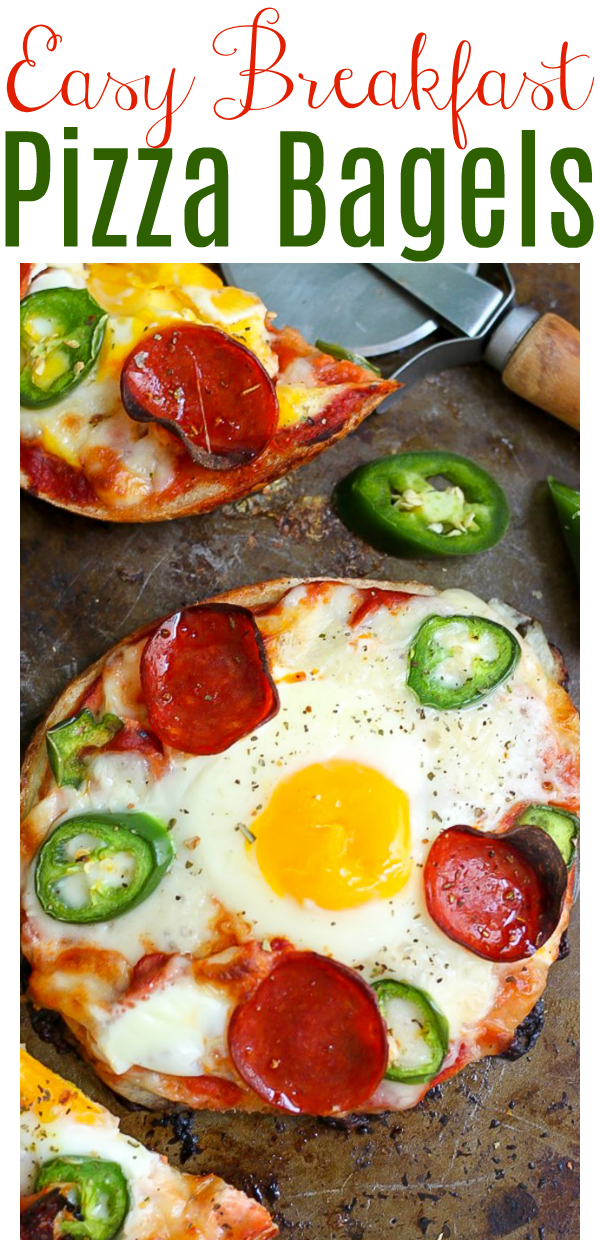 More Pizza Recipes: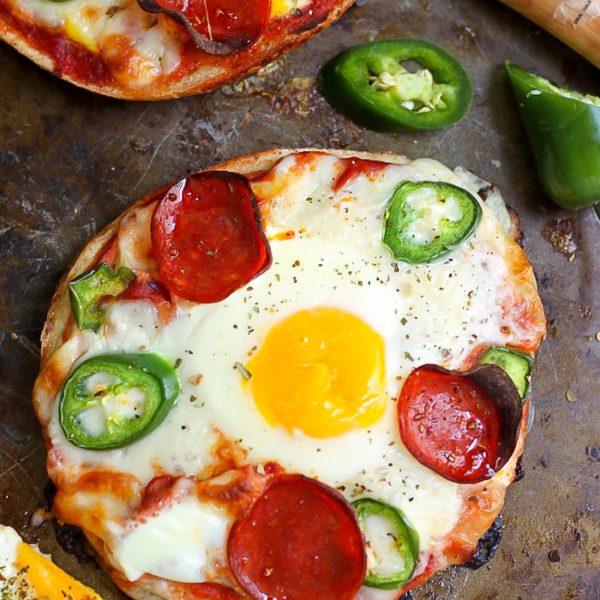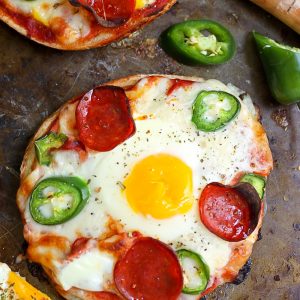 Breakfast Pizza Bagels
An easy and fun recipe for Breakfast Pizza Bagels!
Ingredients
Makes 1 pizza bagel; double as needed 🙂
1 bagel, sliced in half
2 tablespoons pizza sauce
2 ounces mozzarella, cut into small cubes, or shredded
1 tablespoon jalapeño, thinly sliced, optional
6-8 small pieces of pepperoni, optional
2 large eggs
Black pepper
Instructions
Preheat oven to 400 degrees (F). Line a small baking dish with parchment paper; set aside.

Cut bagel in half.

Spread 1 tablespoon of pizza sauce around each side of the bagel.

Top each half evenly with the cheese, then add the toppings!

Carefully crack an egg into each hole.

Top each egg with a little fresh ground black pepper.

Bake for 16-20 minutes, depending on how well-done you like your egg 😉

Enjoy at once!