This is our favorite banana bread when an extra indulgent treat is in order! Moist and flavorful brown butter banana bread is elevated to a whole new level of awesome thanks to a thick ribbon of cinnamon sugar that is swirled in the center. Trust me, this is one banana bread you need to make.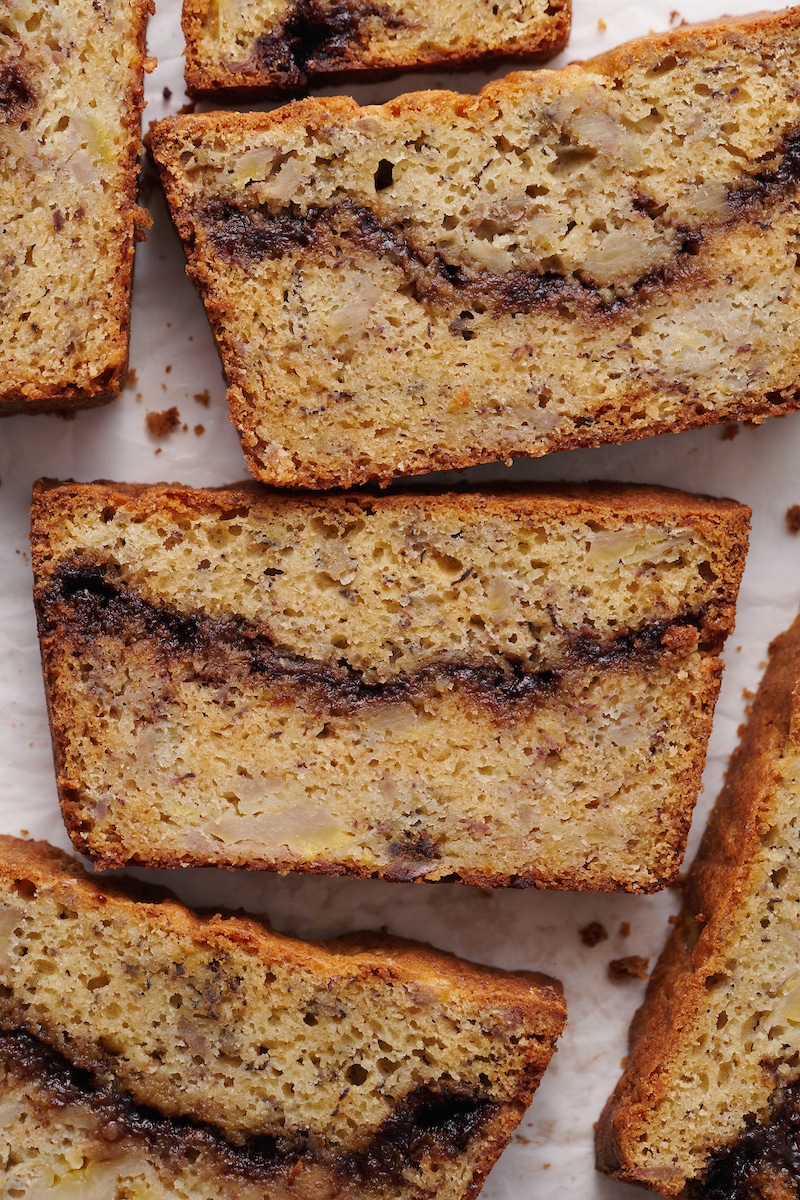 Brown Butter Banana Bread
Banana bread is something I crave all year long! In the Summer I make this Healthy Blueberry Banana Bread at least once a week. This Milk and Honey Banana Bread is my go-to in the deep Winter months. I make these Whole Wheat Cinnamon Chip Banana Bread Pancakes when I want me some banana bread for breakfast. And this Kahlua Caramel S'mores Banana Bread is what I make when I want a full on banana bread dessert party. And yet, with all those fabulous recipes in my repertoire, I realized that something was missing. I needed a banana bread recipe that screamed FALL! This, my friends, is just that.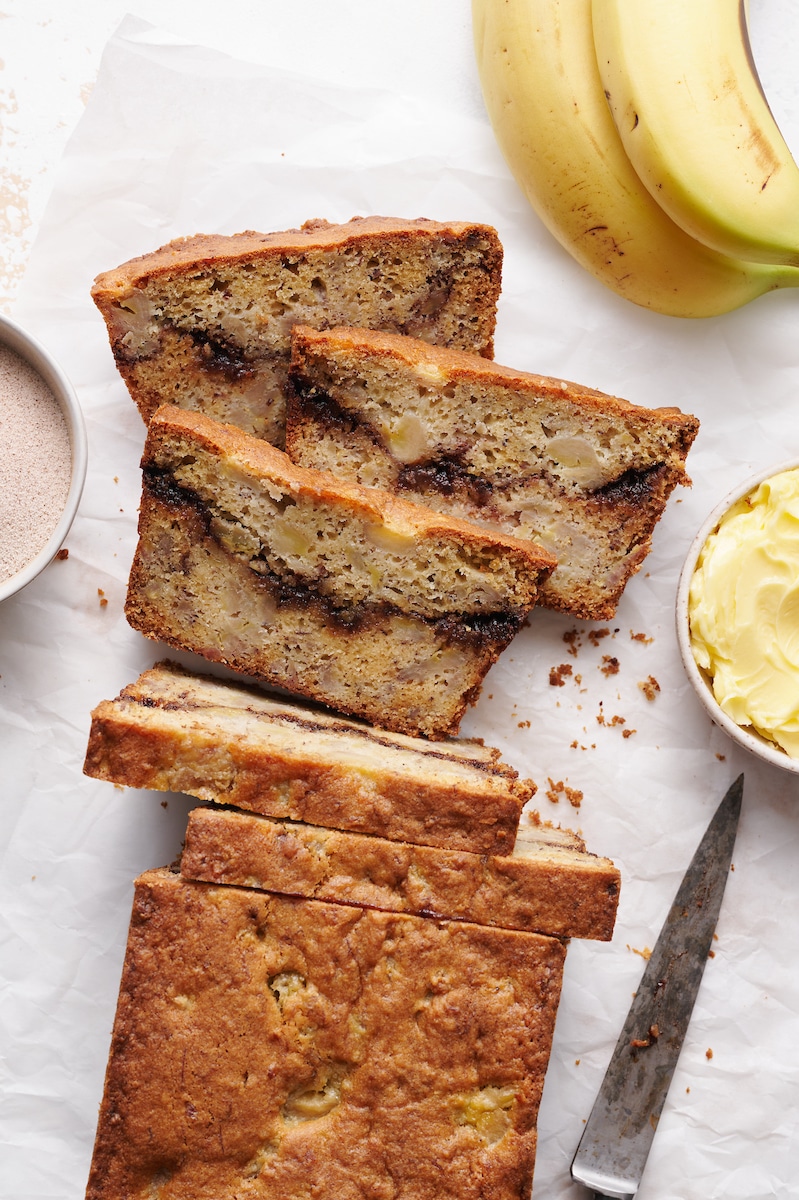 Why this might just be the BEST Banana Bread ever!
If you bake one banana bread from my blog this Fall, I beg you to make it this one!
Brown friggin' BUTTER: Brown butter is kind of my life, and, if I could, I would add it to everything I bake. It's easy to make (simply melt the butter on low until it takes on an amber color), smells incredible, and elevates baked goods to a whole new level on YUMMY.
The CINNAMON SWIRL: I doubt I really even need to sell you on this one right? Cinnamon + Sugar —> Swirled in the middle of your banana bread. Do it.
Freezer friendly: Hooray for baked goods that freeze well. I made this last week, sliced it up, shot a few photos, and sent it off to the freezer. We've been enjoying a piece here and there as coffee treats or as a quick breakfast choice, and it tastes almost as good as when it first came out of the oven. I say almost, because let's be honest, there's nothing like a piece of banana bread fresh from the oven.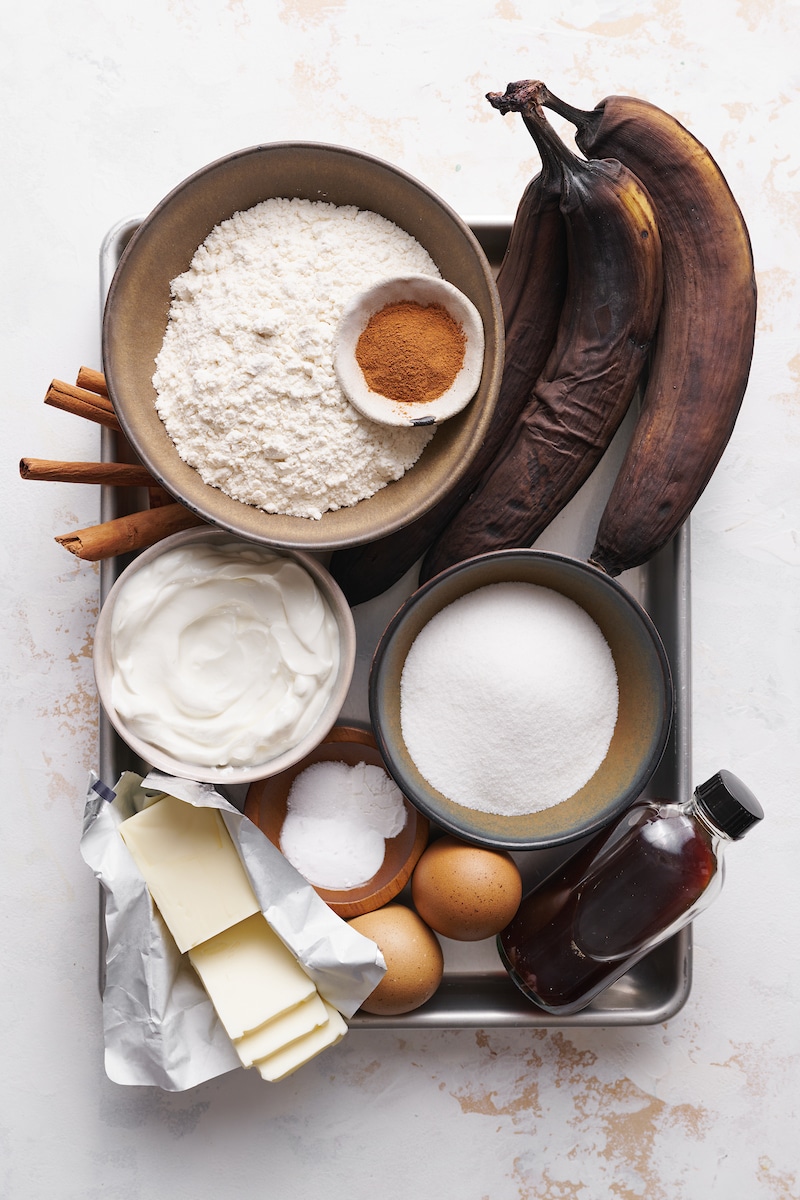 Since bananas can take anywhere from a day to ten days to get nice and ripe, I suggest you go pick some up now! It is important they be really ugly, soft, and mushy since they add a good amount of moisture to the bread. Ripe bananas (and brown butter cinnamon swirl banana bread) for life!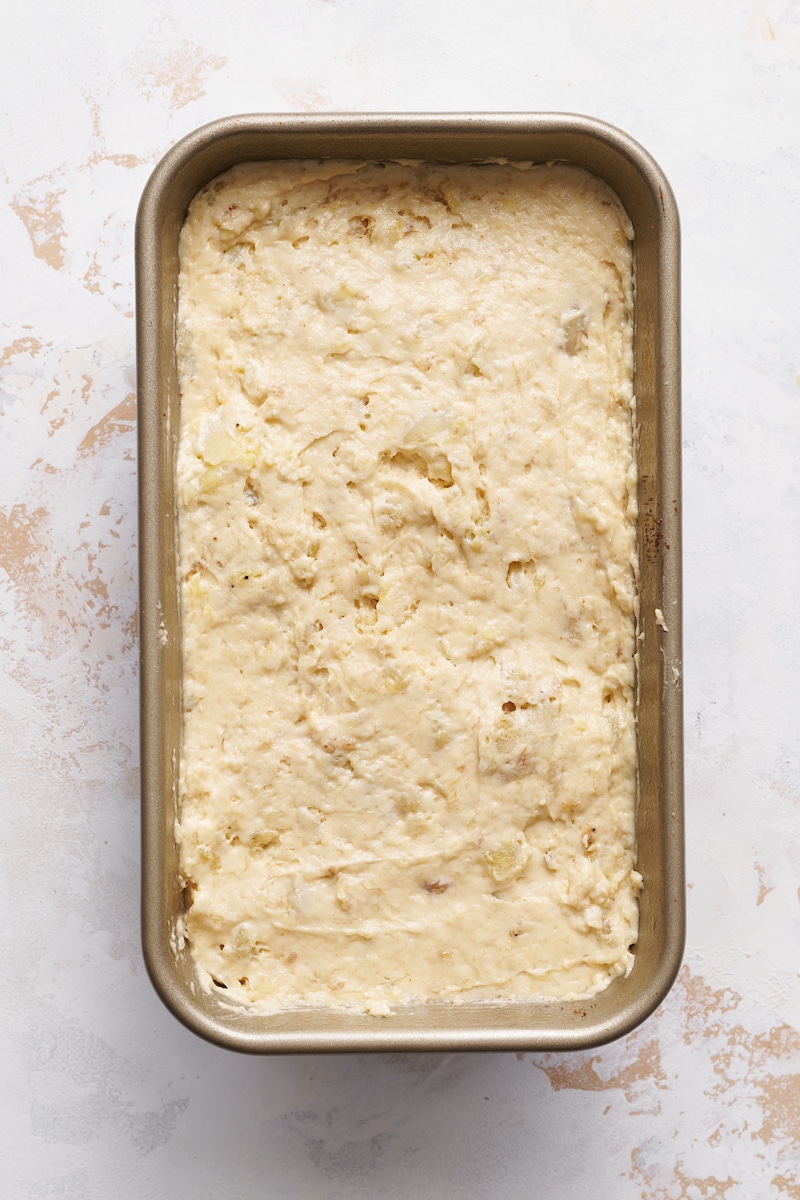 This is the perfect recipe when you want something slightly more exciting than classic banana bread and a little less indulgent than a full on Banana Layer Cake. A soft and flavorful interior that's swirled with an out-of-this-world wonderful cinnamon ribbon and a crunchy top that you'll just fall head over heels in love with.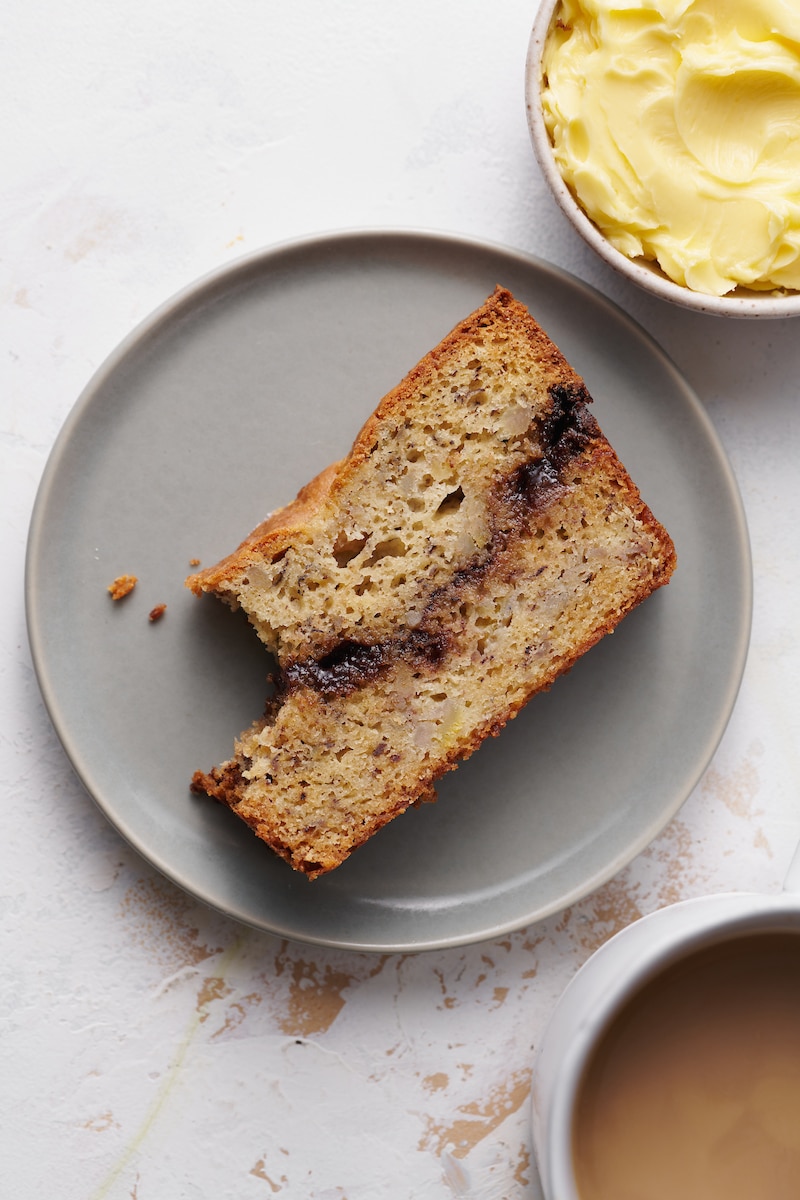 This Brown Butter Cinnamon Swirl Banana Bread is a winner all around! Just make sure you have those ripe bananas on hand, this is something you'll want to make over and over again.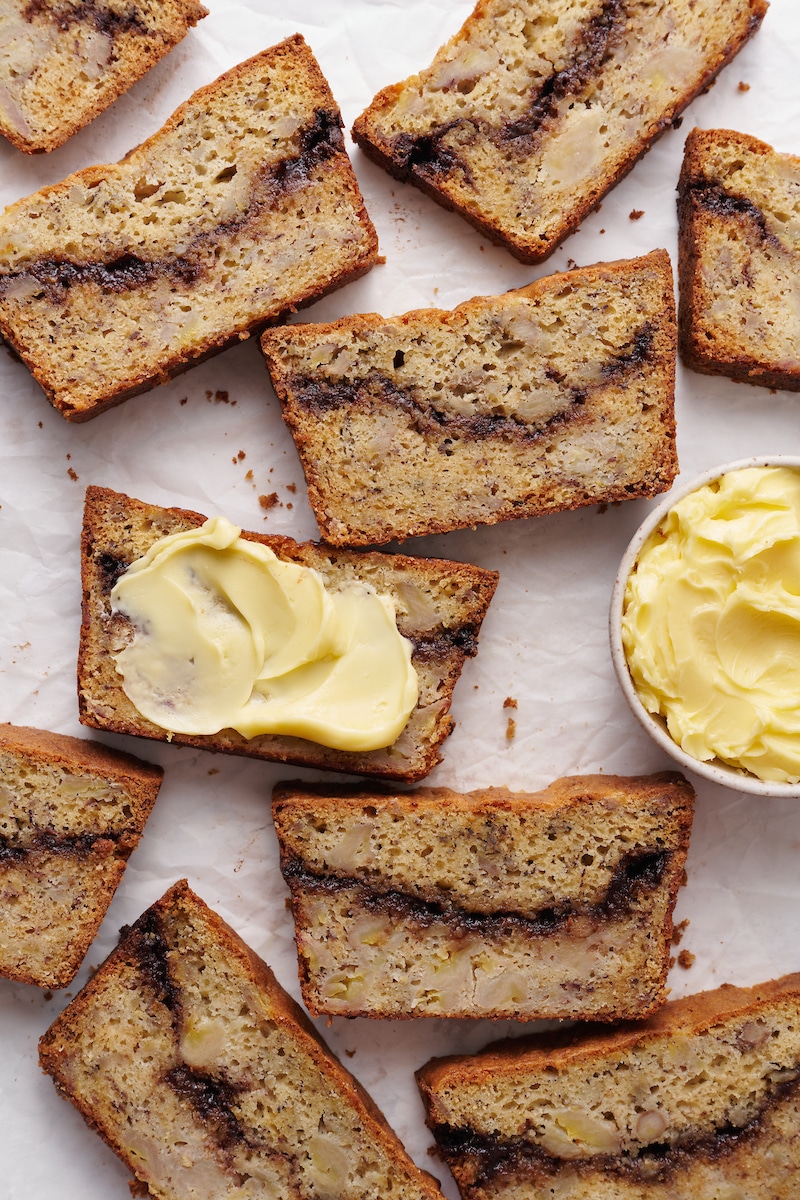 Brown Butter Cinnamon Swirl Banana Bread
Ingredients
1/2 cup (4 ounces) unsalted butter, melted until browned
1/2 cup white sugar
1/2 cup brown sugar
2 large eggs, at room temperature
2 teaspoons vanilla extract
1 1/2 cups all-purpose flour
1 teaspoon baking soda
3/4 teaspoon salt
1/2 cup sour cream (Full-fat works best)
3 medium VERY RIPE bananas, smashed
For the Cinnamon Swirl:
1/4 cup sugar
1 tablespoon brown sugar
1 1/2 teaspoons cinnamon
Instructions
Preheat oven to 350 degrees (F) (175 degrees C).

Generously grease a 9x5 inch loaf pan with butter or non-stick spray; set aside.

In a large bowl, whisk together the melted butter and sugars, beat until combined. Add the eggs and vanilla, mix well.

In a separate bowl combine the flour, baking soda and salt; stir into the butter mixture until smooth. Fold in the sour cream and mashed bananas; don;t over mix.

Spread half of the batter into the prepared pan. In a small bowl combine the ingredients for the cinnamon swirl, then sprinkle half of it over the batter. Add the remaining batter to the pan, and top with remaining cinnamon sugar.

Bake for about 55 minutes, or until a toothpick inserted into the center of the loaf comes out clean. Cool loaf in the pan for 10 minutes before removing to a wire rack to cool completely. Cut into slices and serve.