Brown Butter M&M Cookies are soft, chewy, and flavorful! Loaded with colorful M&M candies, these are always a crowd pleaser! The brown butter makes them extra special!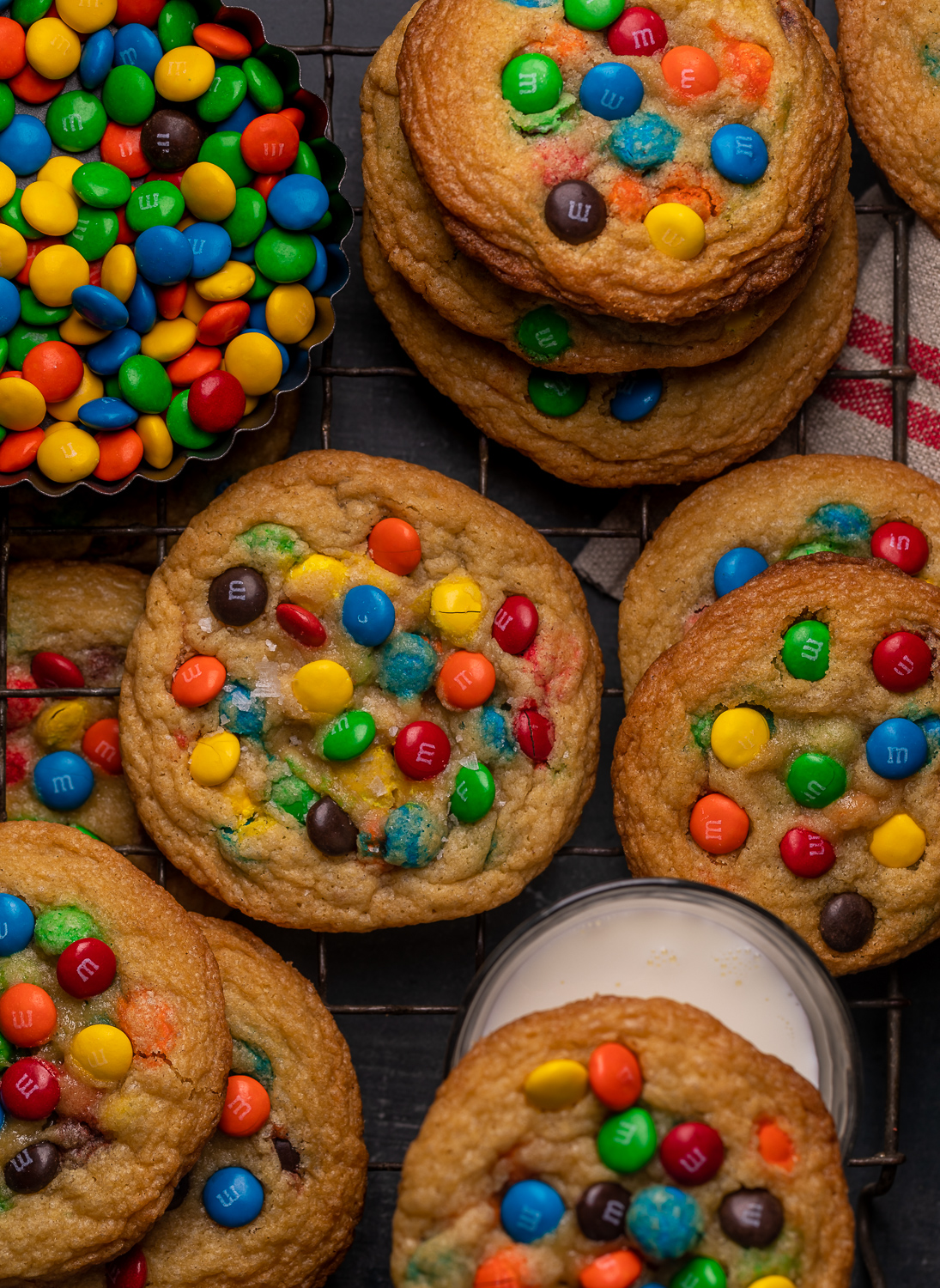 Happy Friday everyone! It's cookie o'clock here at Baker by Nature, so I hope you're ready for another recipe to help you fill that cookie jar.
Today we're talking brown butter m&m cookies. A very easy recipe to make that I promise will become your new favorite! I make these for friends and family year round (there's always an excuse to make cookies!), but my favorite time of year to make them is the holidays!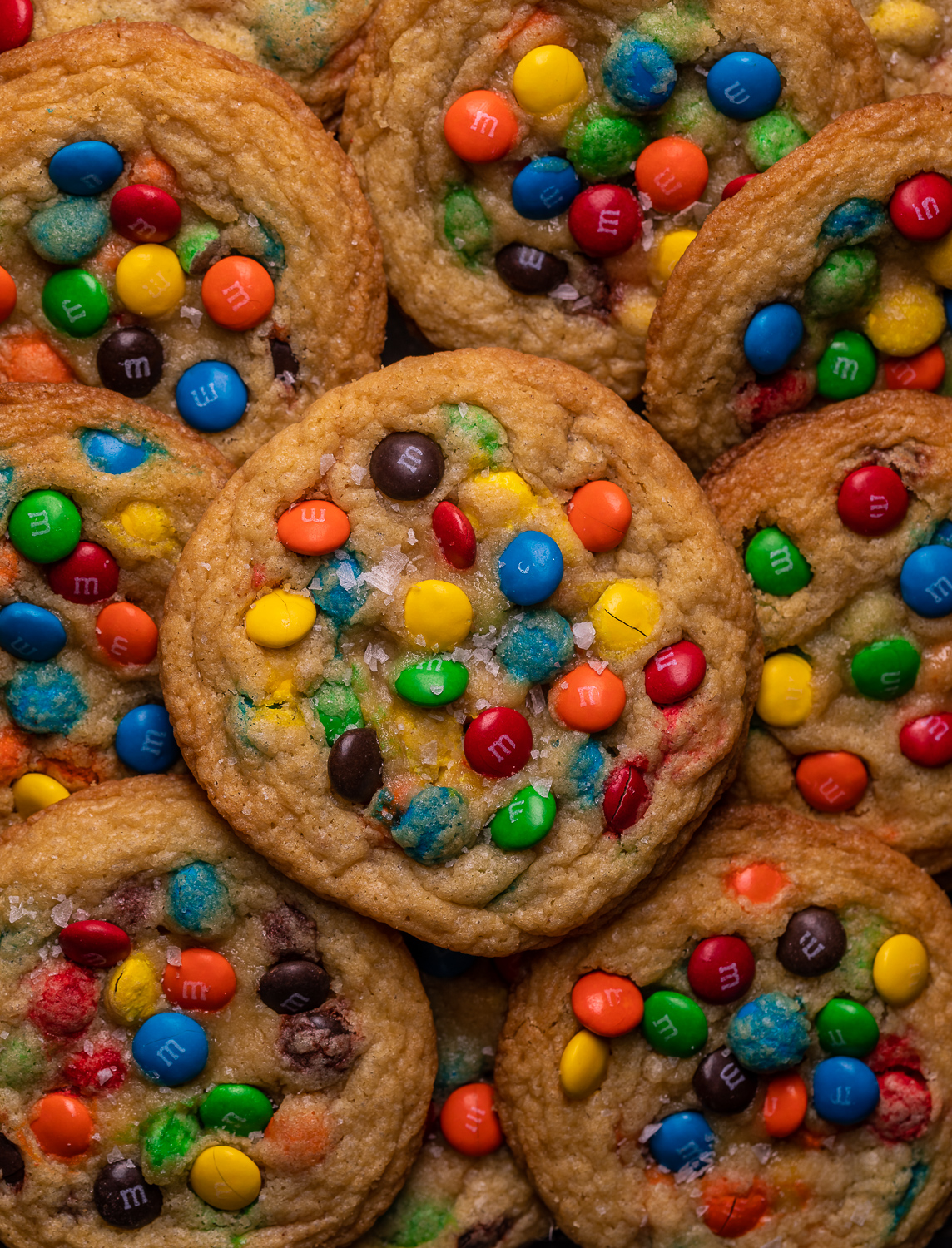 While m&m cookies aren't anything new or revolutionary, I wanted to share my recipe with you because… well, because I think it's the best! I know, I know… "the best" is a claim pretty much everyone is tooting these days, so it can be hard to take seriously. In fact, I purposely did not title this post "the best brown butter m&m cookies" because I feel like the into is just so overplayed. So today, instead of just telling you these are the best and expecting you to believe, I'm going to break down the reasons WHY I think these are the best, then let you tell me what you think once you've made them. Sound good?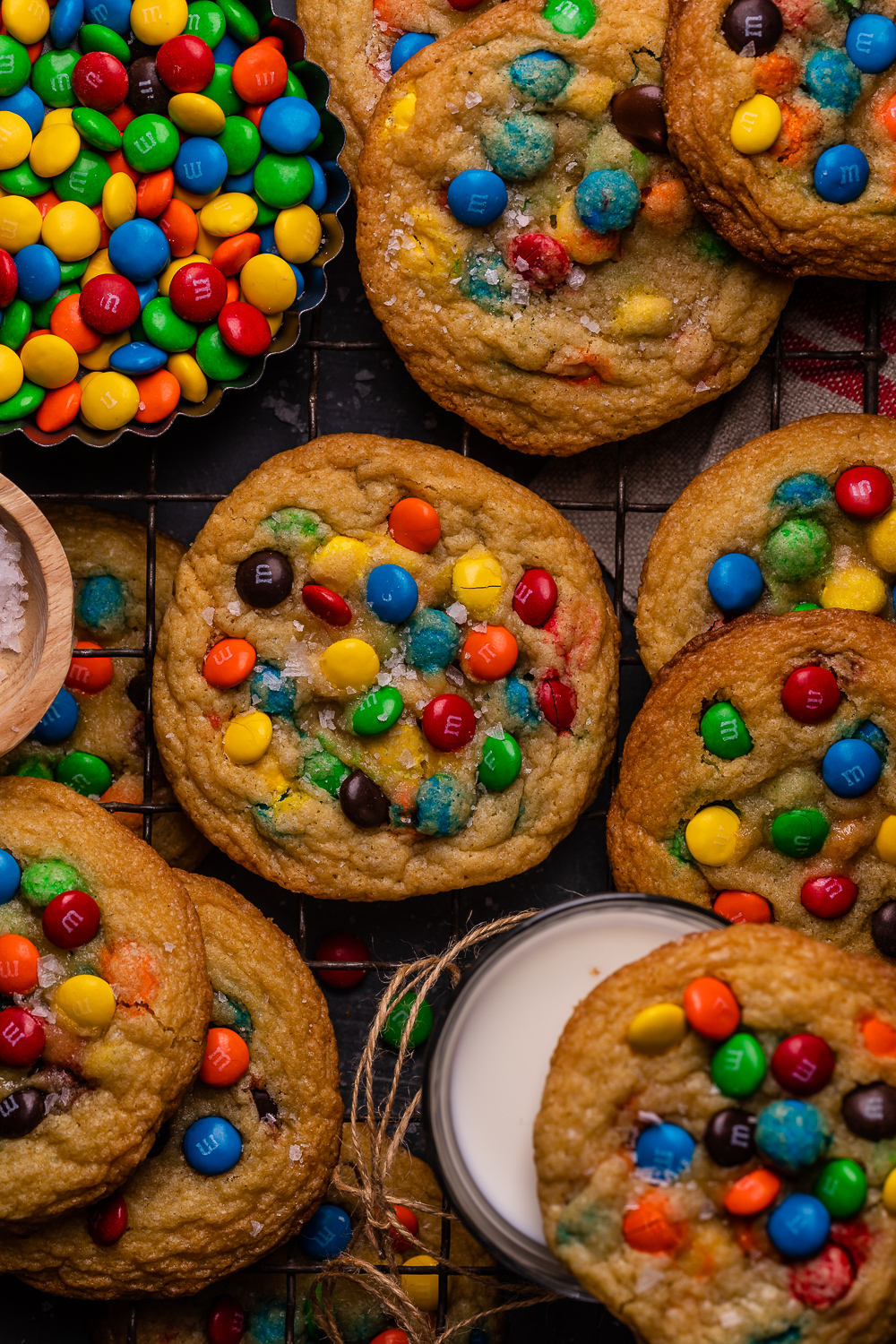 1) Brown Butter. Brown butter adds such an amazing element of flavor to the cookie dough. Have you ever browned your butter before? If not… read on. But be warned: I'm totally about to geek out over butter.
Brown butter can be very easily made right on your stove top. All you need is a stick of butter, a pan, and some patience. The transformation from melted butter to browned butter is made by toasting the milk solids in butter so that the liquid turns a deep, rich, nutty brown. It adds a delicate flavor to the cookie dough, and really elevates the flavor in these cookies to a whole new level of wonderful.
To make the brown butter you'll simply take a stick (or two, in the case of this recipe) of unsalted butter and place it into a cold saucepan. You'll melt the butter over medium-heat, stirring it periodically to make sure that the butter does not burn. The simmering butter will begin to foam slightly, and eventually it will begin to turn a nutty brown color. When it has browned evenly, simply remove it from heat. Be sure to stay especially attentive at the end of the browning process to avoid burning the butter.
And end rant!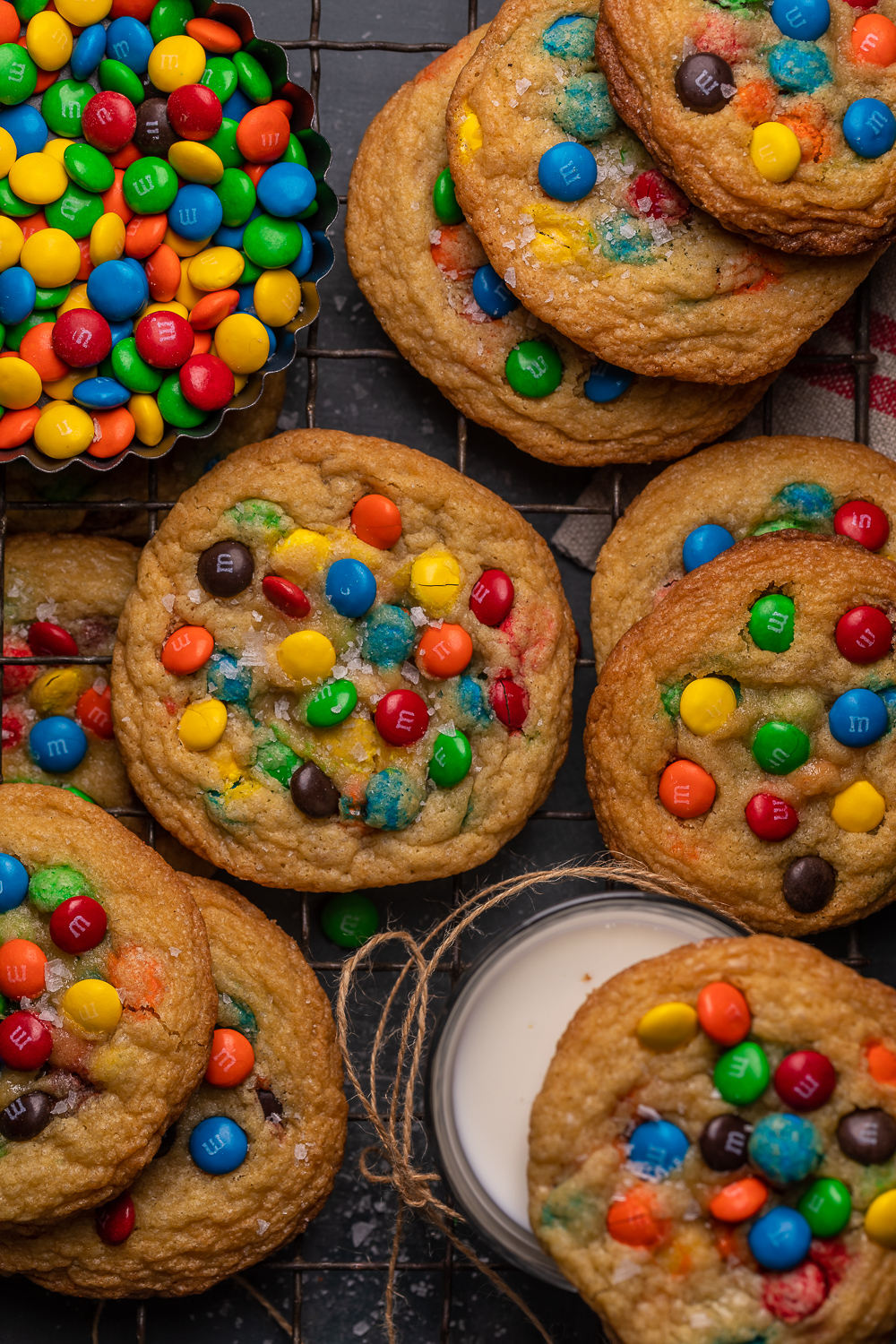 Follow those steps and you'll be a brown butter rock star in no time.
2) There is a whopping 2 cups of m&m's in the cookie dough, and this doesn't even include the ones you'll press into the top for pretty points. I know what you're thinking… that's a lot of candy! Yep. 2 cups of m&m's guarantees lots of crunchy chocolatey goodness in every-single-bite. To me there's nothing worse than a barely dressed cookie. So boring! I want my cookies loaded. And these are just that.
3) The best part of this recipe is that the cookie dough needs ZERO chill time. Waiting for delicious cookie dough to chill for a few hours is pure torture, ya know? I love love love that this cookie dough can be made and baked all at once.
Full Disclosure: You will need to let the cookies rest on the hot baking sheet for 5 minutes once you remove them from the oven, but I know you can handle that 😉
4) Crunchy edges + thick chewy centers = HELLO HEAVEN. These cookies are effortlessly crunchy and chewy, and stay like that for days.
These cookies are an unpretentious classic that are fun to make with the kids, your lover, or just by yourself.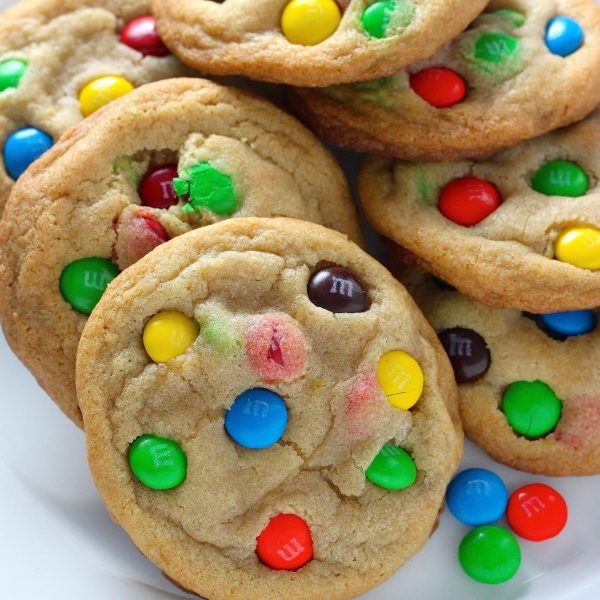 Brown Butter M&M Cookies
Brown Butter M&M Cookies are soft, chewy, and flavorful! Loaded with colorful M&M candies, these are always a crowd pleaser! The brown butter makes them extra special! 
Ingredients
2 1/2 cups all-purpose flour
1 teaspoon baking soda
1/4 teaspoon flaky sea salt
16 tablespoons (2 sticks; 8 ounces) unsalted butter, one stick melted until browned
1 cup + 2 tablespoons dark brown sugar
1/2 cup granulated sugar
2 teaspoons vanilla
2 large eggs, at room temperature
2 1/2 cups m&m's
Instructions
In a medium sized bowl whisk together the flour, baking soda, and sea salt; set aside.

Place 8 tablespoons of butter in a small sauce pan over medium-high heat and cook for about 2 minutes – stirring almost constantly – until the butter has browned. Remove from heat and stir in remaining butter; whisk until completely smooth. Place the bowl in the refrigerator or freezer and bring the butter back to room temperature. *You'll know the butter is at room temperature when you press a finger into the top and it makes a slight indentation.

Once the butter is at room temperature… Preheat oven to 375 degrees (F). Line 2 large baking sheets with parchment paper and set aside.

Add the sugars and the vanilla to the browned butter and whisk until light and fluffy; about 2 minutes (you may use a stand-mixer or handheld mixer to help if you have one).

Add the eggs and beat quickly – for only about 30 seconds – until they're just combined. Let the mixture rest for 5 minutes, then beat the eggs for another 30 seconds.

Gently fold in the flour mixture with a wooden spoon, stirring only until the flour begins to disappear. Fold in m&m's.

Roll 3 tablespoon sized balls of dough between your palms to form a ball (they should be big; almost a 1/4 cup), then place on prepared sheet (make sure to leave enough room in between each cookie for inevitable spreading).

Continue this process until all the dough has been rolled. Place baking sheets in preheated oven and bake for 11-13 minutes, or until golden at the edges but still soft in the middle. Press additional m&m's on top of the cookies right after removing the pan from the oven, if desired.

Let cookies cool for 5 minutes on the sheet before transferring to a wire wrack to cool completely.