A foolproof recipe for Old-fashioned Apple Pie! Featuring a flaky all-butter crust and gooey apple pie filling, this recipe is a classic you'll make again and again! Perfect for Thanksgiving or Christmas!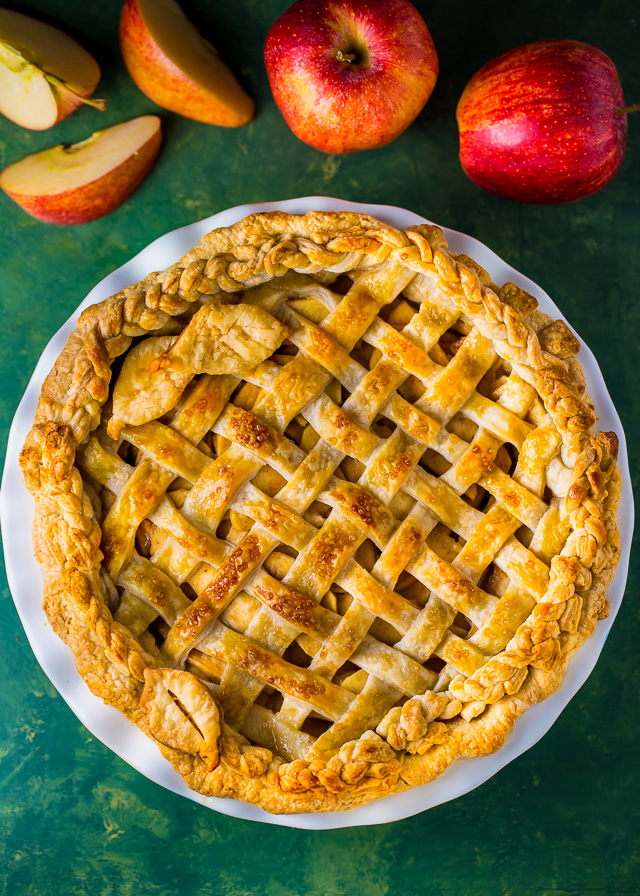 Old Fashioned Apple Pie Recipe
It's apple season here in the Hudson Valley and I'm loving every second of it. We live close to a few apple orchards, so there's always a wonderful variety of fresh apples at the farmers market. Last weekend I lugged home 14 pounds, so you can bet your bottom dollar you'll be seeing plenty of apple themed posts around here… starting with this old-fashioned apple pie! The juicy apple filling is enhanced by the addition of an apple cider reduction and plenty of warming spices. I bet just one bite will have you hooked!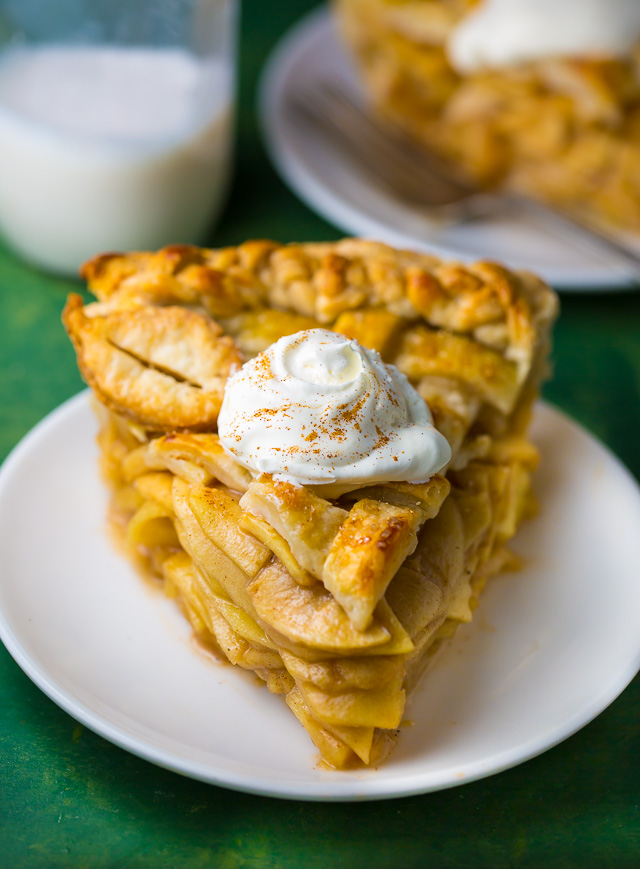 How to Make Old Fashioned Apple Pie
Make your pie crust ahead of time! You can do this step up to two months in advance, since pie crusts freeze great. If you'd like to make it the day of, be sure you plan in advance and have plenty of time. The crust needs to chill for at least two hours before being rolled out, another 30 minutes before being filled, and another 20 minutes after it's been filled.
Slice your apples as thin as possible! My grandmother helped me bake my first apple pie when I was a girl and she stressed that when it comes to apple pie "paper thin apple slices" are the way to go. Guess what? She was right!
Don't skip the apple cider reduction. This ingredient enhances the apple flavor and makes the filling perfectly juicy. You can use store bought apple cider or homemade, just be sure you reduce it to exactly 1/4 cup.
For a gorgeously golden crust, brush the top of the pie with egg wash then sprinkle with turbinado sugar.
If you're concerned about over-browning, you can place a pie crust shield over the pie after 30 minutes of baking. If you don't own one, you can make one using tin foil.
Be sure to allow your pie to cool for at least 6 hours before slicing! If you attempt to slice it still warm the filling will leak and ooze everywhere. It takes a full 6 hours for it to set and slice like you see in my photos.
If you prefer warm apple pie, you can heat your cooled slice in the microwave for a few seconds. Works like a charm!
This old-fashioned apple pie is delicious on its own, but I can never resist adding a dollop of fresh whipped cream on top. YUM.
More Apple Pie Recipes:
If you try this old-fashioned apple pie recipe, let me know! Leave a comment below and don't forget to snap a pic and tag it #BakerbyNature on instagram!
Old-Fashioned Apple Pie
I cannot imagine a holiday without this old-fashioned apple pie on the table! The apple flavor is enhanced by the addition of an apple cider reduction and plenty of warming spices. For an extra decadent dessert, serve with a dollop of whipped cream.
Ingredients
1 cup apple cider, reduced
8 large apples (about 8 and 1/2 cups), cored and thinly sliced
1 and 1/2 tablespoons apple cider vinegar
1/2 cup granulated sugar
1/2 cup light brown sugar, lightly packed
3/4 teaspoon ground cinnamon
1/2 teaspoon ground nutmeg
1/4 teaspoon ground allspice
1/4 cup all-purpose flour
1/4 teaspoon salt
1 large egg
1 teaspoon milk
Turbinado sugar, optional
Instructions
Lightly spray a 9" pie pan with non-stick spray; set aside. Line a baking sheet with parchment paper; set aside. Roll one piece of pie crust into a 12" round, then carefully place it in the prepared pie pan.

Using your hands, gently fit the dough into the bottom of the pan and up the sides, allowing for one inch of pie crust overhang. Sprinkle the bottom of the pie crust with one teaspoon of flour and one teaspoon of sugar, mixing them together so they evenly coat the bottom of the crust. Trim the excess crust with kitchen sheers and place the pan in the refrigerator until needed.

Roll the second piece of pie crust into a 12" round. Using a ruler and a paring knife, cut 16 strips, each about a 1/2 inch wide. Don't worry if they end up being a little uneven - it happens! Carefully transfer the the strips onto the prepared baking sheet and place in the refrigerator until needed.

Place the apple cider in a small saucepan and bring to a boil over medium-high heat. Continue cooking, stirring frequently, until you have 1/4 cup of apple cider reduction; about 10 minutes. Remove from heat.

In a large bowl combine the sliced apples, apple cider reduction, and apple cider vinegar; toss well to coat the apples, set aside. In medium-sized bowl combine both sugars, spices, flour, and salt. Add the dry mixture to apple mixture and toss well to coat.

Using a slotted spoon, fill the chilled pie crust with the apple filling, leaving excess juices behind. Remove the pie crust strips from the refrigerator and begin creating a lattice pattern, carefully weaving over and under each strip of the opposite direction. Once you're done weaving, trim any excess dough from the edges. Return the pie back to fridge for 20 minutes.

In the meantime, preheat the oven to 425 degrees (F). Make an egg wash by whisking together the egg and milk until well combined. Brush the egg wash over the lattice strips and crust of the unbaked pie, then sprinkle with the turbinado sugar, if using. Place the pie on a large baking sheet. Bake for 20 minutes, then reduce the heat to 375 degrees (F), and continue baking for an additional 45 minutes, or until the crust is golden brown and filling is bubbling. To avoid over browning, you may want to place a piecrust shield on the pie after 30 minutes of baking. Carefully remove the pie from the oven, and place it on a wire rack to cool completely before cutting, about 6 hours.

This pie will keep, loosely covered, at room temperature for one day. You may also

tightly wrap it and store it in the fridge for up to one week.
Notes
For the reduction, be sure you use apple cider and NOT apple cider vinegar!