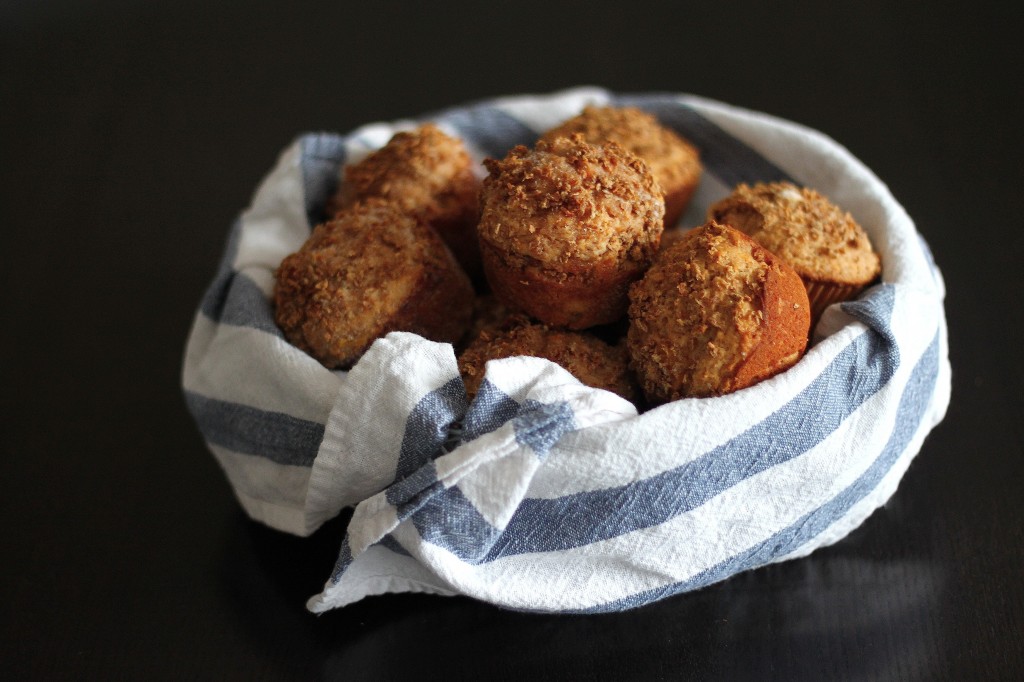 Alright, alright. I know what you're thinking. And it's totally, 100%, absolutely true. I'm very (very,very, very) guilty of abusing the brown butter. It's a sickness! An obsession, at least. But I promise you guys, in this case, it was for you. It really just makes these muffins! I know this as a fact because originally I made this recipe with plain old room temperature butter, and well, although they were really quite good… I just knew. I knew they were missing something. And more than that. I knew what they needed. They were longing for the brown stuff. They almost demanded it. And heck, who am I to argue with muffins about the way they want their butter?
The best part about these muffins was finding out how beautifully the sweet potato and brown butter blend. They just… melt into each other like old friends catching up over coffee. It's magical. And the crunchy granola topping helps make the lids of these sweet little babies effortlessly divine. I kind of wanted to eat ALL of the lids myself, but ya know, I didn't. Well, not all of them. Baby steps.
If you love sweet, soft, giant muffins with awesomely crunchy lids, these are your guys!
Also, you should probably know that baking these will result in your home smelling like a little slice of  heaven. It's a total baking bonus.
Have a great weekend, you guys! xo
Brown Butter Sweet Potato Granola Muffins – Baker by Nature
Ingredients:
3 cups all-purpose flour
1 tablespoon baking powder
1/2 teaspoon baking soda
1/4 teaspoon salt
1/4 teaspoon cinnamon
1 cup sugar brown sugar
1 1/2 teaspoons vanilla
2 large eggs, at room temperature
1 1/4 cups plain whole milk yogurt
1 cup sweet potato puree
2 sticks (8 ounces) unsalted butter, browned
1/2 cup granola of your choice
Instructions:
Preheat oven to 375 degrees (F). Line a muffin tin with paper liners, and set aside.
In a large medium sized mixing bowl whisk together the flour, baking powder, baking soda, salt, spices, and sugar.
In a separate mixing bowl beat together the vanilla, eggs, yogurt, and sweet potato puree; mix well.
Pour the dry mixture into the wet mixture and stir 4 or 5 times, folding the mixture together with a large rubber spatula. Gently stir in the browned butter and mix until well combined. Scoop batter into prepared muffin tin, filling the molds 3/4 of the way full.
Top each muffin with 1 – 2 tablespoons of granola.
Place muffins in oven and bake for 20 – 22 minutes.
Let the muffins cool in the tin for 5 minutes before transferring to a wire rack to cool completely.