Butternut squash and I… we get on. It happens every Fall. I get that first taste of a sweet roasted or pan sauteed dish featuring this squash beauty and I get hooked – I can't get enough of it! It's healthy too. We care about that… right? Yes. Yes, we do…
Sometimes we just gotta get our healthy on, ya know?

In a matter of weeks we have sparkly dresses to rock, kisses at midnight to accept, and countless pie slices to gobble without an ounce of guilt. If that's not selling you, I have a sinful amount if indulgent recipes coming up this week: there's going to be more butter, caramel, and chocolate than is legal in some states – yippee! So let's just be good kiddies today and talk squash, mmmmk?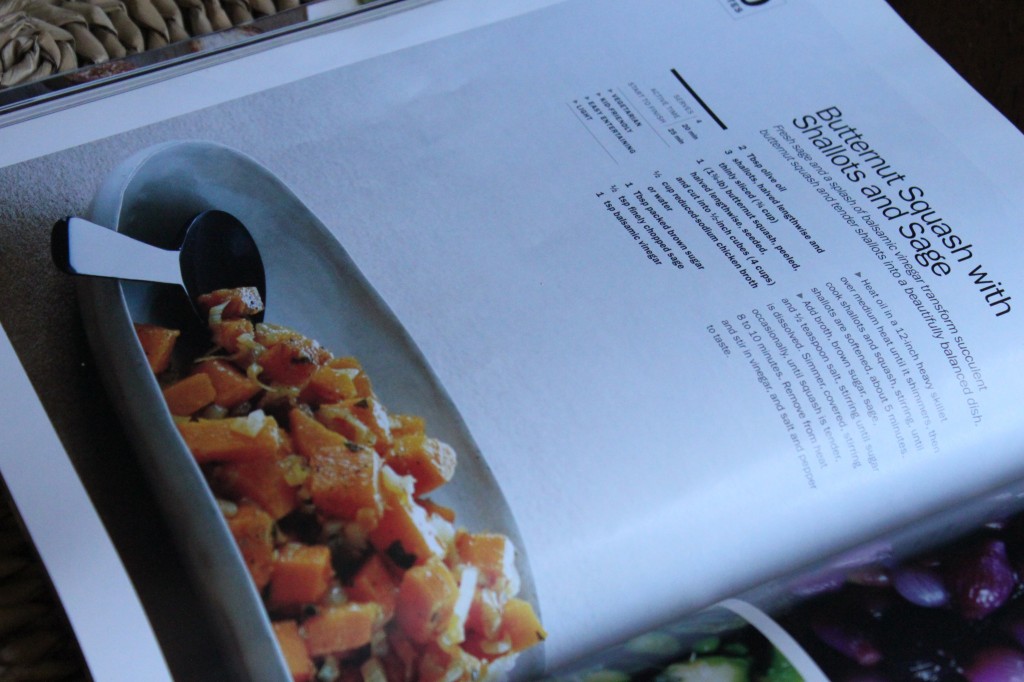 This squash is bold, bright, and brilliantly seasoned. Sassily spiced with fresh sage and shallots – it's anything but boring in the flavor department. A quick splash of balsamic vinaigrette adds depth and liveliness to this sensational seasonal dish.
I made this as my main meal, but it would be a great side dish for chicken, turkey, or whatever else makes you go giddy up.

Butternut Squash with Shallots and Sage – taken from Gourmet October 2005
Ingredients:
2 tablespoons olive oil
3 shallots, halved lengthwise, then cut crosswise into 1/4-inch-thick slices (3/4 cup)
1 (1 3/4-lb) butternut squash, peeled, halved lengthwise, seeded, and cut into 1/2-inch cubes (4 cups)
1/2 cup reduced-sodium chicken broth or water
1 tablespoon packed brown sugar
1/2 teaspoon finely chopped fresh sage
1/2 teaspoon salt
1 teaspoon balsamic vinegar
1/4 teaspoon black pepper
Preparation:
Heat oil in a 12-inch heavy skillet over moderate heat until hot but not smoking, then cook shallots and squash, stirring, until shallots are softened, about 5 minutes.
Add broth, brown sugar, sage, and salt, stirring until sugar is dissolved. Simmer, covered, stirring occasionally, until squash is tender, 8 to 10 minutes. Remove from heat and stir in vinegar, pepper, and salt to taste.