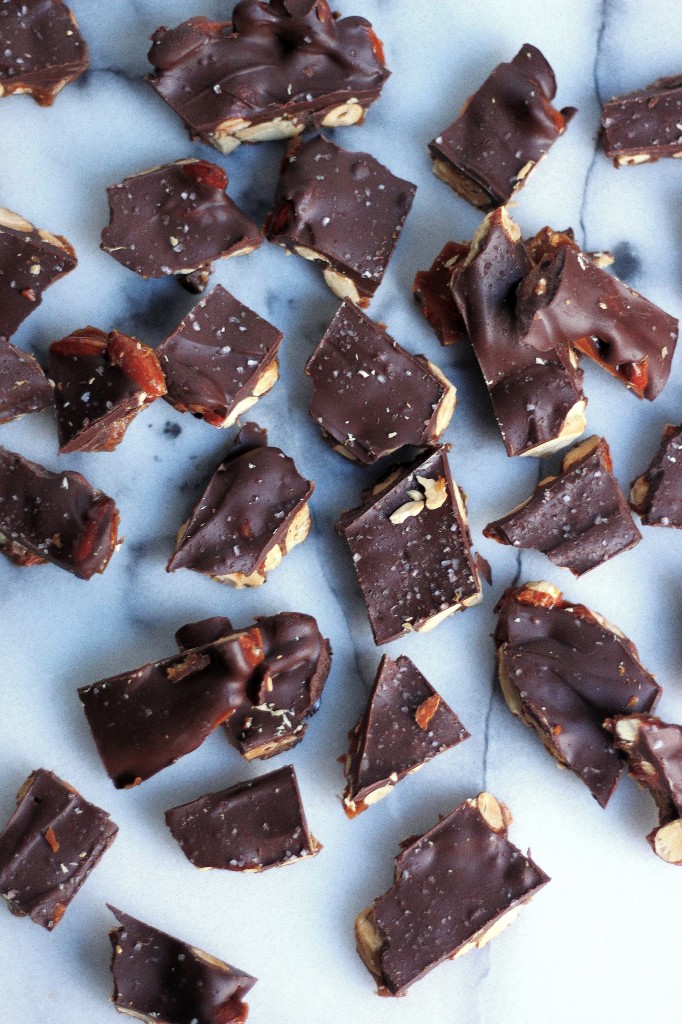 Caramelized almond chocolate bark is 100% my favorite treat to make – and gift – this time of year. It's so simple and delicious that it's pretty much IMPOSSIBLE to resist. I mean, sugary caramelized almonds + a rich robe of melted, salty chocolate… Does it get any better?!
Plus, caramelizing almonds will make your kitchen seriously smell better than any rose ever could. For reals!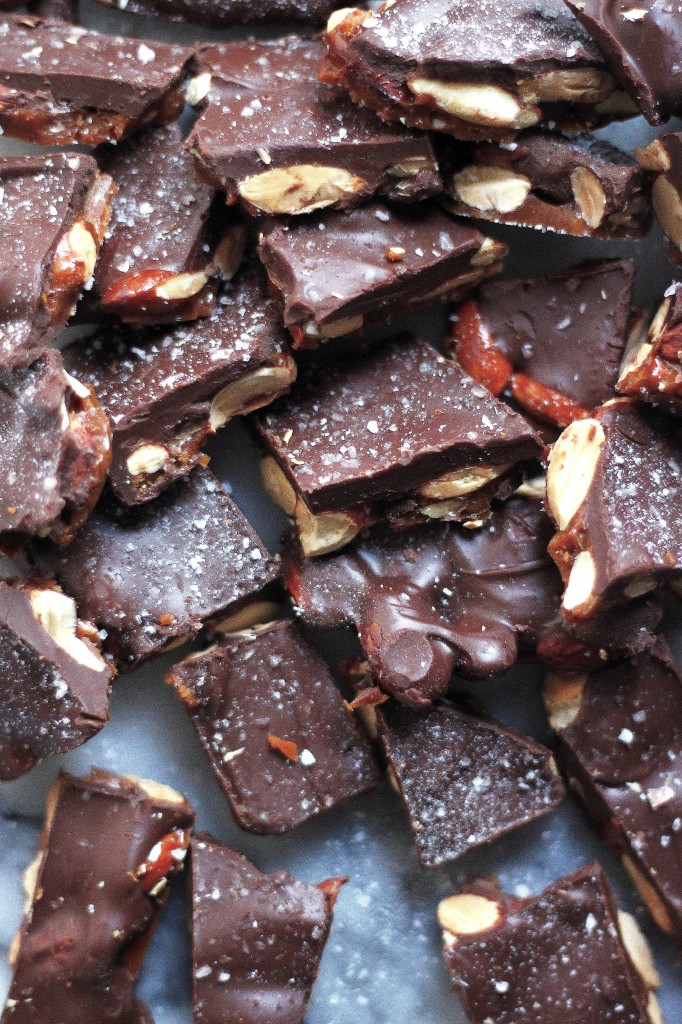 And in case you're like me and are still throwing together last minute gifts of the edible variety, this little bark project takes less than 45 minutes start to finish, and most of that time in non-active 😉
Caramelized Almond Chocolate Bark – Baker by Nature 
Ingredients:
1 1/4 cups whole, unsalted almond
1/2 cup brown sugar
1 tablespoon butter
1 tablespoon water
6 ounces semi-sweet chocolate, chips or bars cut into chunks will both work fine
1 tablespoon coconut oil or canola oil
1 teaspoon sea salt
Instructions: 
Melt butter in a large skillet over medium heat; add sugar, almonds and  water. Cook over medium heat, stirring constantly, 7-8 minutes or until sugar melts and nuts are golden brown. Watch closely to prevent burning!!! Remove from heat and quickly spread onto waxed paper; cool completely.
While the nuts are cooling, melt your chocolate! I usually do this right before I'm going to pour it over the nuts so it doesn't firm back up.
Place chocolate and oil in a small microwaveable bowl and microwave on low in 20 second intervals, stirring in between, until chocolate is completely melted; whisk smooth.
Pour chocolate over cooled nuts, spreading it evenly and smoothing the top as much as possible. Sprinkle with sea salt, then transfer to the refrigerator to cool for at least 30 minutes.
Once cooled, break (or chop with a sharp knife) into small pieces. Try not to eat it all yourself in one sitting… which is SO easy to do 🙂
Break clusters of nuts into pieces. Store in container with tight-fitting lid.