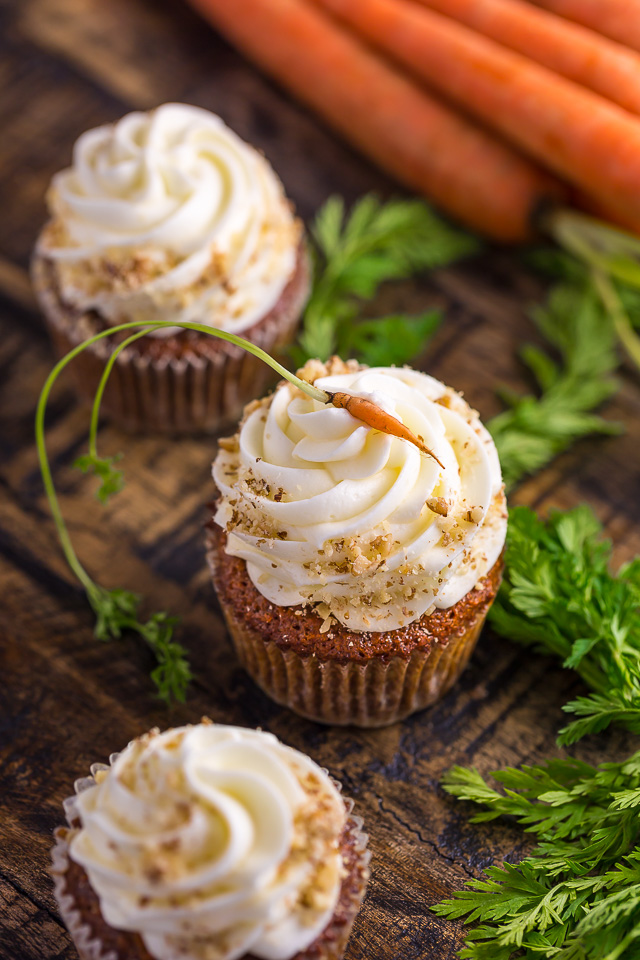 Chai Spiced Carrot Cake Cupcakes
Yield 2 dozen
Moist, fluffy, and flavorful Chai Spiced Carrot Cake Cupcakes topped with Cream Cheese Frosting!
Ingredients
For the Chai Spiced Carrot Cake Cupcakes:
1 cup coconut oil, melted (or canola oil/vegetable oil)
1/2 cup unsweetened applesauce
1 cup granulated sugar
1 cup light brown sugar, packed
3/4 teaspoon salt
4 large eggs, at room temperature
3 teaspoons ground cinnamon
1/2 teaspoon ground cardamom
1/2 teaspoon ground ginger
1/2 teaspoon ground all-spice
1/4 teaspoon ground cloves
1/8 teaspoon ground black pepper
2 cups all-purpose flour
2 teaspoons baking soda
3 cups carrots, finely grated 
For the Cream Cheese Frosting:
8 ounces cream cheese, VERY soft
4 ounces unsalted butter, VERY soft
1/4 teaspoon salt
3 and 1/2 cups confectioners' sugar, sifted
1/2 cup toasted pecans or walnuts, finely chopped (optional)
Instructions
For the Chai Spiced Carrot Cake Cupcakes:
Preheat oven to 350°(F). Line two standard muffin pans with paper liners; lightly spray the liners with non-stick baking spray and set aside until needed. 
In a large mixing bowl whisk together the oil, applesauce, both sugars, salt, eggs, and spices.
In a separate bowl, combine the flour with the baking soda; fold this mixture into the wet ingredients. 
Fold in the carrots and mix until just blended. Divide the batter into the prepared pans, filling each mold about 3/4 of the way full. 
Bake the cupcakes, one pan at a time, for 19 to 20 minutes, or until a toothpick inserted into the center of one of the middle cupcakes comes out clean. Cool cupcakes in the pan placed on a wire cooling rack for 10 minutes before removing them from the pan and placing them on the cooling rack to cool completely. Be sure you cool completely before frosting.
For the Cream Cheese Frosting:
In the bowl of a stand mixer fitted with the paddle attachment, or in a large bowl using an electric handheld mixer, beat the cream cheese, and butter on medium speed until completely smooth, about 2 minutes. Reduce the speed to low and gradually add the sifted confectioners' sugar and salt. Once all of the sugar has been absorbed, increase the speed to medium-high and beat for 1 to 2 minutes, or until smooth and very fluffy. Once the cupcakes have completely cooled, spread the frosting over the cupcakes, or use a piping bag to pipe it into decorative swirls. Top frosting with chopped nuts, if desired. Store cupcakes in the fridge, covered, for up to 3 days. I used this tip to pipe the frosting.
Courses Dessert
Cuisine Cupcakes
Recipe by Baker by Nature at https://bakerbynature.com/chai-spiced-carrot-cake-cupcakes/