Moist, fluffy, and insanely flavorful, these Chai Spiced Carrot Cake Cupcakes are so perfect for Spring celebrations!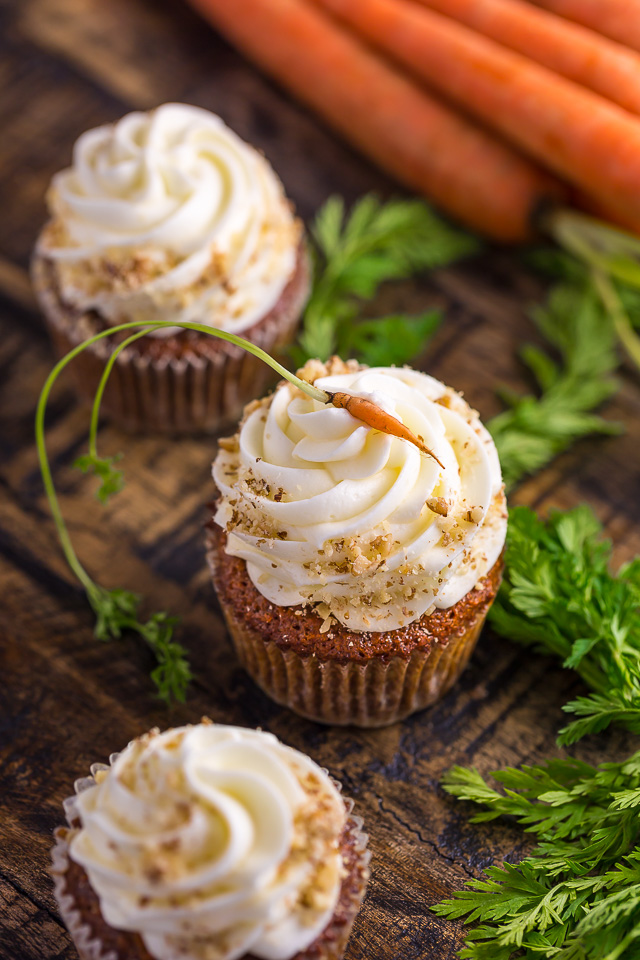 Hello, hello! I know things have been quiet around here, but I promise, I haven't forgotten about you! As you know I was in Paris for vacation, and when I came home, I decided that instead of jumping right back in, I would take some time to sit back and study. Study what? Well, where to begin! This past week was spent diving into photography lessons, video e-courses, cookbooks, business seminars, and more. My life mission is to consistently provide you with the very best content, and to do that, sometimes I have to work hard behind the scenes… does that make sense? I hope so! Because I've learned so much and I'm really excited to share some incredible things with you very soon!!!
But with Easter less than a week away, I couldn't resist popping in today to share some carrot cake with you!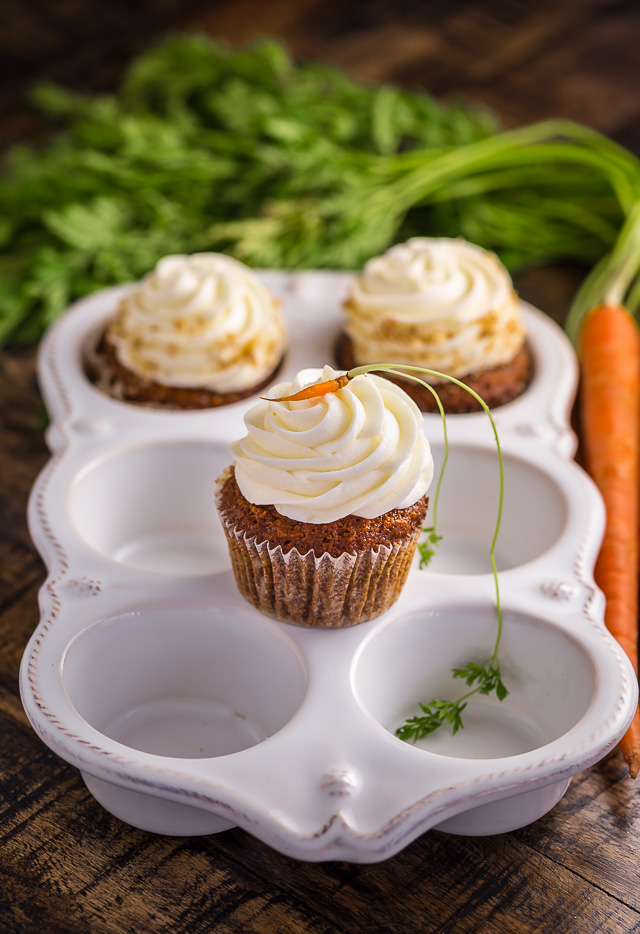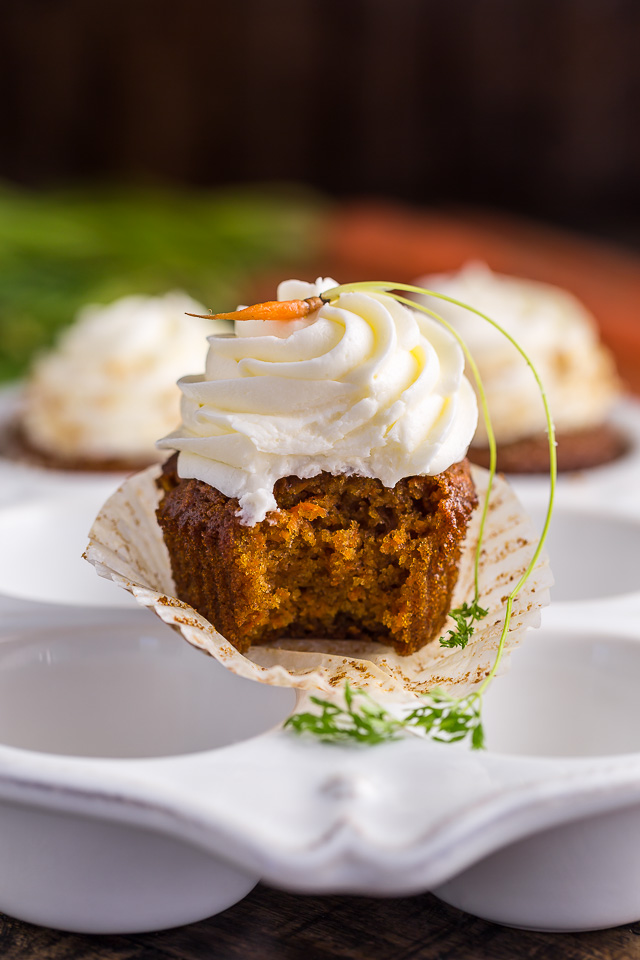 Carrot cake is nothing new here on the blog. In the past we've made carrot cake blondies, my favorite carrot cake, and even PUMPKIN carrot cake. But what's missing from that list? Cupcakes, of course! So today we're going to remedy that with these luscious Chai Spiced Carrot Cake Cupcakes. I'm absolutely thrilled with the way these orange hued beauties turned out! Classic carrot cake is one of my all-time favorite flavors, so I was a little nervous that adding rich Chai spices might overwhelm or take away… but it does the complete opposite! The rich spices actually accentuate the natural carrot flavor! And the silky cream cheese frosting is the perfect accompaniment to the rich, slightly spicy, carrot cake flavor.
One bite will have ya hooked ↓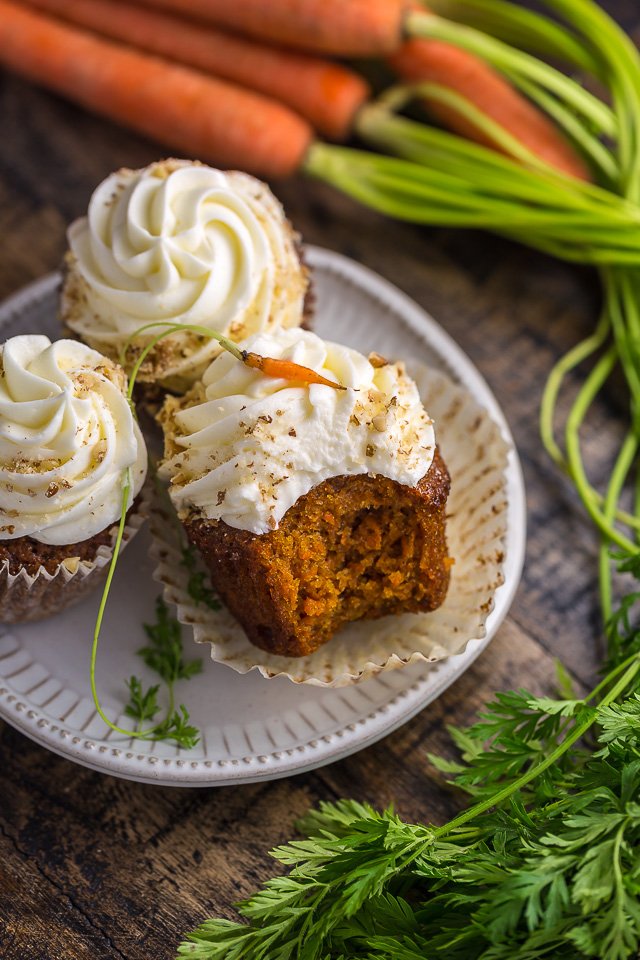 Tips and Tricks for Recipe Success:
You will need 3 cups of finely grated carrots for this recipe! And I find the best way to grate the carrots is by using the smaller grates on a box grater.
Because I prefer a smooth cupcake texture, I don't add nuts or raisins to this recipe. If you'd like, you may add up to a 1/2 cup of each. For the best flavor, be sure to lightly toast the nuts.
My Chai spice blend is made up of cardamom, allspice, cinnamon, cloves, ginger, and just a tiny pinch of black pepper. If you bake often, you probably already have these guys hiding in your pantry!
Use 100% natural unsweetened applesauce. This ingredient is called for to add moisture, not sweetness, and this recipe already has plenty of added sugar.
I used melted coconut oil in this recipe, but you may use an equal amount of vegetable oil or canola oil in its place. I do not recommend substituting oil with melted butter.
For best results, bring your eggs to room temperature before you begin baking.
Weigh, or spoon and level, your flour. Don't pack it into the measuring cup! Packed flour will yield a dense and dry cake.
Finally, be sure to bake long enough! Because every oven runs differently, you'll want to start checking them around 19 minutes, and remove them from the oven when a toothpick inserted in the center comes out clean.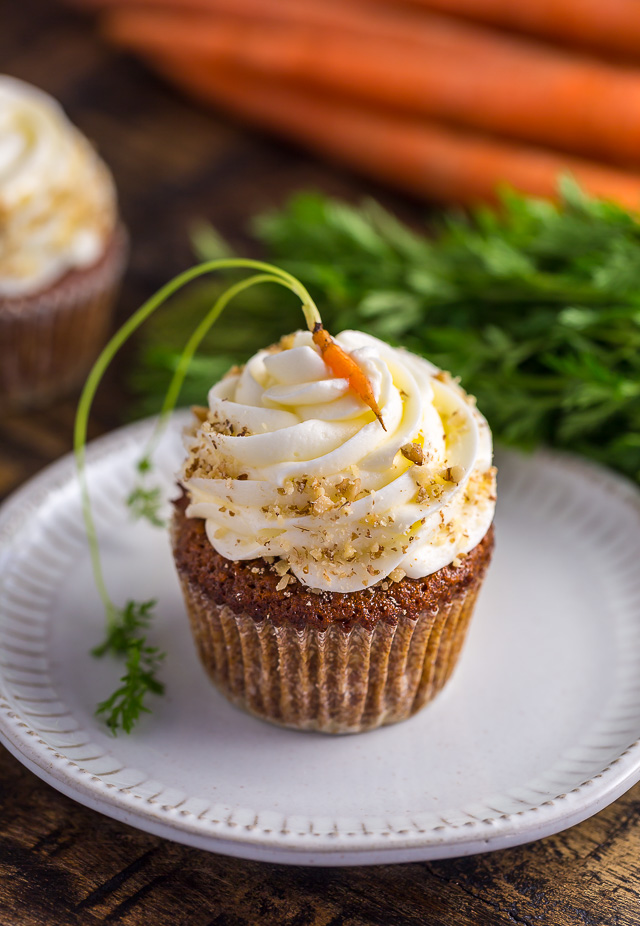 So… are you baking these for Easter, or what?!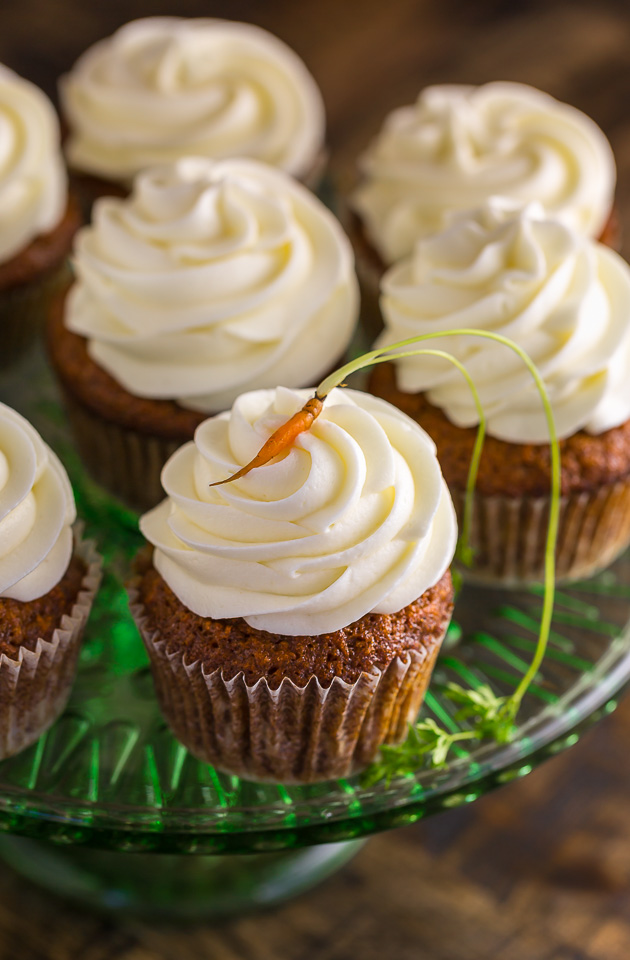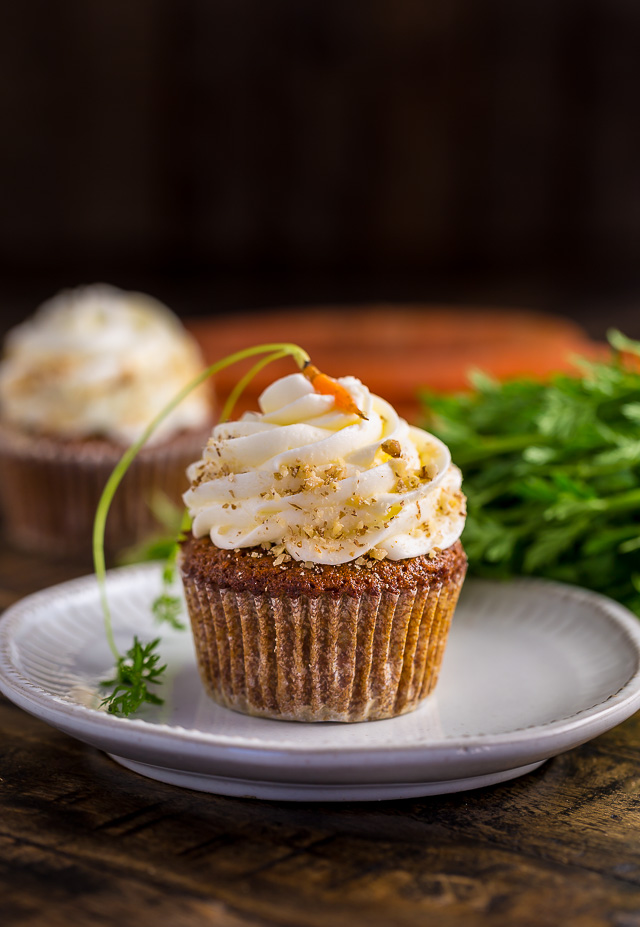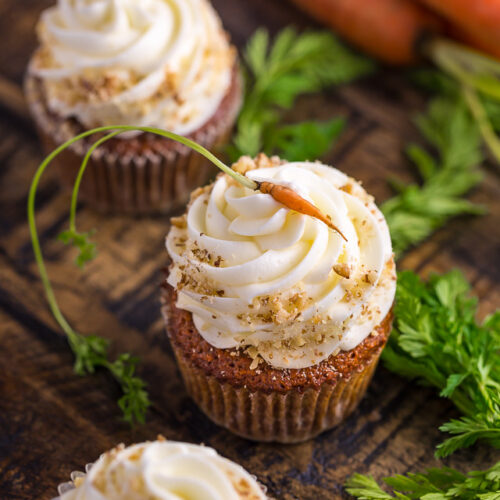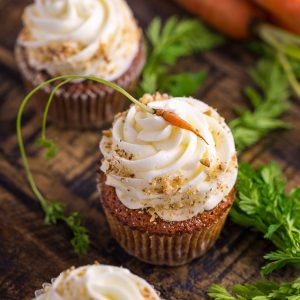 Chai Spiced Carrot Cake Cupcakes
Moist, fluffy, and flavorful Chai Spiced Carrot Cake Cupcakes topped with Cream Cheese Frosting!
Ingredients
For the Chai Spiced Carrot Cake Cupcakes:
1 cup coconut oil, melted (or canola oil/vegetable oil)
1/2 cup unsweetened applesauce
1 cup granulated sugar
1 cup light brown sugar, packed
3/4 teaspoon salt
4 large eggs, at room temperature
3 teaspoons ground cinnamon
1/2 teaspoon ground cardamom
1/2 teaspoon ground ginger
1/2 teaspoon ground all-spice
1/4 teaspoon ground cloves
1/8 teaspoon ground black pepper
2 cups all-purpose flour
2 teaspoons baking soda
3 cups carrots, finely grated
For the Cream Cheese Frosting:
8 ounces cream cheese, VERY soft
4 ounces unsalted butter, VERY soft
1/4 teaspoon salt
3 and 1/2 cups confectioners' sugar, sifted
1/2 cup toasted pecans or walnuts, finely chopped (optional)
Instructions
For the Chai Spiced Carrot Cake Cupcakes:
Preheat oven to 350°(F). Line two standard muffin pans with paper liners; lightly spray the liners with non-stick baking spray and set aside until needed. 

In a large mixing bowl whisk together the oil, applesauce, both sugars, salt, eggs, and spices.

In a separate bowl, combine the flour with the baking soda; fold this mixture into the wet ingredients. 

Fold in the carrots and mix until just blended. Divide the batter into the prepared pans, filling each mold about 3/4 of the way full. 

Bake the cupcakes, one pan at a time, for 19 to 20 minutes, or until a toothpick inserted into the center of one of the middle cupcakes comes out clean. Cool cupcakes in the pan placed on a wire cooling rack for 10 minutes before removing them from the pan and placing them on the cooling rack to cool completely. Be sure you cool completely before frosting.
For the Cream Cheese Frosting:
In the bowl of a stand mixer fitted with the paddle attachment, or in a large bowl using an electric handheld mixer, beat the cream cheese, and butter on medium speed until completely smooth, about 2 minutes. Reduce the speed to low and gradually add the sifted confectioners' sugar and salt. Once all of the sugar has been absorbed, increase the speed to medium-high and beat for 1 to 2 minutes, or until smooth and very fluffy. Once the cupcakes have completely cooled, spread the frosting over the cupcakes, or use a piping bag to pipe it into decorative swirls. Top frosting with chopped nuts, if desired. Store cupcakes in the fridge, covered, for up to 3 days. I used this

tip

to pipe the frosting.