If you've ever had a slice of babka – good babka, that is – you already know the luscious loaf doesn't need a lick of help being a total dessert-bread bad ass. It's one of my all-time favorite things to bake for friends (and let's be real, for myself), and over the weekend I went crazy recreating a bacon/butterscotch version that blew my mind.
Bacon // Chocolate // Butterscotch lovers, beware! You're about to fall in love!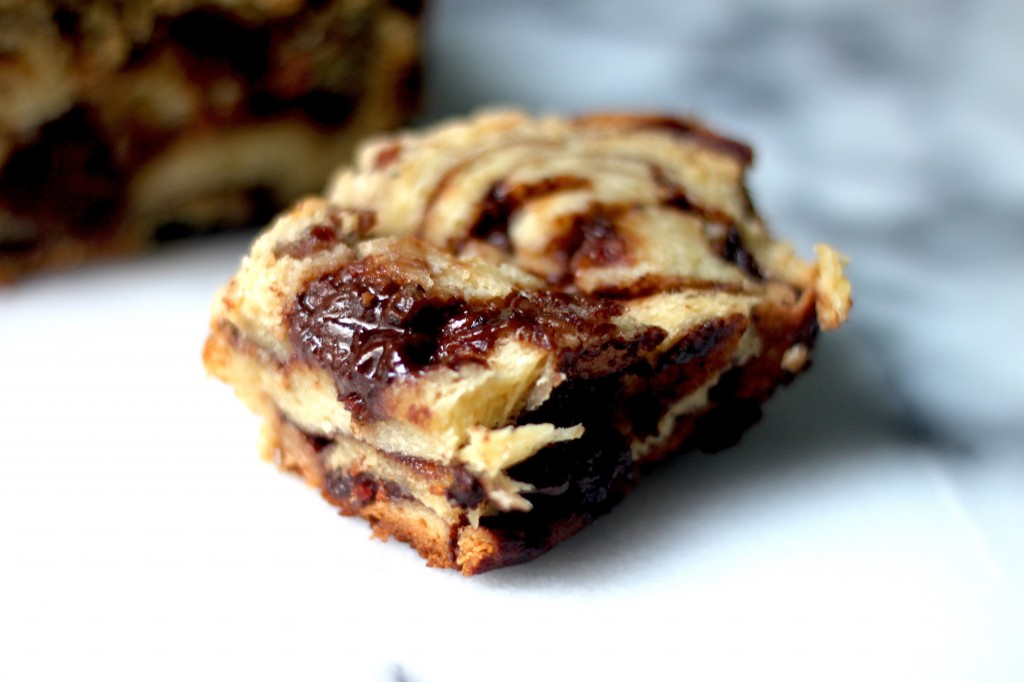 This recipe yields two big-fat-dangerously-desirable loaves of babka. Each one is swirled with a gorgeous chocolate/butterscotch paste, studded with crispy bacon bits, and then sprinkled with a bacon/cinnamon crumble. They are, like the most impressive thing to come out of my loaf pans in some time. And they smell so good baking you'll want to cry… just a little.
I was introduced to the babka by Seinfeld, encouraged by Deb (and my boyfriend), and if you guys haven't tried baking your own, I really must suggest – at the top of my lungs – that you take this journey as soon as humanly possible.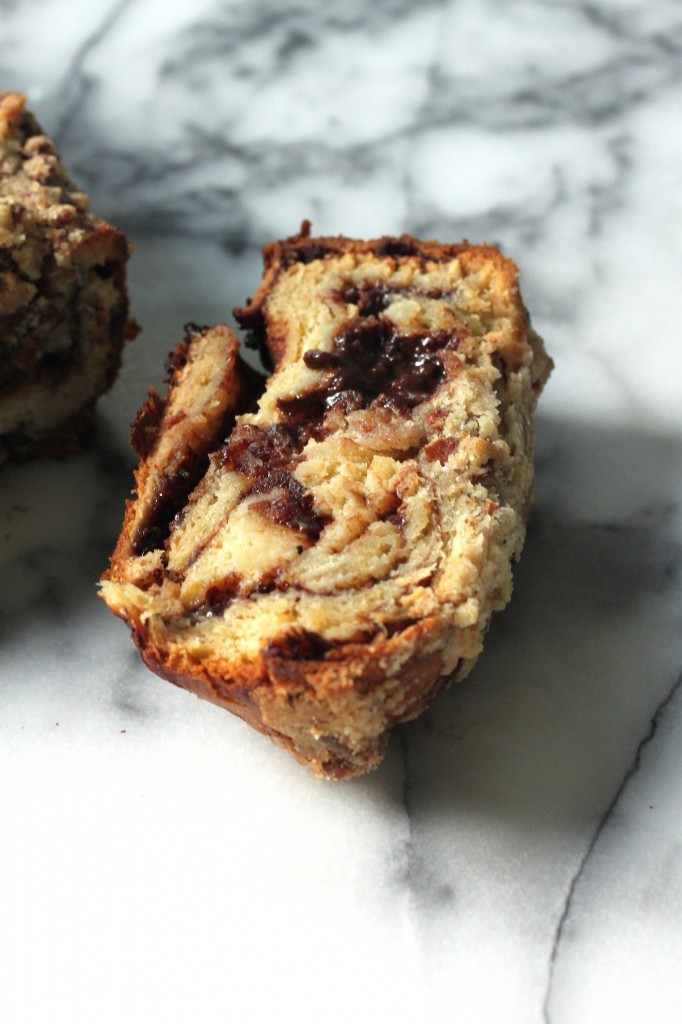 Say yes to sweet yeast cake! It's the loaf that loves you back.
Chocolate Bacon Butterscotch Babka – Baker by Nature
Makes 2 sexy loaves
Ingredients
12 strips of bacon, cooked until crispy then crumbled 
For the babka dough:
1/2 cup heavy cream
1 cup warm water
3/4 cup sugar
2 eggs
2 egg yolks
2 (1/4 ounce each) packages active dry yeast
1 teaspoon vanilla
2 tablespoons maple syrup
1 teaspoon kosher salt
2 cups bread flour
4 cups all-purpose
12 ounces unsalted butter, at room temperature
For the chocolate/butterscotch paste:
1 cup semi-sweet chocolate chips
1 cup butterscotch chips
2 teaspoons cinnamon
1/4 cup still warm bacon fat
4 ounces unsalted butter, melted
1 cup confectioners sugar
Crumble Topping
Ingredients
5 tablespoons unsalted butter
3/4 cup sugar
3/4 cup flour
1 tablespoon bacon fat
4 strips crumbled bacon
Instructions:
Fry bacon until crisp. Reserve all of the grease, and transfer the cooked bacon to a plate to cool before crumbling. Pour warm cream and water into a bowl, sprinkle yeast and pinch of sugar over, and let stand until foamy, about 5 minutes.
In a bowl, whisk together 3/4 cup sugar, 2 eggs, egg yolks, and maple syrup. Add egg mixture to yeast mixture, and whisk to combine.
In the bowl of an electric mixer fitted with the paddle attachment, combine flours and salt. Add egg mixture, and beat on low speed until almost all the flour is incorporated, about 30 seconds. Change to the dough hook. A little bit at a time, add the butter, and beat until flour mixture and butter are completely incorporated, about 10 minutes. Your dough should be smooth and shiny.
Butter a large bowl. Place dough in bowl, knead it gently a few time in the bowl, then cover tightly with plastic wrap. Set aside in a warm place to rise until doubled, about 90 minutes.
While your dough is rising, make your chocolate paste and bacon crumble! For the paste – Place chocolate, butterscotch chips, cinnamon, bacon fat, butter, and confectioners sugar in a small saucepan over medium heat and warm until chocolate and butterscotch chips are completely melted; mix melted ingredients until fully combined. For the crumble – In a small bowl mix together the flour, sugar, and bacon. Drizzle melted butter and bacon fat over top, and gently combine with fingers until a crumble forms; don't over mix!
Generously butter two large loaf pans and line them with parchment paper. Punch back the resting risen dough, and transfer to a clean surface. Let rest for 5 more minutes, then cut into 2 equal pieces. On a generously floured surface, roll dough out into a rough 16-inch square x 12 square.
Brush edges with a small amount of warm water, then spread 1/2 of the chocolate/ butterscotch paste onto the dough, leaving a 1/4-inch border. Roll the dough up tightly like a jelly roll, pinch the ends together to seal, and fold in half. Twist 5 or 6 turns. Carefully crumble 1/2 of the bacon crumble on top of the roll, being careful not to let mixture slide off. Repeat for second loaf.
Heat oven to 375 degrees. Brush the top of each loaf with a bit of cream. Loosely cover each pan with plastic wrap, and let stand in a warm place for 1 hour.
Bake loaves until set and lightly golden, about 60 minutes. Lower oven temperature to 325 degrees and bake until babkas 15 to 20 minutes more. Remove from oven, and transfer to wire wracks until cool. Remove from pans and serve.