Even cake haters (yes, they exist) love this super buttery chocolate chip bundt cake! Loaded with mini chocolate chips and topped with a rich chocolate glaze, it's perfect for dessert or as an afternoon snack.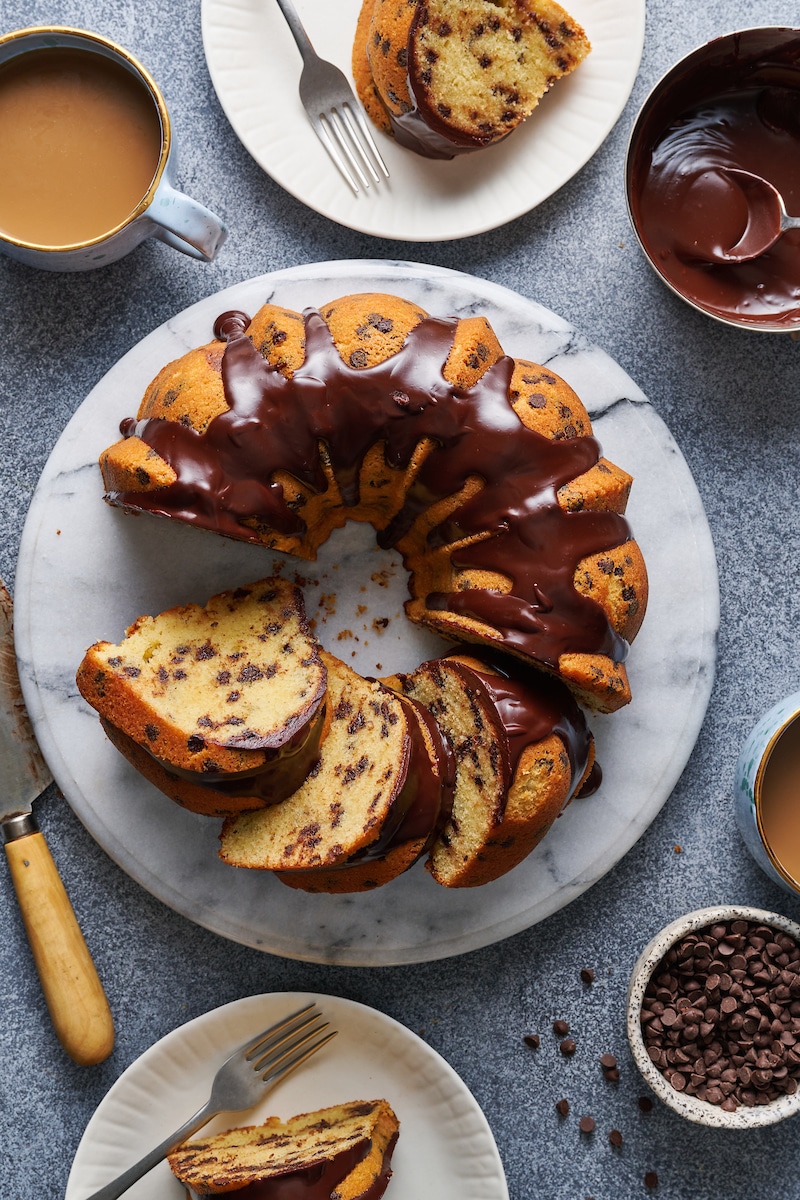 Chocolate Chip Bundt Cake Recipe
Of all of my favorite baking pans, it's the humble bundt cake pan that's my MVP!
I bake more bundt cakes than layer cakes because they're just SO easy. Simply scrape the cake batter into the pan, bake the cake, and decorate with a frosting or glaze. No fussy layering or processional cake baking skills required!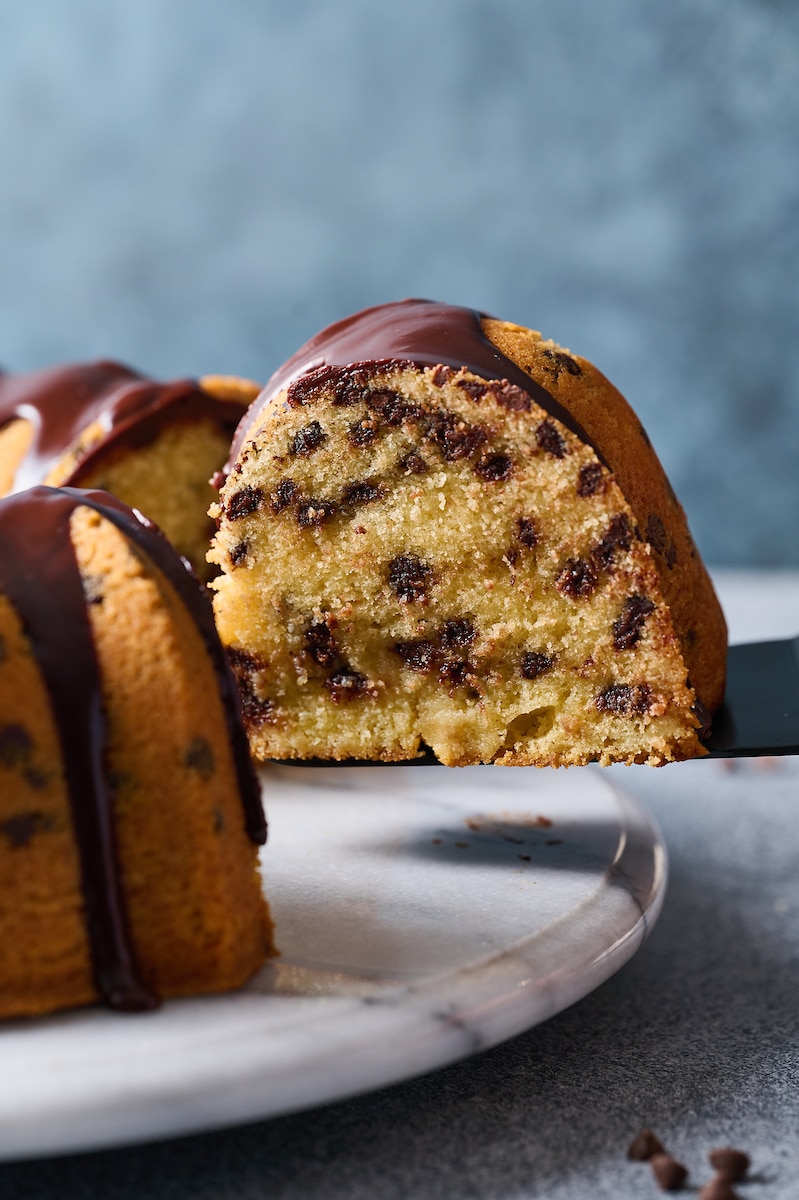 And today's new recipe for chocolate chip bundt cake is SURE to be in heavy rotation year-round. Ultra buttery and dense (like pound cake) this bundt is exploding with mini chocolate chips and plenty of vanilla extract for extra flavor! Let's get baking!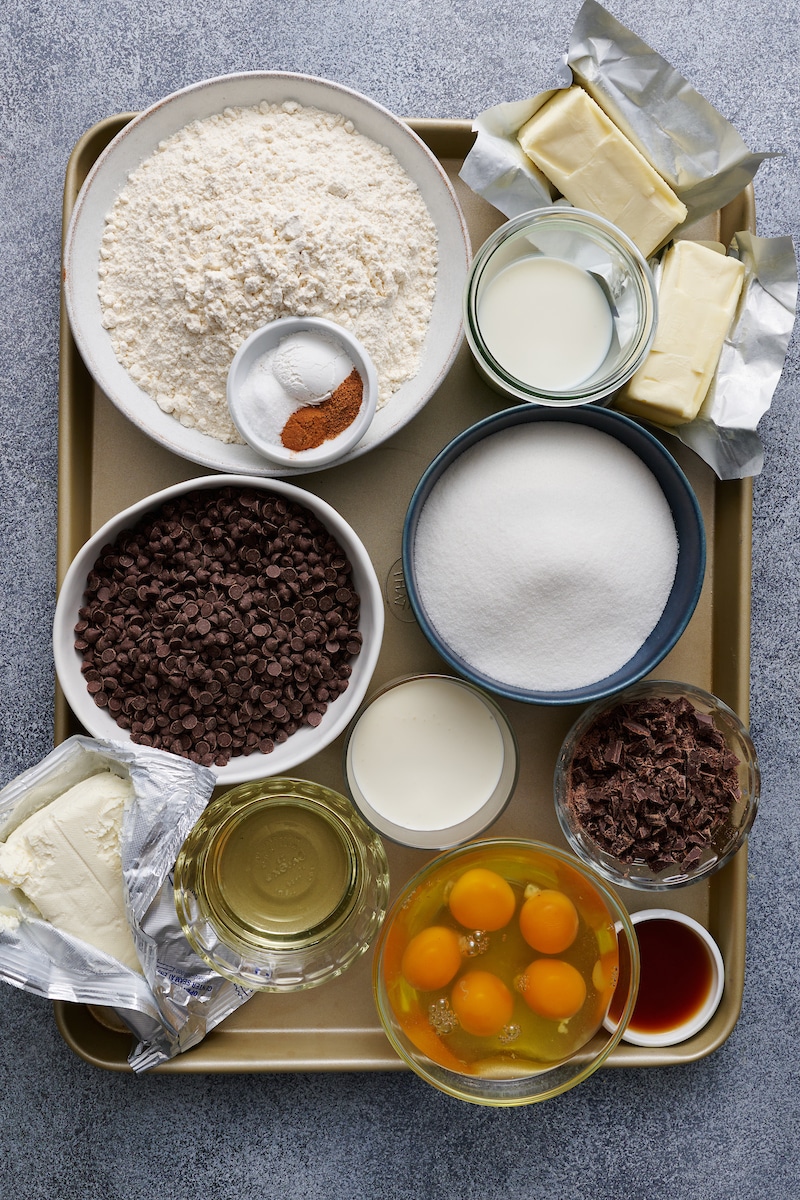 Chocolate Chip Bundt Ingredients
All-purpose Flour: for best results, this is the only flour I can recommend using. Nut or oat flours will NOT work here.
Baking Powder: Be sure your baking powder is fresh and DO NOT substitute baking soda instead.
Salt: A small amount of salt is essential to balance sweetness and enhance flavors.
Cinnamon: Adds a subtle spice without overwhelming. And really compliments the chocolate.
Nutmeg: Ditto to what I said above. Ground nutmeg works great, but if you have fresh nutmeg, feel free to use it. Just don't use more than the amount called for.
Butter: Unsalted butter works best here, and be sure to bring it to room temperature before adding it to the batter.
Cream Cheese: Brick-style cream cheese works best for this recipe. Make sure to use full-fat and bring it to room temperature before use.
Sugar: Granulated sugar sweetens our cake. Brown sugar should not be substituted; it will add extra moisture which could cause stability issues and darken the overall color of the cake.
Vanilla Extract: Always use real vanilla extract, not imitation or essence. I know vanilla is expensive but real is always worth it. Buy a big bottle like this (affiliate link) to save $ in the long run!
Almond Extract: I'm a big fan of the subtle flavor almond extract adds, but you may omit this ingredient if desired.
Eggs: Be sure to use large eggs and bring them to room temperature before use. You'll want to add the eggs one at a time to achieve the proper batter consistency.
Sour Cream: If you can't find sour cream, sub full-fat Greek yogurt or milk.
Oil: Canola oil, vegetable oil, or refined coconut oil all work here. If using coconut oil, be sure to warm it until it's liquified and let it cool slightly.
Chocolate Chips: I love these mini chocolate chips, but regular sized chocolate chips will also work. The pockets of chocolate will just be slightly larger (never a bad thing) and more chocolate chips might accumulate near the bottom of the cake since they're heavier than minis.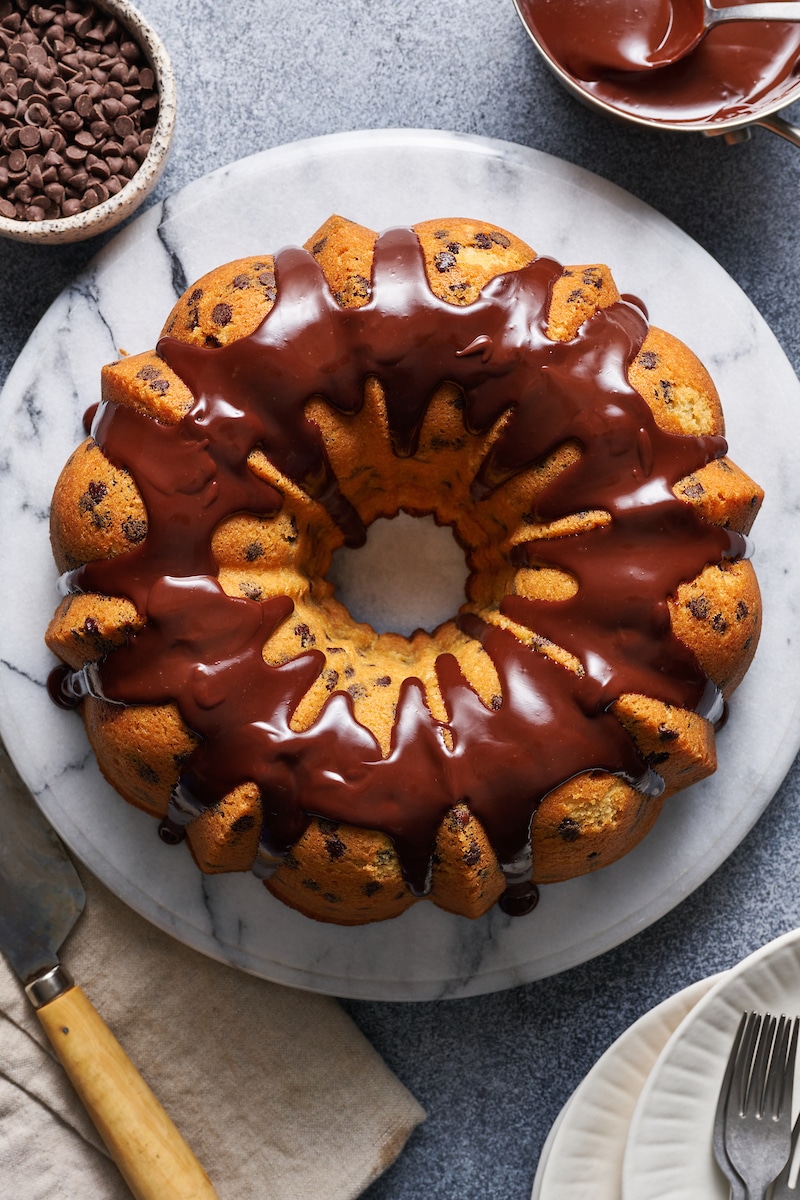 Make that Shiny Glaze
To make the gorgeously shiny chocolate glaze you see in these photographs, you'll need:
Bittersweet chocolate: Very finely chopped works best because it'll melt fast and evenly. Do not use chocolate chips.
Heavy Cream: AKA whipping cream! Do not sub milk or even half and half.
Light Corn Syrup: This ingredient is totally optional but will give your chocolate glaze a gorgeous shine. If you'd rather not use it, that's fine. Your glaze will still be delicious!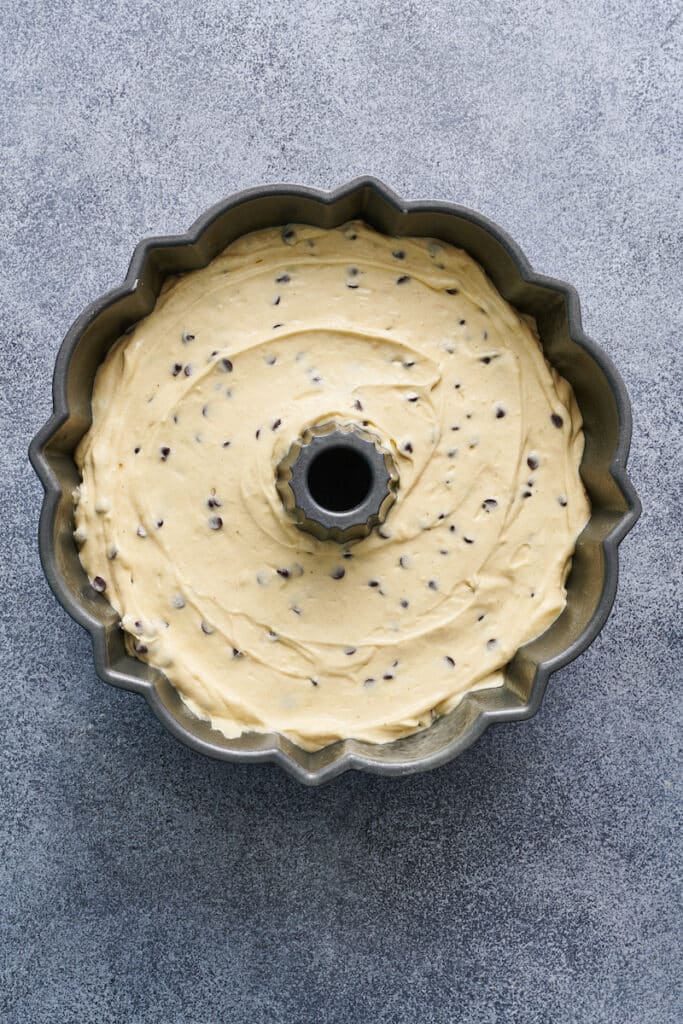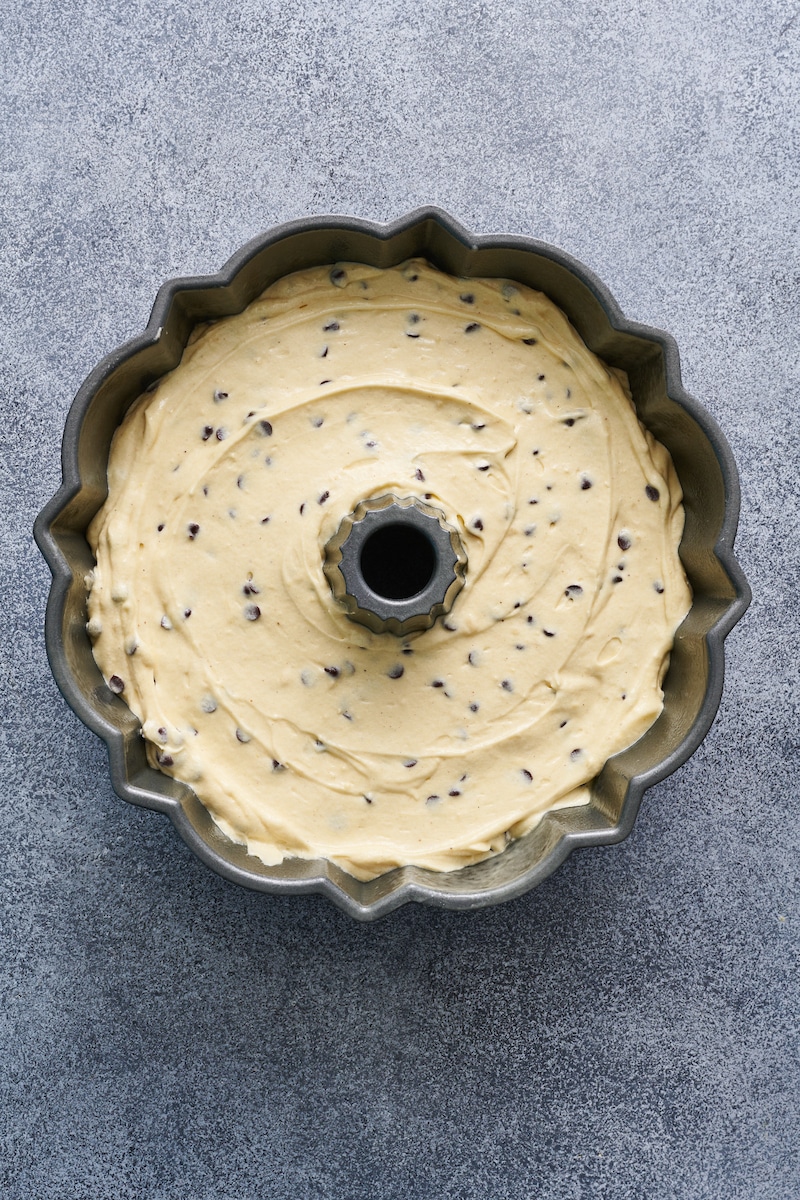 Bundt Cake Pan Basics
Yes, you definitely need a Bundt Cake pan for this recipe. I don't suggest using this recipe for cupcakes, layer cakes, or sheet cakes.
The best and easiest way to prep a Bundt Cake pan is to GENEROUSLY spray it with a nonstick baking spray. My two favorites? Baker's Joy and PAM Baking Spray. Be sure to spray every nook and cranny!
To check doneness, you'll use the toothpick method. If a toothpick inserted in the center of the bundt cake comes out clean, it's ready to go!
Once the cake is done baking, you'll want to cool it in the pan on top of a cooling rack for 15 minutes. Then invert the cake onto a separate cooling rack to cool completely to room temperature.
If you flip at 15 minutes and the Bundt Cake doesn't easily release from the pan, flip it back over and let it cool for another 5 minutes, then try again.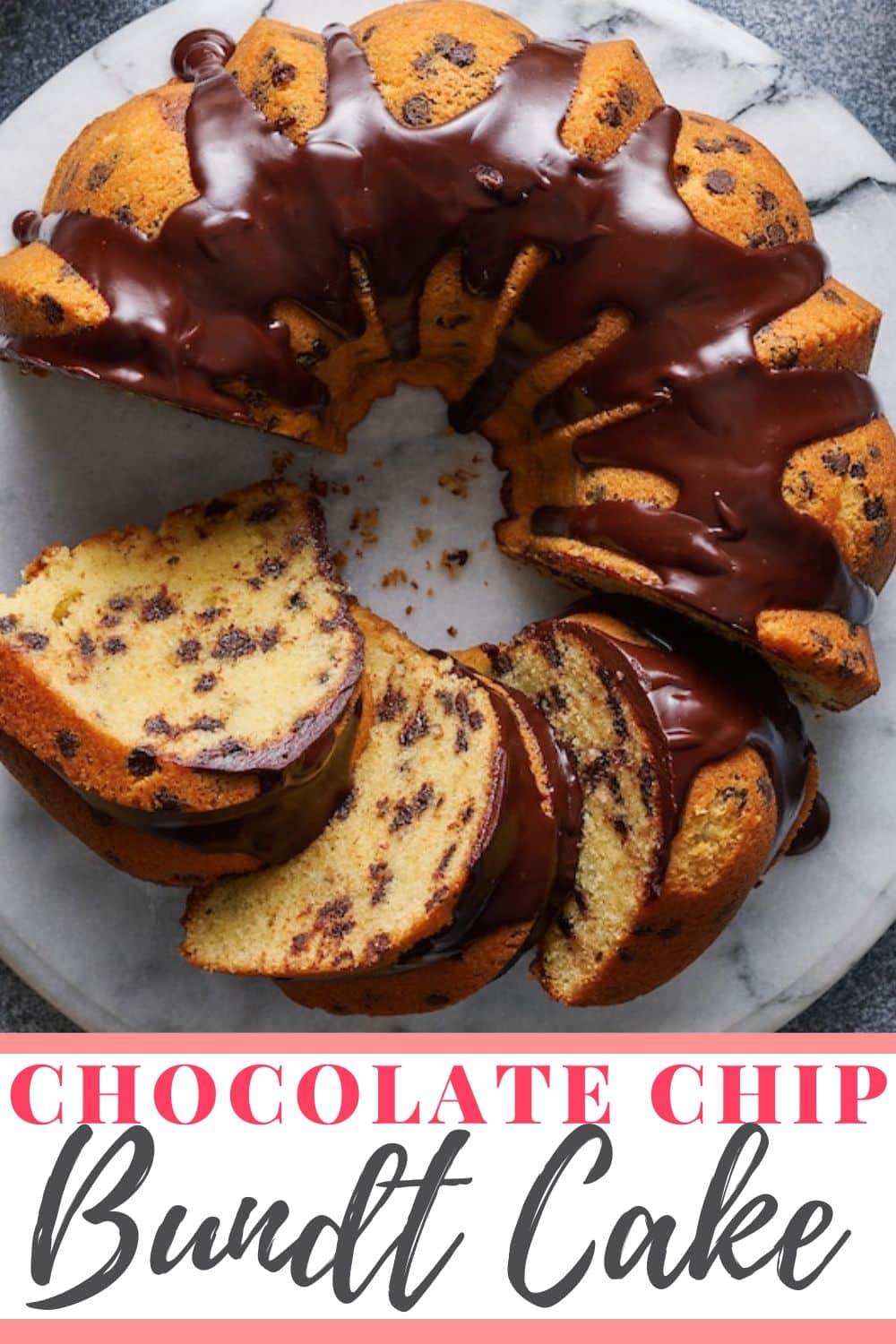 Freezing a Bundt Cake
I've had great success freezing this cake! Here's what you should do:
Bake the cake as directed.
Cool completely.
Wrap the entire cake in plastic wrap.
Then wrap the cake is serval layers of aluminum foil.
Place on a flat, safe surface in your freezer.
Freeze for up to 2 months!
Thaw, wrapped, in the refrigerator, for at least 8 hours before you plan on serving.
I personally recommend freezing this cake unglazed, then adding the glaze right before you plan on serving.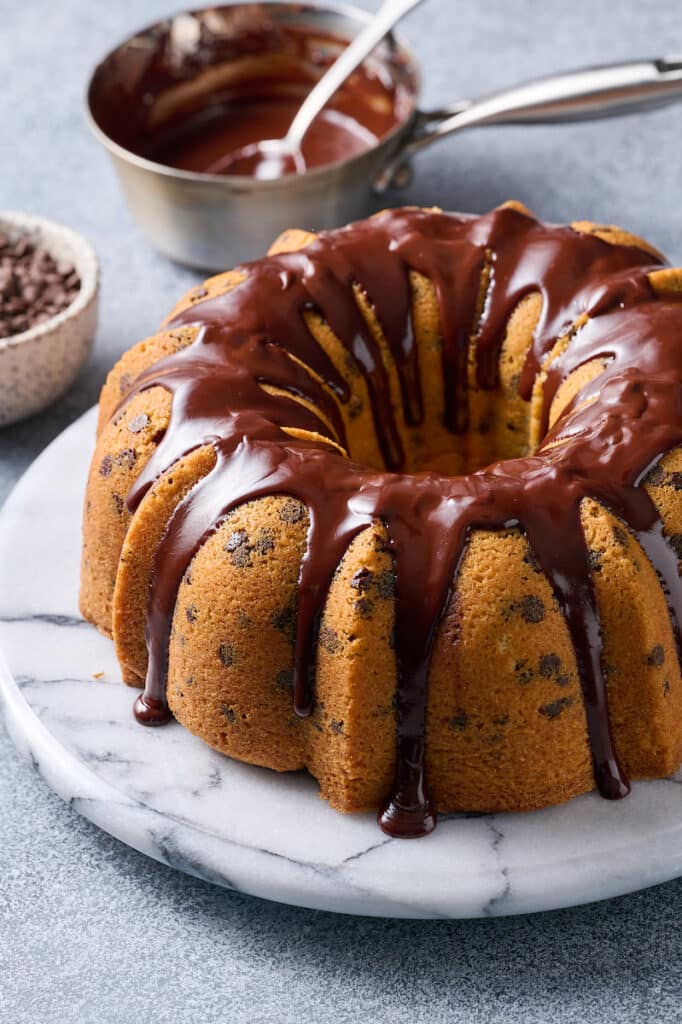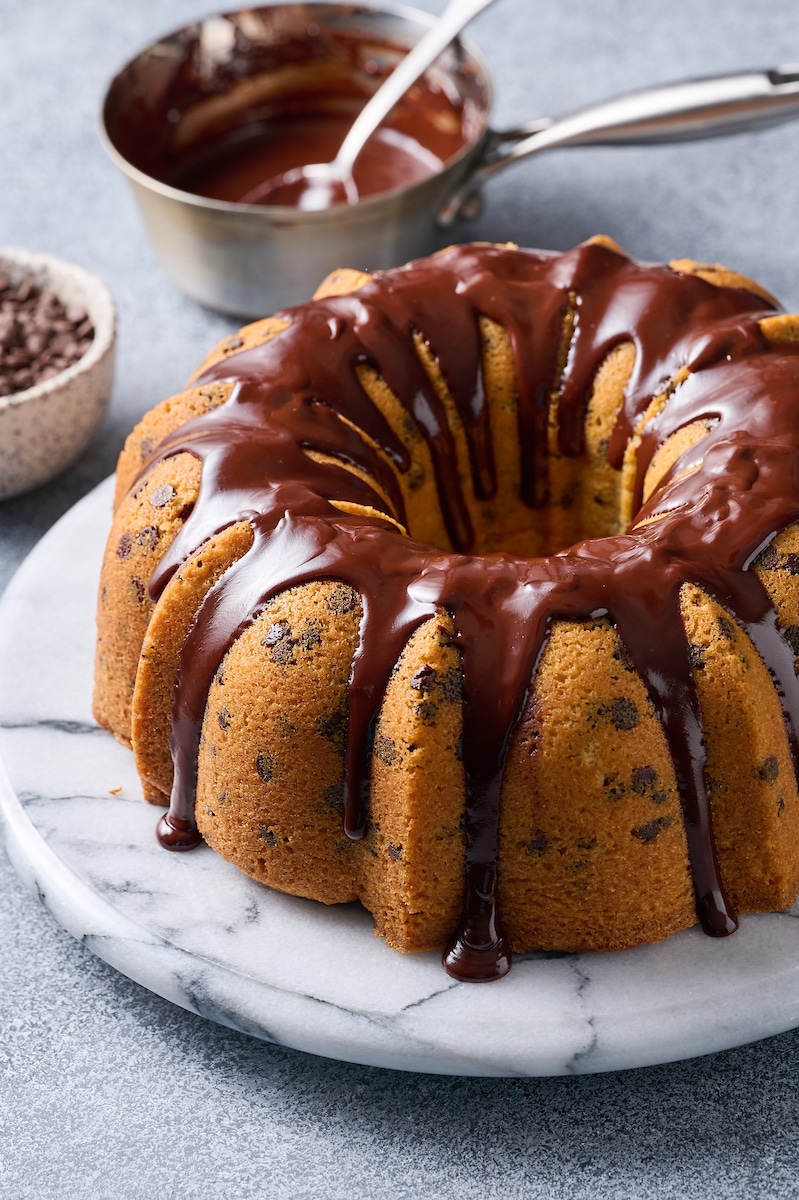 More Bundt Cake Recipes: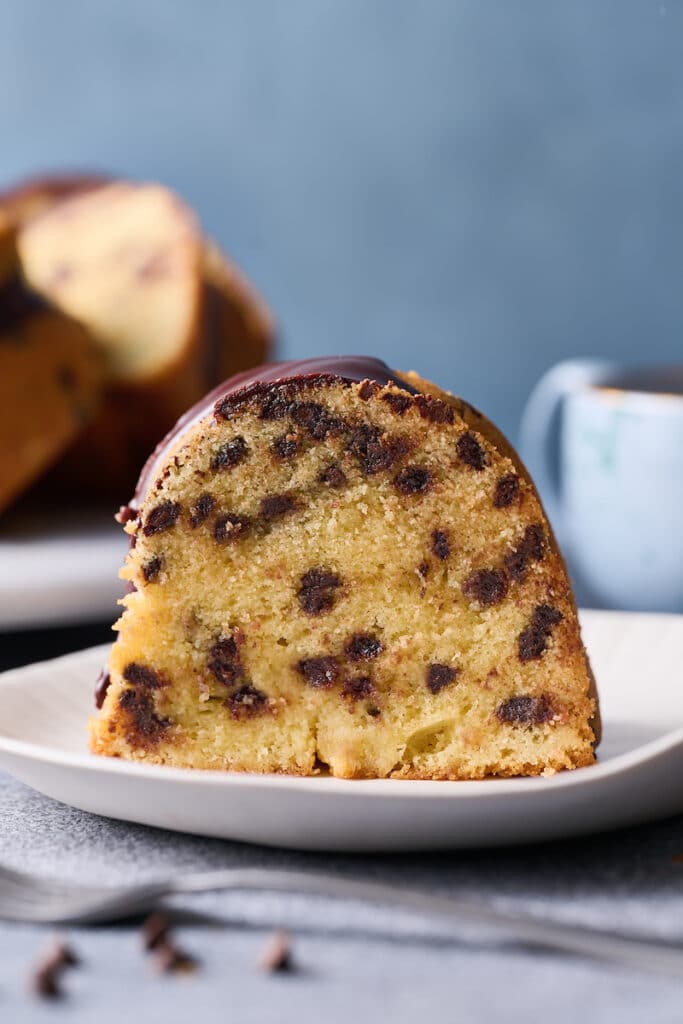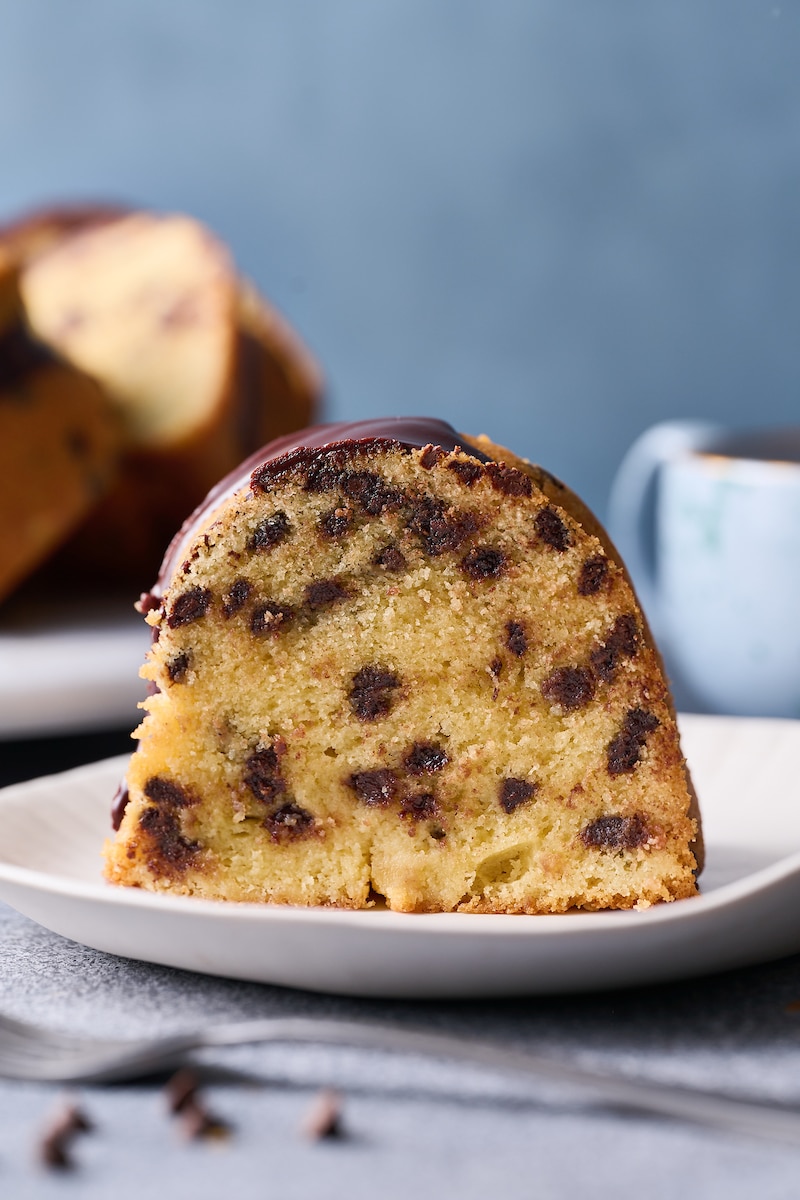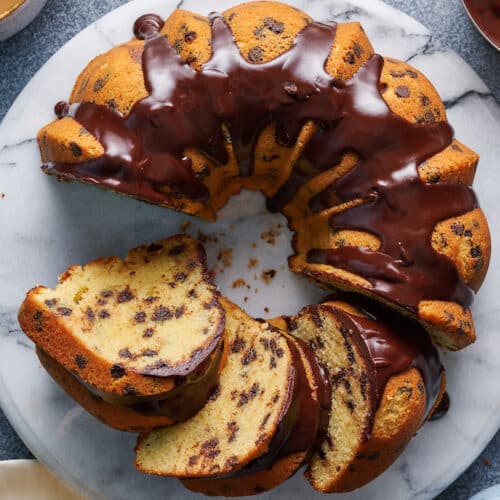 Chocolate Chip Bundt Cake
Even cake haters (yes, they exist) love this super buttery chocolate chip bundt cake! Loaded with mini chocolate chips and topped with a rich chocolate glaze, it's perfect for dessert or as an afternoon snack.
Ingredients
For the Chocolate Chip Bundt Cake:
3 cups (360g) all-purpose flour
2 teaspoons baking powder
1/2 teaspoon salt
1/2 teaspoon ground cinnamon
1/4 teaspoon ground nutmeg
1 cup (227g) unsalted butter room temperature
1 8 ounce brick (227g) cream cheese room temperature
2 cups (398g) granulated sugar
1 Tablespoon (14ml) vanilla extract
1/2 teaspoon almond extract optional
5 large eggs room temperature
1/3 cup (76g) sour cream room temperature
1/3 cup (76ml) neutral oil such as canola, vegetable, or liquified refined coconut oil
1 and 1/2 cups (8 ounces) mini chocolate chips
For the Chocolate Glaze:
4 ounces (113g) bittersweet chocolate finely chopped
1/2 cup (113ml) heavy cream
1 and 1/2 teaspoons corn syrup optional
Instructions
For the Chocolate Chip Bundt Cake:
Preheat the oven to 325°F. 

In a medium bowl, whisk the flour, baking powder, salt, cinnamon, and nutmeg together until well combined. Set aside until needed. 

In the bowl of a stand mixer fitted with the paddle attachment, or in a large bowl using a handheld electric mixer, beat the butter and cream cheese on medium speed until smooth and creamy, about 1 minute. 

Gradually add in the sugar, then increase the speed to medium-high and continue beating until light and fluffy, about 3 minutes. Beat in the vanilla and almond extracts.

Reduce the speed to medium-low, then add in the eggs, one at a time, beating well after each addition, and scraping down the sides of the bowl as needed. Beat in the sour cream and oil. 

Reduce the speed to low and add in the flour mixture, mixing just until combined. Finally, fold in the chocolate chips. 

Generously grease a 10-inch (12-cup) bundt pan, being sure to coat all of the nooks and crannies. I suggest using a non-stick baking spray that has flour in it. Scrape the batter into the prepared pan. 

Bake for 55 to 60 minutes, or until the cake is golden brown AND a toothpick inserted into the center of the cake comes out clean.

Allow the cake to cool in the pan, set on a wire rack, for 10 to 15 minutes. Then invert the cake onto the rack and cool completely, about 2 to 2 and ½ hours
For the Chocolate Glaze:
Finely chop the chocolate and place it in a small heatproof bowl. Set aside. 

Warm the cream over medium heat until it comes to a boil. Remove from heat and pour the hot cream over the chopped chocolate and let it sit for 1 minute, then whisk until smooth. Whisk in the corn syrup (if using). 

Slowly spoon the glaze over the cake, letting it drip down the sides. Allow the glaze to set for at least 20 minutes before slicing and serving!