An easy recipe for Chocolate Chip Zucchini Bread and Muffins! And don't worry, they don't taste one bit vegan!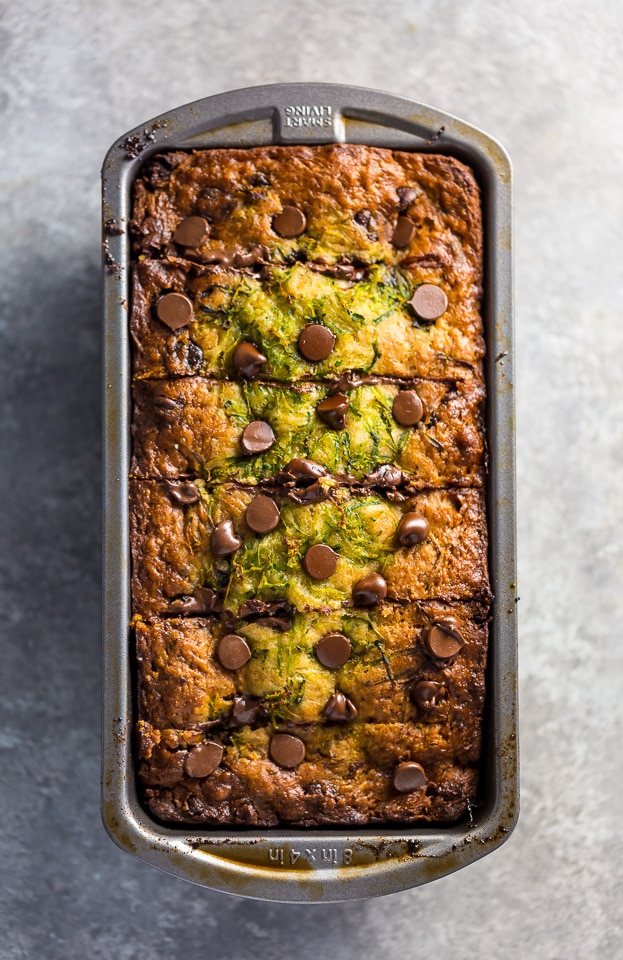 Zucchini Bread
Between moving, setting up the new apartment, and writing the book, I haven't been baking as much as I'd like. But with Summer quickly coming to an end, I decided to drop everything yesterday and simply bake the day away. Because sometimes we all need a marathon baking session, ya know? It's like therapy… just much, much cheaper.
So, just in case you're wondering, here's what I baked: blueberry pie, sweet cherry rolls, and chocolate chip zucchini bread and muffins. Oh, and I also whipped some homemade salted caramel sauce, but more on that tomorrow. For now, let's focus on today's recipe: chocolate chip zucchini bread and muffins! Yes – you can make both with the same batter! Because who doesn't love options?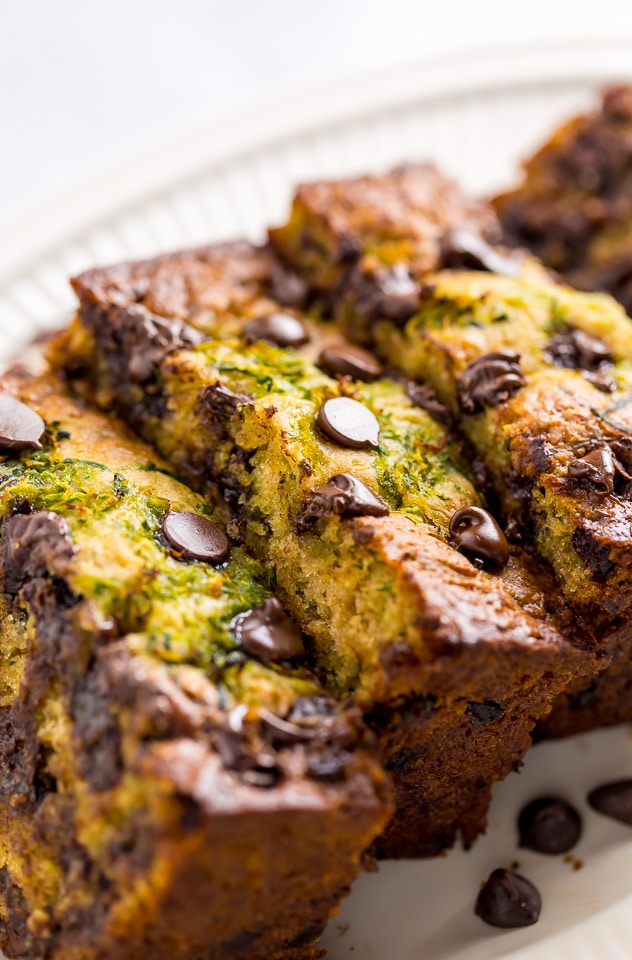 How to Make Vegan Zucchini Bread
So let's quickly address the elephant in the room. Yes, this recipe is vegan. No, you cannot tell! At all. I promise! It's sweet, moist, and so delicious.
I wanted to give you options, so this recipe can make two loaves of bread, two dozen muffins, or one loaf of bread and one dozen muffins.
If you're not living a strict vegan lifestyle, feel free to use regular chocolate chips – or even chocolate chunks – in this recipe. But if you are vegan, you'll want to double check your chocolate chips don't contain any dairy. I love the "enjoy life" brand which carries mini chocolate chips, dark chocolate chips, and even chocolate chunks.
There's no need to drain your zucchini. Just grate it and add it to the batter. We want that moisture! Also, I suggest grating it on the fine side of a box grater so that it dissolves evenly into the cake.
Because there is often confusion with measuring coconut oil, I'd like to clarify exactly how I measure it. First, I scoop the solidified coconut oil into a measuring cup, then I melt it and use it in the recipe. If you live in a warmer climate, your coconut oil may already be liquefied. Which is fine! In that case just measure the called for amount in a liquid measuring cup and use it when called for.
Finally, don't open your oven while the bread and muffins bake. I found during recipe testing that opening the oven for even a few seconds caused the cake to sink in the middle.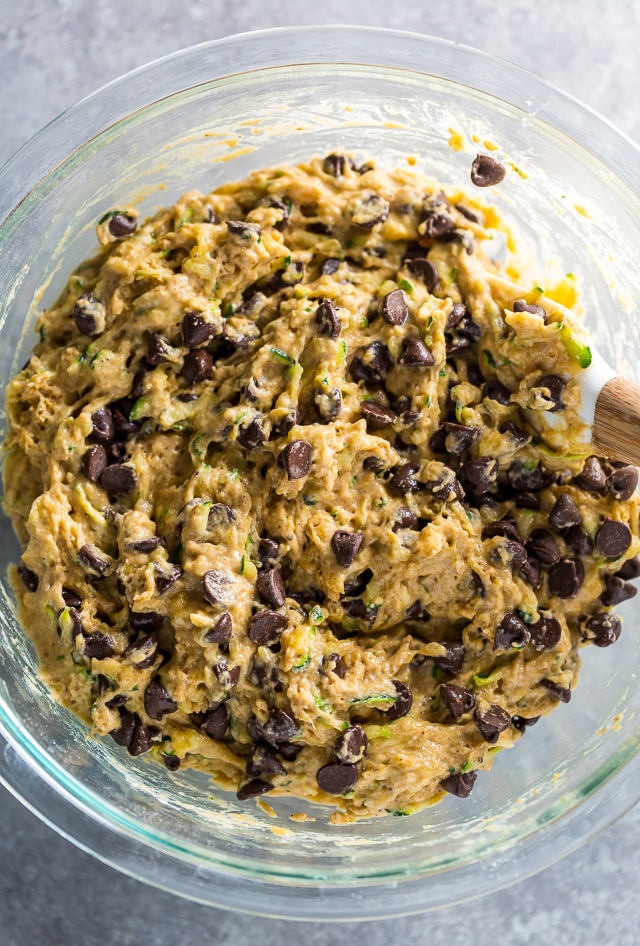 If you'd like, you can add a handful of thickly grated zucchini on top of the batter for decoration ↓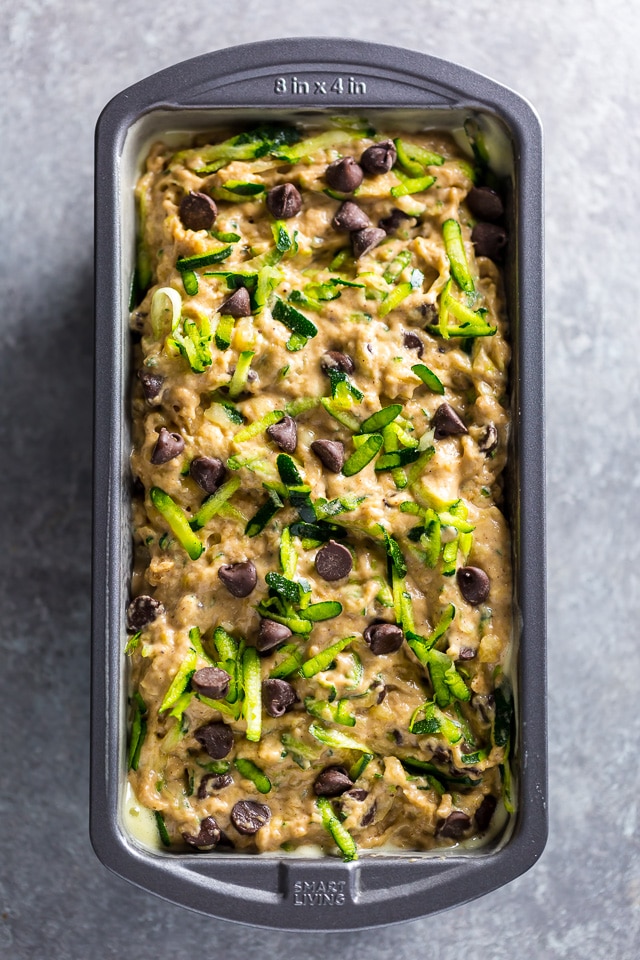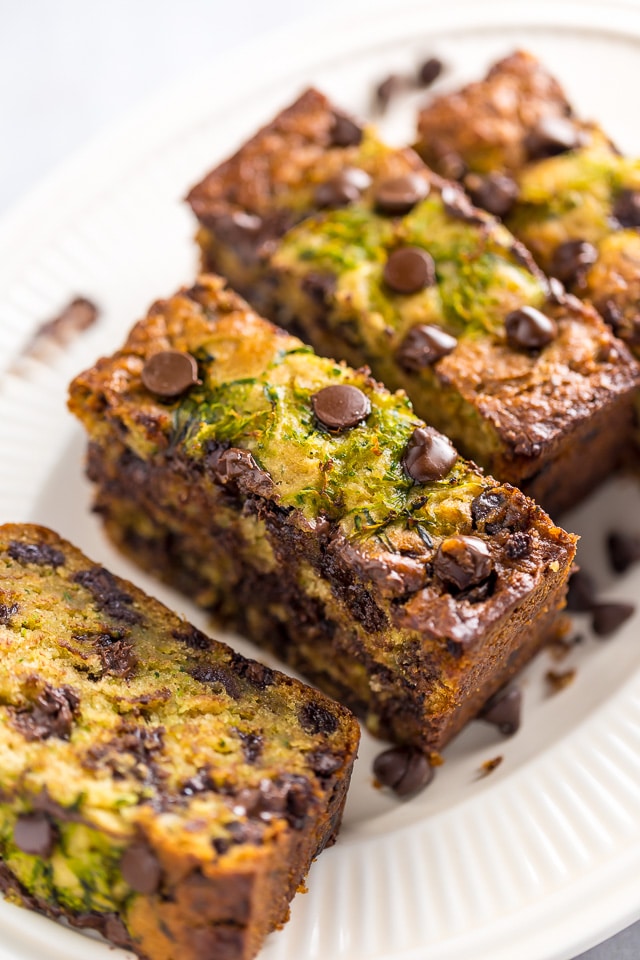 So, will you bake chocolate chip zucchini bread… chocolate chip zucchini muffins… or both?! I vote both ♥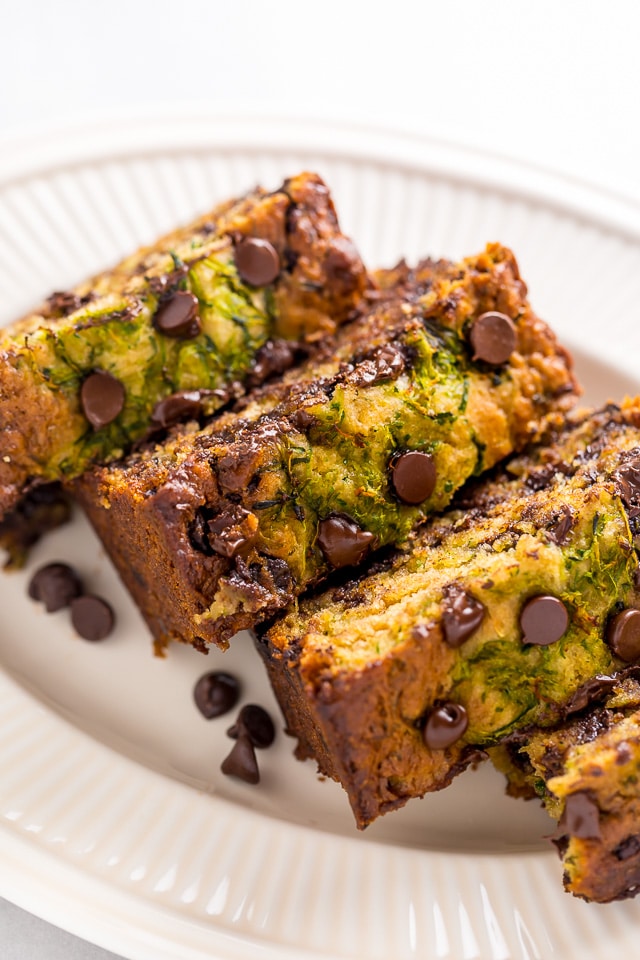 If you try this recipe for Vegan Chocolate Chip Zucchini Bread and Muffins, let me know! Leave a comment below and don't forget to snap a pic and tag it #bakerbynature on instagram! Seeing your kitchen creations makes my day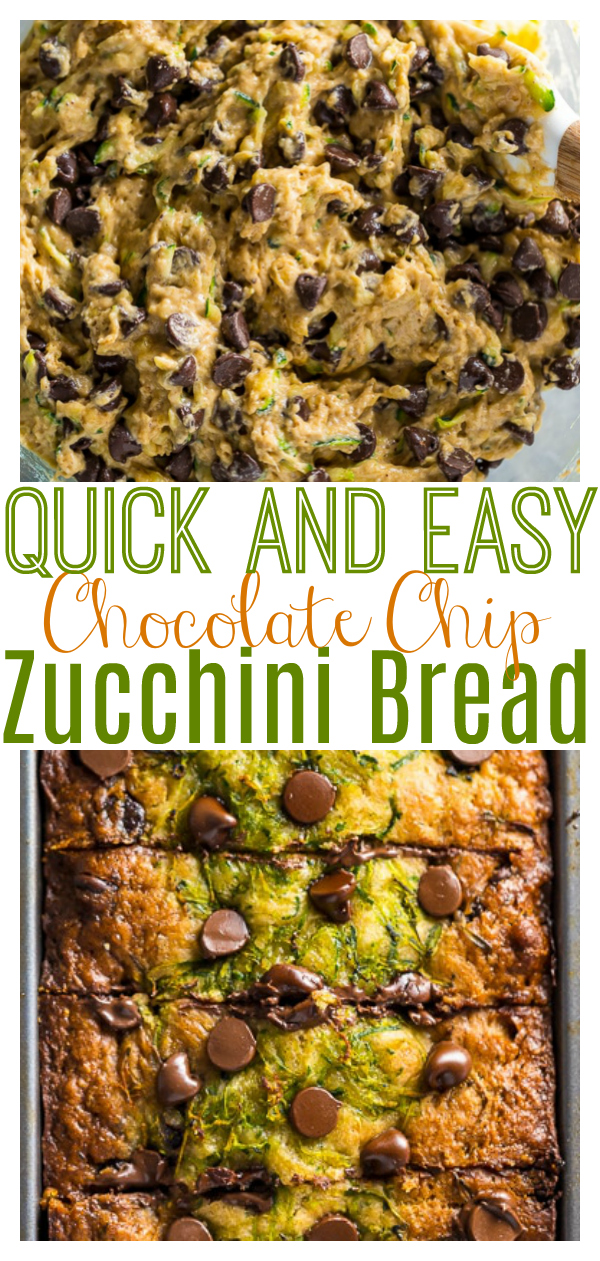 Chocolate Chip Zucchini Bread and Muffins (Vegan)
Yield 2 8" loaves or 2 dozen muffins
An easy recipe for Chocolate Chip Zucchini Bread and Muffins! And don't worry - they don't taste one bit vegan. A must try this Summer!
Ingredients
3 cups all-purpose flour
1 teaspoon baking soda
1 teaspoon baking powder
1 teaspoon ground cinnamon
1/2 teaspoon freshly grated nutmeg
1 and 1/2 cups granulated sugar
1 cup unsweetened applesauce, at room temperature
1/2 cup coconut oil, melted
1 tablespoon pure vanilla extract
2 cups finely grated zucchini
1 and 1/2 cups vegan chocolate chips (you may use non-vegan chips if your lifestyle allows)
Instructions
Preparing the baking tins:
If you're making two loaves, line two 8x4 inch loaf pans with parchment paper, then spray the paper and any exposed pan with non-stick baking spray, set aside. If you're baking two dozen muffins, line two 12-cavity muffin pans with non-stick liners, set aside. If you're baking one of each, prepare one loaf pan and one muffin tin as previously described.
For the Chocolate Chip Zucchini Batter:
In a large bowl combine the flour, baking soda, baking powder. cinnamon, and nutmeg; mix well to combine and set aside. In a separate bowl combine the granulated sugar, applesauce, coconut oil, and vanilla extract. Pour the wet ingredients into the dry and stir, using a rubber spatula, until barely combined. Add in the zucchini and mix with the spatula until combined. Fold in the chocolate chips. Divided the batter into the pans.
If you're baking only muffins:
Preheat oven to 375 degrees (F). Bake muffins, one pan at a time, for 18 to 20 minutes, or until a toothpick inserted in the center of a muffin comes out clean. Cool muffins in pan for 5 minutes before transferring to a cooling rack or serving warm.
If you're baking only loaves:
Preheat oven to 350 degrees (F). Bake loaves, side by side in the center of the oven rack, for 1 hour, or until a toothpick inserted in the center comes out clean. Place loaves on top of a cooling rack and cool completely before serving.
If baking one of each:
Bake muffins first, as directed above. Then reduce the oven temperature to 350 degrees (F) and bake loaf as directed above.
Courses Breakfast, Snack
Cuisine American