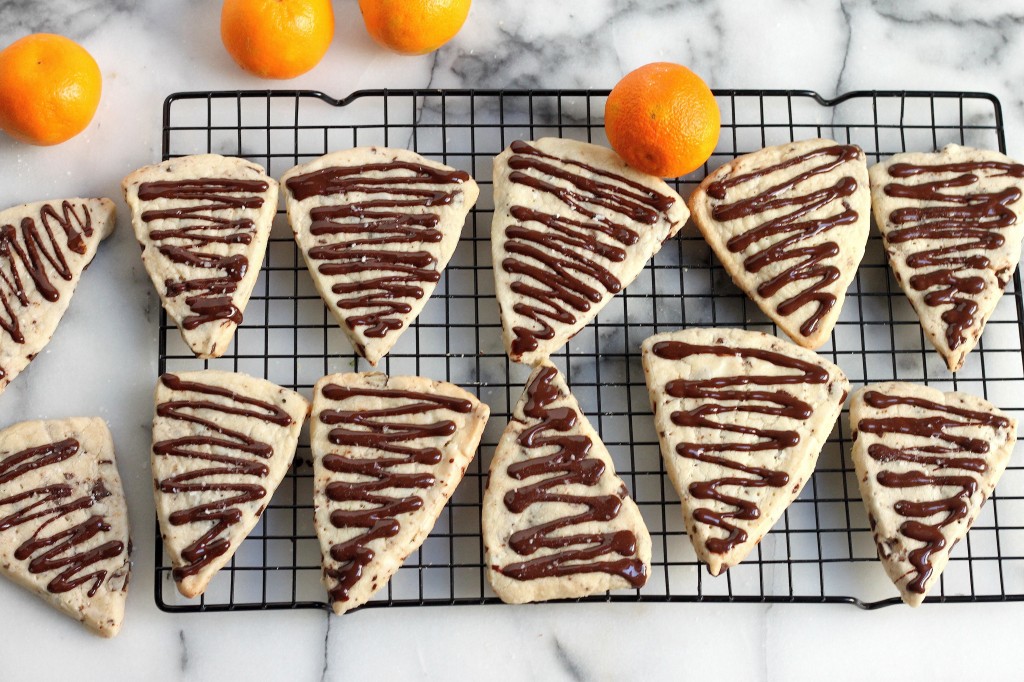 Hi guys!
Anyone else baking up a storm this week!? I'm swear our tiny apartment has become a cookie factory over the past fews days…
THERE ARE JUST SO MANY COOKIES… EVERYWHERE! It's awesome and delicious and just another reason why I LOVE this season.
In other – more urgent- news, will someone please come over here and take some of these dang cookies?!
I want need my jeans to fit again. Or at least my jeggings. I can't be the girl who wore yoga pants to Christmas eve mass! That would just be shameful.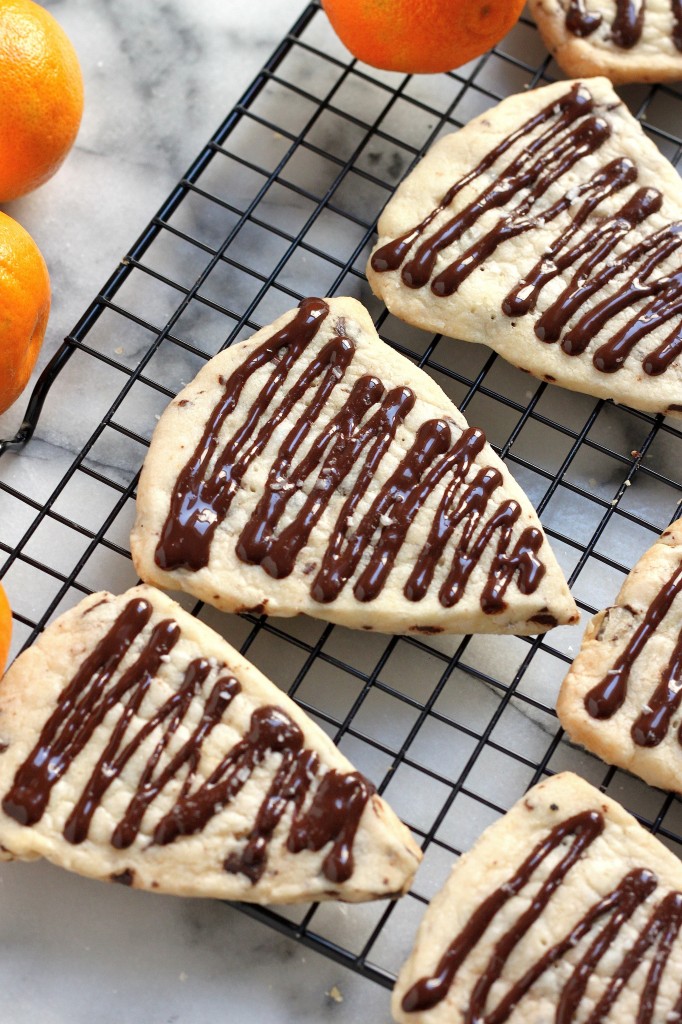 Buuuuut enough about my muffin top issues. Let's concentrate on these cookies for a moment, eh?
They're something special.
More specifically, they're chocolate chunk clementine shortbread cookies (you can totally sub orange for clems if you can't get your hands on them!), and me thinks they're just absolutely gorgeous! I loved them in their original fresh-from-the-oven form, but I added a pretty little chocolate swirl because… well, because I thought yooooou might appreciate the extra dose of chocolate 😉
I'm always looking out for ya!
The cookies themselves are super buttery, laced with vanilla and clementine zest, and pack a little chocolate chunk action in every bite. The texture is on the crisp side – it is shortbread after all – but they're not dry at all!
Pretty crunchy cookies = great gifts!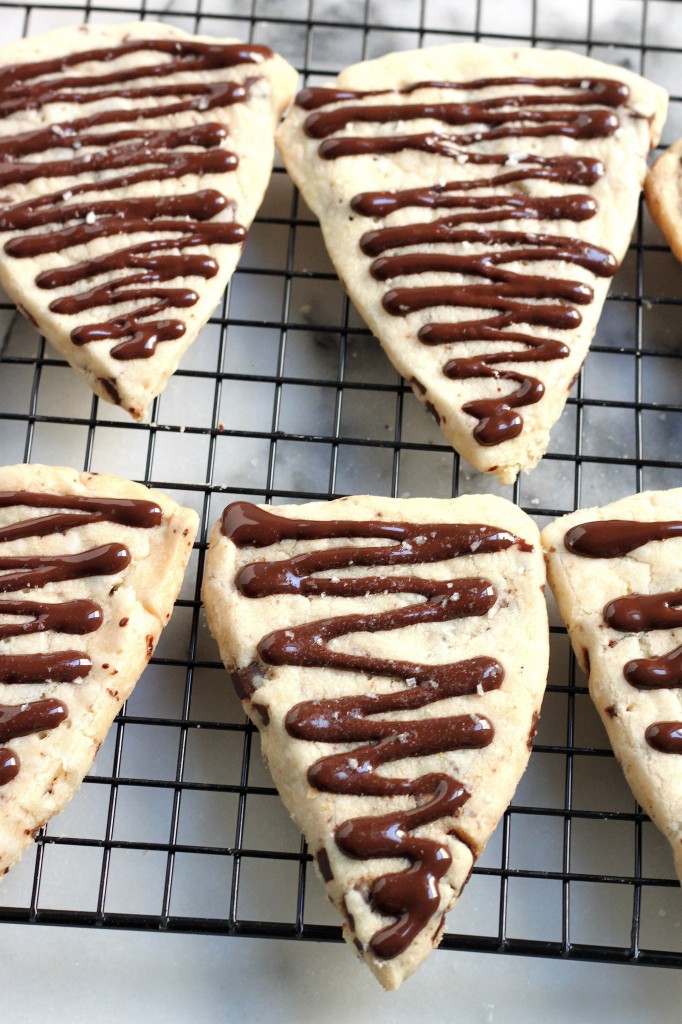 They're also great with – or dunked in – your morning (afternoon… early evening… after dinner… etc) coffee or tea.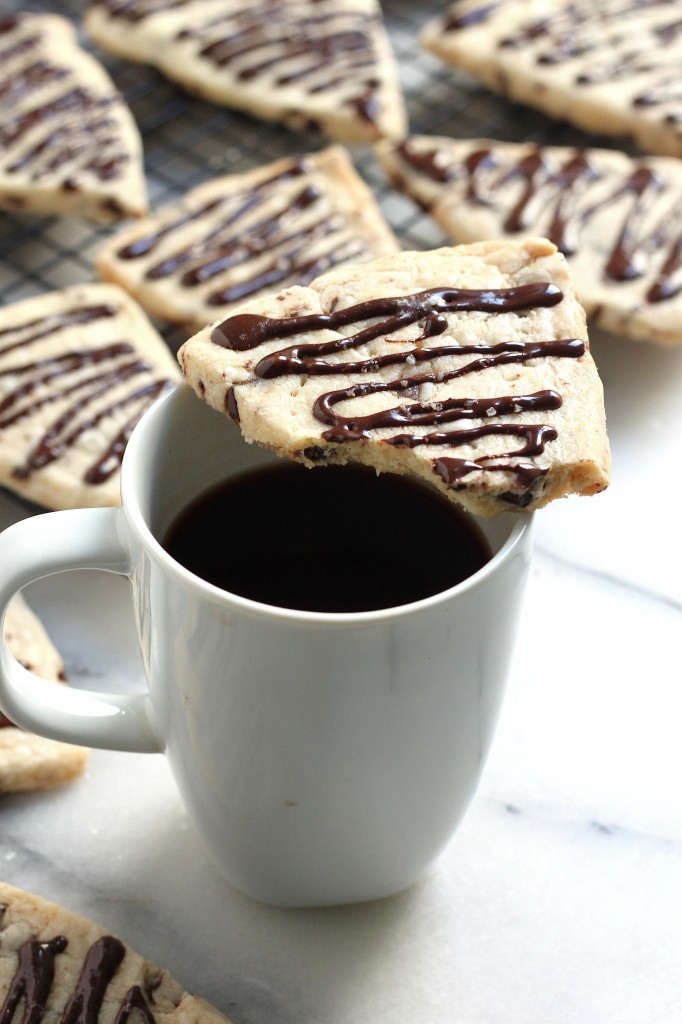 Chocolate Chunk Clementine Shortbread – Baker by Nature
Makes 16 cookies
Ingredients:
2 cups all-purpose flour
3/4 teaspoon salt
1/2 teaspoon baking powder
1 tablespoon orange or clementine zest
1 1/4 sticks unsalted butter, softened
1 teaspoon vanilla extract
2/3 cup confectioners sugar
4 ounces semi-sweet chocolate, chopped into small chunks
Instructions: 
Preheat oven to 300°F.
Whisk together flour, salt, and baking powder.
In a stand mixer fitted with the paddle attachment whisk together butter, vanilla, and confectioners sugar. Slowly add the flour mixture and mix until dough resembles a coarse meal with some small (roughly pea-size) butter lumps.
Gather the dough into a scraggly ball and transfer it to a clean, lightly floured surface. Knead dough until it just comes together, then break it in half and form each half into a 6-inch disk.
Roll out each disk (between 2 sheets of parchment) into a medium sized circle (about 10 inches). Remove top sheet of parchment paper and transfer the dough on the bottom sheet of parchment to a large baking sheet. With a fork prick the outline of 8 pieces on each circle, then place pan in the oven to bake.
Bake shortbread until golden brown, 20 to 25 minutes. Allow shortbread to cool on the sheet for about 5 minutes, then carefully cut into the wedges outlined.
Transfer shortbread to a wrack to cool completely.
For the chocolate drizzle:
2 ounces of semi-sweet chocolate, chopped
1 teaspoon canola oil
Instructions: 
Melt chocolate and oil in a small pan over medium heat. Once chocolate is completely melted, whisk well, then drizzle with a fork over cooled cookies.