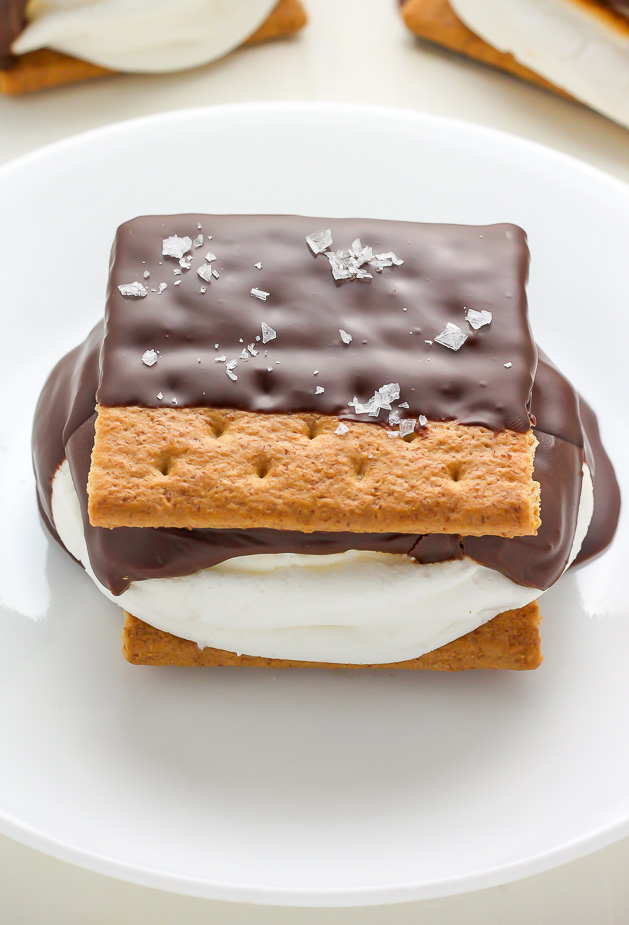 It's Monday morning… so I'm going to keep this one simple and short, my friends: Chocolate Covered S'mores = best thing ever.
Two crispy graham crackers sandwiching a toasted marshmallow and a slab of chocolate take a quick plunge into a bath of melted chocolate and live happily ever after.
Simple, sinful, and super decadent! <—– Just what you'd expect from your dessert, right?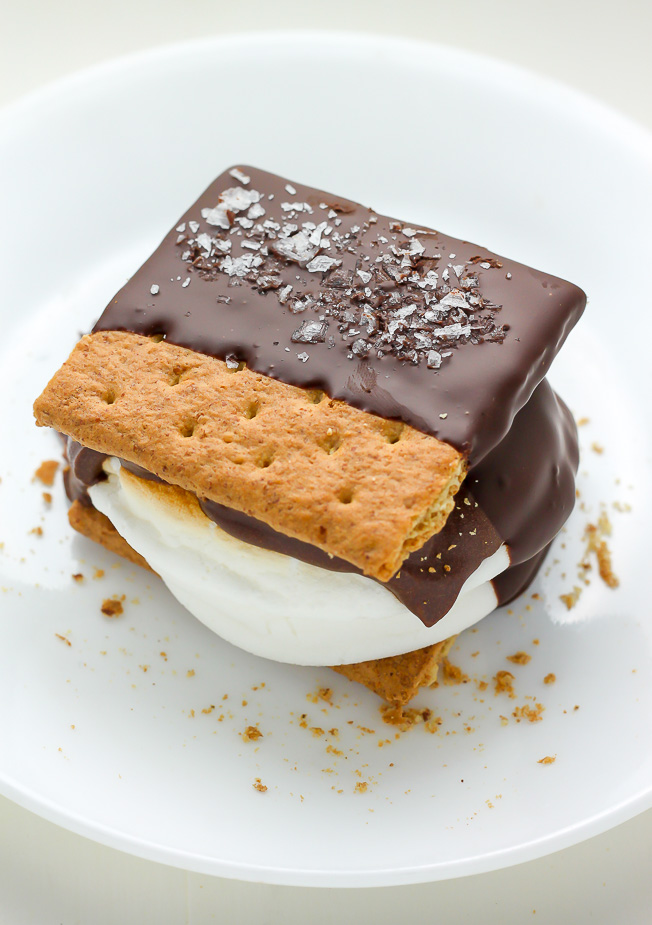 A few quick notes:
1) When you toast the marshmallows, the first thing you'll want to do is preheat your oven to the broiler setting. You'll also want to have one of the oven wracks moved to the top – this lets the marshmallows get niiiice and close to that heat.
Don't place the marshmallows in the oven before it's preheated or they'll cook too much, and deflate into a gooey mess. While the oven is preheating, you'll want to place the marshmallows on a baking sheet that's been lined with a non-stick baking mat or parchment paper. I do not recommend placing them directly on the baking sheet!
Once the marshmallows are in the oven, stay close! They only need about 45 seconds under the broiler to get the color you crave. Any longer and they may catch fire… so don't leave the room!
After the marshmallows are removed from the oven, let them cool a minute or so, then pick them up off the tray and transfer them to your work station.
I know it sounds like a lot of steps, but it's really the easiest 3 minute project ever! I'm just giving you all of the info I wish I had the first time I tried roasting marshmallows indoors 😉
FYI: If you don't want to do all the work required for toasting the marshmallows, just use marshmallow cream!
2) To melt the chocolate on to the graham cracker, you'll simply want to keep your oven preheated (you can turn it down to about 350 after the marshmallows broil), line each cracker with a slab of chocolate, then pop it in the oven for 2-3 minutes. You want to keep an eye on it – if they stay in the oven too long the graham cracker will get soft and the chocolate will melt everywhere. Once you see a nice glaze on the chocolate, it's ready to come out!
3) The s'mores MUST go into the freezer for 10 minutes prior to dipping. This helps everything firm up and makes the dipping step so much easier! I also want to note you should not leave the s'mores in the freezer much longer than 10 minutes.
4) Once your s'mores have done their time in the ice box, you'll simply want to hold each one by a corner and dunk it straight into the melted chocolate. Keep your lined baking sheet nearby so that you can easily place each one back there to set. Feel free to decorate the wet chocolate with sprinkles, nuts, sea salt, or crushed candy!
Once all of the s'mores have been dipped, place them in the fridge or freezer for 10 minutes to set. Once the chocolate is solid, serve!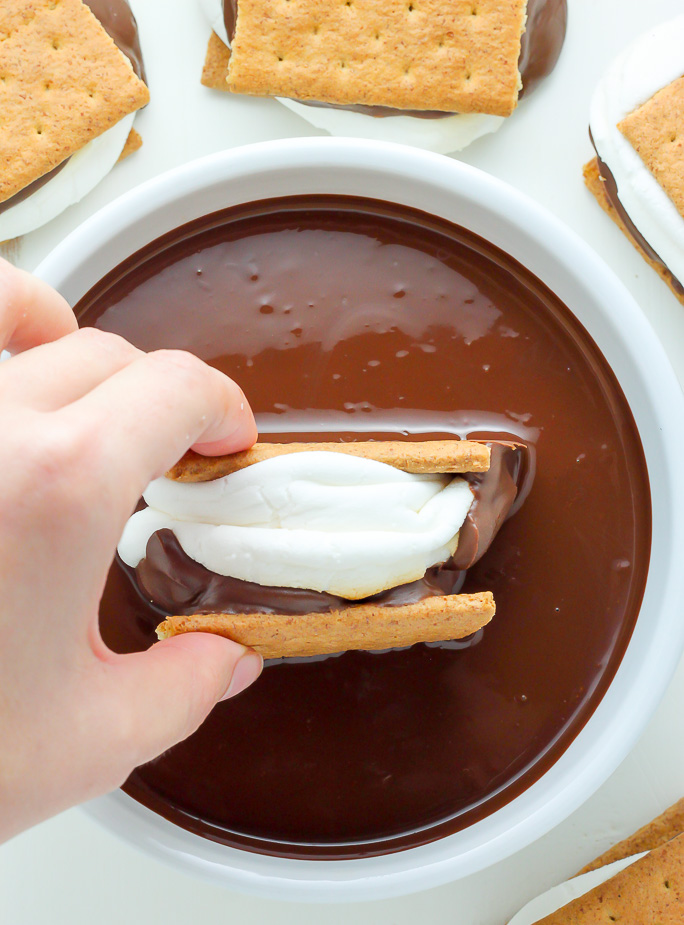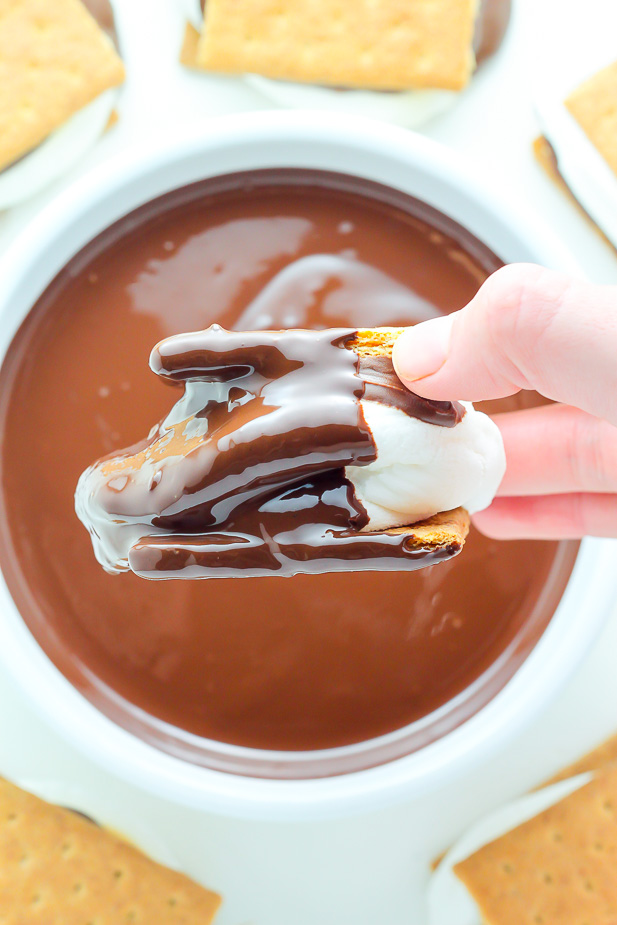 Chocolate Covered S'mores are a fun project to keep you busy on a rainy day, but also a wonderful dessert option for hosts who want to incorporate s'mores into their dessert plan – minus all the mess. You can make these up to 24 hours in advance – just keep them covered and in a cool place.
So… Are you craving these yet?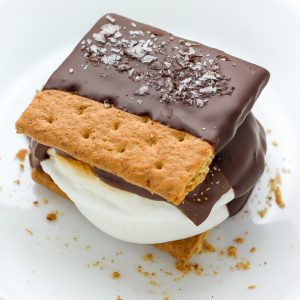 Chocolate Covered S'mores
Chocolate Covered S'mores are made indoors for a decadent treat that can be enjoyed year-round!
Ingredients
16 Graham Cracker Sheets, Carefully Broken in Half (you'll have 32 squares all together)
16 Marshmallows OR 1 Cup Marshmallow Cream (See notes in post about this)
8 Milk Chocolate Candy Bars (I used Hershey's), Carefully Broken in Half
1 Pound Milk Chocolate, Roughly Chopped
1 Tablespoon Coconut OR Canola Oil
Nuts, Sprinkles, Sea Salt, Etc, Optional, For Decorating
Instructions
Preheat oven to broiler setting; place oven wrack on top bracket.

Carefully break each graham cracker sheet into two squares; set aside.

Line a large baking sheet with parchment paper or a non-stick baking mat. Place marshmallows on prepared sheet and place under broiler for 45 seconds, or until charred on top. Allow marshmallows to cool for a minute or two, then gently press one down on a side of each graham cracker. You will have 16 marshmallow crackers all together.

Reduce the oven heat to 350 degrees (F). Line the remaining graham crackers (the naked ones!) with half of each chocolate bar. Place them on the baking sheet and pop them in the oven for 3-4 minutes; just until the chocolate begins to soften and melt.

Place the wet chocolate graham cracker on top of the marshmallow graham cracker and gently press together - careful not to press too hard here! Quickly repeat with all of the graham crackers, then place the s'mores sandwiches in the freezer for 10 minutes.

While they chill, melt your chocolate!

Place the chocolate in a medium-sized microwave safe bowl. Add oil and heat on low-power, in 20 second increments, in the microwave until completely melted; stir smooth and set aside until cooled to room temperature.

Once cooled, remove the s'mores sandwiches from the freezer and dip each one in the melted chocolate, allowing excess chocolate to drip back into the bowl before transferring it back to the parchment paper lined baking sheet. Repeat with all sandwiches. Decorate wet chocolate with toppings of your choice, then place the sandwiches back into the freezer to set; about 30 minutes.

Store the s'mores sandwiches in the fridge or at room temperature until ready to serve!
Notes
*You can dip half of the sandwich or all of it! If you want the sandwiches completely covered in chocolate, use a fork to help you remove it from the chocolate. *You may sub 1 tablespoon of marshmallow cream for the toasted marshmallows, if preferred.
You'll also love:
Nutella Stuffed S'mores Cupcakes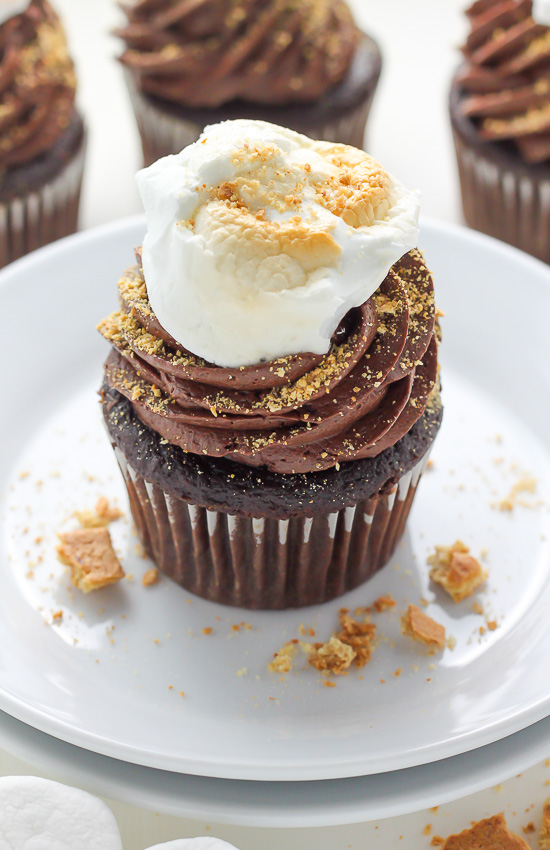 Grand Marnier Truffles
Dark Chocolate Salted Caramel Dipped Marshmallows