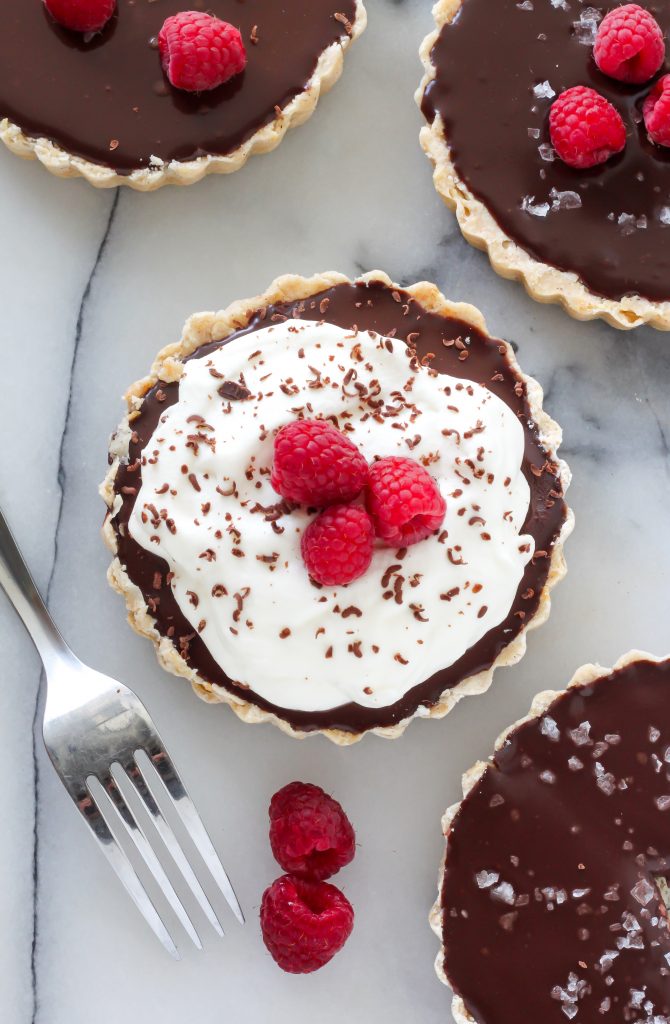 With an all-butter crust and an incredibly decadent chocolate filling – these Chocolate Ganache Tarts are sure to grab your attention!
If I see the words "chocolate ganache" on any dessert menu, it's pretty much a sure thing that's what I'm having. I've been daydreaming about making a homemade chocolate ganache tart for ages, so when I spotted a recipe for a dark chocolate ganache tart in the Joy the Baker Cookbook, baking it right away was the only option. Joy bakes this as a 9″ tart, but since I only own mini tart pans, I adapted the recipe to work with what I had on hand. Feel free to take this recipe and do the whole tart thing, or a few little tarts like me. I've added notes for both ways in the recipe below.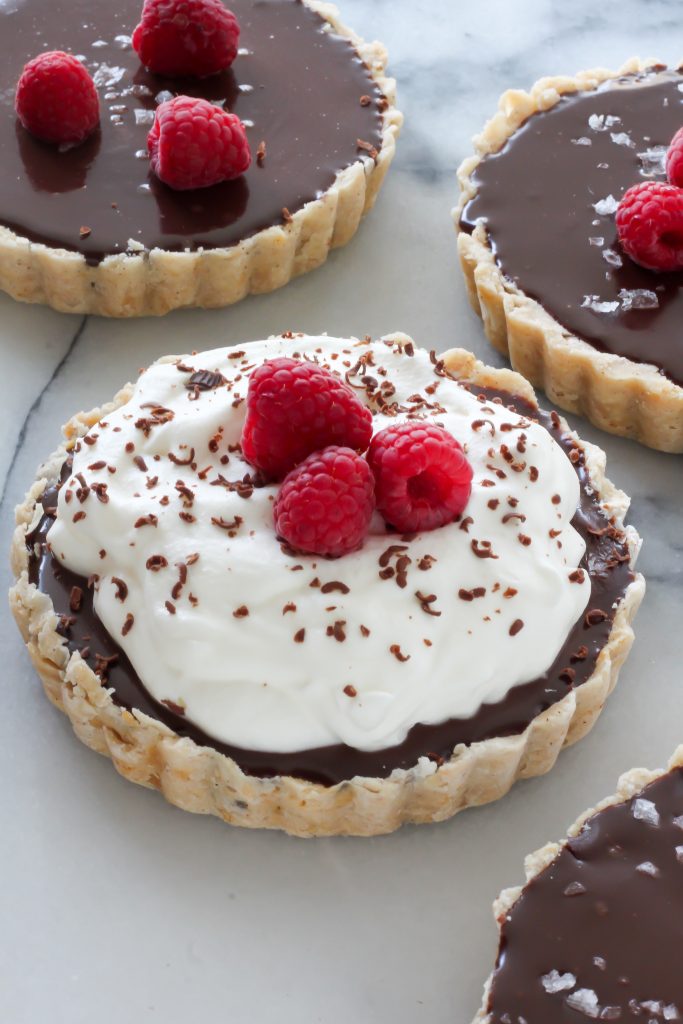 So let's talk a few quick recipe details, mmk?
First up: the crust! If you're new to making tart crusts, don't panic. This recipe is quite simple and straightforward. Make sure your butter is cold, your hands move fast, and you follow the instructions to a T and you'll have no problem baking up a rich, buttery crust. Promise.
The one thing you definitely do need to keep in mind before baking this tart is time. The tart shell needs to chill in the freezer for one hour before being baked, and once it's been baked, it will need to cool completely before being filled with the chocolate ganache.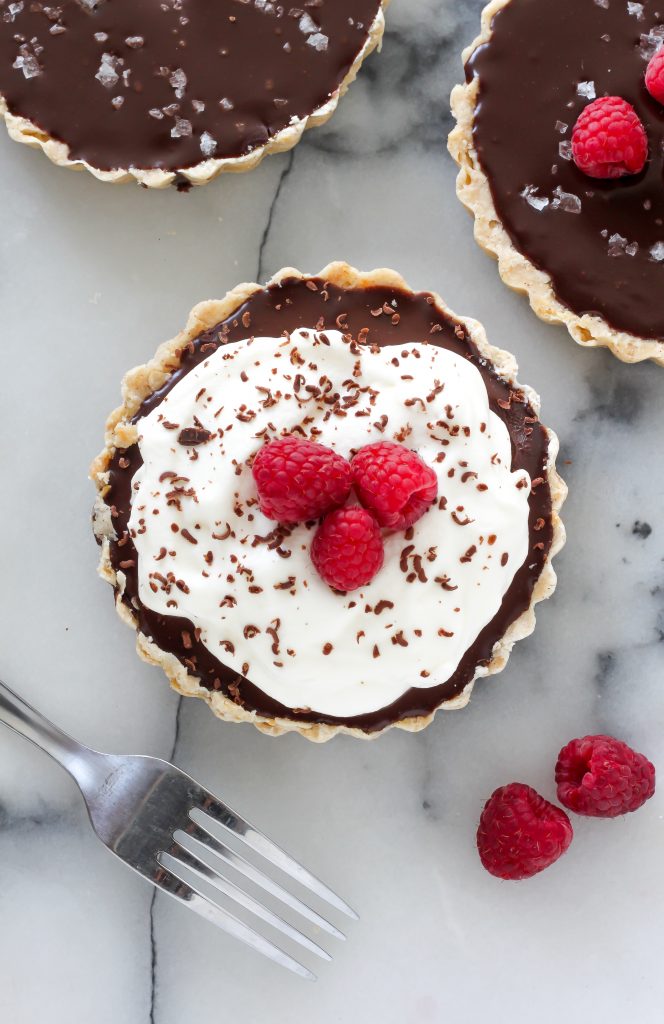 I like to make the chocolate ganache while the crust is in the oven. To do this you'll simply place the chocolate in a bowl, pour warmed cream over top, and stir like crazy! Butter also finds its way into the ganache at the very end. Yum and yes!
Once you've poured the chocolate into the tart shell(s), you have two options.
1) Add a sprinkle of flaky sea salt to the wet chocolate
OR
2) Allow the chocolate to set as it, then once cooled, top with freshly whipped cream and berries
Both options are clear winners, and if you make mini tarts, you can do both!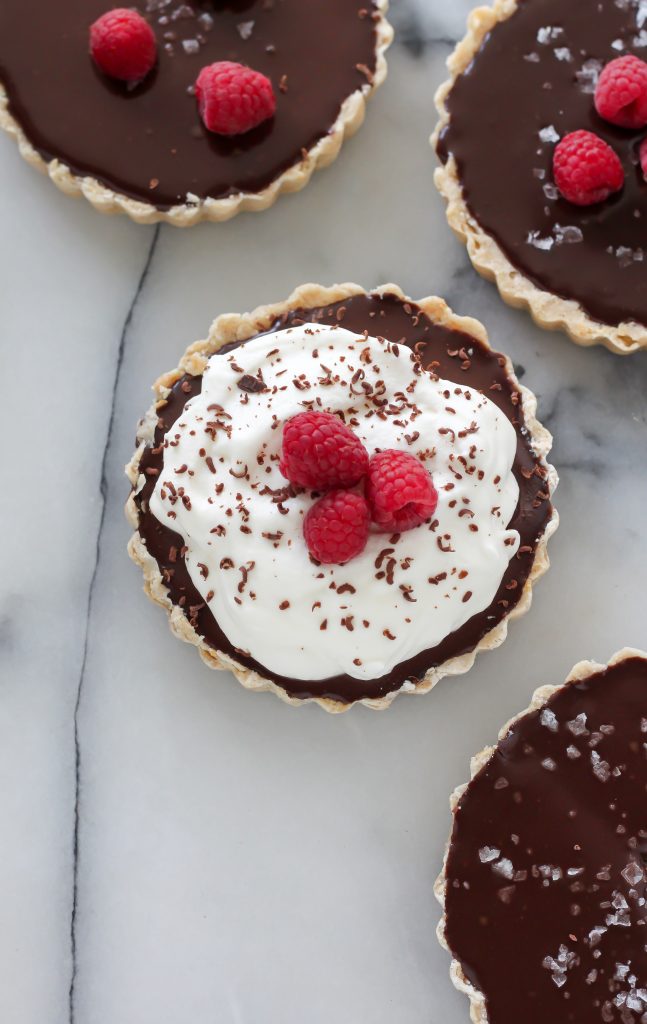 Chocolate Ganache Tarts
Dark, creamy, and incredibly rich - this dark chocolate ganache tart is a winner all around! Make one large 9" tart, or 4 mini tarts!
Ingredients
For the Crust:
1 1/2 cups all-purpose flour
1/2 cup confectioners' sugar
1/2 teaspoon salt
1/2 teaspoon ground cinnamon
Pinch of ground ginger
1/2 cup (1 stick) unsalted butter, very cold, cubed
1 large egg yolk, lightly beaten
For the chocolate ganache:
8 ounces dark chocolate, finely chopped
1 1/4 cups heavy cream
1/4 cup (1/2 stick) unsalted butter, at room temperature, cut into cubes
For the topping:
Flaky sea salt
OR
1 cup heavy cream
2 tablespoons confectioners' sugar
Fresh raspberries (about 1 cup)
Instructions
To make the tart crust:
In a large bowl combine the flour, sugar, salt, and spices. Cut in the butter with your fingers until well incorporated. Some of the butter chunks will be sized like small pebbles, others like oatmeal flakes. Once incorporated, add in the egg yolk and bring the mixture together using a fork. The mixture will be quite shaggy, but don't worry! Dump the mixture into a tart pan with a removable bottom (or 4 mini tart pans with removable bottoms) and using your fingers, press the crust into the sides and on the bottom of the pan. Place the crust in the freezer and chill for one hour. This step is mandatory and important; it will keep the tart crust from puffing up too much while baking.
While the tart shells are chilling, make your ganache!
To make the chocolate ganache:
Add chopped chocolate to a medium bowl; set aside. In a small saucepan over medium-heat, bring the cream to a low simmer. Pour half of the cream on top of the chocolate pieces and set aside for 1 minute. With a whisk begin to incorporate the melted chocolate into the cream. Slowly add the remaining cream and continue carefully whisking until smooth and glossy. Add in the butter and use a spatula to stir until the butter is completely melted. The mixture will be dark and glossy. Set aside, at room temperature, until needed.
When you're ready to bake the crust:
Place a wrack in the upper third of the oven and preheat to 350 degrees (F). Butter a piece of tin foil (or 5 small pieces, if making mini tarts) and place the foil, butter side down, on top of the chilled tart shell. Bake for 20 minutes (or about 16 for the mini tarts) then remove the foil and bake for another 15 minutes (or about 13 for mini tarts), or until the tart shell is golden brown and firm. Cool shell(s) completely before filling with chocolate ganache. Once cooled, spread the chocolate ganache inside the tart (or divide it evenly among the mini tart shells). Carefully place the chocolate tarts in the fridge to set; about 1 hour for a whole tart and 30 minutes for the mini tarts.
For salted chocolate ganache tarts:
Simply sprinkle a few flakes of sea salt on top of the wet chocolate ganache.
For tarts with fresh berries and whipped cream:
In a medium-sized bowl using a handheld mixer, whisk together the heavy cream and sugar until soft peaks are formed. Generously dollop the cream in the center of the tart and top with fresh berries. Serve at once!
Notes
This recipe is from the Joy the Baker Cookbook. Recipe is written in my own words and, as always, all opinions are my own. This post is not sponsored!
Courses Dessert
Cuisine Pie
Nutrition Facts
Serving Size 1 slice
Amount Per Serving
% Daily Value
* Percent Daily Values are based on a 2,000 calorie diet. Your daily values may be higher or lower depending on your calorie needs.