Because I'm always up for a challenge (involving food, that is), I'm currently cooking my way through Jerusalem: A cookbook.
Have you guys seen this beauty? Gah! It is super gorgeous and unbelievably comforting to snuggle up to after a long day in the real world; I've fallen asleep with my beloved copy many-a-nights.
Every recipe, story, and photo is such an inspiration, and I plan on cooking it all (eventually).
If you're in the market for a new addition to your collection, I cannot recommend this gem enough!
This is the third recipe I've made from its stunning pages, and although this recipe in particular is quite the commitment (you have to let the dough rise overnight, then rise again a few more hours the next day), it's 100% worth every minute of labor.
Also, it yields 2 hefty loaves! Trust me, you'll want that second loaf… these babies are epically delicious.
These chocolate krantz cakes reminded me a lot of the chocolate babka I made a few years ago. If you've never had chocolate babka before, you need to get baking now!
Here are some step by step pictures I hope might encourage you to go on your very own cake adventure!
The first step after you've made your dough and allowed it to rise overnight is rolling it out. Easy enough!
Then we'll make a quick paste involving lots of butter, sugar, and chocolate.
Pecans are involved in this part, too.
Time to slather our dough in a chocolate/butter/pecan paste! Yippee!
Then you're going to roll it up into a tight cigar.
(Very carefully) Slice it in half.
Chop the ends off, too (you can totally bake them as mini dough bites…).
And finally…
you'll braid the two pieces together, set it in a loaf pan (again, carefully), and cover with a warm towel for one more rise. Then it's off to the oven!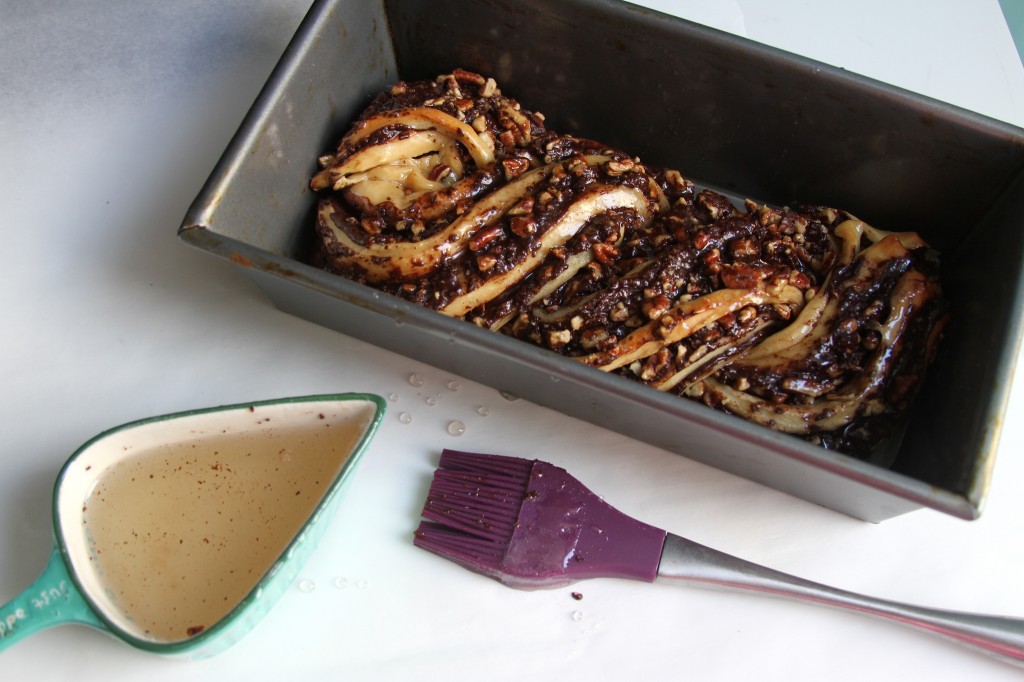 Once it's out of the oven (and making your entire house smell like heaven), all that's left to do is brush on the sugar syrup and devour the entire loaf while it's still hot. Ok… maybe you won't eat the whole loaf in one sitting. But no judgements if you do!
Chocolate Krantz Cake 
from Jerusalem by Yotam Ottelenghi & Sami Tamimi
For the Dough:
4¼ cups (530g) all purpose flour, plus extra for dusting
½ cup (100g) superfine sugar
2 tsp (1 package) fast-rising active dry yeast
grated zest of small lemon
3 extra-large free-range eggs
½ cup (120ml) water
¼ tsp salt
⅔ cup (150g) unsalted butter, at room temperature, cut into very small cubes
sunflower oil, for greasing
For the Chocolate Filling:
½ (50g) confectioner's sugar
⅓ (30g) best quality cocoa powder
4½ oz (130g) good quality dark chocolate, melted (I used Trader Joe's 70%)
½ cup (120g) unsalted butter, melted
1 cup (100g) pecans, chopped
2 tbsp superfine sugar
For the dough: Day 1
Fit the dough hook attachment onto your stand mixer. In the mixer bowl combine the flour, sugar, yeast and lemon zest and mix on low speed for one minute. Add the eggs and water and work for a few moments at this speed for a few seconds, then increase the speed to medium, mix for another 3 minutes, or until the dough comes together. Add salt and start slowly adding the butter, a few cubes at a time, letting it all melt into the dough. Mix for 10 minutes at a medium speed, scraping the sides (I really had to be on this), flouring it lightly if necessary, for about 10 minutes. The dough should be totally smooth, shiny, and sticky.
Brush the oil into a large bowl, transfer the dough into it, cover with plastic wrap and leave it to rise and firm up in the fridge overnight.
Grease two 2lb loaf pans well and line the bottom with parchment paper. Divide your dough into two, leaving one covered and return to the fridge. The dough will have risen a bit and feel pretty firm.
Mix all the filling ingredients except the nuts and the 2 tbsp of sugar. Beat until you get a smooth, spreadable paste. Now flour your work surface. I used a good amount of flour here. Shape your dough roughly into a rectangle and then roll out into 38cm x 28cm (15″ x 11″) rectangle. Trim the sides with a sharp knife to keep the dough even and place one of the short sides closest to you. Spread half of the filling over the rolled dough leaving a 2 inch border. Sprinkle half of the pecans on top and one tablespoon of the caster sugar. Brush a little but of water over the long end furthest away from you. Using both of your hands, roll up the rectangle like a roulade, starting from the long side that is closest to you and ending at the other long side. Press the wet ends to seal it and even the roll into a perfect, thick cigar, sitting on it's seam.
With a serrated knife, trim off just under an inch or 2 cms of both ends. Gently, cut the roll in half, lengthwise, starting on the top and pulling the knife straight down right through to the other end. With the cut side with it's layers up facing you, gently press one end of each half together. Then, lift the right half over the left half. Repeat with the left half over the right half and press the ends together to seal it. Carefully lift the intertwined loaf and place into your tin. Cover the loaf with a wet tea towel and leave to rise in a warm place for 1-1 1/2 hrs. It will rise only about 20 percent. Repeat the same process for your second loaf.
Preheat the oven to 375  degrees (F.) Remove the tea towels and place the cakes on the middle shelf for 30 minutes or until a skewer inserted in the middle comes out clean.
You can make the syrup while the cake's in the oven! Place both ingredients into a saucepan over medium heat to dissolve the sugar. As soon as the sugar dissolves and the syrup comes to a boil, remove the pan from heat and leave to cool. As soon as the cakes are done and are out of the oven, brush both loaves generously with the syrup. It will seem crazy but you should  finish off all the syrup equally on both loaves.
Leave until just warm before removing them from the tins to cool down completely. I wasn't so good at that part…
They keep for two days at room temperature and up to two months when frozen.