This Dark Chocolate Raspberry Cheesecake is pure decadence! It's not too sweet and but very rich, so a small slice goes far! The fresh raspberry pockets swirled throughout are delightfully refreshing!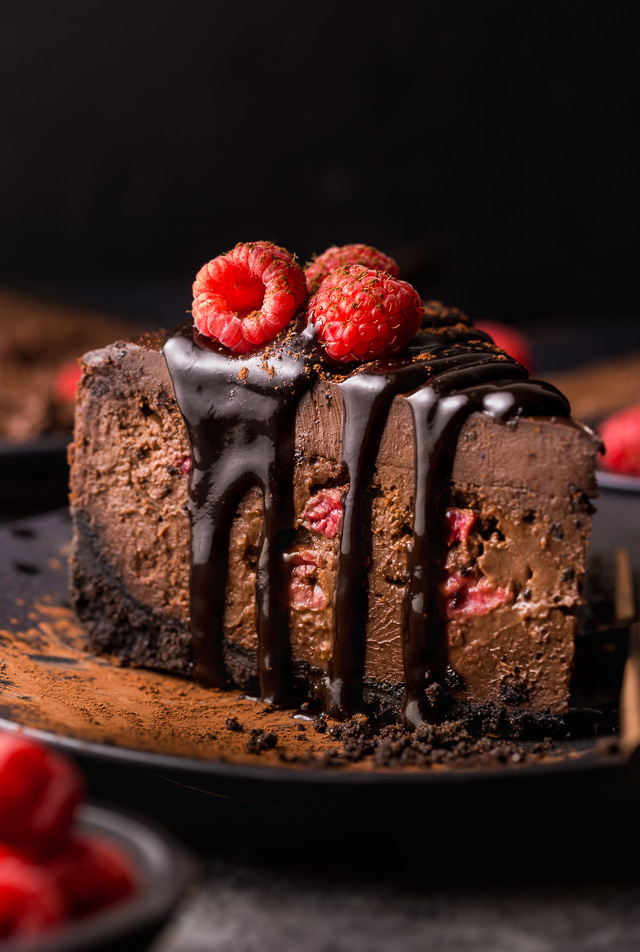 Chocolate and Raspberry Cheesecake
Today's new recipe was inspired by two of my FAVORITE desserts: chocolate raspberry cake and chocolate cheesecake! Have you tried either of them yet? They're both total rockstar recipes that deserve a spot in your baking rotation!
So, why combine them?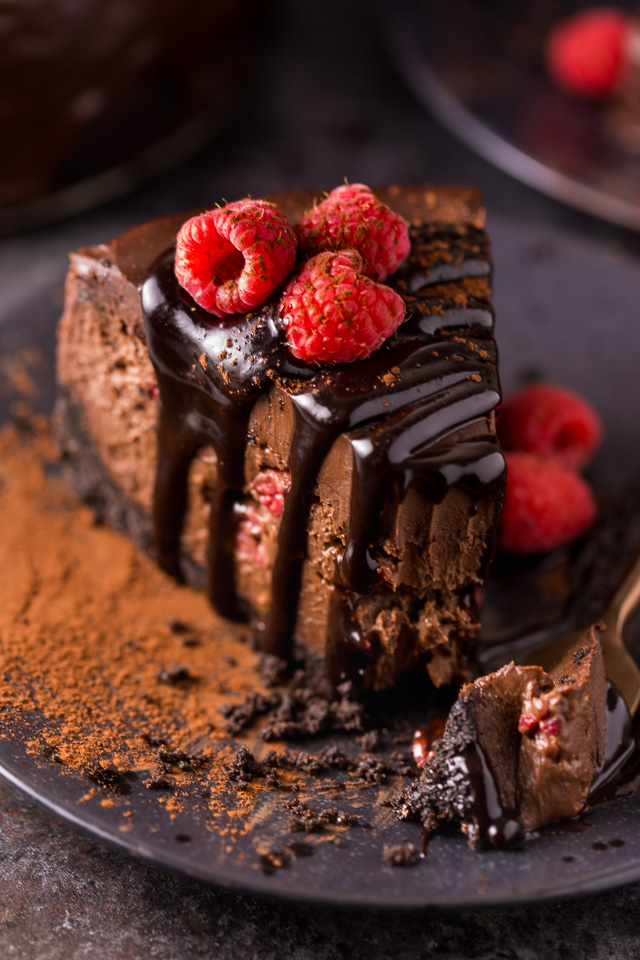 Well… because when combined, they create the most sinfully decadent yet fruity and refreshing chocolate cheesecake you'll ever experience! Even my husband, who samples a good amount of my baking creations, was absolutely floored by this one! It's definitely unlike any chocolate cheesecake you've ever had before. In the best way possible!!!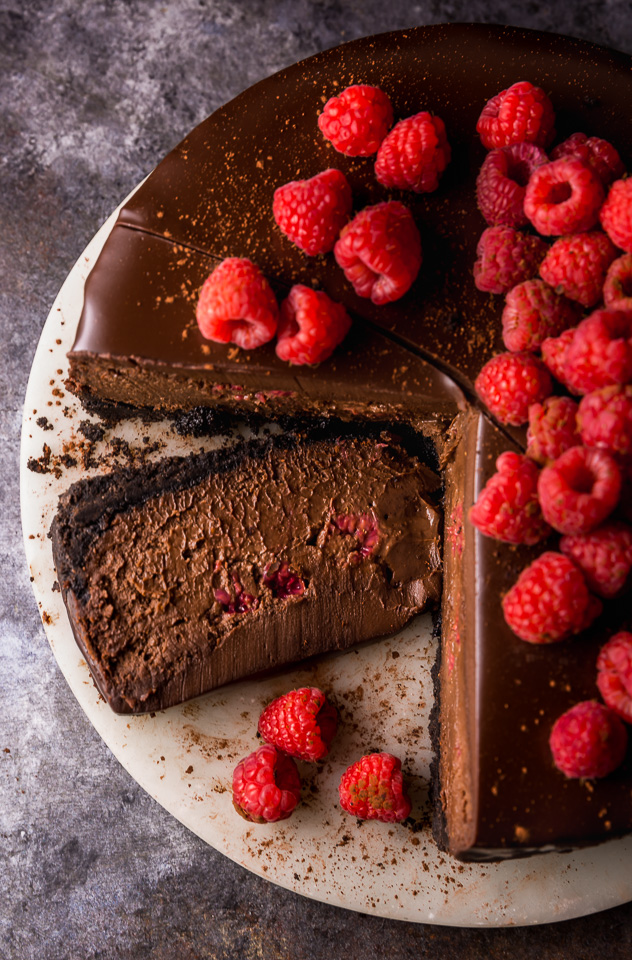 What You'll Need to Get Baking:
I'll be the first to admit the ingredient list for this recipe is pretty long! But don't let that scare you off!
Because most of the ingredients are household staples! And the rest are pretty cheap and easy to find! Plus, this is a special occasion dessert recipe. So it can be fun to gather all of your ingredients and spend the afternoon in the kitchen baking!
For the chocolate cookie crust, you'll need a standard package of Oreo cookies and some melted butter!
You'll want to pulse the Oreo cookies (white cream filling and all) until they're fine crumbs! Then simply combine with the melted butter and viola! You've made an Oreo Cookie Crust!
You could make a graham cracker crust if you want. But personally I don't think it works well with this flavor profile.
The chocolate raspberry filling is made with chocolate, cream cheese, sugar, cocoa, espresso powder, eggs, heavy cream, vanilla, and raspberries.
And for the chocolate ganache you'll need chocolate, heavy cream, and butter! I suggest using HIGH-QUALITY chocolate in this recipe, and not chocolate chips.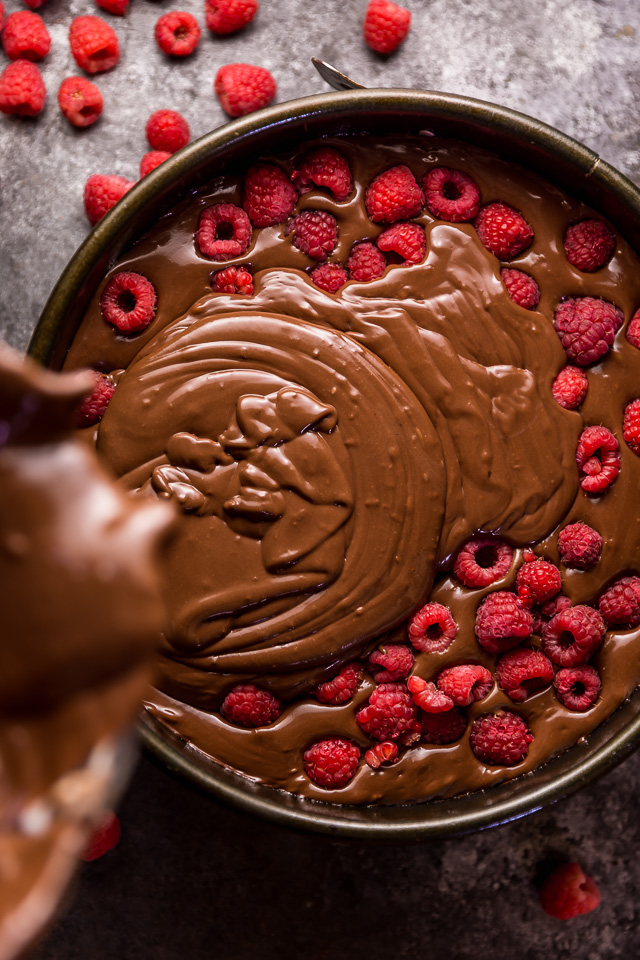 Can I use Frozen Raspberries?
I strongly suggest using fresh raspberries!
I tested this recipe with frozen and it didn't work very well. It made the cheesecake filling kind of mushy and the raspberries flavor was very mild. In a pinch, I think swirling a high-quality raspberry jam in the middle might work. But for the very best results, use fresh raspberries!
How to Make Chocolate Raspberry Cheesecake:
Although time consuming, making this recipe is actually quite straightforward and easy! And it should come together in less than 30 minutes! But just an FYI: you will need a food processor or electric hand mixer for this process!
Combine Oreo cookie crumbs and butter. Press into spring form mold and bake for 10 minutes.
In the meantime, use a double boiler or microwave to prepare your melted chocolate. You'll want to do this first so it has time to cool down bit.
Next, you'll beat the cream cheese until smooth and creamy! Then add in sugars, cocoa, espresso powder, vanilla.
Next add in the eggs one at a time. Finally, you'll fold in the cream and slowly pour in the melted chocolate mixture. The batter will be THICK!!!
Pour half of the filling on top of the baked crust. Then evenly scatter 1 cup of raspberries in an even layer. Add remaining batter and smooth the top.
Bake in a waterbacth for 1 hour and 10 minutes. Then remove from the oven and place on a wire rack to cool completely. And the final step in most definitely the hardest… place in the fridge to chill for at least 6 hours!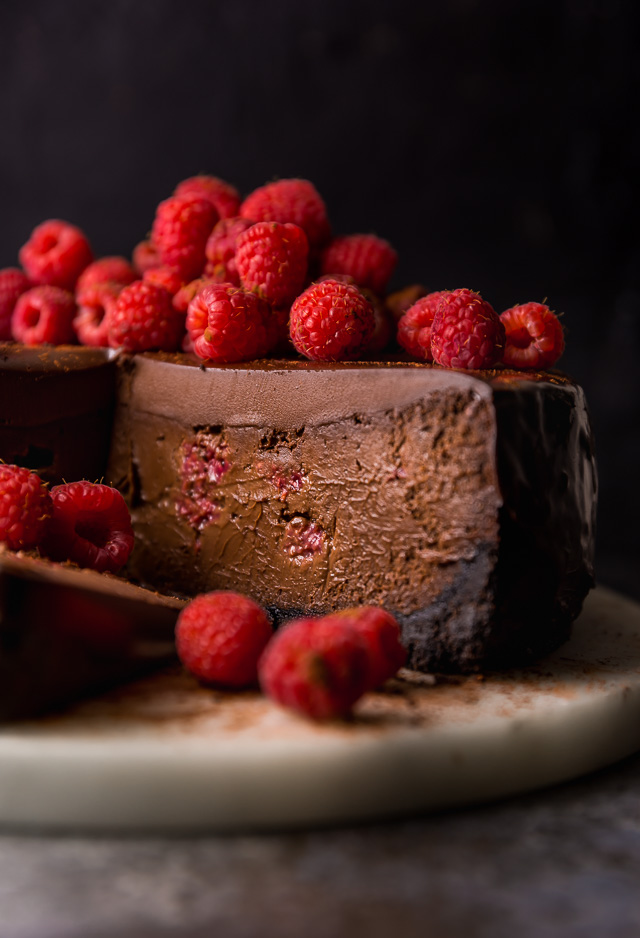 How to Decorate Chocolate Raspberry Cheesecake:
As you can see from my dark and moody photos, I went ALL out decorating this cheesecake! I used chocolate ganache, chocolate syrup, and cocoa powder dusted raspberries!
Feel free to use all of the my decorating ideas, or none! This is honestly delicious as-is, or with a simple dollop of whipped cream on top!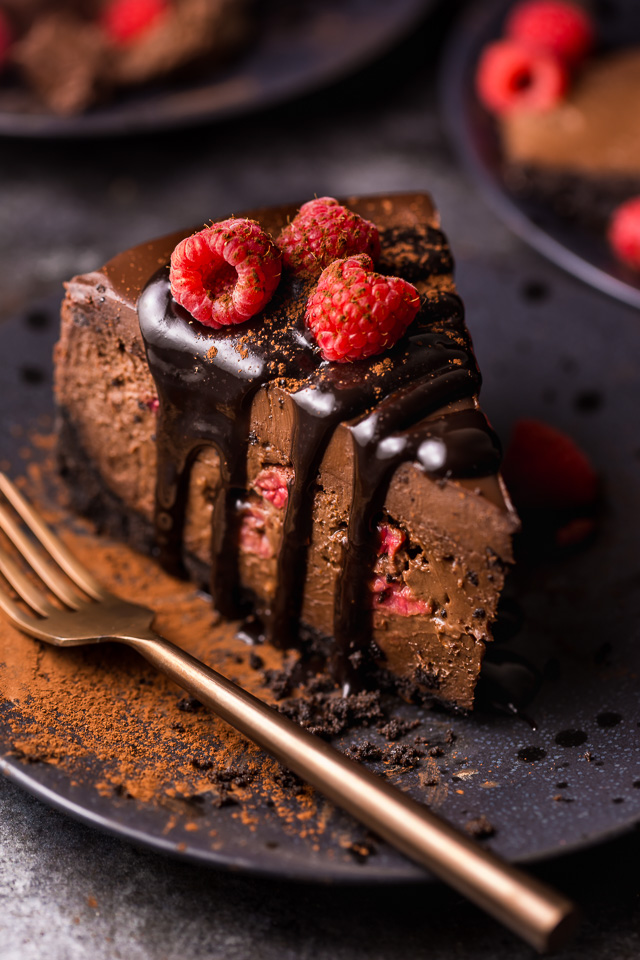 If you are going to make your own chocolate ganache, it's super easy! You'll simply place your chopped chocolate in a medium bowl (ideally a microwave safe bowl since it'll be taking some heat). Then pour boiling cream on top, and stir until silky smooth. Toss in 1/4 cup of cubed butter, whisk again, and you're good to go!
More Chocolate Raspberry Recipes: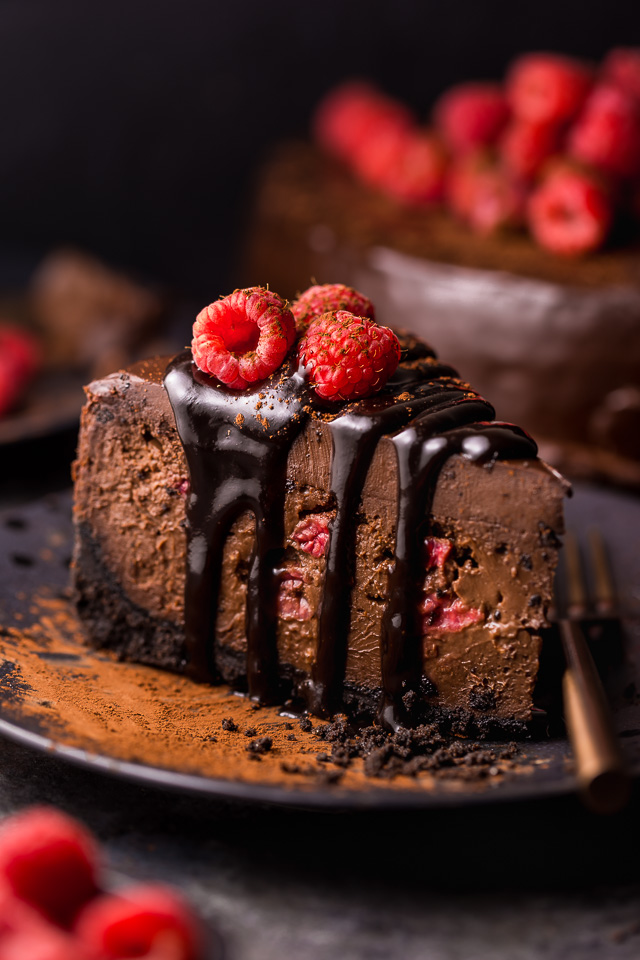 And if you try this recipe for Chocolate Raspberry Cheesecake, please let me know! Leave a comment below and don't forget to snap a pic and tag it #bakerbynature on instagram! Seeing your kitchen creations makes my day.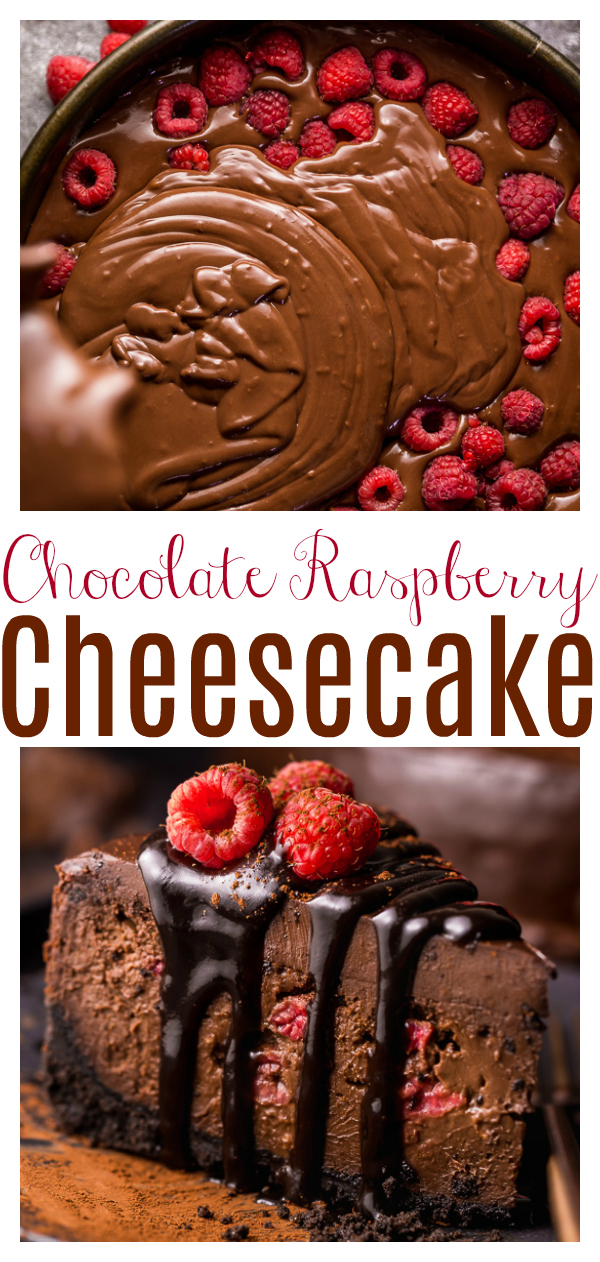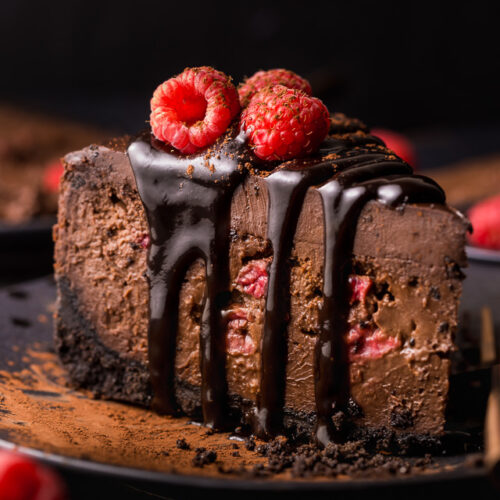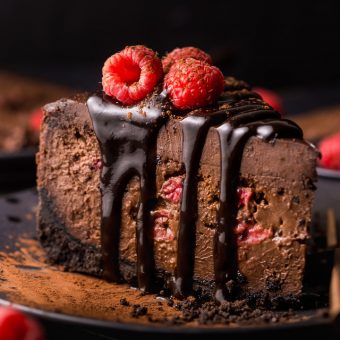 Dark Chocolate Raspberry Cheesecake
This Dark Chocolate Raspberry Cheesecake is pure decadence! It's not too sweet and but very rich, so a small slice goes far! The fresh raspberry pockets swirled throughout are delightfully refreshing!
Ingredients
For the Crust:
(1) full-size package Oreo cookies, crushed into fine crumbs (36 sandwich cookies in total)
1/2 cup (113 grams) unsalted butter, melted
For the Chocolate Raspberry Cheesecake:
2 cups (340g) semi-sweet chocolate, coarsely chopped
2 teaspoons espresso powder
1 and 1/2 pounds (680g) full-fat cream cheese, at room temperature
1 cup (198g) granulated sugar
1/3 cup (71 grams) light brown sugar, packed
2 and 1/2 Tablespoons Dutch-process cocoa powder
4 large eggs plus 2 egg yolks, at room temperature
3/4 cup (170g) heavy cream, at room temperature
2 teaspoons vanilla extract
1 cup (120 grams) fresh raspberries
For the Chocolate Ganache:
1 and 1/3 cups (226g) semi-sweet chocolate, finely chopped
1 and 1/4 cups (283 grams) heavy cream
1/4 cup (57g) unsalted butter, at room temperature, cut into cubes
For Garnish (optional):
1 cup (120 grams) fresh raspberries
1 cup chocolate sauce (use your favorite store-bought variety)
1/2 teaspoon cocoa powder
Instructions
For the Crust:
Preheat oven to 350°F. Grease the bottom and sides of a 9-inch springform pan. Wrap the outside of the pan in layers of heavy duty aluminum foil. You'll be placing this pan in a water bath, so be sure the pan has been wrapped from every angle.

In a large bowl combine the crushed cookie crumbs and melted butter, mix well to combine.

Press the mixture into the bottom - and slightly up the sides - of the prepared pan.

Bake the crust in preheated oven for 10 minutes. Remove the crust from the oven and set aside on a cooling rack until needed. Reduce the oven temperature to 325 degrees (F).
For the Chocolate Raspberry Cheesecake:
Fill a medium pot one-third full with water and bring it to a low simmer over medium heat. Place a heatproof bowl that will fit on top of the pan snugly, but will not touch the simmering water, on top of the pan.

Reduce the heat to low and add the chopped chocolate and espresso powder into the bowl over the pot. Heat until the chocolate is completely melted, stirring occasionally with a silicon spatula. Remove the pot from the heat, leaving the bowl of chocolate over the hot water. Set aside until needed.

In the bowl of a food processor, pulse the cream cheese until completely smooth, scraping down the sides of the bowl as needed, about 2 minutes. Add in both sugars and cocoa powder and beat smooth. Add in the eggs and egg yolks, one at a time, beating until just combined.

Slowly add in the heavy cream and vanilla mix until just combined, about 20 seconds.

Finally, fold in the melted chocolate. The batter will get very thick at this point! 

Remove the bowl from the food processor and, using a rubber spatula, stir the filling several times, to ensure the batter is evenly blended.

Pour half of filling over the partially baked crust. Add raspberries in a single layer. Then pour remaining batter on top, making sure all raspberries are covered by the batter. 

Place the springform pan in a roasting pan or large baking pan. Place the roasting pan in the preheated oven and pour enough hot water into the pan to come 1-inch up the sides of the springform pan.

Bake the cheesecake in the water bath for 1 hour and 10 minutes, or until the center of the cake is set but still slightly jiggly. The cake will set completely as it cools.

Remove the cake from the water bath and place the pan on a wire rack. Carefully loosen the foil, then immediately run the tip of a knife around the sides of the pan, to prevent the top from cracking.

Cool completely (in the pan), then transfer cheesecake to the refrigerator to chill for at least 6 hours before removing from the pan and slicing. 
For the Chocolate Ganache:
Add chopped chocolate to a medium bowl and set aside.

In a small saucepan over medium-heat, bring the cream to a rolling boil then immediately remove from heat. Pour the cream on top of the chocolate pieces and set aside for 1 minute. With a whisk, begin to incorporate the melted chocolate into the cream, whisking until smooth and glossy.

Add in the butter and use a spatula to stir until the butter is completely melted. The mixture will be dark and glossy. Set aside, at room temperature, until needed.

Pour ganache over cooled cheesecake. Set aside until ganache is set, about 1 hour.
To Garnish & Serve:
To serve, slice the cheesecake with a thin-bladed sharp knife, wiping the knife clean between each cut.

Top each slice of cheesecake with a drizzle of chocolate sauce, a few raspberries, and a light dusting of cocoa powder. If you're presenting the cheesecake whole, you can drizzle the chocolate sauce over the entire cheesecake, then top with raspberries, and cocoa. 

Store, loosely covered, in the refrigerator, for up to 5 days. 
Notes
If you don't have a food processor, a high-powdered blender will work, or use an electric stand mixer or hand mixer. 
I recommend using chocolate between 55% and 70% cocoa. 
Don't skip the chilling phase! If you slice into this cheesecake without chilling it, it will be more like a lava cake. 
This cheesecake will keep in the fridge for 5 days, but keeps best without any topping on it (other than the ganache).