White Chocolate Raspberry Brownies feature a chewy brownie bottom, creamy cheesecake, and a raspberry swirl! So pretty and always a crowd-pleaser!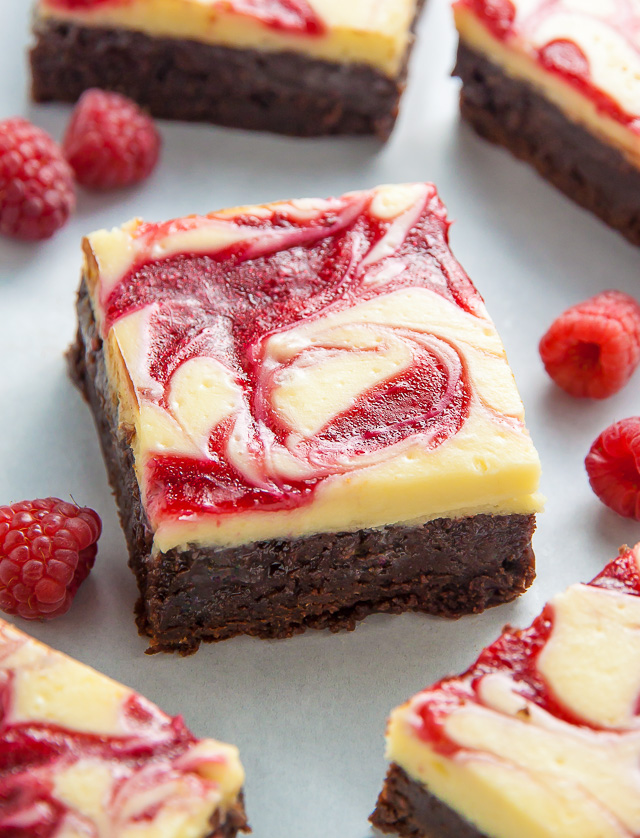 Raspberry Cheesecake Brownies
If you love white chocolate… and cheesecake… and brownies, get ready to seriously fall in love, because this dreamy combination, is now a reality.
That's right. I've gone and topped gooey fudge brownies with creamy white chocolate cheesecake and even added a stunning fresh raspberry swirl. Not sure if I should apologize or be accepting thanks for this one, so I'll do both: sorry waistline; you're welcome taste buds.
These beauties are definitely addicting and should definitely come with a warning label! Proof ↓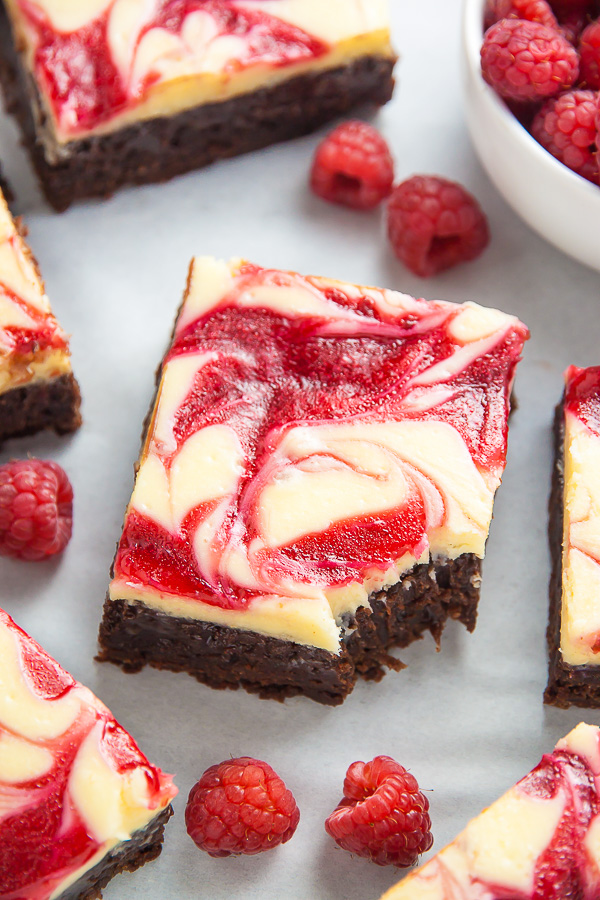 Taking bites like that… best part of my job 😉 But I digress!
This sinfully delicious recipe was inspired by my recent, but already very popular, white chocolate raspberry cheesecake. The main difference? Instead of making the base my usual Oreo cookie crust, I made it a thick layer of supremely decadent fudge brownies. I think the dessert police may be after me for this one… but it's a risk I'm willing to take. Ate 3 of these so far and each bite was so worth it. Have I mentioned how much I love stretch pants?! #somuch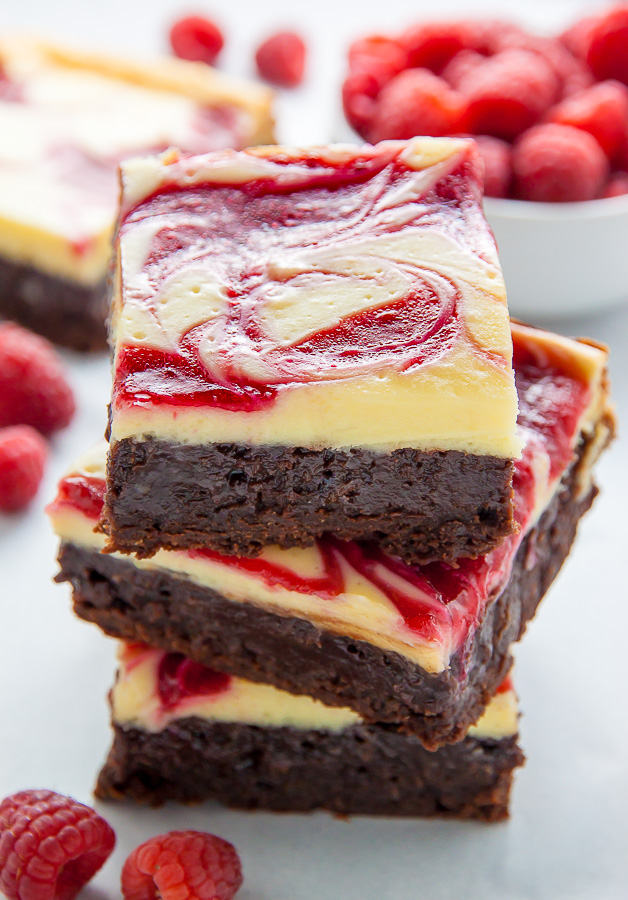 While there are several parts to this recipe, it's actually quite simple. My biggest piece of advice is to fully read through the recipe below, make sure you have enough time and ingredients on hand, and ask me any questions you might have before you begin baking. If you do that, you're totally set for success! Below are a few more notes I hope you find helpful.
White Chocolate Raspberry Cheesecake Bars
Tips and Tricks for Recipe Success:
I use full-fat cream cheese for the cheesecake layer and highly recommend you doing the same. These cheesecake gets a lot of flavor and texture from the fat in this ingredient, so using a fat-free or reduced fat replacement will result in a less creamy cheesecake layer.
Be sure to use block cream cheese (also known as brick style cream cheese), not the scoopable cream cheese that comes in a tub.
Cream cheese should be super soft before blending! I suggest leaving it on your counter for at least one hour, maybe two, depending on the temperature of your home.
Fresh raspberries work best for the raspberry swirl. The raspberry puree may be made one day in advance and stored in the fridge until needed.
For both the brownie and cheesecake layer it's important your eggs and egg yolk are at room temperature. Cold ingredients will not incorporate evenly or bond, meaning batters made with cold ingredients don't come together smoothly. To bring cold eggs to room temperature in a jiffy, simply place them in a bowl of warm water for 15 minutes. Just be sure you don't use hot water!
You will need dark chocolate for brownies and white chocolate for the cheesecake layer. Use any quality brand you know and trust! I used Ghiradelli 60% Dark Chocolate for the brownies and Ghiradelli White Chocolate for the cheesecake.
Don't over bake! The cheesecake should have a little jiggle in the middle when you pull it from the oven.
I'll see you soon with a savory recipe to balance out all this sweet, but for now, enjoy this white chocolate raspberry cheesecake brownie insanity!!! xoxo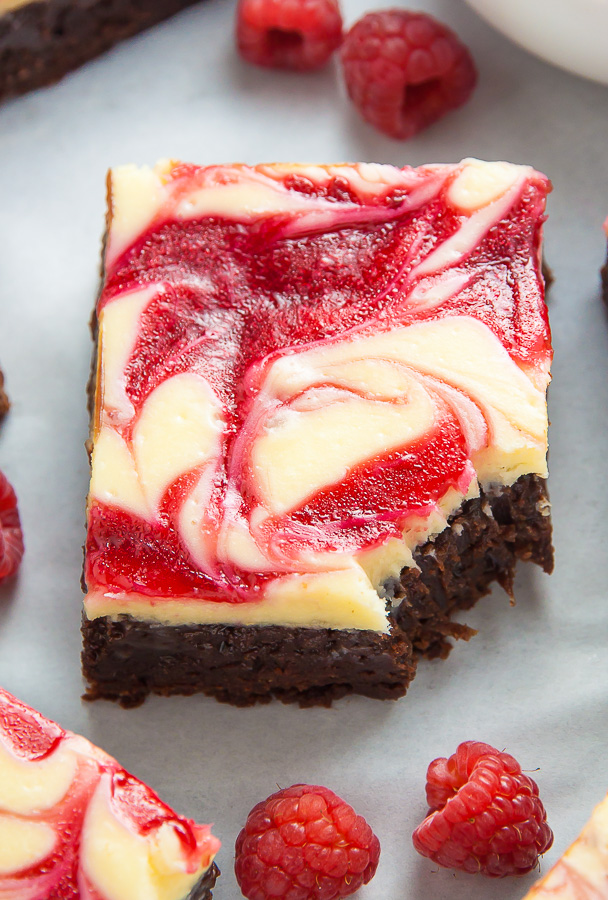 More Cheesecake Recipes:
If you try this recipe, let me know! Leave a comment below and don't forget to snap a pic and tag it #bakerbynature on Instagram! Seeing your kitchen creations makes my day. ♥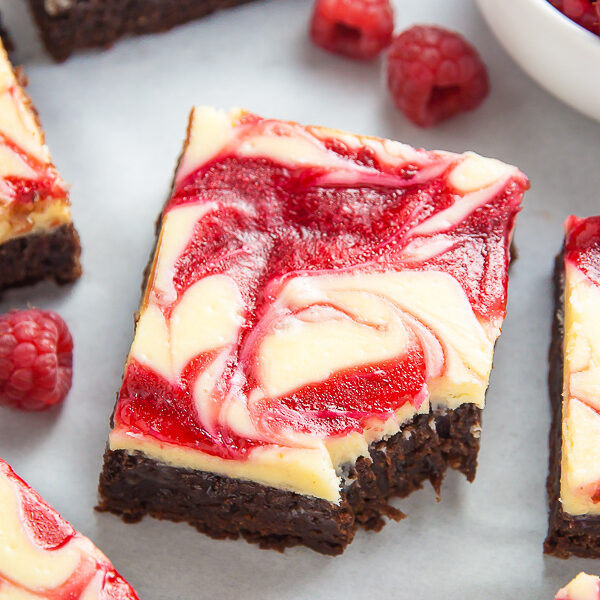 White Chocolate Raspberry Cheesecake Brownies
Fudge brownies topped with Raspberry Swirled White Chocolate Cheesecake! These are incredible.
Ingredients
For the Brownies:
1 and 1/4 cups all-purpose flour
3/4 teaspoon salt
2 tablespoons unsweetened cocoa powder
12 ounces dark chocolate (chopped), (see post for brand recommendations)
1 cup unsalted butter (2 sticks, 8 ounces) cut into small pieces
2 cups granulated sugar
5 large eggs, at room temperature
For the White Chocolate Cheesecake Filling:
4 ounces white chocolate, chopped, melted, and slightly cooled (see post for brand recommendations)
12 ounces full-fat cream cheese (one and half blocks), very soft
3/4 cup granulated sugar
2 large eggs, at room temperature
For the Fresh Raspberry Swirl:
3/4 cup fresh raspberries
3 tablespoons granulated sugar
Instructions
For the Brownies:
Preheat the oven to 350 degrees (F). Line a 9×13-inch baking pan with aluminum foil, allowing two of the sides to overlap. Spray foil and any exposed pan with non-stick baking spray; set aside.

In a medium bowl, whisk the flour, salt, and cocoa powder together, set aside.

Place the chocolate and butter in a large bowl and set it over a saucepan of simmering water, stirring occasionally, until the chocolate and butter are completely melted and smooth.

Turn off the heat, keeping the bowl over the water and add the sugar; whisk until completely combined, then remove the bowl from the pan. Add in the eggs and whisk until just combined. Do not over beat the batter at this stage or your brownies will be cakey.

Sprinkle the flour mixture over the chocolate mixture and, using a rubber spatula (not a whisk), fold the flour mixture into the chocolate until just a bit of the flour mixture is visible. Pour the batter into the prepared pan and smooth the top. Set aside while you prepare the cheesecake.
For the White Chocolate Cheesecake Filling:
Place chopped white chocolate in a small, heat proof bowl; microwave on low heat, in 20 second increments, until chocolate is complete melted. Whisk smooth and set aside.

Using a handheld mixer (or a standmixer fitted with the paddle attachment) beat the cream cheese in a large bowl until completely smooth. Add in the sugar and eggs and beat until smooth and creamy, about 1 minute. Fold in the white chocolate, stirring until combined. Pour the cheesecake batter on top of the brownie batter. Set aside to make your raspberry swirl.
For the Raspberry Swirl:
In a small food processor or blender, puree the raspberries until completely smooth. Press the mixture through a fine mesh strainer, discarding seeds and pulp. Stir in the granulated sugar. Spoon the raspberry mixture on top of the unbaked cheesecake layer, a few dollops at a time. Use a skewer to swirl the mixture gently.

Bake for 45 minutes, or until the cheesecake layer is set at the edges and only slightly wiggly in the center.

Cool in pan completely, then transfer to the fridge to cool for at least 1 hour.

Use the overlapped aluminum foil to lift the brownies out and onto a large cutting board. Cut cheesecake brownies into bars and serve.
Notes
*For best results, recipe should be followed exactly as written. Raspberry puree may be made 1 day in advance and stored in the fridge until needed. *Brownies will keep, stored in an airtight container in the fridge, for 3 days.