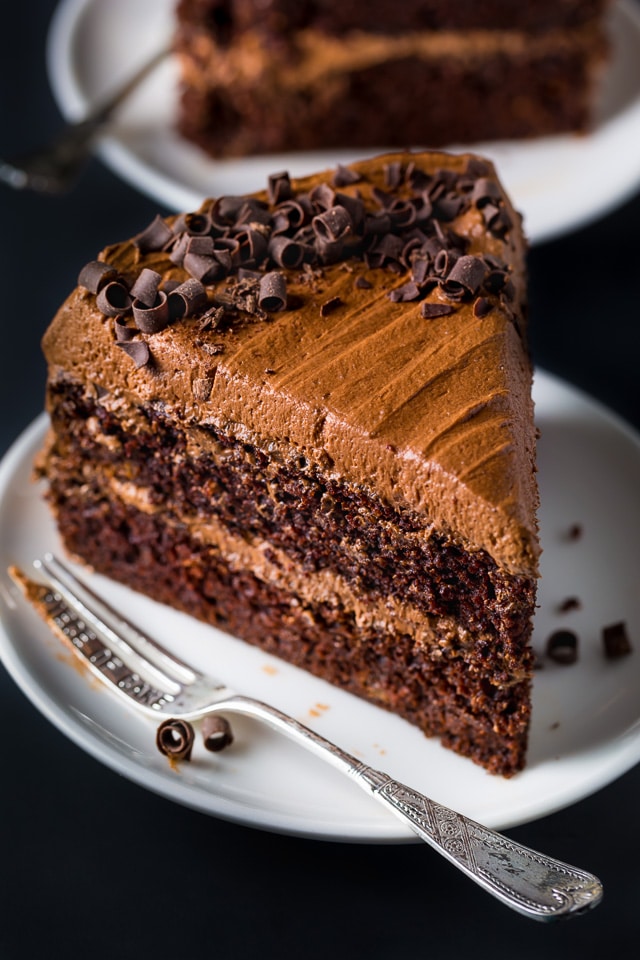 Chocolate Ricotta Layer Cake
Supremely moist and packed with real chocolate flavor, this Chocolate Ricotta Layer Cake is a must for chocolate lovers!
Ingredients
For the chocolate ricotta cake:
2 cups granulated sugar
1 3/4 cups all-purpose flour (not packed!)
1 cup unsweetened cocoa powder
2 teaspoons baking soda
1 teaspoon baking powder
3/4 teaspoon salt
2 large eggs + 1 large egg yolk, at room temperature
1 and 1/4 cups whole milk ricotta cheese
1/2 cup vegetable oil (you may also sub in melted coconut oil)
1 tablespoon vanilla extract
1 cup hot water
For the chocolate ricotta frosting:
1 cup unsalted butter (2 sticks, 8 ounces), softened
3 and 1/4 cups confectioners' sugar, sifted
1/2 cup unsweetened cocoa powder, sifted
2 teaspoons vanilla extract
1/4 teaspoon salt
1/4 cup whole milk ricotta cheese
Instructions
For the chocolate ricotta cake:
Preheat oven to 350°(F). Generously spray two 9-inch round baking pans with non-stick baking spray, set aside. In the bowl of a stand mixer fitted with the paddle attachment or in a large bowl with an electric mixer, combine the sugar, flour, cocoa, baking soda, baking powder and salt; mix on low until dry ingredients are thoroughly combined. In a separate bowl combine the eggs, egg yolk, ricotta cheese, oil and vanilla, mix until completely combined. Pour mixture into the dry ingredients and beat on low until just incorporated. Pour in hot water and continue mixing until completely combined; about 1 minute. The batter will quite thin.
Divide batter evenly into prepared pans.
Bake in preheated oven for 30 to 35 minutes, or until wooden toothpick or cake tester inserted in the center of a cake comes out clean or with just a few moist crumbs attached.
Cool cakes for 10 minutes in the pan before removing from pans and transferring to a cooling rack; cool cakes completely before frosting.
For the chocolate ricotta frosting:
In a stand mixer fitted with the paddle attachment, cream the softened butter on medium-speed until completely smooth; about 3 minutes. Turn the mixer off and sift the powdered sugar and cocoa into the mixing bowl. Turn the mixer on the lowest speed and mix until the sugar/cocoa have been absorbed by the butter; about 2 minutes. Increase mixer speed to medium; add in vanilla extract, salt, and ricotta cheese; beat for 3 minutes. If your frosting appears a little too thin, add a little more sugar; If your frosting needs to be thinner, add additional ricotta cheese, 1 tablespoon at a time.
Frost cooled cakes as desired.
Notes
This recipe should be followed exactly for best results.
Courses Dessert
Cuisine Italian
Amount Per Serving
% Daily Value
Recipe by Baker by Nature at https://bakerbynature.com/chocolate-ricotta-layer-cake/