Chocolate Lovers – get excited! These rich, fudgy, super decadent chocolate cupcakes are all for you! So soft, fluffy, and full of chocolate flavor in every bite… they're addicting! And a chocolate lovers dream 🙂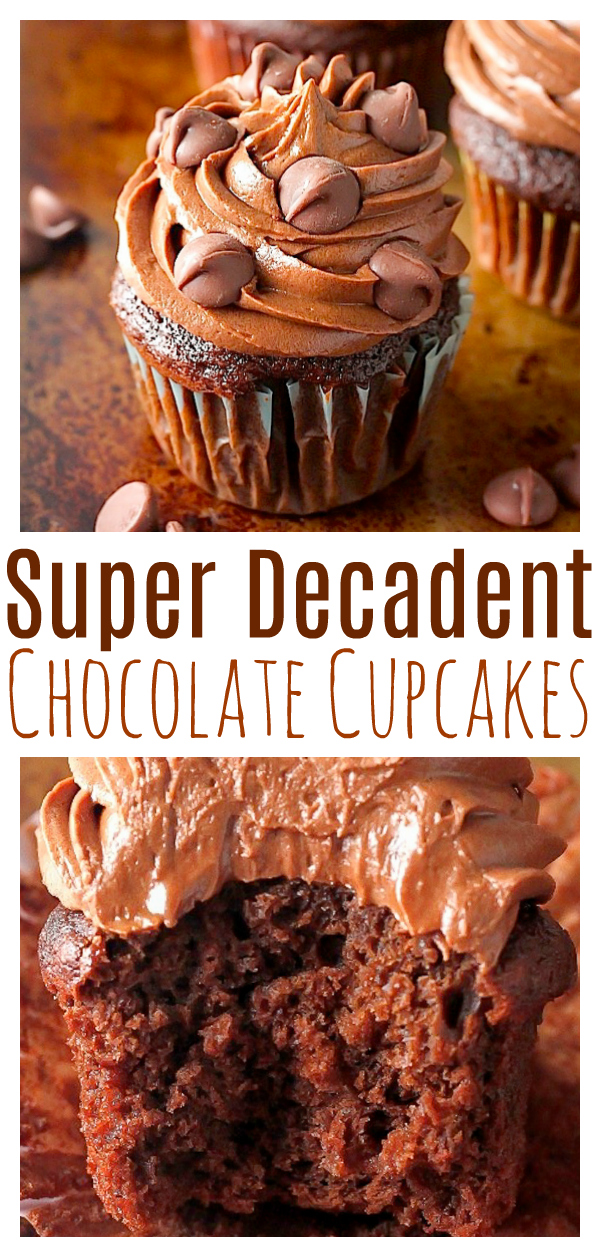 The idea for these pretty little cupcakes came straight from my longing to get BACK in the kitchen after a drawn out (and pretty boring) 6 day moving hiatus. The first two days were actually quite easy, in the beginning I was all "Yay – no dishes!"… "Hooray for pizza and Chinese take-out"… but by day 5 I was ready for my whisks and spatulas to be unpacked already so I could get back to business. Good thing for us, my business is making you delicious, decadent cupcakes 😉 I'm pretty lucky, huh?
Since I already knew I wanted to make us some cupcakes, the question really came down to what kind of cupcakes they should be. Then – like magic – a reader emailed me (Hi, Donna from New Jersey!) and asked if I had a chocolate cupcake recipe I could recommend since I didn't have one in my recipe index. I immediately ran (with my fingers) to my recipe index to see if this could be true, and you guys – it was! No chocolate cupcake recipe?! Hmmm. To this I say Challenge Accepted!
I have to admit making the perfect chocolate cupcake was a lot harder than I thought it would be.
The first try I could tell without even taking a bite they were no good. The second batch came out with funky little spots on top? And the third turned out acceptable, but not epic by any accounts.
So I spent Sunday testing recipes, too; tweaking teaspoons of this and 1/4 cups of that, until finally, I found us a perfect recipe! Well, at least my definition of perfect. They're soft, fluffy, and don't crumble when bitten; they're packed with rich cocoa flavor, and hold up for up to 3 days; and the fudge buttercream is, simply put, killer. They're also easy enough for a baker of any level to master! I even let my niece help with some of the mixing 🙂 Kids love that stuff!
You can top these cupcakes with chocolate sprinkles, rainbow sprinkles, or even some big fat chocolate chips like I did! I'm a "never enough chocolate" kind of girl, so it was an easy choice for decorating 😉 You can also just leave them plain! I found them so dark and beautiful in their natural state that I almost didn't add anything at all… almost!
More Chocolate Cupcakes Recipes: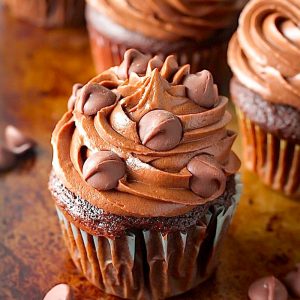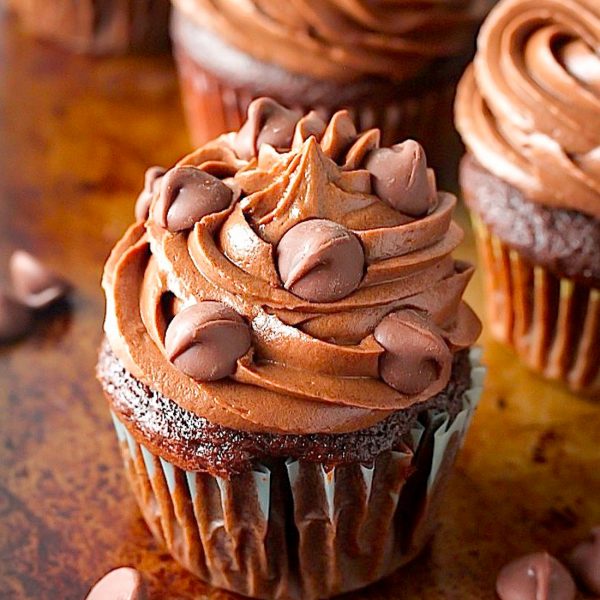 Super Decadent Chocolate Cupcakes
Super Decadent Chocolate Cupcakes - These Homemade Chocolate Cupcakes have RAVE reviews in the comments and are so easy to make! We LOVE these.
Ingredients
For the cupcakes:
3 tablespoons coconut OR canola oil
1 stick unsalted butter, melted and slightly cooled
1/2 cup semi-sweet chocolate chips
1 cup granulated sugar
2 large eggs + 1 large egg yolk, at room temperature
1 teaspoon vanilla
3/4 cup + 2 tablespoons all-purpose flour, not packed
1/2 teaspoon baking soda
1 teaspoon baking powder
1/2 cup unsweetened cocoa powder
1/2 teaspoon salt
1/2 cup full fat sour cream
1/2 cup hot coffee OR hot water
For the Fudgy Buttercream:
1 stick unsalted butter
3 cups confectioners sugar
3/4 cup unsweetened cocoa powder
2 tablespoons sour cream
3 tablespoons whole milk or half and half
1/4 teaspoon salt
1 teaspoon vanilla
Instructions
For the cupcakes:
Preheat the oven to 350 degrees (F). Line a 12-cup cupcake/muffin tin with cupcake liners and lightly spray the liners with non-stick spray (optional but it does help them peel right off).

Melt the oil, butter,and chocolate together in the microwave, heating in 30 second increments, and stirring between increments each time. You can also melt the oil, butter, and chocolate over very low heat on the stovetop, but I find the microwave to be much easier. Whisk mixture until completely smooth and set aside to cool.

In a medium sized bowl combine the flour, baking soda, baking powder, cocoa powder, and salt; stir together until thoroughly combined; set aside.

In a large bowl, whisk together the eggs, yolk, sugar and vanilla together; beat until smooth. Add the cooled oil/butter/chocolate mixture and whisk until smooth. Add half of the flour mixture, then half of the sour cream. Repeat the process until everything is added, and be sure to mix until JUST combined - then quickly stir in the hot coffee/water. It's important not to over mix, here! Just stir until evenly combined.

Divide the batter among the 12 liners in your prepared pan. Bake for 16-18 minutes, or until a toothpick inserted in the center comes out clean. Cool *completely before frosting.
For the fudge buttercream:
Sift together the confectioners sugar and cocoa powder, whisking well to ensure it's bump and lump free!

Using a handheld mixer OR a stand mixer fitted with the paddle attachment, beat the butter on medium-high speed until creamy; about 2 minutes. Reduce speed to low and slowly add the sifted sugar/cocoa powder, alternating with the sour cream and milk, then add the vanilla and salt. Once all of the ingredients have been added, beat on high speed until light and creamy and combined; beat for at least 1 minute on high.

Frost cooled cupcakes and top with any decorations if desired.

Cupcakes stay fresh at room temperature in an airtight container for up to 4 days.