Chocolate lovers will go CRAZY for these super decadent chocolate cupcakes! Topped with big swirls of chocolate buttercream frosting, they're exploding with chocolate flavor in every bite. One taste and you'll never try another recipe!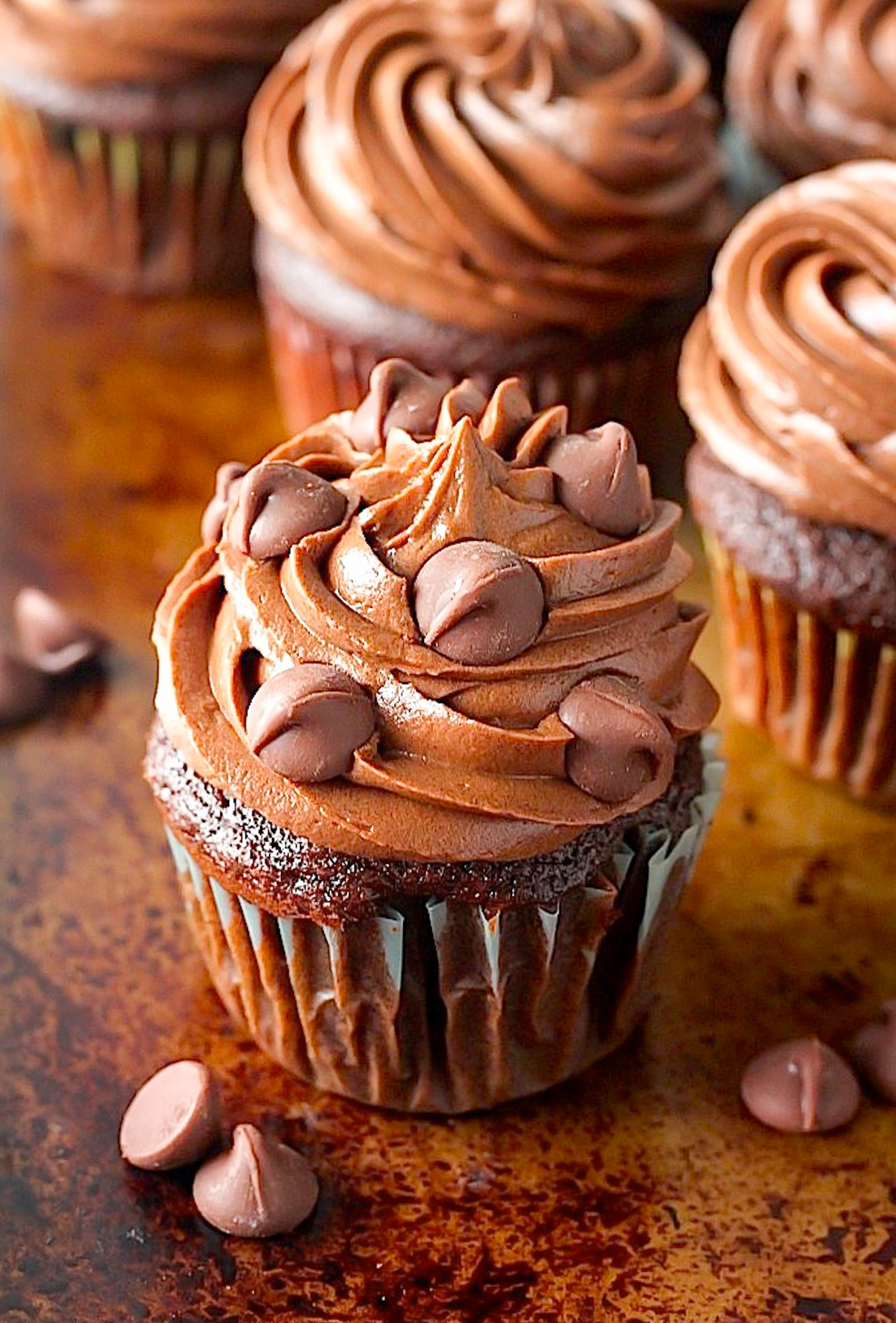 Best Chocolate Cupcakes Recipe
"Can I turn this chocolate cake recipe into chocolate cupcakes?" If you've ever wondered this, you're not alone! It's by far one of the most frequently asked questions I receive.
The bad news? My answer is typically no. The GOOD news? I have the best chocolate cupcake recipe in the world: right here for you! So next time you want to skip the cake layers and bake up a batch of the best chocolate cupcakes, bust out your muffin pan and bake these up! No need to scour Facebook or Pinterest, I promise you, there's are truly the best of the best. And if you're not a fan of chocolate buttercream, you can always top these chocolate cupcakes with chocolate ganache, cream cheese frosting, or white chocolate mocha buttercream.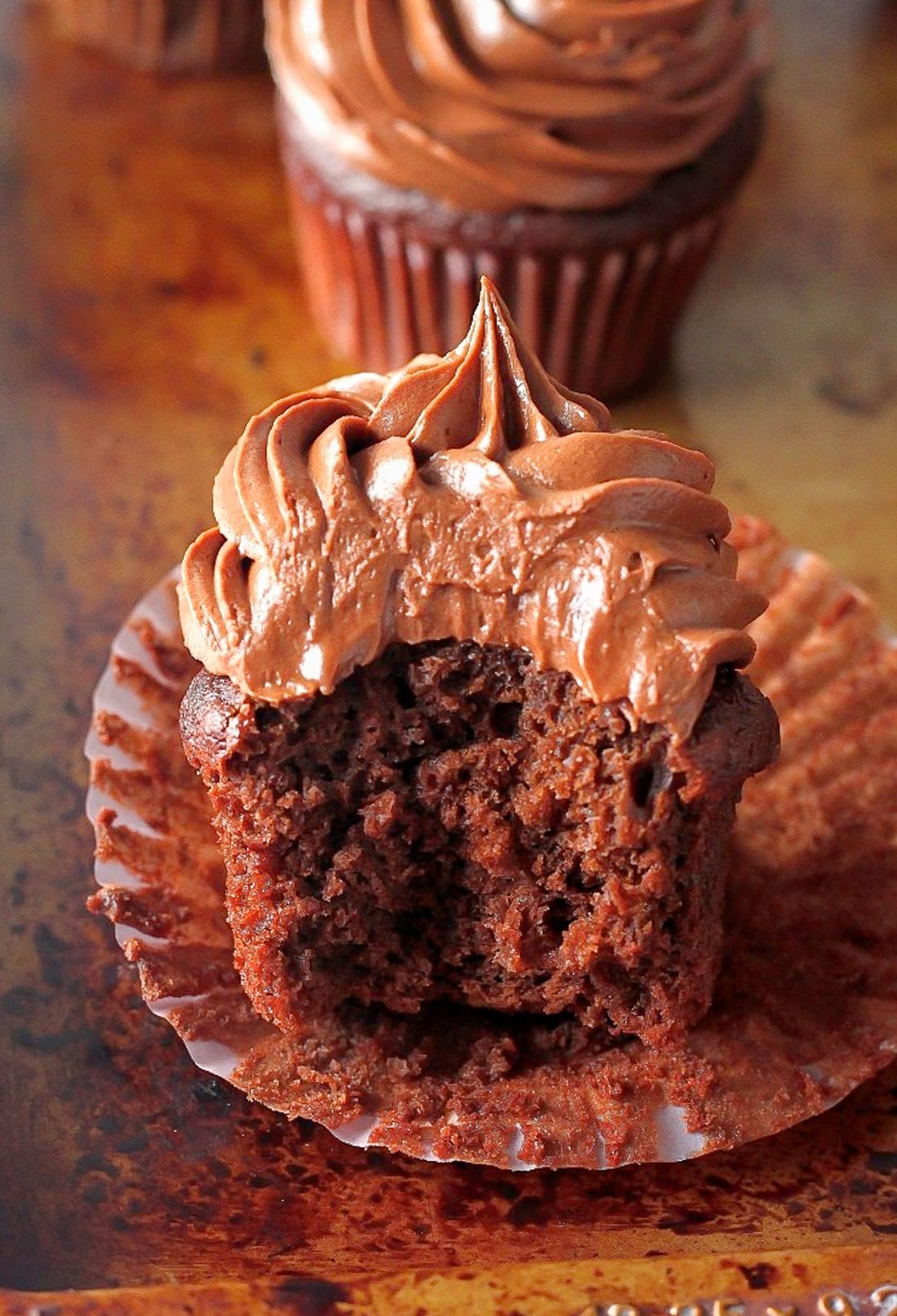 So… What is the Secret to Super Moist Chocolate Cupcakes?
I have to admit making the perfect chocolate cupcake was a lot harder than I thought it would be. There was a lot of tweaking and I kind of felt like a mad scientist trying to figure out how to make these amazing. What is the secret to good cupcakes? Is cupcake better with oil or butter? Why are my cupcakes so dry?! These are all questions that I worked through while developing this recipe! Here's what I learned:
Use a combination of vegetable oil AND butter! This combo creates super moist cupcakes that still have delicious flavor. Butter brings the flavor and oil locks in the moisture. It's a winning combination! You can use canola oil or refined coconut oil in a pinch.
Use hot water to bloom the unsweetened natural cocoa powder! You can also use hot coffee, or combine very hot water with espresso powder or instant coffee. Coffee actually enhances the chocolate flavor (so does vanilla extract, fyi!), so it's a win/win.
Do not over mix! Once you've added the dry ingredients into the batter, you want to mix until just combined. The key to incorporating any loose ingredients? Use a rubber spatula to scrape the sides and bottom of the bowl, then gently fold any stuck bits into the batter.
Bake until a toothpick comes out the center of a cupcake clean! But don't over bake. Over baking can cause very dry cupcakes.
You can top these cupcakes with chocolate sprinkles, rainbow sprinkles, or even some big fat chocolate chips like I did! I'm a "never enough chocolate" kind of girl, so it was an easy choice for decorating 😉 You can also just leave them plain! I found them so dark and beautiful in their natural state that I almost didn't add anything at all… almost!
More Chocolate Cupcakes Recipes: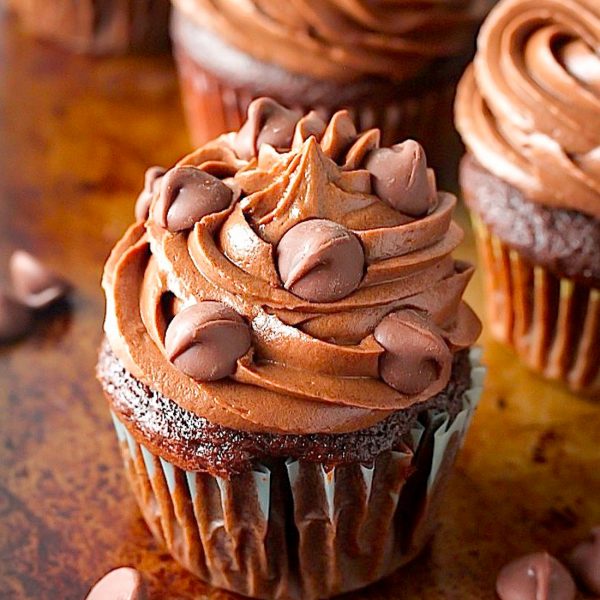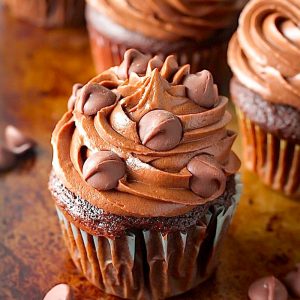 Super Decadent Chocolate Cupcakes
Super Decadent Chocolate Cupcakes - These Homemade Chocolate Cupcakes have RAVE reviews in the comments and are so easy to make! We LOVE these.
Ingredients
For the cupcakes:
3 tablespoons coconut OR canola oil
1 stick unsalted butter, melted and slightly cooled
1/2 cup semi-sweet chocolate chips
1 cup granulated sugar
2 large eggs + 1 large egg yolk, at room temperature
1 teaspoon vanilla
3/4 cup + 2 tablespoons all-purpose flour, not packed
1/2 teaspoon baking soda
1 teaspoon baking powder
1/2 cup unsweetened cocoa powder
1/2 teaspoon salt
1/2 cup full fat sour cream
1/2 cup hot coffee OR hot water
For the Fudgy Buttercream:
1 stick unsalted butter
3 cups confectioners sugar
3/4 cup unsweetened cocoa powder
2 tablespoons sour cream
3 tablespoons whole milk or half and half
1/4 teaspoon salt
1 teaspoon vanilla
Instructions
For the cupcakes:
Preheat the oven to 350 degrees (F). Line a 12-cup cupcake/muffin tin with cupcake liners and lightly spray the liners with non-stick spray (optional but it does help them peel right off).

Melt the oil, butter,and chocolate together in the microwave, heating in 30 second increments, and stirring between increments each time. You can also melt the oil, butter, and chocolate over very low heat on the stovetop, but I find the microwave to be much easier. Whisk mixture until completely smooth and set aside to cool.

In a medium sized bowl combine the flour, baking soda, baking powder, cocoa powder, and salt; stir together until thoroughly combined; set aside.

In a large bowl, whisk together the eggs, yolk, sugar and vanilla together; beat until smooth. Add the cooled oil/butter/chocolate mixture and whisk until smooth. Add half of the flour mixture, then half of the sour cream. Repeat the process until everything is added, and be sure to mix until JUST combined - then quickly stir in the hot coffee/water. It's important not to over mix, here! Just stir until evenly combined.

Divide the batter among the 12 liners in your prepared pan. Bake for 16-18 minutes, or until a toothpick inserted in the center comes out clean. Cool *completely before frosting.
For the fudge buttercream:
Sift together the confectioners sugar and cocoa powder, whisking well to ensure it's bump and lump free!

Using a handheld mixer OR a stand mixer fitted with the paddle attachment, beat the butter on medium-high speed until creamy; about 2 minutes. Reduce speed to low and slowly add the sifted sugar/cocoa powder, alternating with the sour cream and milk, then add the vanilla and salt. Once all of the ingredients have been added, beat on high speed until light and creamy and combined; beat for at least 1 minute on high.

Frost cooled cupcakes and top with any decorations if desired.

Cupcakes stay fresh at room temperature in an airtight container for up to 4 days.