Hi guys! So I'm pretty excited to finally be living and breathing the week of THANKSGIVING!!! It's definitely one of my favorite holidays, and I hope y'all are pumped up to celebrate as well 🙂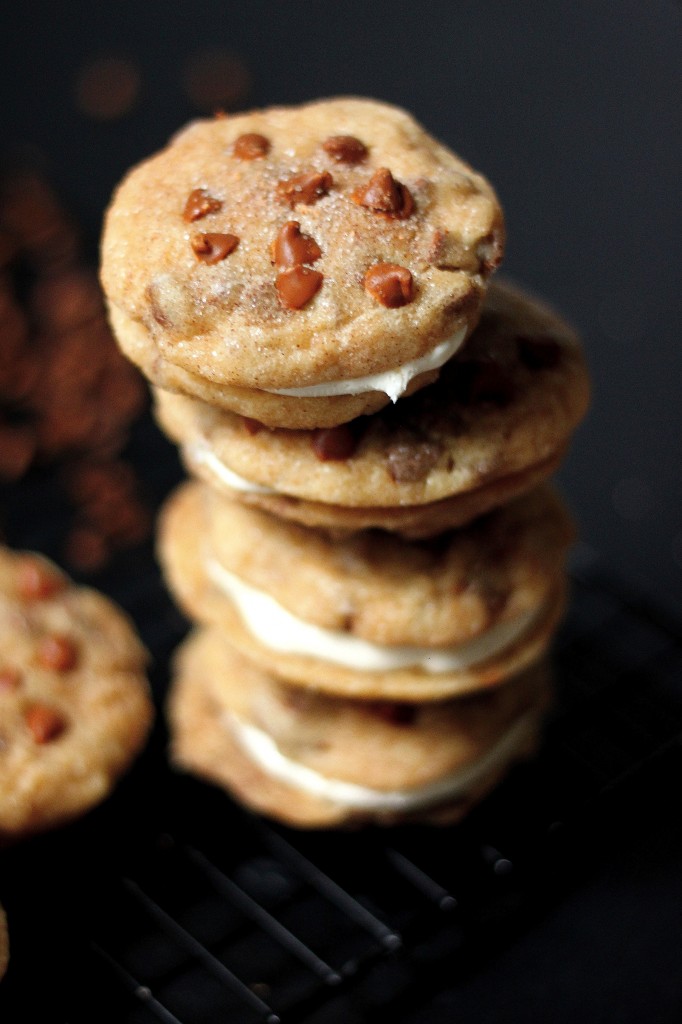 While I'm majorly giddy about all the food (and then shopping!) Thursday will bring, I'm most excited to spend time with our families and just relax. Such a life luxury! What are you guys most excited for?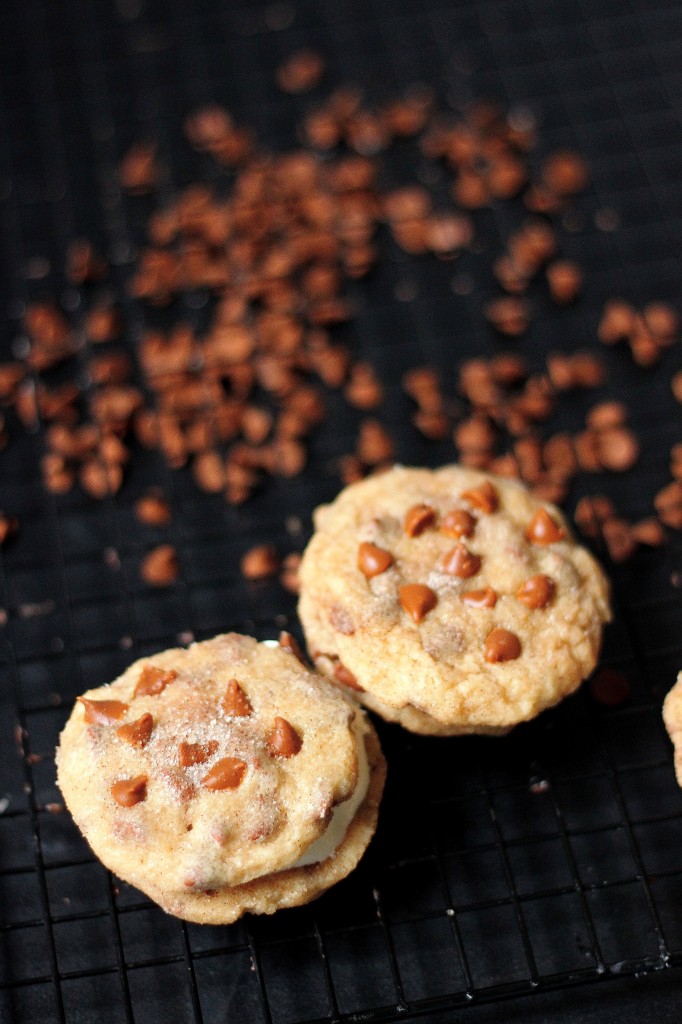 In the spirit of officially and properly welcoming the holiday season, I got into some major baking over the weekend. It was the SO cold here! So it was nice to cozy up in the kitchen and get lost in a whirlwind of sugar and nostalgia.
Snickerdoodles are one of those cookies that reminds me of childhood holidays, and even more, baking with my mom. They're also just majorly soft, sweet, and delicious. That being said it's probably no big surprise they're one of my favorite cookies to bake this time of year. I've made about 6 dozen already, and I see no end in sight!
Over the weekend I decided to put a fun little twist on the classic cookie and turn it into a cream sandwich situation, and you guys, it was a mega hit! The cheesecake filling is super simple and takes little effort, but if you just want a plain ol' snickerdoodle cookie, this recipe is still for you; just don't make the filling 😉
Oooooh! And if you do go the cheesecake route… adding a shot of bourbon to the batter totally takes things to a whole new level of amazing.
Have a great day! xo
Cinnamon Chip Snickerdoodle Cheesecake Cookie Sandwiches – Baker by Nature
Ingredients:
For the Snickerdoodle Cookie Dough
2 1/2 cups AP flour
1 3/4 teaspoons cream of tartar
1 teaspoon baking powder
1/4 teaspoon ground ginger
1/4 teaspoon salt
2 sticks (8 ounces) unsalted butter, at room temperature
1 1/2 cups light brown sugar, packed
2 tablespoons whole milk
2 large eggs, at room temperature
1 cup cinnamon chips
For the Cinnamon Sugar Coating
1/2 cup turbinado sugar
1 tablespoon cinnamon
1/4 teaspoon ground ginger
For the Cheesecake Filling
(1) 8 ounce package of cream cheese, softened and cut into small bits
4 ounces of sweetened condensed milk
1 teaspoon vanilla extract
Instructions:
In a large bowl whisk together the flour, cream of tartar, baking powder, ginger, and salt; set aside.
In the bowl of a stand mixer fitted with the paddle attachment beat butter for about 30 seconds. Add brown sugar and vanilla, and beat the mixture until light and fluffy; 2 to 3 minutes. Add eggs one at a time, then add milk. Turn mixer off and gradually fold in flour mixture with a rubber spatula. Fold in cinnamon chips. Wrap plastic wrap over the top of the bowl and refrigerate for at least 1 hour.
While your cookies are chilling in the fridge, make your cheesecake filling! In the bowl of a stand mixer fitted with the whisk attachment beat cream cheese until light and fluffy. Add condensed milk and vanilla, and beat for another minute or so. Place bowl in the fridge until needed.
30 minutes before baking your cookies, preheat your oven to 350 degrees (F). Line a large baking sheet with parchment paper; set aside.
In a small bowl whisk together the turbinado sugar, cinnamon, and ginger, then pour the mixture out onto a large, clean plate.
Scoop tablespoon sized mounds of dough from the batter, and roll them into balls to form the cookies. Roll each ball in the spiced sugar, coating it well, then place on the prepared baking sheet, leaving about 2 inches in between each cookie for inevitable spreading.
Bake the cookies for 10-12 minutes, or until their edges are set and they're a light golden brown in color. Remove pan from the oven and allow cookies to rest on the baking sheet for at least 20 minutes before transferring to a cooling wrack to cool completely.
Once completely cooled, spread one cookie generously with the cheesecake filling, then top with another cookie. EAT! Or freeze and use as faux ice cream sandwiches. They're totally awesome that way 😉