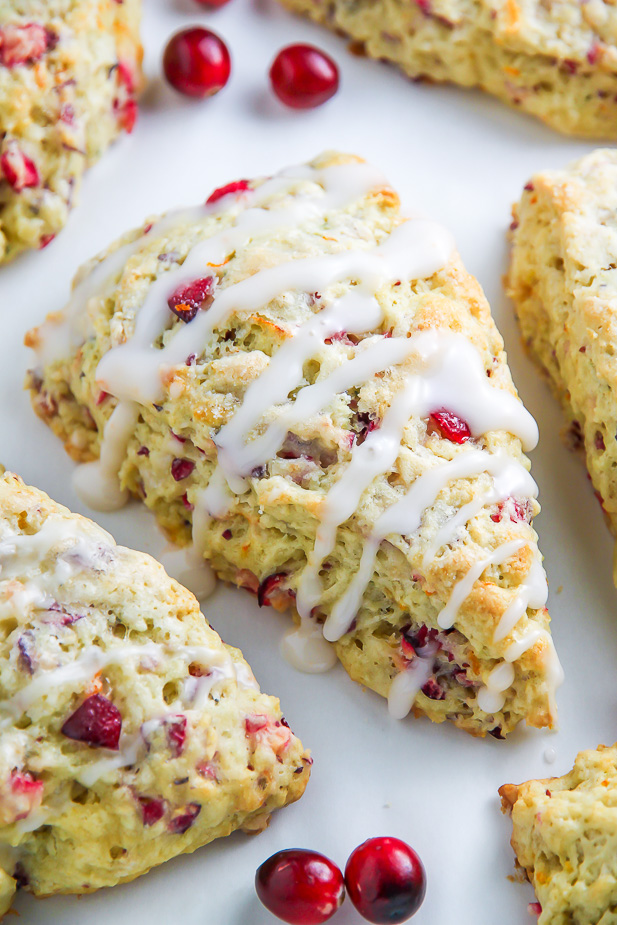 Cranberry Ricotta Scones
Yield 8 scones
Homemade Cranberry Ricotta Scones with Orange Glaze. Perfect for a special breakfast or snack!
Ingredients
2 and 1/2 cups all-purpose flour
1/2 teaspoon salt
1 tablespoon baking powder
1/2 teaspoon baking soda
1/3 cup + 2 tablespoons granulated sugar
1 teaspoon orange zest
1 stick (4 ounces) unsalted butter, VERY cold and cut into tiny pieces
1 large egg, beaten
1/2 cup (Whole Milk) Ricotta Cheese
3 tablespoons Whole Milk
1 cup cranberries, fresh or frozen (If using frozen, do not thaw first), roughly chopped
For the egg wash:
1 large egg, beaten
1 teaspoon milk or water
2 tablespoons sugar, for sprinkling
For the (optional) orange glaze:
2 tablespoons fresh orange juice
1/2 teaspoon orange zest
Pinch of salt
3/4 cup confectioners sugar, more if needed
Instructions
Preheat oven to 400°(F). Line a large baking sheet with parchment paper; set aside.
In a large bowl mix together the flour, salt, baking powder, baking soda, sugar, and orange zest.
Cut the butter into small cubes then, using two forks or a pastry cutter, quickly work it into the mixture until it resembles a coarse meal. Set aside.
In a small bowl whisk together the egg, ricotta cheese, and milk. Add to flour and butter mixture and use a fork to stir everything together until just moistened.
Add in the chopped cranberries and gently fold them into dough with a spatula.
Pour the shaggy dough out onto a clean, lightly floured work surface and shape the dough into an 8-inch circle. Cut the dough into 8 wedges and carefully transfer them to the prepared sheet. Leave an inch or so between each scone as they do spread a little.
Lightly brush each scone with the egg wash, then sprinkle the top of each scone with sugar.
Bake for 18-20 minutes, or until the tops are lightly golden brown. Cool scones on the pan for 10 minutes, then top with glaze and serve warm.
For the glaze:
In a small bowl whisk together the orange juice, zest, salt, and confectioners sugar. Drizzle over warm scones and serve at once.
Courses Breakfast
Cuisine British
Amount Per Serving
% Daily Value
Recipe by Baker by Nature at https://bakerbynature.com/cranberry-ricotta-scones-2/