Homemade Cranberry Ricotta Scones feature supremely soft centers, crunchy tops, and a sweet orange glaze. These scones are flaky, buttery, and loaded with fresh cranberries! A pop of orange zest and a sweet glaze make them the ultimate holiday treat!
Cranberry Scones Recipe
As I write this post I'm sitting on our little couch enjoying some healing ginger tea and nibbling on the very last of these scones.
The one thought pulsing through my brain? MUST MAKE MORE. Yes, these cranberry scones are distractingly delicious and dangerously easy. Let's do this!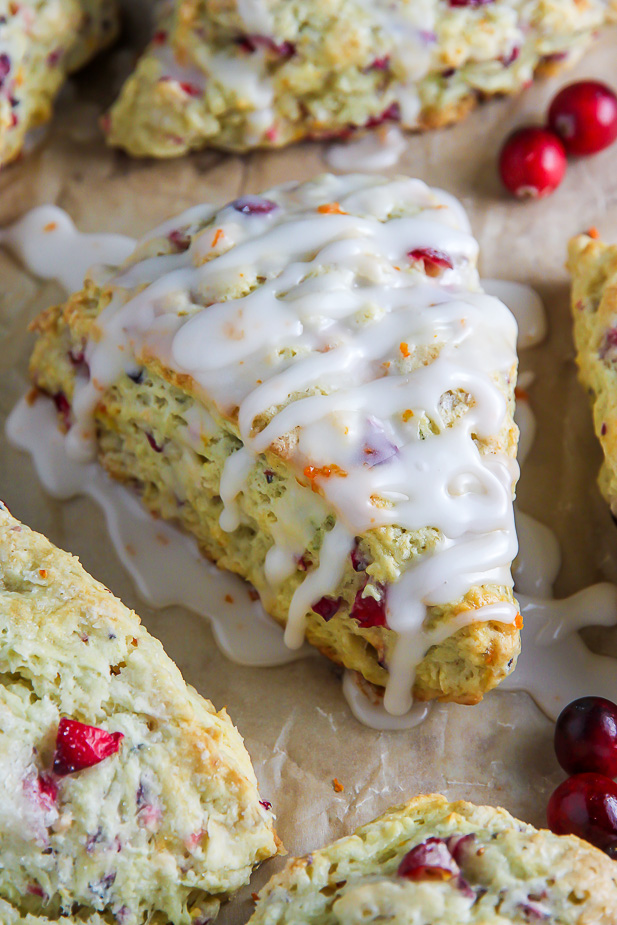 But first. Let's take a second to stop and stare…
↑ Aren't they beautiful?! The combination of ruby red and vibrant orange are just hypnotizing ♥♥♥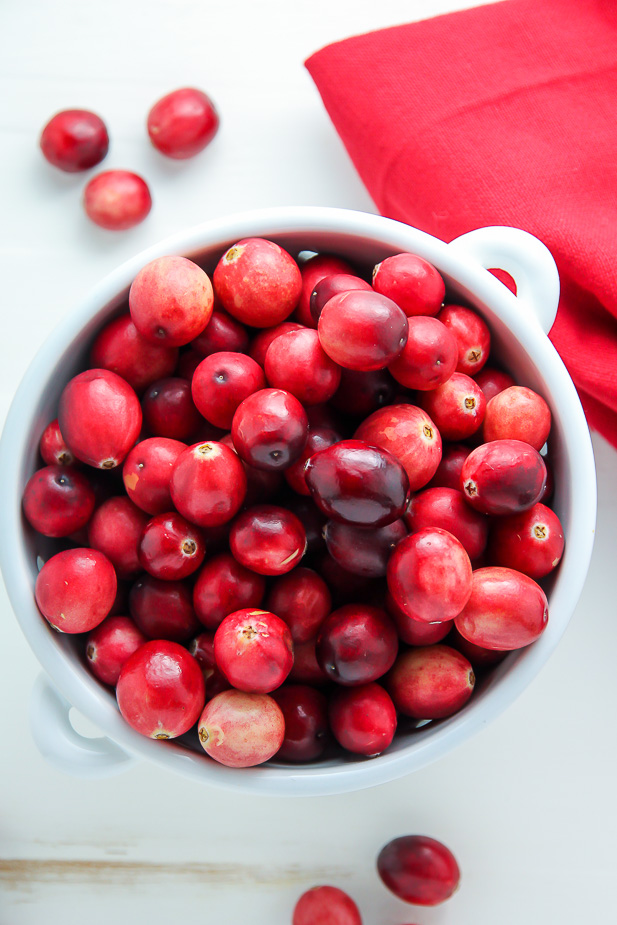 If you're new to baking, making flaky, buttery, bakery-style scones at home may feel a bit intimidating – but it doesn't have to be! The core recipe for these scones are made with very simple ingredients: flour, salt, baking powder, baking soda, sugar, butter, egg, ricotta cheese, and milk. I bet you have most of those ingredients already at home, right? The ricotta cheese is definitely the most unique ingredient in that list. Adding ricotta cheese to scones makes them super soft and sweet.
Homemade Ricotta Option
If you cannot find ricotta cheese in a store near you, use my recipe for homemade ricotta cheese; it's so simple!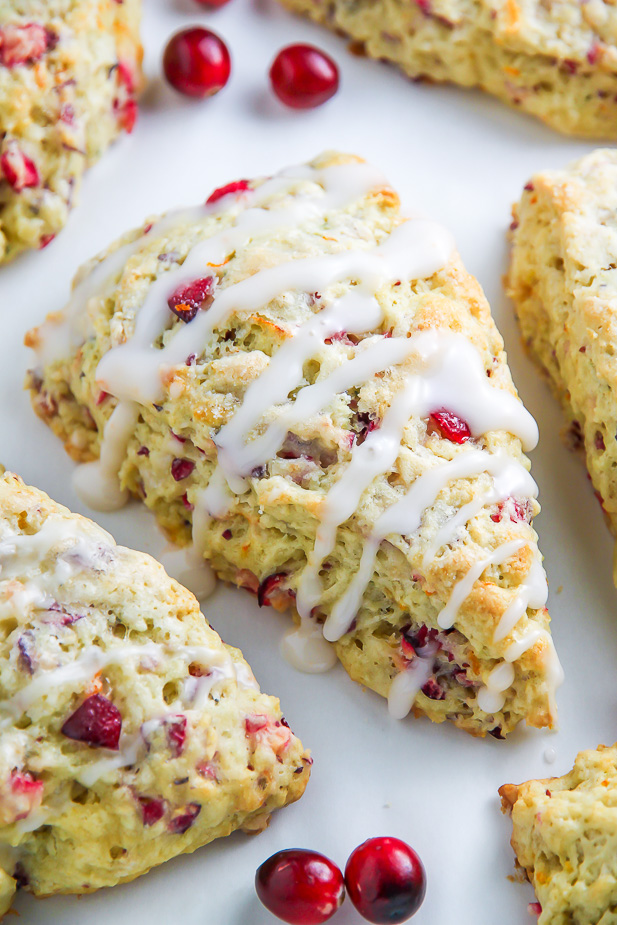 Scones need COLD butter
I've said it before and I shall say it again; my #1 rule for scones is COLD butter.
Why cold butter? Cold butter is what makes your scones crumbly and tender.
If your butter is warm and melts before baking you're going to lose all those buttery layers that are essential in a scone.
When it comes time to add the butter into the dough, you should resist using your hands, since body heat will quickly make the butter melt. Instead use a pastry cutter or two forks. My favorite method is grating the butter then quickly working it into the dough with my pastry cutter.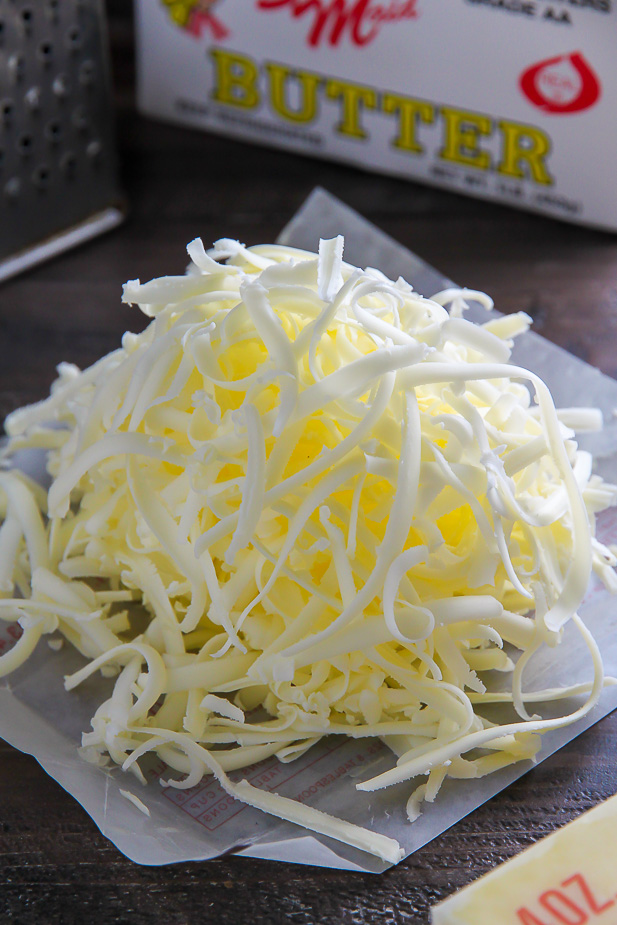 Shaggy Dough
Don't be surprised if your dough looks like a big shaggy mess when you dump it out onto your work surface. This is normal! You're going to need a little patience while you need the dough into a workable consistency, but trust me – you can do this! I find a well floured work area and lightly floured hands help a lot here.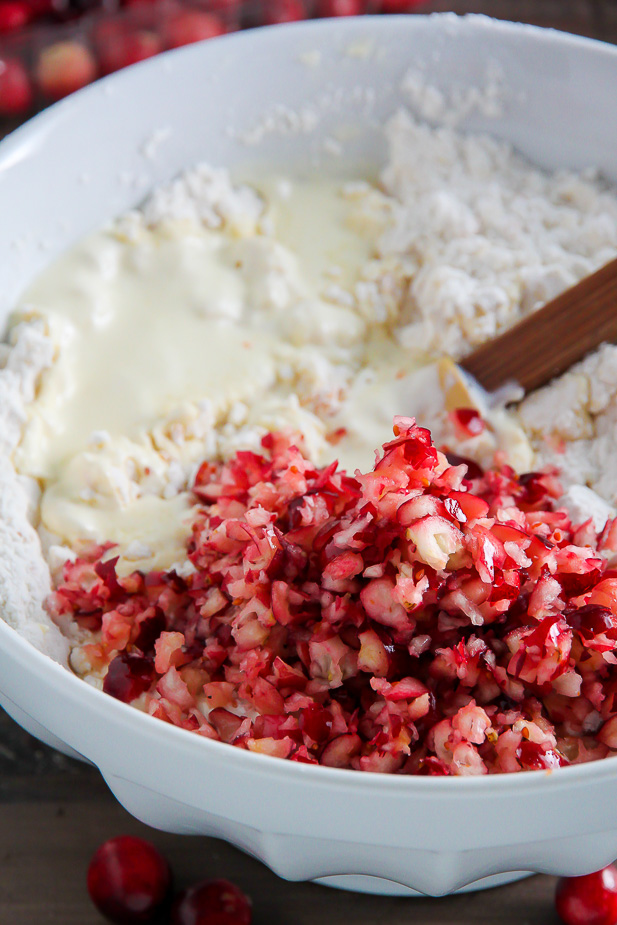 Once you have the dough in a nice neat ball, you'll simply press down and into a circle. Then slice the dough into 8 scones.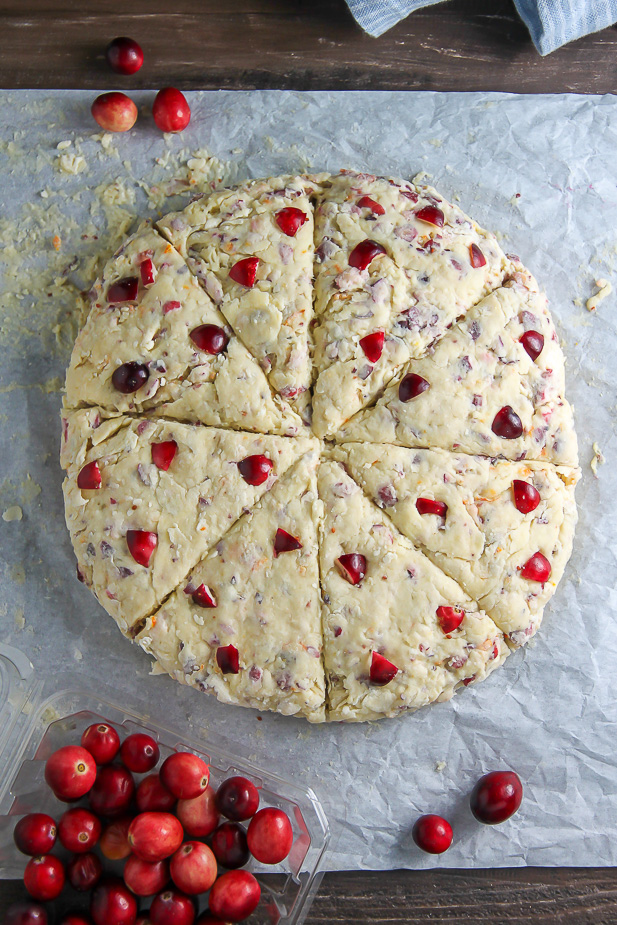 While the scones are baking, you can make your simple orange glaze. This glaze is seriously easy! All you need is confectioners' sugar, orange juice, orange zest, and a pinch of salt. Whisk together until smooth, and viola – you've got glaze.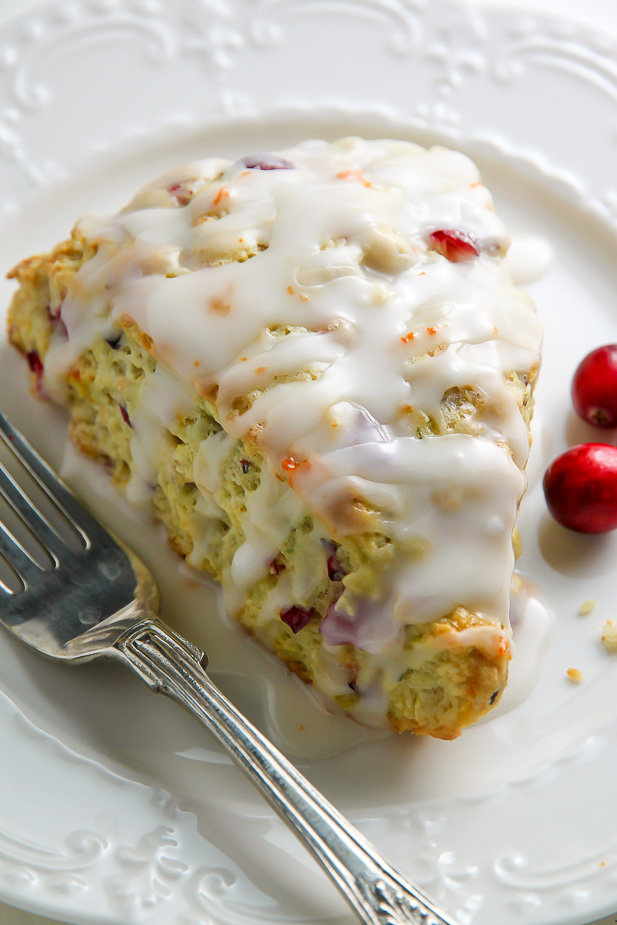 More Cranberry Recipes:
Warning: These glazed cranberry scones are so good you may find yourself searching for any excuse to make another batch 😉 Enjoy!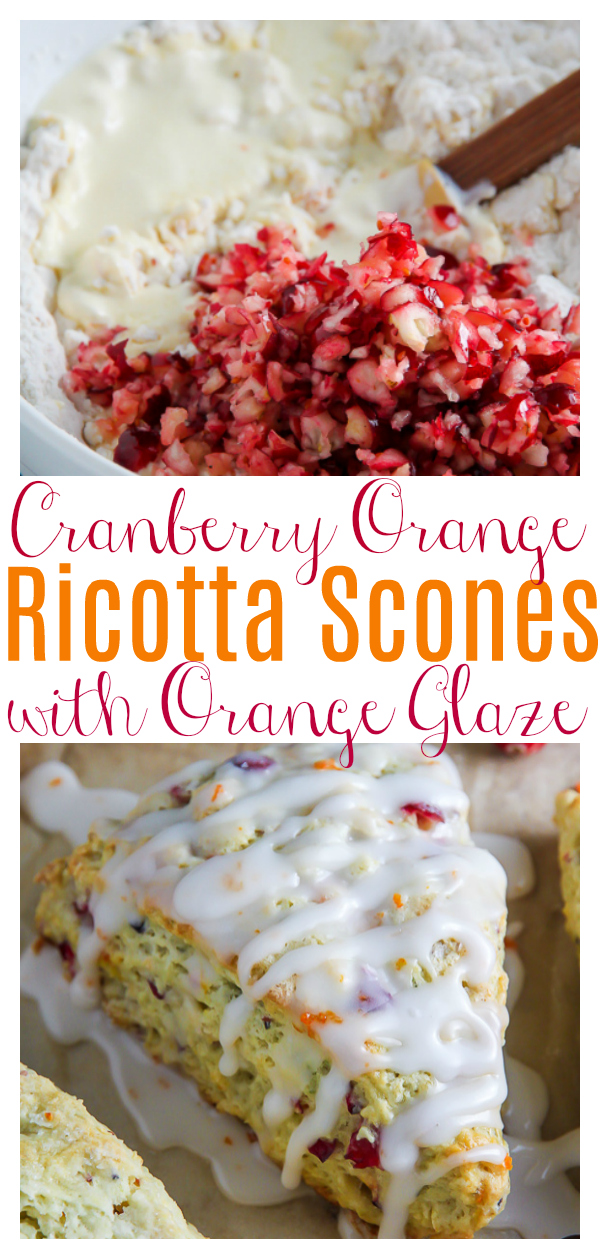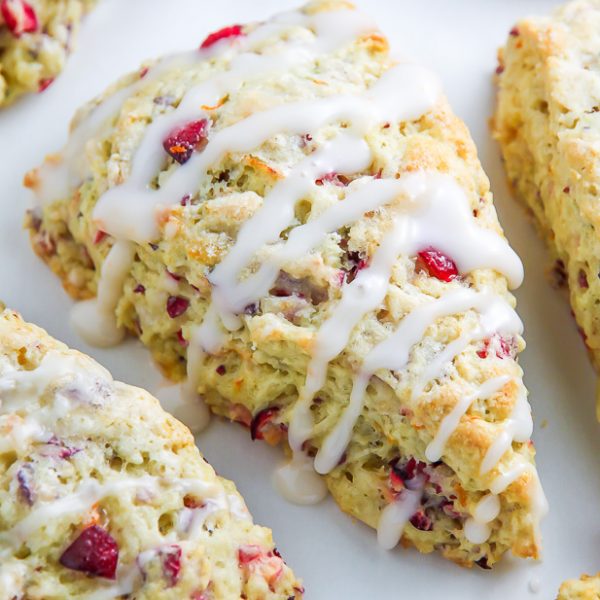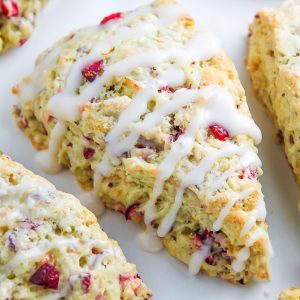 Cranberry Ricotta Scones
Homemade Cranberry Ricotta Scones with Orange Glaze. Perfect for a special breakfast or snack!
Ingredients
2 and 1/2 cups all-purpose flour
1/2 teaspoon salt
1 tablespoon baking powder
1/2 teaspoon baking soda
1/2 cup granulated sugar
1 teaspoon orange zest
1 stick (4 ounces) unsalted butter, VERY cold and cut into tiny pieces
1 large egg, beaten
1/2 cup (Whole Milk) Ricotta Cheese
3 tablespoons Whole Milk
1 cup cranberries, fresh or frozen (If using frozen, do not thaw first), roughly chopped
For the egg wash:
1 large egg, beaten
1 teaspoon milk or water
2 tablespoons sugar, for sprinkling
For the (optional) orange glaze:
2 tablespoons fresh orange juice
1/2 teaspoon orange zest
Pinch of salt
3/4 cup confectioners sugar, more if needed
Instructions
Preheat oven to 400°(F). Line a large baking sheet with parchment paper; set aside.

In a large bowl mix together the flour, salt, baking powder, baking soda, sugar, and orange zest.

Cut the butter into small cubes then, using two forks or a pastry cutter, quickly work it into the mixture until it resembles a coarse meal. Set aside.

In a small bowl whisk together the egg, ricotta cheese, and milk. Add to flour and butter mixture and use a fork to stir everything together until just moistened.

Add in the chopped cranberries and gently fold them into dough with a spatula.

Pour the shaggy dough out onto a clean, lightly floured work surface and shape the dough into an 8-inch circle. Cut the dough into 8 wedges and carefully transfer them to the prepared sheet. Leave an inch or so between each scone as they do spread a little.

Lightly brush each scone with the egg wash, then sprinkle the top of each scone with sugar.

Bake for 18-20 minutes, or until the tops are lightly golden brown. Cool scones on the pan for 10 minutes, then top with glaze and serve warm.
For the glaze:
In a small bowl whisk together the orange juice, zest, salt, and confectioners sugar. Drizzle over warm scones and serve at once.